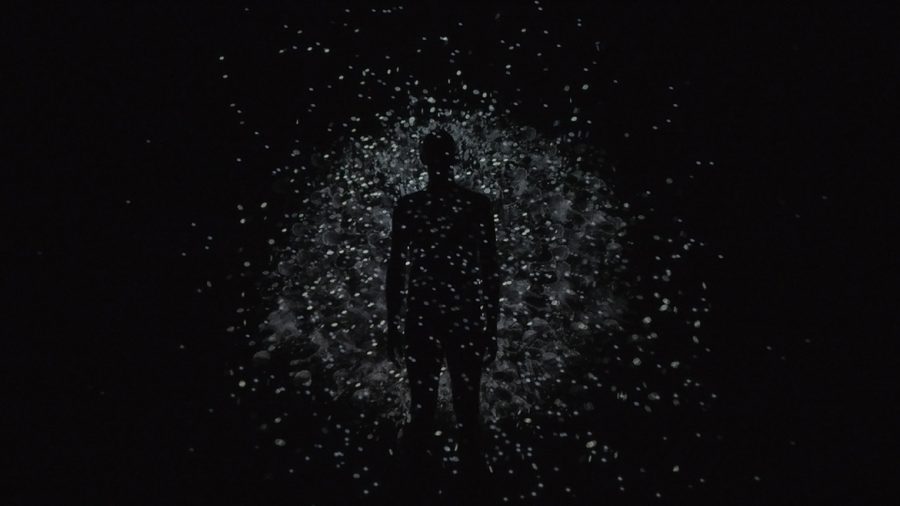 Double bill - Espace Vert
LIVE SHOW
OCTOBER 23, 2021 - 7PM
OCTOBER 24, 2021 - 4PM
OCTOBER 25 & 26, 2021 - 7PM
-
ONLINE SHOW
LIVESTREAM
OCTOBER 26, 2021 - 7PM
PRERECORDED WEBCAST
OCTOBER 30 TO NOVEMBER 8, 2021
-
Discussion with the artists on October 25
The order of the pieces is subject to change.
住み /sumi/ to reside
墨 /sumi/ ink
Having emigrated from Japan at the age of six, Shion first expressed her creativity through traditional art forms, including calligraphy. Motivated by her desire to explore her personal and ancestral story, she has reunited with her former teacher, who is now 81 years old, to reconnect with this practice and recreate it through dance. The brushstrokes not only define the movement, but also the scenography in this world as black and white as the pages of a book. As she drags a rectangular box from one end of the stage to the other like a huge ink stick, she retraces the lines of her cultural heritage, of her immigrant experience, and of her queer identity.
Performance art
·
Video
·
Visceral
Choreographer and performer Shion Skye Carter
Mentor Ziyian Kwan
Dramaturge Tomoyo Yamada
Composer Stefan Nazarevich
Filmmaker Colin Williscroft
Lighting designer and technical director Andie Lloyd
Calligraphy mentor Yoko Murakami
Costume designer Hannah Eriksson
Through my artistic practice, I develop immersive performances that incorporate multiple artistic disciplines. I am curious about the body's engagement in a dynamic range of movement, from minute, subtle motion to visceral intensity. Sculptural forms, visual art, live and recorded sound, material, and lighting all play roles in enhancing my work and broaden the range of disciplines that I play within, as exemplified by my work as one half of the interdisciplinary duo olive theory with Stefan Nazarevich. An artist's personal ethnographic history inevitably makes its way into their work; I feel that being a Japanese immigrant with mixed heritage infuses my work with the image and feeling of a body embedding itself into unfamiliar environments. Through this lens, I examine how movement can be used to re-evaluate humans' relationships with other living things as well as with inanimate objects.
Shion Skye Carter is a performing artist originally from Tajimi, Japan, and based in Vancouver, Canada, on the unceded ancestral territories of the Musqueam, Squamish, and Tsleil-Waututh First Nations. She holds a Bachelor of Fine Arts in Dance and Kinesiology from Simon Fraser University. As a performer, she has interpreted the works of artists such as Vanessa Goodman/Action at a Distance, plastic orchid factory, and Yossi Berg & Oded Graf Dance Theatre (Israel). Shion's own choreographic projects are influenced by her personal ethnographic history and merge her interests in other creative disciplines with physical performance. Her work has been presented at venues across Canada, most recently in Vancouver and Halifax. As co-founder of olive theory, an interdisciplinary duo with musician Stefan Nazarevich, she collaborates to experiment at the intersection of embodied performance, installation art, and live sound.
Ziyian Kwan has worked as a Vancouver-based dance artist since 1988. She has performed in close to 100 creations by an eclectic range of choreographers on international stages. Ziyian is Artistic Director of Dumb Instrument Dance, a collage of activities that include commissions, choreography, and other than usual dance actions. With Dumb Instrument, Ziyian creates work that promotes collaboration with colleagues in the fields of dance, literature, music, and the visual arts.
"I am my heart's dumb instrument." –Denton Welch
Tomoyo Yamada is an interdisciplinary artist with a focus in dance and choreography. Born in Japan and educated in the United States, she has spent most of her life traveling between North America and Japan, negotiating distinct cultural identities. She is currently an MFA student at Simon Fraser University. Her practice is influenced by her ongoing research into identity politics and her self-reflexive interrogation of transnational cultural difference. Tomoyo's work has been presented at Dancing on the Edge Festival (Canada), Vines Art Festival (Canada), REVERBdance Festival (USA), All Japan Dance Festival (Japan), and many more.
Stefan Nazarevich is an interdisciplinary artist, composer, and performer. He is one half of the interdisciplinary duo olive theory, the other being Shion Skye Carter. Their debut piece reach-close opened in 2019 with two sold-out shows. Stefan's collaborations span disciplines as he creates music and immersive sound design for film, theatre, and dance. His work has been presented at VIDF 2019 (Vision Impure's Pathways). His solo electronic work has taken him to Germany to participate in the historic Darmstadt International Summer Festival. Stefan's dedication to his craft has been recognized with awards from the BC Arts Council and Red FM.
Colin Williscroft is in his final year at Simon Fraser University's School for the Contemporary Arts, where he is completing a BFA in Film Production. His work focuses on films driven by formal elements such as sound, light, and space. Colin's practice includes experimental collaborations across disciplines such as dance, installation work, and theatre productions. Recently, he has been recognised for his work in sound mixing for film, most notably for Venusian (2019) and Moving Statues (2019), which played at the Vancouver International Film Festival and at the Festival of Recorded Movement, respectively.
Andie Lloyd is a queer interdisicplinary artist and community advocate. Andie's artistic practice revolves around decolonial leftist ideology and therefore the principles of freedom of speech, self-determination, sovereignty and democracy. Andie studied Theatre Production at Studio 58 in Vancouver, with a focus on lighting design and production stage management, and graduated in 2017. Andie's most notable lighting design credits include: HAKO (OURO Collective), and Sweeney Todd (Snapshots Collective). She recently collaborated with filmmaker Anthony Lee in an innovative livestreamed excerpt of Christine Quintana's play Selfie. Her and Anthony Lee are currently the co-Digital Technologists at Progress Lab 1422.
Hannah Eriksson is a clothing maker, cook, and partially trained welder located on unceded xʷməθkʷəy̓əm, Skwxwú7mesh, and səl̓ ílwətaʔɬ lands. She creates clothing in relation to performance and exhibition spaces. Her work often centers around queer intimacy, vulnerability, sculpture, food and community, and features textiles and metal in connection to each other and the body.
Fear of the dark. That's where it all started. In this sensitive and autobiographical stage essay, Jean-François explores the recesses of his difficult psychological journey, transposing his episodes of depersonalization and derealization into movement. The inexpressible is made visible through video animations in this intimate journey of bodies and images through generalized anxiety. Sometimes in symbiosis with and sometimes as a counterpoint to space, light, projections, and music, the performer-creator goes through a continuum of states that carry him from nightmare to recovery. Dive into the dancer's head for a cathartic experience tinged with hope.
New technologies
·
Formal
·
Poetic
Producer OPTIKX
Creator, performer, composer, choreographer, sound and video designer Jean-François Boisvenue
Director, dramaturgy and scenography advisor Nicolas Berzi
Choreographer Catherine Laframboise-Desjardins
Lighting designer Valérie Bourque
Artificial vision developer Alexandre Gauvin
Video design collaborator Valentin Foch
Production manager Chloé Poirier Sauvé
Contributor to the original idea Claire Renaud
This performance work is derived from a short film with the same title directed by Jean-François Boisvenue and Claire Renaud in 2017. Said title refers to the fear of the dark, the source of Jean-François's mental disorders. The movie consists of a series of hand-drawn animations projected onto the body of the performer. We drew inspiration from the film and have strengthened the artistic direction. Thus, the stage version of Nyctophobia is a new and different artwork that combines choreography, theatre, video, digital art, and contemporary music. This project is produced by the company La nuit / Le bruit, whose creations take the form of interdisciplinary scenic essays that are both poetic and informative. They thus create areas of intellectual resistance where the public is invited to question the world around them and their own role as citizens.
Jean-François Boisvenue is a multidisciplinary artist who graduated from UQAM's École supérieure de théâtre in 2006. Since then, he has participated in numerous stage works as a performer, a video designer, a stage designer, a director, and a writer. In 2018, he created a multidisciplinary solo performance at La Chapelle Scènes Contemporaines on the topic of credit and debt titled La dette de Dieu, which is the first creation by La nuit / Le bruit, the company he co-founded with Claire Renaud. He is also a filmmaker. He has produced and directed a feature film, Toujours Encore, and numerous short films, including Nyctophobie, a documentary essay that was screened at the prestigious Hot Docs festival in 2019. Having graduated from an MA in German Studies and started a PhD in Comparative Literature, he is very interested in research and his works always have a documentary aspect to them.
Catherine Laframboise Desjardins is a movement artist. She begins her studies in graphic design at cégep du Vieux-Montréal (2007), completes a bachelor's degree in contemporary dance at Concordia University (2016), and is currently doing a master's degree in art education at UQAM (2019). An interdisciplinary artist, she presents her first short film, TACIT SPACE (2015), at Festival Quartiers Danses. In 2017, she presents an ephemeral exhibition, Dans les craques!, highlighted by DARE DARE. She has performed for several choreographers, including Chloé Bourdages-Roy, Kim L. Rouchdy, Chun Hua Catherine Dong, and David Latreille. She is also an independent choreographer and is collaborating for the second time with the company La nuit / Le bruit.
Nicolas Berzi has been a director, playwright, and designer in Montréal for over 15 years. In 2013, he founds the creation company Artiste Inconnu, of which he is the general and artistic director. With this company, he presents Peep Show (2015), Héroïne(s) (2015), and Mythomania (2017) at La Chapelle Scènes Contemporaines. In 2019, he presents an interdisciplinary and technological version of Sarah Kane's Cleansed as his final project as part of a PhD in Études et pratiques des arts. Both in creation and in research, Nicolas dedicates himself to hybrid scenic practices.