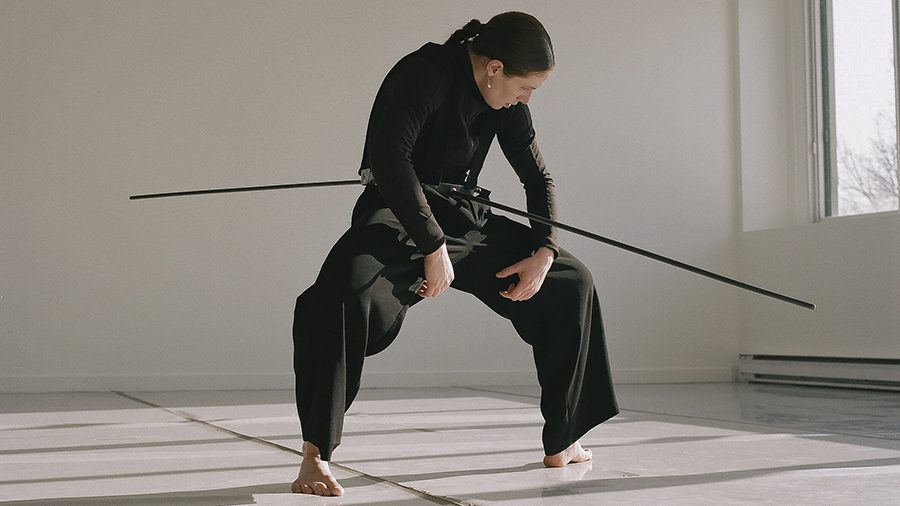 Double bill - Espace Orange
NOVEMBER 11-13, 2021 - 7PM
NOVEMBER 14, 2021 - 4PM
-
Discussion with the artists on November 12
The feeling that she was gigantic imposed itself on her body image, her inner dialogues, and her relationships with others. This solo is born out of Gabrielle's desire to go meet this giant and other self-representations fashioned by her imagination. With this intimate fresco, she externalizes the distorted conceptions of herself that inhabit her. Costume, music, and light harmonize in a multi-voice choir that alternately reveals, conceals, magnifies, and disfigures the dance. The time has come for this performer-choreographer to embrace conflict to better free herself from it.
Choreographer and performer Gabrielle Surprenant-Lacasse
Artistic advisor Marilyne St-Sauveur
Costume designer Angela Rassenti
Sound designer Gabrielle Harnois-Blouin
Lighting designer Audrey-Anne Bouchard
Géante addresses warped representations of the self and the body, a phenomenon especially common among women. Within this conceptual framework, I have drawn a painstakingly intimate self-portrait. A series of silent explorations led me to first identify and then embody the voices and visions of the giant that has inhabited me for so long. In the studio, I then combined these with spontaneous movements. Lastly, I integrated a costume, music, and lighting, elements that achieve synchronicity in at turns revealing, obscuring, magnifying, and disfiguring the dance.
I offer an allegory for the quest for perfection, along with the pitfalls often encountered by thinking bodies. My creative process suggests that the opposition between self and self-image is not black and white. The resolution does not involve apologizing for being imperfect, but embracing this internal conflict so that I might free myself from it.
Gabrielle Surprenant-Lacasse has been dancing since she was 10 years old. Since graduating from UQAM with a Bachelor of Arts in Dance in 2010, she has had the pleasure of working alongside a wide range of dance professionals, including Louise Bédard, Geneviève Caron-Ferron, Bettina Szabo, Anouk Thériault, Sarah-Ève Grant, George Stamos, Élodie and Séverine Lombardo, Hélène Langevin, Sarah Dell'ava, and Marilyne St-Sauveur. These collaborations have had a profound impact on her own development as an artist. Gabrielle sees dance as a powerful vector, a kind of corporeal poetry capable of generating intimacy between performer and audience. At the core of her practice as a dancer, choreographer, and teacher is the belief that dance opens the door to a deeper understanding of both oneself and others.
Marilyne St-Sauveur performs in pieces by choreographers Marie-Julie Asselin, Marie Béland, Lynda Gaudreau, Frédérick Gravel, Emmanuel Jouthe, OSEZ!/Karine Ledoyen, Dean Makarenko, PPS Danse, Andrew Tay, Katie Ward, as well as for La 2e Porte à Gauche. Her projects have led her all around Québec and Canada, but also to France, England, Italy, Belgium, China, and the USA. A graduate of both Cégep de Saint-Laurent and Université du Québec à Montréal, Marilyne St-Sauveur has now been teaching in the Département de danse du Cégep de Saint-Laurent for over ten years. More recently, she has been sharing her passion for dance with elderly people with the company Danse Carpe Diem.
Angela Rassenti is a stage designer of costumes and props for dance, theatre, and the circus. She is particularly drawn to interdisciplinary creation. Her interest in visual arts collaborations led her to a diploma in set and costume design from the National Theatre School of Canada, where she currently teaches prop design and production. Since 2008, she has worked with many artists, choreographers, and directors, mainly in Montréal. This is her second collaboration with Gabrielle.
Gabrielle Harnois-Blouin is a sound artist from Montréal. She sings, plays synthesizers, makes field recordings, and writes textscores to generate music. She is mainly interested in consciousness and searches for ways to access subtlety, slowness, and care. She holds a postgraduate diploma in Digital Music from Université de Montréal and is completing an MA in Sound Arts at University of the Arts London. Recently, she presented her installation Documents:champs at the gallery Le Livart, played at la lumière collective with Le désert mauve (Charline Dally),  and did a creative residency with her project Jardin (Florence Garneau) in Toluca, Mexico, where they presented their recent piece Migraciones Intimas at the Centro de Cultura Digital, Mexico City, in 2019.
Audrey-Anne Bouchard works as a lighting designer for dance, theatre, and music in Montréal and abroad. She also engages in inclusive practices and recently developed her own interdisciplinary creation designed for a visually impaired audience, Camille : un rendez-vous au-delà du visual. In 2011, she completed an international master's degree (France-Belgium) in the context of which she studied new artistic practices and the performers' and spectators' sensory experience. Recently, Audrey-Anne designed lighting for the dance pieces & (Collective For Fauve) and Mula (Ivanie Aubin-Malo), both presented at Tangente in 2018. Audrey-Anne is a lighting design coach at the National Theatre School of Canada.
Connected to the space by a metallic device, the performer explores the material encounter through a rhetoric of movement that suggests a back and forth between the self, covered with a thin film of skin, and exteriority. The corporality of the body and the object forms a real drawing in the space, a place of multiple forces and constraints. A meditative work about the relationships between subject and object, and the porosity of the frontiers between bodies.
Performance art
·
Formal
·
Physical
Visual artist Andréanne Martel
Choreographer and performer Frédérique Rodier
Sound designer Simon Chioini
Structures affectives results from a collaboration between artists Frédérique Rodier and Andréanne Martel. Their collective approach is based on the complexities of collaboration and the permeability of disciplines. The two artists consider collective work as a playground "where everything that life has to offer is open to them", refusing any fixed role within the collective.
In residency at École de danse contemporaine de Montréal in 2019 and 2021, they combine their respective practices to allow common reflections to emerge on the materiality and immateriality of things, bodies, and space. The artist Simon Chioini joins their creative process by combining a sound atmosphere with a singular aesthetic.
Andréanne Martel is a candidate for a master's degree in Art History at Université du Québec à Montréal and holds a BA in Visual and Media Arts from the same university. Previously a classical music student, her relationship with the body is nourished by somatic education; a dialogue is thus easily established between her artistic practice and choreographic movement. Her current research focuses on the interlacing of mapping, territoriality, and bodies. In 2017, she founded the Bregma collective with artist Frédérique Rodier. The two artists have presented their work at Tangente, Art Souterrain and Galerie Laroche/Joncas on several occasions.
Frédérique Rodier reveals herself through contemporary dance and considers this discipline to be the ultimate way to reveal her subjectivity. A graduate from École de danse contemporaine de Montréal in 2014 with a background in theatre, she discovers herself by intertwining these two disciplines. She collaborates with choreographers such as Victoria Mackenzie and Noam Gagnon, and with director Gilbert Trudel. In 2017, she creates the Bregma collective with artist Andréanne Martel. The collective has presented works at Tangente, Art Souterrain, and Galerie Laroche/Joncas on several occasions.
Simon Chioini got into music through classical percussions and a persistent study of the weird electronic music of the 90s and 00s. He experimented on his own before undertaking studies in electroacoustic composition at the Conservatoire de musique de Montréal. There, his interests became more focused upon dense electronic sonorities and minimalistic works inspired by the everyday. As a performer, Chioini passes through the intimate venues of Montréal and elsewhere. He has participated in festivals (Mutek, Akousma, Sight & Sound) and his music has made its way into several galleries. As an artistic collaborator, he has reached the worlds of contemporary dance, video, and multimedia.