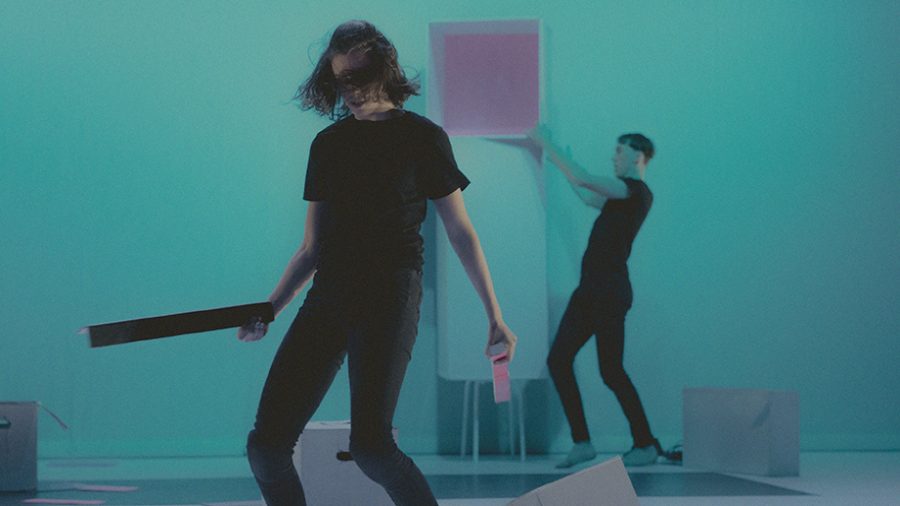 Espace Orange
DECEMBER 2-4, 2021 - 7PM
DECEMBER 5, 2021 - 4PM
-
Discussion with the artists on December 3
In a sanitized universe, two bodies are born from cubes: flesh rubs against edges, heat against cold, acceleration against immobility. Cautiously and awkwardly, they discover an environment that escapes them, but whose laws they try to understand just as it is crumbling under their feet. Gradually, accidents multiply and unpredictability takes over. Boxes pile up in this allegory about the obsession with categorization in an attempt to grasp a world that is leaning towards chaos. In this absurd dialogue between live music, lighting, scenography, and movement, What Will Come is as much a question as it is a hypothesis.
Choreographers and performers Julia B. Laperrière, Sébastien Provencher
Composer and musician Bráulio Bandeira
Scenographer Hannah Dougherty
Lighting designer Nicola Dubois
Dramaturgical assistant Lynda Rahal
Artistic advisors Christine Charles, Helen Simard
Costume designer Tricia Crivellaro
Sound advisor Michel F Côté
Executive producer Lorganisme
What Will Come is the fruit of a long-lasting collaboration that started ten years ago when we met at UQAM. Since this encounter, our work has grown in pleasure and complicity. Objects, absurdity, and humour are part of the foundations of our collective work.
In the summer of 2016, we had a two-week residency at Impulstanz in Vienna. This is where the premise of this work was born. Since then, we have continued building on the idea of categorization in residencies in Canada and Germany, also confronting and enriching the work through the vision of many new collaborators. We opened our vision of dance to be contaminated by other mediums, and What Will Come is a piece at the intersection of many artforms, but that keeps the body in the foreground.
Julia B. Laperrière is a choreographer and performer based in Berlin and Montréal. Since graduating from Université du Québec à Montréal (UQAM), she has presented her work in Canada and internationally (France, Italy, Mexico, and Germany). Julia enthusiastically blurs boundaries between dance, theatre, performance, and the visual arts. She is interested in a dance that is generous, working between the lines of gender, stereotypes, femininity, sexuality, and love. This year, she will graduate from the MA exerce, a master's degree in choreography associated with the National Choreographic Centre of Montpellier.
A graduate from the Département de danse de l'UQAM, Sébastien Provencher evolves in the contemporary dance field as a choreographer and a performer. Since completing his studies, he has created L'Apologie du Prince Charmant (2015), Children of Chemistry (2017), and Two Skeletons (2019), and he is now working on two new creations, Bones & Wires (2020) and What Will Come (2020). His work has been presented in Québec (Agora de la danse, Tangente, ZH Festival), in Ontario (Dance Matters, Citadel + Compagnie), and in France. As a performer, he splits his time between Montréal and Toronto. He has worked for Louise Bédard, George Stamos, Manon Oligny, Helen Simard, Emmanuel Jouthe, Sasha Kleinplatz, Martin Messier, Maïgwenn Desbois, DA Hoskins/Dietrich Group, Riley Sims/Social Growl Dance, and Marie Lambin.
Hannah Dougherty starts with drawings and collage and, using carpentry and found objects, creates site-specific and installation works. She collaborates with choreographers, performance artists, and musicians to create scenography for performance-oriented spaces. Dougherty was born in Philadelphia, PA (USA). She received her BFA from the Maryland Institute College of Art in Baltimore, USA and an MA from the Royal College of Art in London, England. She has lived and works in Berlin since 2002.
Tricia Crivellaro is an artist based in Montréal and Toronto and holds a MA in Fashion from Ryerson University. Her artistic practice explores the intersections between fashion and art through a multidisciplinary process-based approach. Crivellaro creates experimental garments and accessories while seeking to inspire openness to the experiences and stories of others. Tricia designed the costumes for many collaborative projects, including Children of Chemistry by Sébastien Provencher and Le Vaisseau-Coeur by Ballet-Opéra-Pantomine (BOP). Her creative projects have also been presented in Montréal (Festival Mode & Design, Fashion Pop, Soir) and more recently in Belgium (Responsible Fashion Series).
A ubiquitous musician and composer, Michel F Côté was born in Montréal the year the submarine USS Nautilus made history by travelling under the North Pole's ice cap. He composes a great deal for theatre and dance projects (Robert Lepage, Brigitte Haentjens, Marie Brassard, Daniel Brière, José Navas, Aurélie Pedron, and Ginette Laurin, among others). Indeed, he has over a hundred projects under his belt, making him a very prolific composer and designer. He has partnered up with Catherine Tardif as co-artistic directors for the dance company Et Marianne et Simon. Since 1990, he has appeared on more than sixty albums. He is associated with the Ambiances Magnétiques record label, on top of being the co-founder of the label &records. He is now running two brand new labels, Sono Sordo and UFO.Ω. You can find him backing up these acts: Mecha Fixes Clocks, Klaxon Gueule, Pink Saliva, Jane & the magick bananas, Vulgarités, and Tiari Kese – a duo with himself.