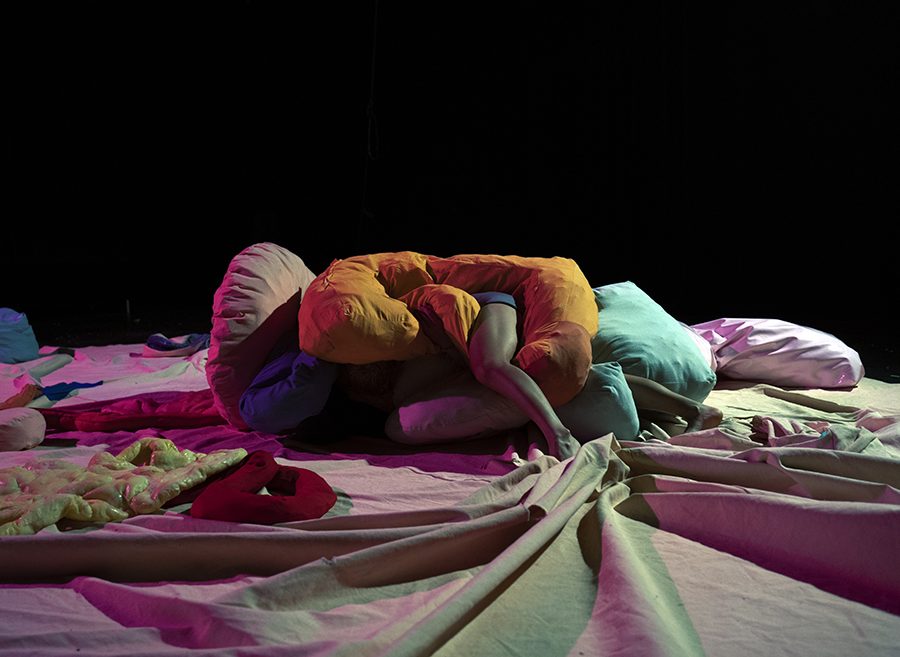 OFFTA - Espace Vert
JUNE 4, 2022 - 8PM
JUNE 5, 2022 - 1PM
An oval stage space made of pink fabric, microphones, 2 human beings, 15 soft sculptures, noises, a soft light.
In this welcoming space where forms and relief merge, you examine these bodies-matters meet, fold, unfold, connect, invaginate, and intertwine. You are witnesses to a new division of things. Textures that are shapes. Shapes that are sounds. Objects that are beings.
The centre of the stage is your own centre. A centre that breathes. That feels. That emits light. A light that touches you ever so slightly. You need to touch in order to understand that it is better to feel than to understand.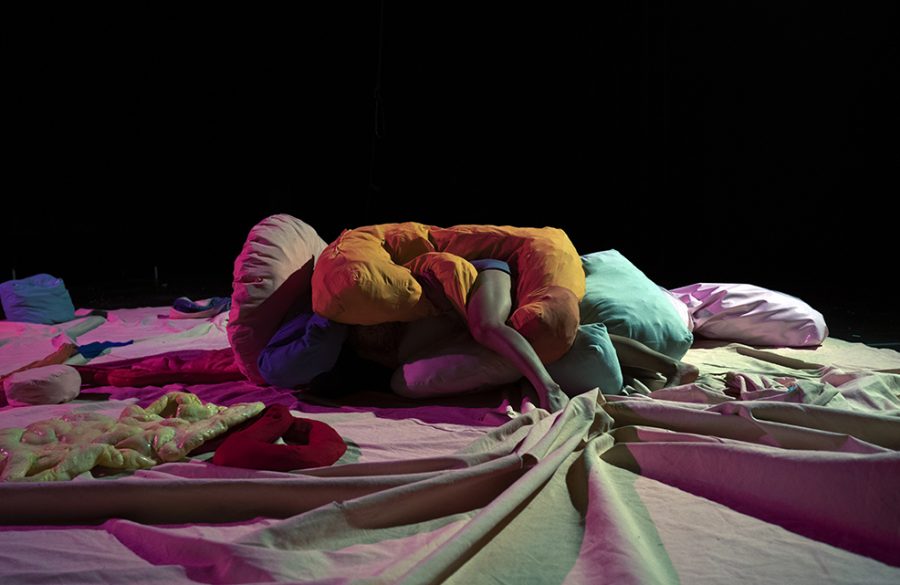 Ideation and choreography Emile Pineault
Creation and performance Nien Tzu Weng, Emile Pineault
Created with Claudel Doucet
Set design Pénélope et Chloë
Sound design Joël Lavoie
Light design and technical director Audrée Lewka
Costume design Marie-Audrey Jacques
Text Catherine Lavoie-Marcus
Scent design Julie Simard Jones
Audience development and accessibility advisor for audiences living with visual impairments Laurie-Anne Langis
Artistic support Anne Thériault
Outside perspective Mimi Jeong, Sindri Runudde
Executive production of LA SERRE – arts vivants
With the support of Conseil des arts du Canada, Conseil des arts et des lettres du Québec, Conseil des arts de Montréal, fabrik Potsdam, as part of the Artists in residence program
Creative residencies fabrik Potsdam, Théâtre Aux Écuries, Salle Émile-Legault, Maison de la culture Notre-Dame-de-Grâce, La Chapelle Scènes Contemporaines, Kunstencentrum BUDA, Monument-National, LA SERRE – arts vivants
Through a multidisciplinary practice rooted in body-based research and performance, Emile Pineault's work explores desire, sexualities and sensorialities. Bodies and objects mingle and become heaps of textures, shapes, sounds, vibrations, narratives and affects. He develops choreographies that oscillate between, on the one hand, messiness, clumsiness, and unruliness, and on the other hand, intense textures, exacerbated physicalities and a deep sensuality. He composes his creations like sensory poems, and uses duration and repetition to destabilize the relationship with the audience.