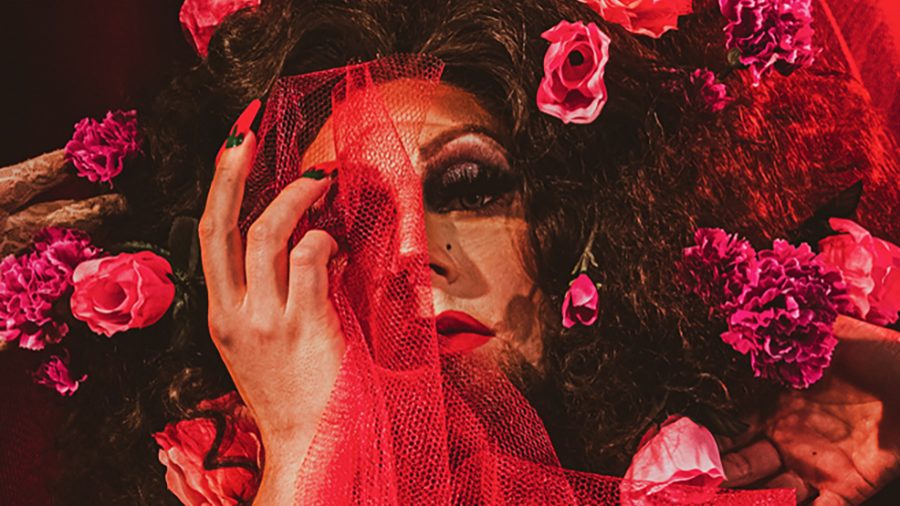 Cabaret Tangente - Espace Orange
JUNE 15-18, 2022
DOORS: 8PM
SHOW: 8:30PM
DANCE PARTY: 10PM
-
REGULAR RATE: 35$ / 2 FOR 60$
REDUCED RATE: 26$
-
Dress to Impress: come dressed to the nines on June 17
Bobby Ananass & Krystina Dejean
Rock Bière & Maxine Segalowitz
Rosie Bourgeoisie & Collectif NU.E.S
Dana Dugan
Lady Josephine & Audrée Lewka
Célesta O'Lee
Nanah Postel
Manuel Shink & Bunny Valentin
This festive, sensual and political evening is a new occasion to celebrate the meeting of two of Montréal's professional dance scenes: neo-burlesque and contemporary dance. Take your time, notice a hip, come across a butt cheek, languorously look at the outline of bodies, but don't touch! The peeling away of layers suggests nudity rather than exposing it. While maintaining the main codes of burlesque, a contemporary perspective breaks with tradition, feeds new aesthetics, and raises political issues. How to reclaim current discourses on the body? What are the distinctions between sensuality, eroticism, and sexuality? How does the cabaret formula foster creative license? Surrounded by sequins and mirrors, let the poetic, disconcerting and suggestive images intoxicate you. Are you ready?
Nine numbers dreamed up by fourteen artists, a bar right inside the venue, and a queer-friendly dance party with DJ TIGNASSE after each show… We've thought of everything!
Dress to Impress
On Friday, June 17, come dressed to the nines and cause a sensation! Here's your chance to pull out your sequins, your lace, your latex, and take over the dance floor.
Production and creative residencies Tangente
Creation and costumes Bobby Ananass & Krystina Dejean, Rock Bière & Maxine Segalowitz, Rosie Bourgeoisie & Collectif NU.E.S, Dana Dugan, Lady Josephine & Audrée Lewka, Célesta O'Lee, Nanah Postel, Manuel Shink & Bunny Valentin
Hosting Nanah Postel
Scenography Audrée Lewka
Lighting design Lucie Bazzo
Curation Nanah Postel & Laurane Van Branteghem
DJing Alex Arseneault/DJ TIGNASSE
Visual art Christina Martin
Fourteen genderfluid, hairy, queer, funny, fat, daring, and feminist artists explore in pairs the aesthetics that they share. It's the perfect opportunity to put together a festive evening that reveals shared interests between contemporary dance and burlesque: the queer body, humour, the bizarre, nudity, and so many others!
Hosted by Nanah Postel, burlesque producer and performer, this cabaret unfolds according to traditional burlesque cabaret rules. Nine short numbers are presented, followed by a queer-friendly dance party. The two curators came up with the different pairings according to assumed common interests between the artists.
Bobby Ananass is a multidisciplinary neo-burlesque artist. He's a cabaret performer as master of ceremonies and a burlesque performer with Bunny Valentin, his long-time life and scene partner, in their tragicomic numbers inspired by anime and soap operas. Highly conceptual, Adam Provencher brings his character to life by using his training in contemporary dance, set and costume design, fashion, singing, and theatre to create a unique and singular entity. A contemporary bearded lady, he sheds light on gender roles and the dichotomy between the social judgement of clothing and the bodies that wear it.
Krystina Dejean, also known as Mystique, is a dancer who specializes in freestyle and street dance, particularly in waacking and hip hop. In 2015, along with Taylor "Tales" Yeung and Fanny "Blue Velvet" Bergeron-Labrecque, she created the waacking collective Savage Queens with the goal of developing their own style and making an impact in the Montréal waacking community. During their active years, the collective has created pieces that have been presented by the theatre company Les Désaxées (Anima Fissa, 2016), as well as by the HomeRun festival (Qu'est-ce qui mijote?, 2017) and Les Soirées 100Lux (STUMBLE!, 2017). In 2019, Krystina joined the waacking collective Asymmetry, led by Axelle "Ebony" Munezero. Within the collective, she has presented pieces as a choreographer (Poetry, 2019), a performer (Tourment, 2020), and a co-creator with other collective members (Seul.e.s Ensemble: Club Edition, 2021). She also remains active in the street dance scene by participating in local and international battles.
Based in Montréal, actress Mélodie Noël Rousseau is the co-founder and co-artistic director of the theatre company Pleurer Dans' Douche, of the Café Reine Garçon, as well as of the festival of playwriting and reading Festival Mots de la Rive. As an actress, she likes to test the limits of her body and to transform it. She is also known for her alter ego Rock Bière, who is at the centre of Pleurer Dans' Douche's latest creation. Entitled Rock Bière: Le Documentaire, this show, borrowing the codes of drag cabaret, questions the place of women in the LGBTQ+ community. This creation by the duo of Pleurer Dans' Douche follows MOSCA Techno Remix, Moi : Le zoo, and Stabat Pater. In summary, Mélodie is an inexhaustible creator/actress/entrepreneur/feminist who likes to create spaces for the well-being of the collective. The democratization of art is at the centre of her practice.
Maxine Segalowitz is a queer, Jewish dance artist currently living in Tio'tia:ke, commonly known as Montréal, where she has immersed herself in creative communities as a dancer, choreographer, clown, cabaret performer, drag artist, and stand­up sleeper. As a dancer, she has notably worked with Helen Simard, Yannick Desranleau+Chloë Lum, Ingrid Bachmann, and Karen Fennell, performing locally and internationally. As a choreographer, Maxine has presented her work at Festival Bouge d'ici and the FRINGE Festivals in Halifax and Montréal, both nominating it for Outstanding Choreography. She has also created various clown cabaret characters, which she presented at Just for Laughs, Montréal Clown Festival, and at various cabaret venues across Canada.
Step into a world of opulence and luxury with the ever more extravagant performances of the voluptuous Rosie Bourgeoisie, costume designer, teacher, producer, influencer, and fat and queer activist. Dramatic, seductive and feminine, they neglect nothing to keep you spellbound. You will want more… Rosie is a Montréal-born-and-bred superstar, loving all things shiny and sparkly since the day they first performed on stage at the tender age of five. Their onstage experience has included multiple dance styles, burlesque, drag, musical theatre, and clown. They centre their practice on reclaiming space in the performing arts for bigger, differently-abled bodies and gender non-conforming people. They have grown to become one of Montréal's most recognizable burlesque performers, an outspoken queer activist, and a fat model and activist. Rosie has graced the stages of international festivals, including the Fierce! Queer Performing Arts Festival, the Bagel Burlesque Expo, and the Toronto International Burlesque Fest. They even appeared on the TV show La France a un incroyable talent. They are the first artist to perform burlesque and produce a burlesque show with an entirely queer cast at Fierté Montréal. They have also produced cabarets in the city to create opportunities and spaces for the community, always giving priority to marginalized people. Bringing their passionate energy and imaginative presence to the stage, Rosie combines femininity with queer sensuality to inspire everybody, no matter their place in this patriarchal society, to embrace their power and beauty.
Collectif NU.E.S aims to create interdisciplinary and contemporary performative pieces on the diversity of bodies, intimacies, and eroticisms. It brings together artists who are passionate about these subjects and keen to explore them from queer and sex-positive perspectives. Its artistic mission is to create and develop an art that will question our identity, relational, and aesthetic standards, an art that is both intimate and political. It was founded in 2019 and is now co-directed by artists Juliette Pottier Plaziat, Maude Choquet-Blanchette, and Myriam Foisy. In addition to its official launch in 2019, the collective has participated in various events, such as the Montréal Erotic Arts Market (2019, 2020), Théosexual: spiritual porn (2019), Love Vibration (2020), Manoir d'Éros (Kamouraska, 2020) and is currently in the creative process for their flagship project, When the Snow Melts Between My Thighs (2020-2022).
Artist. Mother. Lover. Fuck the rest. OK, maybe just a few more tidbits… A Los Angeles native, Dana Dugan is a Montréal-based artist, mother, performer, scholar, and dramaturg. She was a founding member of the Chicago Contemporary Circus Festival (2014-15) and CirqueOFF (Montréal, 2017). She recently completed her master's degree at Concordia University (Montréal, 2018) under fellowship as a practice-based researcher investigating her circus body as a site for cultivating critical and productive tensions and dialogues through the concept and practice of (dis)obedience. Currently, as a doctoral student at Concordia in the Humanities interdisciplinary program, Dana continues her research through her physical practice to burrow deeply into her preoccupations with questioning her role as a performer in society, its dramaturgies, and its power for transformation. Her performances seek to provoke questions to re-politicize her body, incite commentary on the taboo, and dismantle over-determined political hegemonies. Her work reflects an agenda that advocates for socially conscious performances and alternative, utopian, queer, feminist, and political narratives.
From Cambodia, Célesta O'Lee is an amazing performer and choreographer who already has more than 15 years of stage experience. Now living in Montréal, this multidisciplinary artist can go from hip hop to belly dance by way of burlesque. Her devotion and love for this art is incredible. She is the co-producer of Red Light Productions and Imperial Burlesque Canada, a belly dance teacher, and a teacher at Arabesque Burlesque. She is an Oriental flavour with a badass taste that will make you say "If you don't remember her, it's because you've never seen her!" An emotional stage killer, she will take you on a journey where her desire has no boundaries. She has performed in many festivals since her debut – in New York, Boston, Ottawa, Montréal, Toronto – and recently at the Australian Burlesque Festival. She has been named in the burlesque top 10 of 2018 and the top 5 of 2019 by the Cult MTL readership.
Known as a "Tall Glass of Badass", The Lady Josephine is an award-winning burlesque performer, teacher, and entrepreneur. As an artist, she was chosen to perform at the Burlesque Hall of Fame in Las Vegas three times, played the role of Lili St. Cyr in The 7 Finger's production Vice & Vertu, and voted number 1 in Canada's top ten burlesque performers in 2019. She currently performs weekly in Montréal at Le 4e Mur, The Wiggle Room, Club La Voute, and private events. As an entrepreneur, she is the founder and director of the Arabesque Burlesque academy. The school offers 14 weekly classes at their new studio location as well as online. Classes range from dance-training and workout to costume play and a guided journey for building your first act. Arabesque also offers A to Z event production and Josephine's dreams for expanding the company know no bounds.
An ex-archaeologist and scenographer torn between her Laval childhood rocked by the red light of the Boulevard des Laurentides and an unassuming maturity fueled by organic corn bread with strong cheddar, Audrée Lewka is interested in the coexistence of banality and mysticism. Through movement, space and costumes, she uses our imagination and peculiarities to create worlds that feel absurd yet familiar. Poneyboyz (Danses Buissonnières 2018, OFFTA 2019, EDANCO 2020) and Dousse nuit, holey night (Tangente 2019) are her first creations as a choreographer. She has contributed as a scenographer and light designer to many projects, such as Le bal des lièvres (Salle Paul-Buissonneau 2019), Sous l'eau douce (Théâtre du Bic 2020), More Than Things (fabrik Potsdam festival 2020 + La Chapelle 2020), and Le Temps des fruits (Tangente 2021).
Hannah Postel comes from France. She studies ballet at a pre-professional level at the Conservatoire de Genève, where she is introduced to modern dance through the Martha Graham technique. She then performs in Annecy, under the direction of Robert Seifreid, in Jean-Claude Gallota's Ulysse. Through contemporary dance, Hannah discovers a new way of dancing, a new language. Studying Maurice Béjart, Pina Baush, and Laban, she delves into choreography, mainly the mathematical and geometrical construction of space. To further her research, she enrolls in a bachelor's degree in dance creation at Université du Québec à Montréal. Her work AGATHA, inspired by Agatha Christie, features a living space, the geography of which is traced and crossed by 12 women looking to kill boredom. The choreography is defined by a strong narrative and develops the notion of "character" and the role of theatricality as an engine in contemporary dance. In parallel to her studies, Hannah continues her work as a performer and choreographer in the burlesque scene, where she finds the next step in her character work, creating her alter ego: Nanah. To this day, Nanah Postel acts as producer, host, and performer in burlesque shows all around Montréal and continues to collaborate with the BurlesGeek company and Collectif NU.E.S.
Bunny Valentin is a burlesque character performed by Sébastien Benes. After a career in theatre and dance in France, where he worked with Jean-Claude Gallotta at the Centre chorégraphique nationale de Grenoble, Sébastien immigrates and discovers the world of cabaret in Montréal, where he creates Bunny Valentin. Straddling the line between magic and kinky striptease, Bunny performs as a solo act or as a duo with Bobby Ananass, mostly in tragicomic numbers inspired by anime and soap operas.