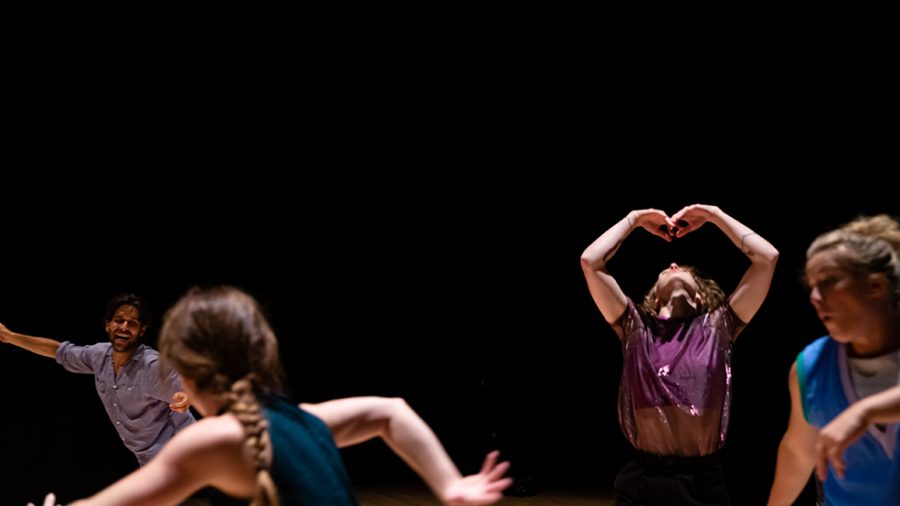 Polyphonic event - Espace Orange
APRIL 28-30, 2022 - 7PM
MAY 1, 2022 - 4PM
-
Discussion with the artists after each performance
Les jeux du crépuscule invites us to question our individual and collective relationship to aging and illness. With a performance, a visual installation, a poetry collection, a workshop on co-presence, a talking circle for caregivers and a dream circle, this polyphonic event seeks to expand perspectives on the topic and, foremost, to incite experiences and inner shifts.
Show: Les jeux du crépuscule (75 minutes)
This choreographic work is fueled by the experiences of eight artists involved in the Mouvement de passage project carried out in a residential and long-term care center (CHSLD) since 2014. The intention is to create a work that bears witness to their experiences, but that transcends the physical, sensory, and emotional memories of each artist who took part in the project. It is about asking the essential questions that arose from a substantial and transformative experience, and making the emotional states and the movements that carry with them feelings and reflections respond to one another. Ultimately, I hope for a work that, beyond its ability to decant the artists' experience, can reflect the plurality of what is experienced in the invisible abundance of the coexistence of strangers united in dance.
+
Workshop: An Encounter With the Technology of Presence* (30 minutes)
*You can purchase a ticket for the workshop and the show or for the show only.
Led by Stefanie Blain-Moraes and Marco Pronovost, this 30-minute workshop is open to 6 people at a time and opens a sensory door onto Ariane Boulet's show. Multiple time slots are available between 5:30pm and 6pm from April 28 to 30, and from 2:30pm to 3pm on Sunday, May 1.
Stefanie Blain-Moraes is the Canada Research Chair in Consciousness and Personhood Technology. She is the creator of biomusic, a technology that converts emotionally salient physiological changes into musical output. Biomusic has been shown to enhance the perception of personhood in minimally communicative individuals, and to detect moments of interpersonal synchrony in persons with dementia moving with others.
+
FREE! Caregivers' Talking Circles (45 minutes)
Spaces for sharing and providing support for caregivers and care attendants. Saturday, April 30, at 3pm, or Sunday, May 1, at noon. Reservation required: click on the BUY button to reserve your spot for free.
Aging, disease, and death aren't topics we often discuss in our everyday lives. However, they are central to our existence and our decision-making. These talking circles will be an opportunity to share in a space that is safe and private. Based on a speaking ritual, in a small group, each person will be invited to share a word, a story, a question, or even a moment of silence. It is not therapy, but a moment to be together around themes at the centre of our humanity.
+
Visual Installation: La maison que j'habite, moi 
Inspired by the mediation project La maison que j'habite, moi developed since 2018 for CHSLD residents, this eponymous visual installation invites the spectator into a transition space where they might unload before entering the performance space. The artworks and installation were created by artist Marie-Hélène Bellavance in collaboration with the residents of the CHSLD Sylvie-Lespérance.
Artistic direction and creation Ariane Boulet
Musical direction and composition Marie Vallée
In collaboration with the performers Audrey Bergeron, Lucy M. May, Isabelle Poirier, David Rancourt, Georges-Nicolas Tremblay, Julie Tymchuk
Performer at creation Joannie Douville
Sound landscape design Tom Demers
Lighting design and scenography Audrée Lewka
Video Robin Pineda-Gould
Poetic text Clémence Dumas-Côté
Outside eyes Nicolas Filion, Sophie Michaud, Sarah-Ève Grant
Visual artist Marie-Hélène Bellavance
Mediator and psychologist Florence Vinit
Researcher in technologies of consciousness and presence Stefanie Blain-Moraes
Poet and psychiatrist Ouanessa Younsi
Production director Lee Anholt
Sound engineer Guy Fortin
Workshop guide Marco Pronovost
Les jeux du crépuscule destines us to celebrate the dignity of a person's entire existence, and to the embodied and metaphysical sites of its emergence: relationships, force fields, and levels of consciousness. The work invites us to take root in life, acquiescing to its mystery and trusting underground sources of nourishment.
The event stems from six years of visiting and dancing in long-term care facilities with the project Movement de passage. I offer a witness-work that transcends the physical, sensory, and emotional memories of all the artists that have touched the project. I am asking the essential questions that emerged from this substantial and transformative experience. Movement de passage taught me that listening, being present and open to be touched by others could dissolve traditional socially assigned roles. The people living in long-term care facilities unexpectedly provoked this incredible upheaval, leading us to access something else.
With Jeux du crépuscule, we move beyond sharing accounts that metabolize the experience of participating dancers and musicians. My art reflects the deep and singular experience manifest in an encounter when strangers are fully present to each other. Recalling the surprising collection of people in one long-term care home in particular, I highlight both the humour and the depth of relationships in this location. I also hope to soften boundaries between generations and shift perceptions on the role and contribution of seniors in the social realm. Disrupting conventional beliefs, the event is conceived as a manifesto for illness as an integral part of health, as a process, as transformation. We age at the same rate. To encounter other generations is to encounter different parts of ourselves. Our inner frailty is tasked with enchanting the world anew.
Ariane Boulet is a dance artist equally active as a performer and creator. She is also codirector of Je suis Julio, an organization that questions artistic practices through a horizontal management model and with values of listening and community. As a dancer, she has committed herself with enthusiasm both in the studio and on stage for about twenty choreographers since 2009. As a maker and through Je suis Julio, she weaves intimacy and politics through a variety of sites with a dozen works in film, for the stage as well as site-specific productions and performative installations. She completed an MA in 2014, exploring the creative process in care facilities on a quest for art that fosters encounters and sharing. Since 2015, she has led her flagship project of dancing in long-term care facilities that integrates dance into the living spaces of people experiencing a loss of autonomy and those in palliative care, inviting residents to a sensitive experience with their bodies and their creativity. She has facilitated over a hundred danced encounters in twenty long-term care facilities in Montréal and surrounding areas. She has gained expertise in management and facilitation through her unusual creative projects and her work codirecting an atypical organization. She also works in cultural mediation and teaches professional workshops to further support the importance of creating contexts to experience dance and transform our sensitive relation to the world.
As a singer and musician, Marie Vallée possesses a keen passion for improvisation and an enduring desire to connect the expressive potentials of sound and movement. For more than fifteen years, she has been notable for collaborating with choreographers and dancers—Margie Gillis, Carol Prieur, Tedi Tafel, Ariane Boulet—and is currently working on directing her first film Space Within, unifying music, images and dance. Her strong background as a composer and songwriter has led to the recording of many albums and her participation in such acclaimed musical events as Francofolies, le Festival international de jazz de Montréal and le Festival Nuits d'Afrique.
A graduate of École de danse contemporaine de Montréal (EDCM) (2005), Audrey Bergeron has performed in several productions with companies Destins Croisés, Bouge de là, Les Imprudanses, Omnibus, O Vertigo, Human Playground and with choreographer Line Nault. In 2017, she toured the Netherlands with Tierra, a production by Jens van Daele's Burning Bridges and Ginette Laurin. As a choreographer, she has participated in Danses Buissonnières at Tangente, the festivals Bouge d'ici, Zone Homa and Vue sur la Relève, and has made work for the EDCM students. Her choreography Pixels (2015), was presented in Montreal, Toronto, Avignon and Düsseldorf. Her most recent creations, Par le chas de l'aiguille (2016) and VERSO (2020) were presented by Danse-Cité. Audrey also teaches dance and works as a rehearsal director. Alongside her artistic career, she is a hypnotherapist.
Lucy M. May is a New-Brunswick-born contemporary dance artist based in Tiohtiá:ke (Montréal). Her choreography, including Anima / Darkroom, Vivarium, and Esemplastic Landing, often asks how environments thread their way through human movement. Formerly a member of Compagnie Marie Chouinard, Lucy continues to perform independently with artists such as Margie Gillis and Susanna Hood. A graduate of EDCM and CODARTS, Lucy has practiced Krump since 2016. Her work has been programmed in Québec, Ontario, New Brunswick, Nova Scotia, Alberta, Saskatchewan, Sweden, and the UK.
Isabelle Poirier danced for the Compagnie Marie Chouinard for eight years before becoming a rehearsal director and touring artistic director of the company. In 2015 and 2016, she performed the revival of the solos Cartes postales de Chimère by Louise Bédard and Les Choses dernières by Lucie Grégoire, also participating in the making of choreographic boxes of these works for the Fondation Jean-Pierre Perreault. A graduate of LADMMI with a major in art history from the Université de Montréal, she now teaches at Concordia University and is an artistic advisor for the graduates of the EDCM, and for Rhodnie Désir, Ismaël Mouaraki, Anne Plamondon, Bettina Szabo and James Viveiros. She is currently dancing with Ariane Boulet, Lucie Grégoire and Aurélie Pedron.
Originally from Rouyn-Noranda, David Rancourt is a dance artist established in Montréal since 1999. He has distinguished himself in about fifty productions, including thirty creations, among which we find key works in the career of certain creators (Alan Lake, Annie Gagnon, Marie Chouinard, Paula de Vasconcelos). He has been collaborating with PPS Danse for ten years and has assumed the artistic direction of the company since June 2020. He has been practicing Qi Gong with Marie-Claude Rodrigue and the Fragments Libres team and the Continuum with Linda Rabin since many years.
Self-taught in dance, trained in visual arts and theatre, Georges-Nicolas Tremblay first asserted his artistic voice as a creator. He has made over a dozen works, in addition to working as a choreographer for theatre, operettas, musicals and music videos. He has more than twenty years of experience as a performer. In parallel to his stage career, he is a dance mediator (FTA, DLD, Ville de Montréal), he teaches dance dramaturgy, and is an artistic advisor and dramaturge for various choreographers. He works closely with the companies Corpuscule Danse and Je suis Julio.
As graduate of École de danse contemporaine de Montréal, Julie Tymchuk continues her involvement and desire to create and broadcast contemporary dance under a variety of projects. As a performer, she worked for the company Bouge de là in the production Ô lit ! and are part of their new creation À travers mes yeux. She also collaborates with choreographers Geneviève Gagné and Emily Jean Honegger (Densité d'un Moment), Katia-Marie Germain (Aube), Johanne Madore (Damnation of Faust), and Simon Ampleman (Klima).
Joannie Douville graduated in dance performance from Université du Québec à Montréal in 2009, also completing a certificate in psychology in 2011. She danced with Dave St-Pierre's company for seven years. In her quest to find how dance is meaningful to different people, she has worked for over six years with the disability dance company Corpuscule Danse (France Geoffroy) and in dance for young audiences with Bouge de là (Hélène Langevin). She is also a close collaborator of the Je suis Julio since its foundation and of La Fratrie. She is currently pursuing an MA in arts education at UQAM.
After studying literature and photography, Nicolas Filion turns to dance in 1998. For fourteen years, he collaborates with numerous dance artists and companies — Harold Rhéaume, Louise Bédard, Catherine Gaudet among others. Concurrently to his professional career, Nicolas pursues graduate studies at Université du Québec à Montréal, acts as an artistic mediator, teaches and contributes to academic research projects until 2012. After a five-year entrepreneurial venture at the head of his own café, he comes back to the performing arts in 2017, working as a rehearsal director, artistic advisor and opening his own booking agency, Filigrane Arts Vivants. Two years later, he assumes the general direction of FÔVE Diffusion. Boasting a wide, eclectic professional and artistic experience, passionate about culture and the performing arts, Nicolas favours an empathic, committed approach to the development and administration of the arts.
After exploring movement as a dancer, Sophie Michaud has been specializing in accompanying choreographic projects. Having completed a bachelor's and master's degree in dance as well as doctoral studies in arts studies and practices (UQAM), she has worked as a rehearsal director and dramaturgical advisor for the past thirty years. As a researcher and practitioner, she has developed methodologies in communication and ethics, and since the early 2000s, she has been working to establish and recognize the profession of rehearsal director. She also acts as a mentor, consultant, writer, teacher, and artistic mediator.
Audrée Lewka's childhood was lulled by the red light district of the boulevard des Laurentides. Formerly an archeologist, she trained as a scenographer and is interested in how the banal and the extraordinary intersect. Through the body, space, and light, she evokes the absurd and familiar palpitations that run through us. As a set designer, she has contributed to many projects including Sous l'eau douce (Wina Forget, Théâtre du Bic, February 2020), Le Temps des fruits (Marilyn Daoust + Gabriel Léger-Savard, Tangente, February 2021), IT'S FINE (Emmalie Ruest + Stéphanie Fromentin, videodance, January 2021), and Morgane (Tuque et Capuche, videodance, March 2021). She also collaborates as a lighting designer on More Than Things (Emile Pineault, Festival Fabrik Potsdam 2020 + La Chapelle 2020), Question de brûler fières and Le Fil des jours (Catherine-Lavoie Marcus, December 2020).
Robin Pineda Gould is a Montréal-based artist. He works primarily with video and sound. His work explores the social and political dimensions of presence. He thinks of image collections as pathways that can reconfigure and deconstruct our structures of desire and individuality. He also works extensively with contemporary dance. Repetition is a form of change.
Florence Vinit is a professor in the Department of Psychology at UQAM. She is also a psychologist in private practice and a practitioner in haptonomy. Founder of the organization Dr Clown, she has often worked in collaboration with the artistic community. On the research front, she is particularly interested in the phenomenology of the body and touch and their implications for clinical practice. She is the author of The Healing Touch as well as several articles on these topics.
Born in 1984, Ouanessa Younsi is a poet, author and psychiatrist. She has published three collections of poetry with Éditions Mémoire d'encrier: Prendre langue, Emprunter aux oiseaux and Métissée. She co-edited the collective book Femmes rapaillées. She has also published a book that retraces her journey as a caregiver: Soigner, aimer. Between two patients, she contributes to various magazines and collective works. She lives in Montréal.