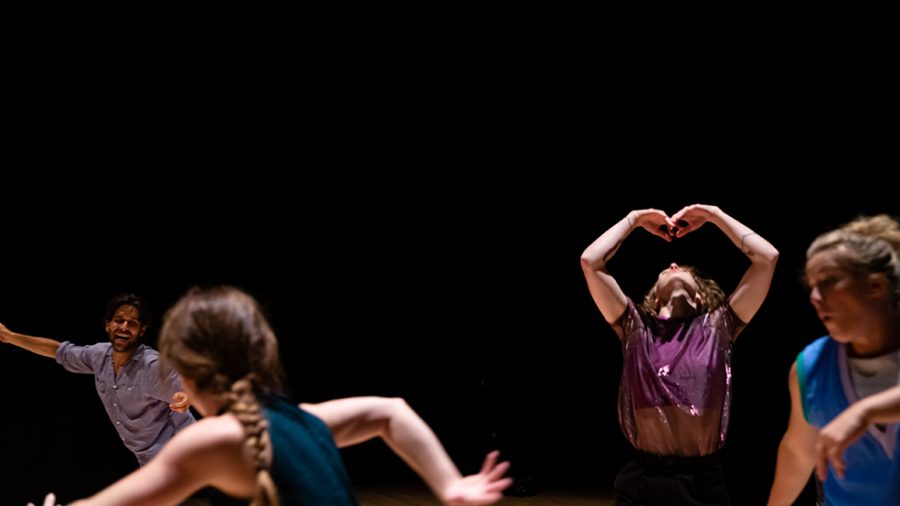 Polyphonic event
APRIL 28-30, 2022 - 7PM
MAY 1, 2022 - 4PM
-
A dream lodge run by Florence Vinit will take place after each performance
Les jeux du crépuscule invites us to question our individual and collective relationship to aging and illness. With a performance, a visual installation, a poetry collection, a workshop on co-presence, a talking circle for caregivers and a dream lodge, this polyphonic event seeks to expand perspectives on the topic and, foremost, to incite experiences and inner shifts.
Workshop: An Encounter With the Technology of Presence* (30 minutes, multiple time slots – Espace Vert)
*You can purchase a ticket for the workshop and the show or for the show only for the same price.
Led by Stefanie Blain-Moraes and Marco Pronovost, this 30-minute workshop is open to 6 people at a time and opens a sensory door onto Ariane Boulet's show. Multiple time slots are available between 5:30pm and 6pm from April 28 to 30, and from 2:30pm to 3pm on Sunday, May 1.
Stefanie Blain-Moraes is the Canada Research Chair in Consciousness and Personhood Technology. She is the creator of biomusic, a technology that converts emotionally salient physiological changes into musical output. Biomusic has been shown to enhance the perception of personhood in minimally communicative individuals, and to detect moments of interpersonal synchrony in persons with dementia moving with others.
+
Visual Installation: La maison que j'habite, moi (Café-Bar)
Inspired by the mediation project La maison que j'habite, moi developed since 2018 in collaboration with CHSLD residents and the caretakers who were moved by Mouvement de passage, this eponymous visual installation invites the spectator into a transition space where they might unload before entering the performance space. The artworks and installation were created by artist Marie-Hélène Bellavance in collaboration with the residents of the CHSLD Sylvie-Lespérance.
+
Show: Les jeux du crépuscule (75 minutes – Espace Orange)
This choreographic work is fueled by the experiences of eight artists involved in the Mouvement de passage project carried out in a residential and long-term care centre (CHSLD) since 2014. The intention is to create a work that bears witness to their experiences, but that transcends the physical, sensory, and emotional memories of each artist who took part in the project. It is about asking the essential questions that arose from a substantial and transformative experience, and making the emotional states and the movements that carry with them feelings and reflections respond to one another. Ultimately, I hope for a work that, beyond its ability to decant the artists' experience, can reflect the plurality of what is experienced in the invisible abundance of the coexistence of strangers united in dance.
+
After the Show: Dream Lodge (45 minutes – Espace Orange)
With Florence Vinit, to dream our relationship with aging and illness together.
+
FREE! Caregivers' Talking Circles (60 minutes – Espace Vert), conducted in French
Spaces for sharing and providing support for caregivers and care attendants, led by Florence Vinit. Saturday, April 30, at 3pm, or Sunday, May 1, at noon. Reservation required: click on the BUY button to reserve your spot for free. Please note that the talking circle will be conducted in French, but participants are free to communicate in English.
Aging, disease, and death aren't topics we often discuss in our everyday lives. However, they are central to our existence and our decision-making. These talking circles will be an opportunity to share in a space that is safe and private. Based on a speaking ritual, in a small group, each person will be invited to share a word, a story, a question, or even a moment of silence. It is not therapy, but a moment to be together around themes at the centre of our humanity.