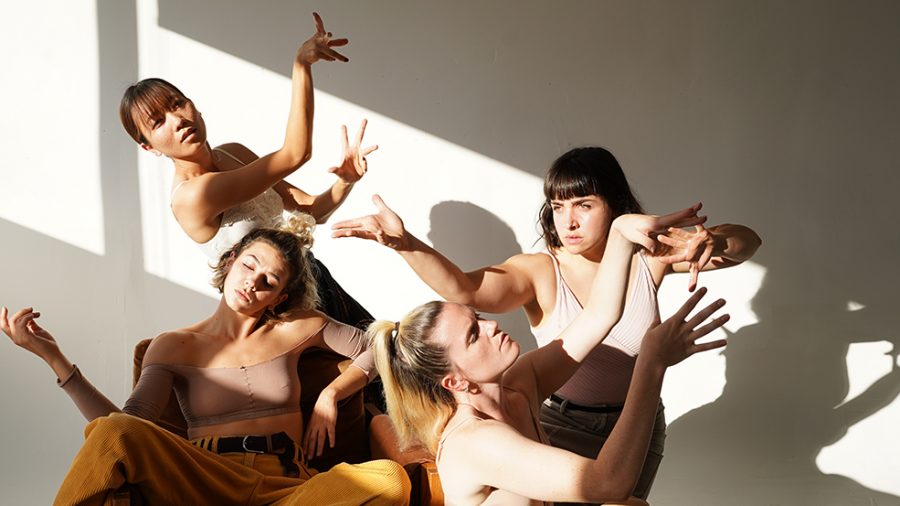 Les Soirées 100Lux 2022 - Espace Orange
MARCH 24-26, 2022 - 7PM
MARCH 27, 2022 - 4PM
-
Discussion with the artists on March 25
The order of the pieces is subject to change.
Ever wondered how it feels to join a battle? It's one of the key elements that sets street dance apart from contemporary dance. Embracing the spirit of the battle, four krumpers face down the audience, now turned opponent. They introduce us to their characters, their feelings, the atmosphere they seek to explore through their personal styles. They meet the spectators' gaze, building trust before the confrontation. The energy rises, pulling the audience in and allowing it to experience, understand, and feel the excitement of the battle.
Street dances
·
Physical
·
Performance art
Production 100Lux
Choreography Yannice Ouellet
Performance Olivier Clermont, Williams Cogue, Mathilde Mercier-Beloin, Jules Talavera
Music Big Rulez ("Kid NY Anthem", "Just Krump")
Lighting design Sophie Robert
Advice Valérie Chartier
In 2010, Yannice Ouellet takes her first krump class after familiarizing herself with different street dance styles. She participates in many shows and dance battles all around the world, also taking classes and intensive workshops with the krump elite. Yannice shares her passion by teaching all around Montréal. She nourishes her curiosity by participating in creative laboratories with a few Canadian dance companies. She appears in the second season of the dance TV show Révolution as a solo artist. It is in 2019 that Yannice takes her first step as a choreographer for her piece L'art de la confrontation. She is also a dancer and co-choreographer with Valérie Chartier, her mentor, for their duo Dualis.
Marie-Ève Canuel, born in Baie-Comeau, had a career as a gymnast during her childhood and adolescence. At the age of 19, she finally starts dancing after having contemplated the idea for a few years. She dances at Urban Element Zone, a school that specializes in street dance, where she learns hip hop, house, and dancehall. Krump is occasionally added to the choreographies, which introduces her to the style. In 2017, she begins her journey as a krumper by entering the Leadhers program, then entering the Triple C Family under the mentorship of Valérie "Taminator" Chartier.
Olivier Clermont has been interested and finding pleasure in expressing himself through movement for quite a long time. From karate to improvisation, while experimenting with different styles of dance and the technical aspects of the scene, he has never been a stranger to storytelling through movement. In 2017, he landed on krump, in which he dove head first, going as far as going to a training camp in Russia the following year to improve his skills. Since then, finding friends and comfort in the Montréal dance community, Olivier rarely misses an opportunity to further experiment with and grow in this art form.
Williams Cogue spent his first 20 years in West Africa. He got interested in hip hop at the age of 12. He was part of the hip hop crew KBI/IamAfro and participated in many African dance competitions and shows. After moving to Canada with his family in 2017, Williams discovered krump. One year later, he was already a member of the Westrock family. The following years, he participated in many battles, competitions, and shows here in Canada. Recently, he decided to take part in the project L'art de la confrontation, directed by Yannice Ouellet.
Throughout her childhood, Chantal Grimes took ballet and tap classes but became seriously interested in dance at the age of nine when she began exploring her heritage through Irish step dancing. She performed and competed for nine years in this dance style in the United States, achieving her goal of becoming an open champion. She fell in love with krump after moving to Montréal and being introduced to Canadian krump pioneers Vladimir "7Starr" Laurore and Valérie "Taminator" Chartier. Since 2014, she has furthered her knowledge of the style by attending their classes and workshops, and by training with internationally recognized krumpers.
Originally from Sherbrooke and now based in Montréal, Mathilde Mercier-Beloin entered the world of dance at the age of 8. Her passion for dance led her to perfect her dance skills at Cégep de Sherbrooke (2013-2015) and at École de danse contemporaine de Montréal, where she graduated in 2019. Mathilde also takes part in several training courses in the United States, Australia, Canada, and France. She now dedicates her career to two styles of dance in particular: contemporary and krump. She has been practicing krump since 2018 and has never stopped developing this style with different Canadian and international teachers and mentors.
Established since his childhood in Montréal, already passionate about dance since the age of 7, Jules Talavera is an artist who devotes himself body and soul to art every day. Starting with hip hop, he traveled through several schools such as the Newdance studio, MPschool, and finally Urban Element Zone. He got involved by joining several junior competitive troops. He began shortly after training in classical ballet at École supérieure de ballet du Québec. In 2013, he met Kevin "Jr Maddripp" Gohou, who introduced him to krump. This encounter quickly immersed Jules in the krump world and in dance tournaments. Jules was officially taken under the wing of his mentor Jr Maddripp in 2016, when Jules decided to dedicate himself to krump. Since 2020, Jules has come into contact with the world of contemporary dance at EDCM, then deepened this interest with the help of Stéphanie Decourteille and Alexia Martel. He also took up ballet again with Manon Forget. Since 2021, Jules has joined EDCM, where he seeks to flourish in the dance world.
Valérie Chartier has gained much experience over the span of her 38-year dance career, from ballet, jazz, contemporary, hip hop, house, and waacking to krump. Valérie, aka Taminator aka Lady Maddripp, is a krump pioneer in Canada and an influential and well renowned international leader in this movement. She has been travelling across the world to participate in competitions, to teach, and to judge some events. Taminator is also vice-president of Montreal Krump Alliance, a non-profit organization, and the instigator of the educative and artistic program LeadHers, dedicated to women. She is also a performer and choreographer. She was recently a participant on the 3rd season of the Révolution TV show.
Empathy is the superpower of humanity. Over the past two years, we have repeatedly borne witness to individual and collective suffering. Having embarked on their creative process during lockdown, the four dancers first created a safe space through their computer screens. They found a vulnerable and authentic form of expression in waacking, a style of street dance created in the 70s by queer Black and Latino youth seeking a welcoming community. Drawing on waacking's cinematic influences, the choreographer uses the world of horror flicks as an outlet to let the performers explore feelings and thoughts that inspire fear.
Street dances
·
Live music
·
Intimate
Production 100Lux
Choreography Krystina Dejean
Performance Éloïse Caza, Jessica Gauthier, Alexe Lebel-Faille, Taylor Yeung
Composition and musical performance Enora "EƎNO" Trebern
Sound design Diana Reyes
Costume design Gabrielle O'Hara Normandin
Lighting design Sophie Robert
​​Set design Émilie Hamel
Artistic advice Marie-Reine Kabasha
I believe that our feelings, and our empathy for the feelings of others, are the real superpower of human beings. The lockdown imposed by the pandemic has made me realize that I have spent much of my life escaping the need to deal with my feelings, so I am looking to break that cycle. I also choose to explore empathy through horror, as it is an environment that gives us the right to explore feelings and thoughts that scare us. My hope is that horror allows the performers and the audience to meet in a non-judgmental world where the sincerity of their feelings will allow them to feel true empathy.
Krystina Dejean, also known as Mystique, is a dancer who specializes in freestyle and street dance, particularly in waacking and hip hop. In 2015, along with Taylor "Tales" Yeung and Fanny "Blue Velvet" Bergeron-Labrecque, she created the waacking collective Savage Queens with the goal of developing their own style and making an impact in the Montréal waacking community. During their active years, the collective has created pieces that have been presented by the theatre company Les Désaxées (Anima Fissa, 2016), as well as by the HomeRun festival (Qu'est-ce qui mijote?, 2017) and Les Soirées 100Lux (STUMBLE!, 2017). In 2019, Krystina joined the waacking collective Asymmetry, led by Axelle "Ebony" Munezero. Within the collective, she has presented pieces as a choreographer (Poetry, 2019), a performer (Tourment, 2020), and a co-creator with other collective members (Seul.e.s Ensemble: Club Edition, 2021). She also remains active in the street dance scene by participating in local and international battles.
Éloïse "Ease" Caza is a multidisciplinary artist whose main focuses are dancing, painting, and jewelry making. She is a Franco-Ontarian, born and raised in a small town South of Ottawa. She moved to Montréal in 2010 to pursue her studies in Communication and Art History at Université de Montréal. She has been dancing since a young age, in several styles, but has mostly been focused on street dance styles, such as waacking and hip hop, since moving to Montréal. Most recently, she has started a practice in breakdancing. She has been a performer for the waacking collective Asymmetry in various productions, such as Tourment (2020) and Forêt Noire (Les Soirées 100Lux 2019). She is also part of a collective beginning an exploration residency for an eventual creation. Over the past few years, she has travelled internationally for dance festivals and battles, and has taken multiple professional dance workshops in a variety of forms.
Jessica Gauthier (she/her) holds a BFA in Dance Performance from UQAM. She participated in Springboard Danse Montréal, where she had the opportunity to work with the Batsheva Dance Company (Israel) and Maxine Doyle (UK). She is involved in the contemporary dance scene in Montréal by participating in several projects with independent choreographers. She also practices whacking, a style that leads her to develop her freestyle and to do several battles. She is currently a performer in the company Asymmetry Creations, directed by Axelle Munezero. Her interest and curiosity for theatrical acting led her to train in acting at the Ateliers Fichaud. She also developed her skills by working in front of the camera in several dance videos, including Sept moments de joie, produced by Cirque Éloize.
Alexe "Nebulous" Lebel-Faille started to be interested in urban dance at a very young age and developed a particular interest in improvisation and battles. She trained in popping, breaking, house and contemporary dance, and finally in 2016 she decided to dedicate herself mainly to waacking. At the same time, she studied cinema and is particularly interested in the world of dance videos. She had the chance to participate in several editions of the 100Lux urban dance festival as a performer: first with Crash & Create in 2016, Savage Queens in 2017, Gadfly in 2018, and Forêt Noire in 2019.
Taylor Yeung, also known as Tales, is a whacker and hustle dancer. She has been a mover from a young age, with experience in classical ballet, hip hop, and jazz funk. Deeply drawn to the music and culture that surrounds club dances, she found a passion for the two styles she currently specializes in. At the moment, she is in the process of researching the intricacies and overlaps between both forms of expression as well as ways to incorporate parts of her heritage into her whacking.
Singer-songwriter Enora Trebern, aka EƎNO, has developed her musical universe by exploring different instruments (voice, piano, guitar, percussion, n'goni, drums) and many styles (soul, hip hop, African music, Brazilian samba). From her institutional instrumental training (Centre intercommunal d'éducation musicale des Côtes d'Arey, Conservatoire de musique et d'art dramatique de Quimper) to the deepening of her vocal technique as a self-taught musician and her practice within several groups, it is her love of rhythm and vocal harmonies that has always been her driving force. She uses her voice (singing and beatboxing) as a transmitter of sounds, messages and emotions, and blossoms musically as a soloist with the loopstation RC505, an electronic music instrument that reveals her artistic singularity.