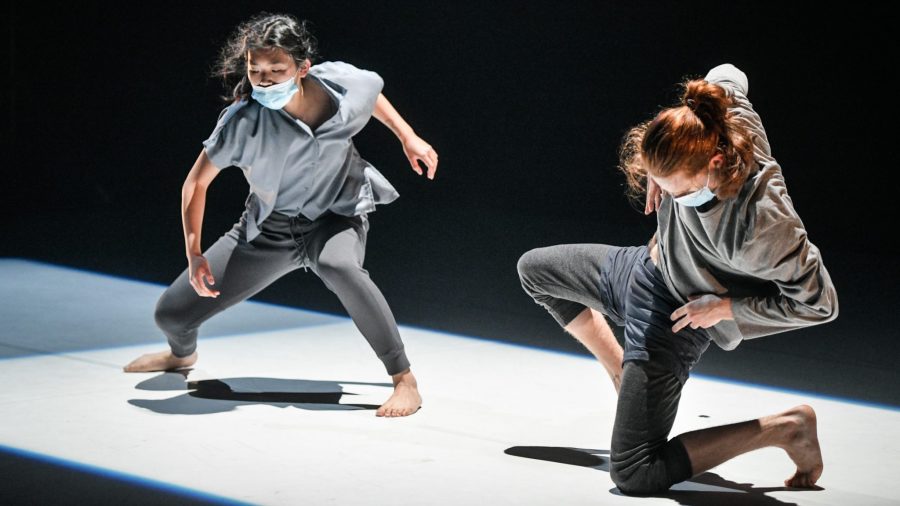 École de danse contemporaine de Montréal - Espace Orange
LIVE SHOW
DECEMBER 8-11, 2021 - 7PM
-
ONLINE SHOW
LIVESTREAM
DECEMBER 11, 2021 - 7PM
PRERECORDED WEBCAST
DECEMBER 13-19, 2021
École de danse contemporaine de Montréal presents the show entitled Les danses de la mi-chemin, featuring its second-year students. For the occasion, artistic and program director Lucie Boissinot has invited choreographers Stacey Désilier and Edgar Zendejas to create pieces for large groups. Also, for the 10th anniversary of the creative lab Fly, six performers who recently graduated from EDCM will present a choreography by Katia-Marie Germain.
This event is part of the 40th anniversary of École de danse contemporaine de Montréal.
Artistic director Lucie Boissinot
Les danses de la mi-chemin
Choreographers Stacey Désilier, Edgar Zendejas
Creation and performance advisor Anne Le Beau
Lighting designer Stéphane Ménigot
Costume designers Ximena Pinilla, Philippe Massé
Dancers Méanne Belisle, Gabrielle Boudreau, Laura Brisson, Alec Charbonneau, Sphynx Church, Meggie Cloutier-Hamel, Émile de Vasconcelos-Taillefer, Coralie Fortier, Camille Huang, Sara Kurz-Martin, Mya Métellus, Audric Raymond, Tommy-Lee Salvas
Fly, the creative lab
Choreographer Katia-Marie Germain
Dancers Elisa Barrat, Madeleine Bellefeuille, Jasmine Bouchard, Julianne Decerf, Luce Lainé, Caroline Namts
Costume designer Jonathan Saucier
Passionate about movement and the body, fascinated by dance, Stacey Désilier is a graduate of École de danse contemporaine de Montréal, where she collaborated with choreographers and performers Marie-Claire Forté, Sasha Kleinplatz, George Stamos, Mélanie Demers, and Dana Gingras. In 2018, Stacey joined the company Animals of Distinction and participated in their new creation FRONTERA. Seeking to practise contemporary dance and performance abroad, she worked with Cirque Éloize, Les 7 doigts de la main, L'Opéra de Québec (Starmania), and Tentacle Tribe, which brings her back to her urban dance roots and her Haitian culture. Her artistic practice as a dancer and a choreographer and her collaborative work give her an inner wealth that she wants to share with various organizations, countries, and artists.
Mexican-born Edgar Zendejas danced for Les Ballets Jazz de Montréal (BJM), Hubbard Street Dance Chicago, and Giordano Jazz Dance. Edgar's work won him commissions with BJM, Jacob's Pillow, Cedar Lake Contemporary Ballet, DanceWorks Chicago, Luna Negra Dance Theater, NorthWestDanceProject, Ballet Hispanico, State Street Ballet, Eisenhoward Dance, Santa Barbara Dance Theatre, and Richmond Ballet. He is a winner of the Hubbard Street 2 National Choreographic Competition in 2010 and a finalist of the Genesis competition with the Milwaukee Ballet. He was also honored with the Outstanding Choreographer Award from Youth American Grand Prix in 2012. Edgar explores new areas of choreographic collaboration with the National Circus School in Montréal as their creative director. He also collaborates with Starlight Circus in Switzerland, Franco Dragone Productions, C:Lab, and Cirque du Soleil as an artistic consultant.
Katia-Marie Germain is a choreographer and performer with degrees in dance and visual arts. With finesse and precision, her choreographic work explores the relationship between movements, scenography, and light. Driven by the desire to renew perception, she creates environments that capture the gaze, inspiring wonder and contemplation. Since 2012, she has presented her works in various venues and festivals, and has received support from artistic residencies in Belgium, Chile, France, and Italy. In 2018, following the presentation of Habiter, Katia-Marie wins the Prix Découverte de la danse de Montréal, awarded to the previous year's revelation in the dance community. This work also allowed the choreographer to be presented across Canada and in Europe, including at the prestigious Venice Biennale in Italy (2019).