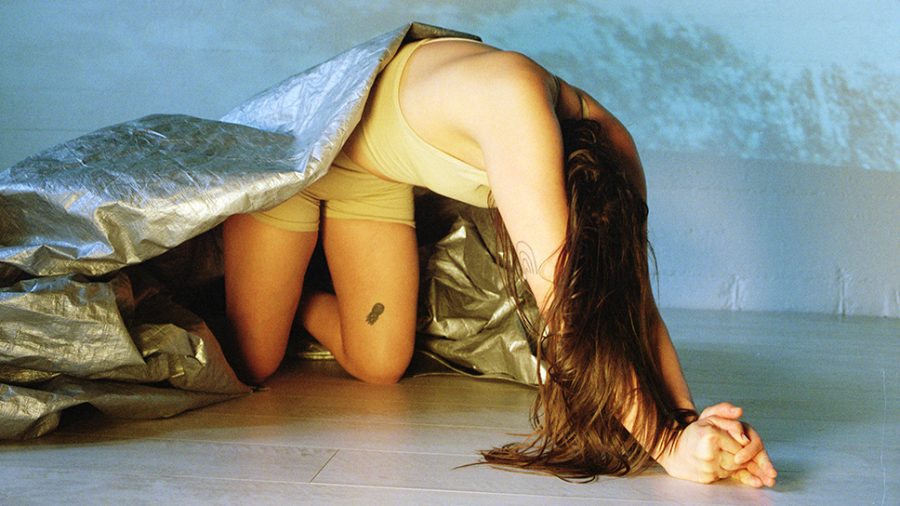 Double bill
ÉDIFICE WILDER | ESPACE VERT
NOVEMBER 3-5, 2022 - 7PM
NOVEMBER 6, 2022 - 4PM
-
Discussion with the artists on November 4
The order of the pieces is subject to change.
Burning incense opens a pathway between the spirit and physical realms. In thirty minutes, before the portal closes, Mecdy's soul, still suspended in the ether, must decide who his parents will be. Each time Mecdy has a question, the answer comes to him through dance. Whether alone or facing an opponent in a competition, on stage or in nature, he always feels himself falling into a trance. To the energizing rhythm of his breath, join him on his meditative solo and reap the therapeutic benefits of his medicine.
Contemplative
·
Ancestral
·
Rhythmic
Choreography and performance Mecdy Mystic Rootz
Lighting design Benoit Larivière
Artistic advice Frédérique PAX Dumas, Helen Simard, Alexandra "Spicey" Landé
My artistic process is grounded in a series of concepts I believe shape each person's reality: data, information, knowledge, and finally wisdom. These concepts allow me to go into an in-depth examination of the things I encounter in my artistic journey.
I base my creative process on the primary data gathered by my senses: smell, sight, touch, taste, and hearing. The scents, images, sensations, tastes, and sounds my body perceives are processed by my brain and trigger various physical responses. Over time, these responses turn into imprints and a sense of knowledge imbues my breath, my stance, the way I play with movement. These imprints influence my physical reactions to the ups and downs of life, dialoguing with my environment through time and space, and fuelling my reflections on my past and the experiences of those who came before me. Through observation and integration, this lived, rhythmic, ancestral knowledge slowly crystallizes into wisdom. I become aware of this cosmology outside and within me, and celebrate the mystique of existence. I then carry this wisdom inside myself and my dancing, and strive to share it with the world.
Originally from Montréal and Haiti, Mecdy Mystic Rootz brings his energetic, athletic, and tribal style to stages internationally. He has represented Canada in various competitions around the world, organised expressive workshops and dance events, and won numerous titles. Mecdy is a choreographer-performer, streetdance teacher specialising in popping and contemporary dance who has been evolving within the dance community for more than fifteen years. He began his career in streetdance competitions in 2005 and then explored different styles and disciplines, such as contemporary dance, Afro-American dance cultures, drumming, sound healing, sacred geometry, sacred mantras, and meditation. He pours his energy and soul into therapeutic dance by expressing his philosophy of life in various intelligent concepts. Not only is he an elite dancer, he is also an extraordinary mentor who has been promoting the Montréal community since 2005. His style incorporates a high level of conscious movement where he promotes the reappropriation of the rhythmic body in its anchoring, breath, weight, and alignment. He has worked with many dance companies, such as Cirque du Soleil, Blueprint Dance Company, Gad fly, We All Fall Down, and Tentacle Tribe. He has also appeared in a few dance films, such as Sur le rythme, Step Up All In, and Full Out.
Benoit Larivière has created lighting designs for many productions, working in theatre and music, but mostly specialising in dance. Some of his main achievements include multiple contracts signed with various dance companies, such as Tentacle Tribe, 100Lux, Helen Simard, and Ebnfloh, in addition to working with choreographers such as Ford, Monstapop, Claudia Chan Tak, and Nasim Lootij, and theatre companies Multisens, Les Exclamateurs, and Les Écorchés vifs. He approaches lighting in a collaborative spirit with the choreographer and the director, drawing his inspiration from their creative universe, always placing great importance on their creative vision. Darkness and absence of lights are major aspects of the way he works, always searching for ways to create images that are independent of the space, the venue in which the creation takes part, or modifying this space.
Frédérique PAX Dumas is a performing artist and multidisciplinary creator with a specialised background in street dance. She is deeply interested in the creative process and the power of artistic expression as a tool for transformation, which has led her to develop a specific artistic approach. From this unique approach, she creates teaching methods that are shared in Europe and the United States as well as with several renowned dance companies. She performed at the renowned street dance festival Breakin Convention (London) with the production Hannah, a duet co-created with Genevieve Lou.
Helen Simard is a choreographer working in Tio'tia:ke (Montréal) since 2000. After working with Solid State Breakdance for twelve years – an artist collective that combined street and contemporary dance – and participating in nine multi-headed creations, she decided in 2012 to lead her own projects. She works with musicians and dancers in the studio to create hybrid, often deafening performances such as NO FUN (2015), IDIOT (2017), REQUIEM POP (2019), and Papillon (2020). Helen is currently an artist-in-residence at Playwrights' Workshop Montréal, as part of their interdisciplinary writers' lab. She is using this opportunity to write her first play, When Your Baby Dies. She holds a BFA in Contemporary Dance from Concordia University (2000) and an MFA in Dance from UQAM (2014).
A creative return to the fast-flowing landscape of Saskatchewan, the robust and undulating land of Jeanette's great-grandmothers and great-great-grandfathers, Kisiskâciwan is a journey to one's self. It speaks through dance to a Métis cultural narrative of identity and home. Through memories of her childhood summers embraced by the Kah-tep-was (Nêhiyaw for "river that calls") valley, she evokes the lasting impression left by the inspiring vast prairie and the gently rolling hills. Kah-tep-was is a 2-kilometre wide, 180-metre deep valley, a sacred place that calls generations of peoples for gathering, hunting, and spiritual replenishment.
Poetic
·
Intimate
·
Ancestral
Choreography and performance Jeanette Kotowich
Creative direction and outside eye Deanna Peters
Sound design Wayne Lavallee
Lighting design James Proudfoot
Music and singing Kathleen Nisbet
Media Brady Marks
Through memories of her childhood summers embraced by the Kah-tep-was (Nêhiyaw for "river that calls") valley, Jeanette Kotowich evokes the lasting impression left by the inspiring vast prairie and the gently rolling hills. Kah-tep-was is a 2-kilometre wide, 180-metre-deep valley, a sacred place that calls generations of peoples for gathering, hunting, and spiritual replenishment.
Jeanette Kotowich is a multi-disciplinary Iskwêw, independent dance artist, creator, choreographer, and professional Auntie of Nêhiyaw Métis and mixed settler ancestry. Originally from Treaty 4 territory, Saskatchewan, she creates work that reflects Nêhiyaw/Métis cosmology within the context of contemporary dance, Indigenous performance, and Indigenous futurism. Fusing interdisciplinary collaboration, de-colonial practices and embodied research methodologies, Jeanette's work references protocol, ritual, relationship to the natural/spirit world, and Ancestral knowledge. Her practice is intergenerational and vocational. It's a living and lived experience. Jeanette resides as a guest on the Ancestral and unceded Sḵwx̱wú7mesh (Squamish) əl̓ilw̓ətaʔɬ/ (Tsleil-Waututh) and Xʷməθkʷəy̓əm (Musqueam) territories, colonially known as Vancouver.
Deanna Peters/Mutable Subject is an independent artist working in and around dance for the past 18 years. Living and learning on Musqueam, Squamish, and Tsleil-Waututh Territories (Vancouver), Deanna creates and performs for the stage, clubs, and online spaces. As a designer, she also creates for web and print. Working both inside and outside current modes of presentation, Mutable's a hyper-active DIY producer who hosts shows, parties, residencies, and workshops. Since 2016, they've produced the multidisciplinary group show interplay_. From 2012 to 2022, Deanna was Communications Director at CADA/West, advocating for fair standards in dance. Embodied practice informs all their work. It's all dance!
Wayne Lavallee is Metis award-winning recording artist, two-time Juno nominee, a winner of a Canadian Folk Music Award as well as several Canadian Indigenous Music Awards. Wayne is a three-time Leo Award nominee for his film scores. He is currently working on the music score for the CBC mini-series Bones of Crows. He is inspired to create music/sound that's rooted in his Indigenous culture – a hybrid of unique modern and old-world sounds that evoke the ancient spirit within.
From Edinburgh, Scotland, where he received his initial theatre training, James Proudfoot has been living in Vancouver since 1993. Specialising in the realm of dance lighting, James has contributed designs for dance works to many companies, including Lola Dance, Company 605, Co. Erasga, Wen Wei Dance, Joe Ink, EDAM, The Contingency Plan, battery opera, Kinesis Dance, Ballet BC, Move The Company, Restless Productions, Holy Body Tattoo, Dumb Instrument, MACHiNE NOiSY, Anatomica, Tara Cheyenne Performance, Les Productions Figlio, Karen Jamieson, Trial & Eros, Rachel Meyer, Action at a Distance, Out Innerspace, Helen Walkley, Ballets Jazz de Montréal, Justine A. Chambers, and Plastic Orchid Factory.
Kathleen Nisbet is a fiddle player, multi-instrumentalist, singer, and composer from Vancouver, BC. Classically trained early on, she returned to her Métis roots, pursuing more traditional fiddle music. She is a collaborator and regular accompanist with V'ni Dansi, Métis traditional dance, and Acuhko Simowuk Collective. Kathleen is an active member of Vancouver's thriving bluegrass, old time and folk scene. She has performed and toured internationally with her band Viper Central and has numerous recording credits to her name.
Brady Ciel Marks is a sound artist, DJ, computational artist, and educator. Brady is concerned with our technological entanglement and creates media configurations that express a middle way between technological fetishism and dystopian fantasies. She works with technology, against technological thinking and for marginalised voices using sound, light, and interaction. Brady holds an M.Sc. in Interactive Arts from Simon Fraser University and has recently been teaching at Emily Carr University of Art+Design in the New Media Sound Art area. She has long hosted the Soundscape Show on Vancouver's Co-op Radio. Brady was born in the shadow of Table Mountain, Cape Town, South Africa, and now makes her home on the unstable stolen land of the šxʷməθkʷəy̓əmaɁɬ təməxʷ (Musqueam), Skwxwú7mesh-ulh Temíx̱w (Squamish) and səl̓ilwətaɁɬ təməxʷ (Tsleil-Waututh) peoples, colonially known as Vancouver, and can be found thriving on queer party dance floors.