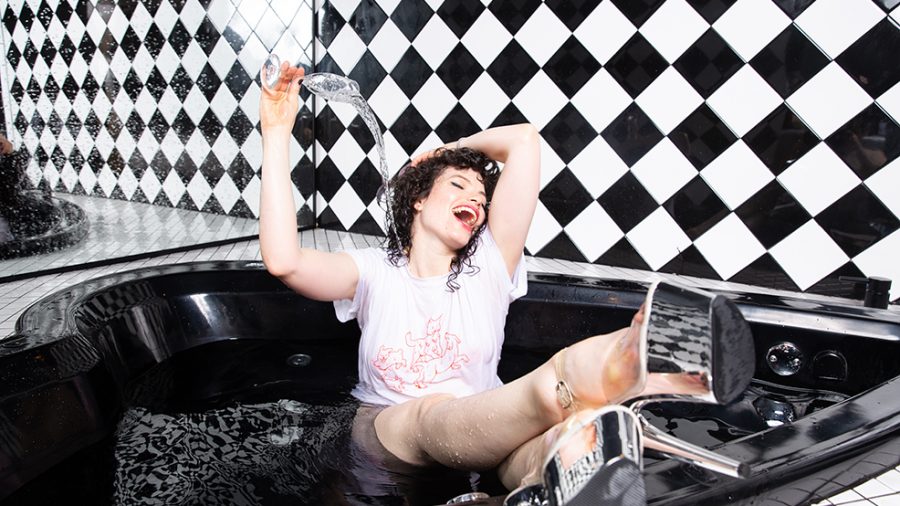 Double bill
ÉDIFICE WILDER | ESPACE VERT
NOVEMBER 26, 2022 - 7PM
NOVEMBER 27, 2022 - 4PM
NOVEMBER 28 & 29, 2022 - 7PM
-
Evening reserved for BIPOC on November 28, followed by a discussion with the artists
The order of the pieces is subject to change.
Per the artists' request, on November 28 – an evening reserved for Black, Indigenous, and People of Color (BIPOC) – Tangente's aim is to create a welcoming and safe space for BIPOC to discuss and share after the performance; an unfiltered moment of fluid and sensitive exchanges between the artists and the audience, informed by their complex and diverse experiences. Tangente is committed to ensuring that every person – artist, spectator, and cultural worker – feels comfortable expressing their unique world views and cultural values in a mutually beneficial way. We extend this invitation to our various communities, and hope to see many of you there!
As a queer artist who worked as a stripper for many years, Maxine sees similarities between the negotiation of power in the performer-audience relationship and the interaction between stripper and client. Several characters embody different roles within the club: "the girls" with each other, the clients and the monster of masculinity, the bouncers in the background. Ad-Hoc Dimension takes on stripper tropes: the drunk with power, the blasé, the Bambi-on-ice who needs saving… Whose fantasy is being constructed? Who is empowered to make choices and who gets the final say? Decision-making is but a starting point to explore power dynamics, trust, self-affirmation, and the acceptance of the consequences of our actions.
Interpersonal
·
Playful
·
Intimate
Choreography and performance Maxine Segalowitz
Dramaturgy Helen Simard, Nada Khashaba, Jordan Brown
Lighting design and scenography Nien Tzu Weng
Production manager Michael Martini
Outside eyes Melina Stinson, Lara Oundjian, Louise-Michel Jackson, HK Jackson, Nien Tzu Weng, Neil Sochasky, Sophia Wright, Hanna Sybille Müller, Zoey Gauld, Michael Martini, Be Heintzman-Hope, Ellen Furey, Jordan Arseneault, holly Greco
Sound collaboration and editing Carmen Colas and Maxine Segalowitz
Sound consultation Moe Clark, Michael Martini, Tracy Valcarcel Rodriguez
Hair and makeup Imani Khalaf
Photography and video Kinga Michalska
Neurodivergence is a mixed bag of wonders and obstacles including a multitude of alternative creative possibilities as well as being a maze for executive functioning and consistency. Working with other grounds performers in reality and builds trust. Everything that is known to exist exists because it is in relationship with one or more things. Working to update choreography from a previous timeline, I have invited new perspectives from two choreographers, Nada Khashaba and Jordan Brown, to remix the previous choreography and create new material. With dramaturgical support from Helen Simard, we have pieced together an experience of vulnerability and trust. There is a whole world to indulge in.
Maxine Segalowitz is a queer, Jewish dance artist currently living in Tio'tia:ke (Montréal), where she has immersed herself in creative communities as a dancer, choreographer, clown, cabaret performer, drag artist, and stand‐up sleeper. As a dancer, she has notably worked with Helen Simard, Yannick Desranleau+Chloë Lum, Ingrid Bachmann and Karen Fennell, performing locally and internationally. As a choreographer, Maxine has been developing since 2017 Sexpectations, a solo project presented at Festival Bouge d'ici, and FRINGE in Halifax and Montréal, both festivals nominating it for Outstanding Choreography. She has also created various clown cabaret characters, which she presented at Just For Laughs, Montréal Clown Fest, and at various cabaret venues across Canada.
Phoenix Inana is a queer Egyptian performance artist specializing in theatre and cabaret arts like vaudeville, drag, burlesque, and belly dance. They are a genderbending creature that defies categorization and transcends artistic disciplines. You may know her as a hyperfeminine goddess sex siren, or as an intersectional and ancestral heritage deep-sea diver, or perhaps as their king alter ego, Slick Hardwood. In whichever form, Phoenix Inana brings their multitudes of self into every performance and leaves you thinking, feeling, and sweating just a bit.
Jordan Brown is an artist thinking about multiplicity, abstraction, and opacity as it relates to safety and futurity. He works across and in between disciplines in an ongoing study of the potentials of language to conjure alternative realities. His practice is grounded in his scholarship of Black and queer technologies of transformation and a commitment to freedom. Currently, he is completing an MFA in Sculpture at the School of the Art Institute of Chicago.
Helen Simard is a choreographer, rehearsal director, and dance researcher based in Tio'tia:ke (Montréal). After working with Solid State Breakdance for twelve years, an artist collective that combined street and contemporary dance, she switched gears in 2012 to lead her own artistic projects. Her current choreographic research explores the codes and aesthetics of rock music, creating lively, interactive performances that challenge the conventions of stage dance forms: her most recent work, PAPILLON, premiered at Théâtre La Chapelle in 2020. She is currently writing her first play, When Your Baby Dies. Helen holds a BFA (2000) and an MA (2014) in contemporary dance.
"Tan[ha]" refers to the Farsi word for solitude, which translates as "alone". However, separated, the words "Tan" and "ha" translate as "bodies". Tan[ha] – these many bodies carried in solitude – is an investigation by two nude performers into agency. Can our body sustain an action for as long as we want? What happens when we want to stop laughing, but can't? What does it mean to laugh with your whole body, but without producing a sound? The dancers' bodies produce a back-and-forth movement that remains between two spaces, never reaching either. Do we have agency over our bodies or do our bodies have agency over us?
Visceral
·
Abstract
·
Physical
Concept and choreography Mohammadreza Akrami
Performance Robert Abubu and Mohammadreza Akrami
Contribution to the physical research Benjamin Kamino
Outside eyes Sasha Kleinplatz and Katie Ward
Consultation Angie Cheng
Lighting design Paul Chambers
Sound design Siavash Amini
Production management Chad Dembski
I am busy with the physical practice of laughing and the conditions in which laughter emerges from a body: forced, invited, surprised, etc. Some questions I am busy with as I engage the practice of laughing are:
Laughter as an action: what happens when body parts want to retreat or escape from the body, but they cannot?
What if body parts have local agency rather than global agency? What if body parts decide to surrender or resist?
While I do this, I pass between feeling that I have agency over my body and not having agency. It takes time to enter this state. There is resistance. It takes time to come out of this state. Entering into and exiting from this state is a political act.
How the ambiguity of a moving body enriches perception and meaningfulness. What is in between movements? Is there a between movement? What is between the movements and bodies?
Born in Tehran, Mohammadreza Akrami is a dance artist based in Montréal and Toronto. His eagerness toward episteme leads him to study physics and dramatic literature, and to practice martial arts such as Wing Chun, Eskrima, and Chi Qong. His experience in performance art spans choreographing, dancing, acting, singing, and performing. He has worked on techniques like butoh, flying-low, passing through, and rituals and their music as roots for performance art.
Benjamin Kamino is a dancer who believes the field of dance and choreography to be a very special place in which humans are essentially invited to study qualities of the body, the self (identity), and relation (togetherness). Benjamin's dances have been presented across Canada and abroad. He is thankful for those dear times of collaboration with other artists, most notably with Daina Ashbee, Mohammadreza Akrami, Sook-Yin Lee, and Virgil Baruchal. As a dancer, he has been fortunate to work under the direction of Ame Henderson, Peggy Baker, Michael Trent, Jennifer Mascall, Lars Jan, Marie Chouinard, and Robin Poitras. Benjamin was curator at Dancemakers Centre for Creation in Toronto alongside colleague Emi Forster. He is the recipient of the 2016 Toronto Arts Foundation Emerging Artist Award, the 2013 Audience Choice Award at the Dance:MIC festival, and the 2009 DanceWeb Scholarship. Benjamin holds a BFA in Dance from the Tisch School of the Arts and an MA in Choreography from DAS Choreography.
Robert Abubo is a graduate of the Royal Winnipeg Ballet School, where he studied under David Moroni in the professional division. He worked with Le Groupe Dance Lab in Ottawa from 1994 to 2006 under artistic director Peter Boneham, and with Dancemakers from 2008 to 2015 (under artistic director Michael Trent until 2014). As an independent artist, he has worked with Tedd Robinson, Sylvain Émard, Lynda Gaudreau, Shannon Cooney, Bill James, Luc Dunberry, Winnipeg's Contemporary Dancers, Heidi Strauss, Kate Hilliard, Ame Henderson, Dana Gingras, Ben Kamino, Valerie Calam, Robyn Breen, Kate Nankervis, Amanda Acorn, Plastic Orchid Factory, Jordan Tannahill, Louise Lecavalier, K.G. Guttman, and Andréane Leclerc. His choreographies have been presented at the Canada Dance Festival, Tangente, Dancer's Studio West, Kaeja d'Dance, Dancemakers, Nuit Blanche (Toronto), CanAsian Dance Festival, Toronto Love-In, Interplay, Ottawa Dance Directive, Decidedly Jazz Danceworks (Calgary), and Short&Sweet (Guelph) with Lexi Vajda.
Sasha Kleinplatz is a dance artist in Montréal. She is the co-founder (along with partner Andrew Tay) of Wants&Needs danse, a collective focused on creating non-traditional contexts for choreographers to make work, and for audiences to engage with a plurality of contemporary performance practices. Sasha is the co-creator of Piss in the Pool, Short&Sweet, and Total Space Party, curatorial projects that have been part of numerous festivals, and theatre seasons in Canada, the United States, and Europe. Her work as a choreographer has toured throughout Canada and has been supported by the Canadian Council for the Arts and the Conseil des arts et des lettres du Québec. In 2015, Sasha was awarded a scholarship from Life Long Burning to take part in DanceWEB at Impulstanz Festival in Vienna, Austria. In 2021, she received a scholarship to participate in the Curating in Context symposium with the organization Lokomotiva in Skopje, Macedonia. Sasha's masters research at the School for Interactive Arts and Technology at Simon Fraser University was supported by the Social Sciences and Humanities Research Council. Her thesis focused on dancing consent and multi-species care through movement. Sasha's new works, Miracle'ing and We Move Together or Not at All, will premiere at Montréal, arts interculturels (MAI) in the fall of 2022.
Angie Cheng is a Montréal-based dance artist. Collaborative creation processes ground her ongoing research in performance: investigating the liminal space between creative process and performance event, between spectator and performer. The embodied and specific understandings that arise from these investigations shape her current questions and engagements both in her own work and with others. She has also been actively engaged in the dance community in the conversations of inclusivity, diversity, and accessibility. It's not just what we make as artists but how. She is committed to practicing consent, respect, and accessibility; care in how we are together in all that she is engaged in.
Katie Ward works from the traditional unceded territories of the Kanien'kehá:ka, Haudenosaunee, and Anishinaabe people. Her performance scores set conditions to re-imagine what we know. Katie's newest works highlight the performer's and the spectator's subjective perspectives. Katie has recently presented a solo dance called Anything Whatsoever (Festival TransAmériques 2021, Montréal), Dream Room (co-produced with Beeldend Danstheatre Telder. the Netherlands, and performed simultaneously at AXENÉ07 & Scarabee galleries, Gatineau/Arnhem/YouTube, in 2021), and imaginationreality (La Chapelle Scènes Contemporaines 2019, Montréal), and a spoken score performed by 12 spectators called Machine For Really Real Imaginaries (SappyFest 2020, Sackville, New Brunswick).
Paul Chambers is a Montréal-based lighting designer, visual artist, educator, and co-artistic director of CHA collective. He holds a BFA (Sculpture Major) from Concordia University and a DEP in Design for the Theatre from John Abbott College. Working with artists across different disciplines, collaborating on new dance works has always been a priority for him. In addition to leading workshops and lectures on design, Paul has been teaching at Concordia University in the Contemporary Dance department since 2015, and coaching design students at the National Theatre School of Canada since 2018. Recent design credits include work with Lara Kramer Dance, Amanda Acorn, Dorian Nuskind-Oder, Catherine Lavoie-Marcus, Priscilla Guy, Maria Kefirova, Katie Ward, PME-ART, Danse CarpeDiem, MAYDAY, Parts+Labour_Danse, Destins Croisés, Benjamin Kamino, and Public Recordings.
Siavash Amini is a composer from Tehran, Iran. He has worked with the labels Room40, Hallow Ground, Opal Tapes, and Umor Rex for the better half of the past ten years. He also has collaborated with a wide range of international artists, including Rafael Anton Irisarri, 9T Antiope, Heinali, and Zenjungle. He has remixed tracks for Carl Craig, Bernard Szajner, LTO, and the duo Arigto. He has performed at CTM festival, MUTEKes, Silent Night Prague, and many other well known international venues and events. He is the curator and a co-founder of SET experimental art events and SETfest in Tehran.
Chad Dembski is an artist, production manager and collaborator on performance, dance, and theatre work. Originally from Waterloo, Ontario, and now based in Montréal, he has worked with Public Recordings, Porte Parole, Teesri Duniya Theatre, Paul Chambers (CHA collective), Green Light Arts, Concord Floral (Jordan Tannahill), and Ben Kamino. He has created his own work, such as FAREWELL MONTREAL (Usine C) with Secret Theatre (Halifax, NS), and has performed with Small Wooden Shoe (Toronto) and for his own company Surprise Performance.