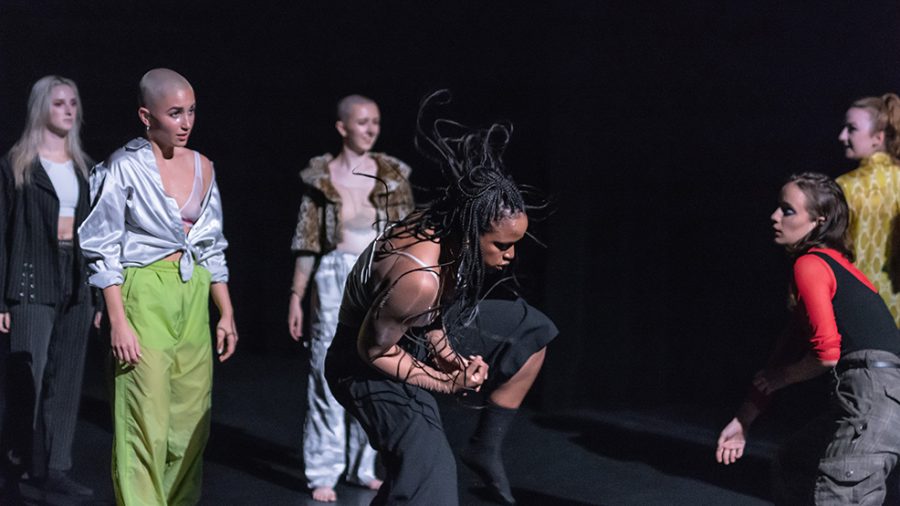 Double bill
ÉDIFICE WILDER | ESPACE ORANGE
SEPTEMBER 8, 2022 - 8PM
SEPTEMBER 9 & 10, 2022 - 7PM
SEPTEMBER 11, 2022 - 4PM
-
OPENING NIGHT: SEPTEMBER 8, 2022
COCKTAIL: 6PM
SHOW: 8PM
-
Ticketholders are also invited to the cocktail
-
Discussion with the artists on September 9
The order of the pieces is subject to change.
Welcome to the sonidero! Drink, dance, and sway to cumbia's enchanting rhythm. Born of a union between African drums and Indigenous flute, cumbia's soul is rebellious, playful, sensual, and multifaceted. Spreading across Colombia, Latin America and then the world, cumbia is the queen, the mamá who opens her arms to all and soothes every sorrow. Join us on a festive journey to explore the heritage of this musical genre and the cultures that developed around it.
Playful
·
Physical
·
Visceral
Choreography and performance Diana León and Paco Ziel
Original music Paco Ziel
Rehearsal direction Jean-Sebastien Couture
Lighting, scenography and costumes Adriana Ruiz "Clarisse Monde"
Dramaturgical consultation Eduardo Ruiz
Afro-Colombian dance consultation Daniel Díaz
Vocal coaching Mamselle Ruiz
Songwriting for "Sabor de mi corazón" Diana León and Paco Ziel
Technical direction Marcin Brunar
Set construction Charles Keating Sands
Assistance Adele Ross, Stephania Suarez, Christopher Laplante
Logo design Arturo Camacho
Photo and video Studio Épiphanie
Partners Conseil des arts du Canada, Conseil des arts et lettres du Québec, Écoscéno, Danse à la Carte, Circuit-Est centre chorégraphique, Académie du ballet métropolitain, Maison de la culture Côte-des-Neiges, Centre des loisirs de Saint-Laurent
United by our love of cumbia, we began to play this music in our improvisational practices, in search of the expression of "Latin flavour". Fascinated by the effects of cumbia on the body and state of mind, as well as the infinity of movements it provokes, we carried out an in-depth study of its history, styles, notable artists, and dances. With all these tools, we have put our experience and our knowledge as contemporary dance artists at the service of this culture, allowing it to permeate our artistic practice and learning from it. Thus, through experimentation and play, we have created a choreographic and musical score that shares, in an immersive way, what cumbia is for us at its core.
Originally from Mexico, Diana Léon studied classical dance at the Tecamachalco Ballet Studio and at the National Ballet School of Cuba. She then perfected her training through various contemporary dance workshops in addition to training in various dance improvisation techniques. Her experience led her to work as a ballet corps for the National Dance Company of Mexico, as well as Les Grands Ballets Canadiens de Montréal. Nourished by her own dance creation projects, she founded the company Vías, which she now co-directs with Paco Ziel. Her work with Vías has been presented at Montréal, arts interculturels (MAI), as well as in several renowned theatres in Mexico. She was part of the multidisciplinary laboratory Quantum Collective and has worked as a freelance performer with companies such as Sylvain Émard Danse, Anne Plamondon Productions, Skeels Danse, and Je suis Julio. In recent years, Diana has begun to develop her skills as a singer and songwriter, incorporating them into her dance practice.
Paco Ziel is a choreographer/performer/composer originally from Mexico with a completed training at École supérieure de ballet du Québec. In parallel to his studies, he had the chance to explore several body techniques such as Gaga, the Rubberband method, yoga, Feldenkrais, and meditation. Upon leaving school, he worked with the companies Cas Public and Vías, which he now co-directs with Diana León. He is now a dancer and artistic coordinator with RUBBERBAND. In 2014, he founded the multidisciplinary laboratory Quantum Collective, presented twice by Tangente in Montréal. Paco has worked with other Montréal artists and companies, such as PPS Danse, Anne Plamondon, Andrea Peña and Martin Messier, and has been a guest teacher at Springboard Danse Montréal and at the Domaine Forget. He is also a self-taught filmmaker and photographer and has recently begun to explore electroacoustic music production.
Born in Mexico City, Adriana Ruiz "Clarisse Monde" studied scenography at Escuela Nacional de Arte Teatral, where she received her master's degree in textile design in EDINBA. She won the prize for best costume in the 4th  Design Biennial of Mexico. She was also a winner at the Jaguar Awards in 2014 and 2016 with the productions La Misteriosa Muerte de la Madrina Varila and Los Niños de Carbón. In 2013, she was nominated for best costume design at the International St. Tropez film festival for Dissent. Since 2008, she has been executive producer for plays like Eduardo II, directed by Martín Acosta, and El Sueño de Martina, a collective creation. She designed costumes for plays like Las pepenadoras by Alaciel Molas, Huellas de Personajes Ficticios Bajo la Luz de la Luna Realista, directed by Abraham Jurado, and Arrullos para Benjamín, directed by Hasam Díaz, amongst others. She also designed costumes for operas by the company FIGAROSY in Yucatán from 2013 to 2015. As a lightning designer, she worked with Vías for the piece On this path, you are sure to get lost and other dance productions in different genres, such as ballet, contemporary, flamenco, and folklore. She has been a jury for different contests and showcases in Durango, Hidalgo, and Chiapas. She is also a guest teacher for lighting design, costume design, and production in different parts of Mexico.
A safe space is not a place. It's a way of being, a state that emerges and spreads, a queer utopia. In this anthological performance that oscillates between LGBTQ+ youth's fantasy and daily life, between rehearsals and clubbing, a group of friends desperately tries to feel safe again. Like a rift in time, this work is a dream of togetherness in difference, a celebration of complexity and nuance that bares us to the core, condemns violence, tests the limits of authenticity, and embodies inclusive and compassionate solutions.
Interpersonal
·
Performance art
·
Poetic