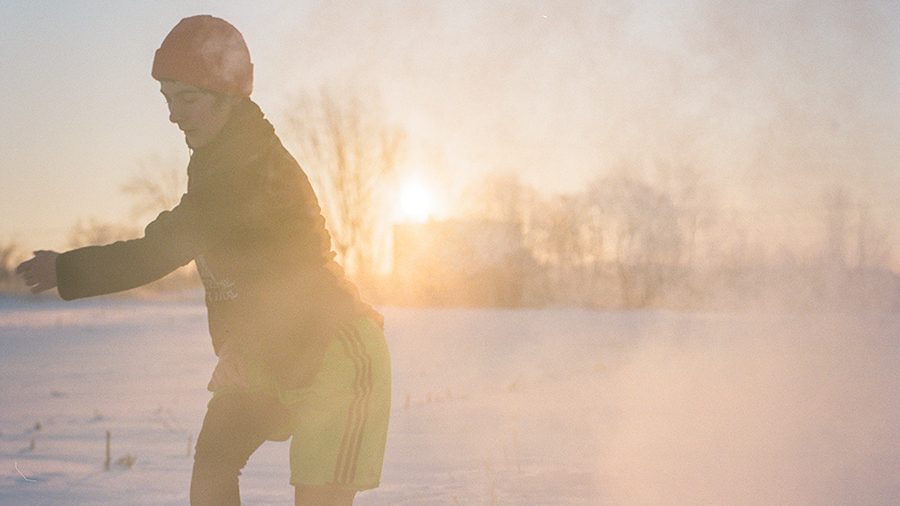 Double bill
ÉDIFICE WILDER | ESPACE VERT
SEPTEMBER 17, 2022 - 7PM
SEPTEMBER 18, 2022 - 4PM
SEPTEMBER 19 & 20, 2022 - 7PM
-
Discussion with the artists on September 19
The order of the pieces is subject to change.
Standing at the foot of enormity, she is ready to face herself in the ultimate test: to climb her own mountain, to become a mountain. Her movements heavy with effort and perseverance, she draws on and amplifies her own strength in a mighty ascent. Humble, no different than anybody else, she manages to invigorate herself and come to life. Her dance is a quest for altitude, a cry against the gravity that pins us down and grounds our creative impulses, a bid for emancipation through physical challenge, showing us that we are all summitless mountains.
Physical
·
Minimalist
·
Performance art
Technology gives us hope for the future, yet it can easily deceive us. The dancer enters a sound installation and activates it with his voice and steps. The space comes to life when he dances. The sounds captured by the microphones are sent to a computer that manipulates and loops them until they become unrecognisable. The dancer may attempt to break free from the grasp of the machine, yet the music animates him. This asymmetrical duel is an exploration of what it means to be a free spirit seeking to be its own master.
Live music
·
Visceral
·
Poetic
Choreographer and composer Alejandro Sajgalik
Performer Jack Dexter
Lighting designer Tamara Andrea Gonzalez-Mora
In ancient times, materia prima was the original formless substance underlying all matter. This initial state of chaos could be altered to achieve "gnosis". After this knowledge comes into his possession, the alchemist avidly desires to impose his order over the chaos of the world, to play god. The world is his laboratory. Humans his raw matter.
A young man is isolated in this lab. While he dances, the sound of his voice and footsteps are extracted, manipulated, and coagulated into wicked forms. The puppeteer knows how to quench the dancer's restless thirst for life: with chants and epic music. The performer is hypnotised by the symphony. He lets himself be seduced by the siren's song calling for the upcoming war.
Will he get in tune with the times and end up as canon fodder? Will the alchemist succeed in keeping him spellbound, so he may continue to rule over him? Or will he have the courage to find his true form?
Alejandro Sajgalik is a choreographer and composer. His practice explores the perpetual battle of worldviews, probing the forces that shape how humans ought to be. He uses voice and electroacoustic samples as raw material to compose and create spatialized sound performances. Playing with the bewitching power of technology, he observes how it transmutes the nervous system and thus shapes societal values. His last choreographic piece, Cantos para los insaciables, was a journey into the ascetic quest for transcendental truth, archetypically entrenched in violence towards the self. Presented in Montréal and in Europe, his work includes performances, music, videos, installations, and writing.
Jack Dexter is a performer who creates with dance and voice. Originally from Connecticut (USA), he trained in contemporary dance choreography at Concordia University, where he received a Bachelor of Arts in Sociology (2019). As a performer, he has worked with creators such as Nien Tzu Weng, Abe Simon Mijnheer, and Alejandro Šajgalík. His work approaches themes of mortality, self-destruction, and the attempt at answering larger than life existential questions that will surely crush him in the process. Built with candidness and unapologetic honesty, his improvised practices strive to instill a sense of camaraderie among all who participate.