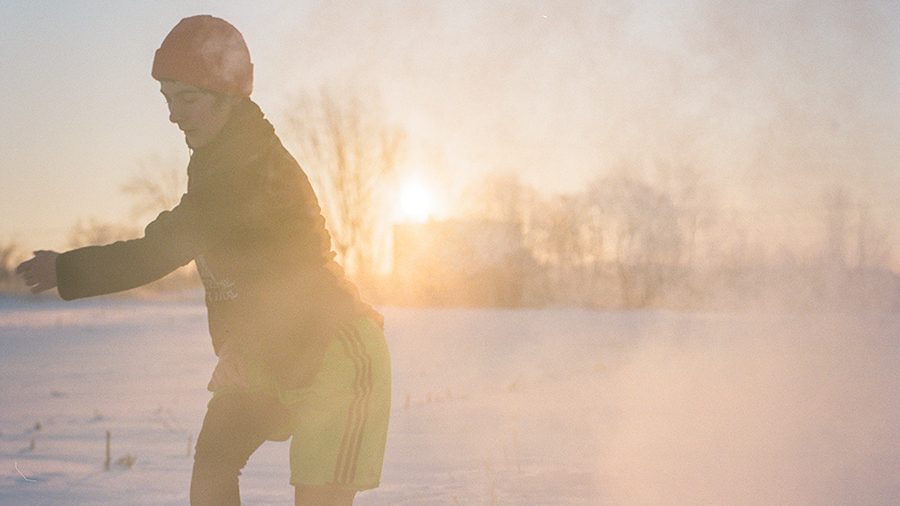 Double bill
ÉDIFICE WILDER | ESPACE VERT
SEPTEMBER 17, 2022 - 7PM
SEPTEMBER 18, 2022 - 4PM
SEPTEMBER 19 & 20, 2022 - 7PM
-
Discussion with the artists after each show
The order of the pieces is subject to change.
Standing at the foot of enormity, she is ready to face herself in the ultimate test: to climb her own mountain, to become a mountain. Her movements heavy with effort and perseverance, she draws on and amplifies her own strength in a mighty ascent. Humble, no different than anybody else, she manages to invigorate herself and come to life. Her dance is a quest for altitude, a cry against the gravity that pins us down and grounds our creative impulses, a bid for emancipation through physical challenge, showing us that we are all summitless mountains.
Physical
·
Minimalist
·
Performance art
Choreographer and performer Lauranne Faubert-Guay
Sound designer Yann Villeneuve
Rehearsal director Stéphanie Decourteille
Lighting designer and scenographer Tiffanie Boffa
Movement advisor Camille Dubé-Bouchard
Outside eye Marijoe Foucher
A simple, but breathless process. Through repeating movement until exhaustion, I try to find the strength and the tenacity within me. I challenge myself (to climb my mountain) and I invite the spectators to witness this self-imposed ordeal, from which a powerful feeling of ecstasy and fullness will spring.
My creative process is honest and transparent. I want to share a true and unique moment with the public, a space-time of vulnerability, which will touch and challenge spectators who, like me, rightly or wrongly, test themselves to reclaim their body and their existence.
This piece is fueled by intimate reflections that occupy a central place in my creation, my academic journey, and my personal life. It is a key element that contributes greatly to my emancipation.
Lauranne Faubert-Guay is a transdisciplinary artist and researcher. She holds a baccalaureate in Visual Arts and a master's degree in Sociology (UQAM). At the same time, she is involved in various local and international contemporary dance formations and works in the field as both performer and choreographer. She is interested in the emancipatory potential of voluntarily putting oneself to the test. Therefore, the notions of self-sufficiency and body autonomy are always at the core of her work. Lauranne approaches the dance movement as a political act and as an essential tool of empowerment. She presented her latest creation, Ponos – à l'épreuve du poids, at Tangente in 2019 and will present two new creations in 2022. Lauranne also teaches visual arts at the college level and leads workshops combining dance and philosophy in the BIG BANG program. She is the founder and director of Devenir(s) corps, an arts residency that will soon be established in the Outaouais region.
Yann Villeneuve is a multidisciplinary artist from Montréal. Working between theatre and music, he tries to understand his inside world through his art. Inspired by artists like Laurie Anderson and Jean Cocteau, his music navigates between melancholy and sexuality, ugliness and beauty. He recently took part in the show from La Fratrie Les étoiles tomberont (Montréal Complètement Cirque) and in various music festivals (Gamik, LUNES, Mode + Design, SOIR). He's also called to work on the sound design of dance and theatre shows, such as Nous serons éternels (Théâtre La Chapelle) and PONOS – à l'épreuve du poids (Tangente).
A choreographer, performer and teacher based in Montréal, Stéphanie Decourteille is solicited for her singular, passionate, and physically demanding choreographic language, as well as for her rigorous teaching. She is asked by many choreographers and cultural structures to offer master classes, lessons to improve, and workshops. She is involved in a wide range of activities in the fields of contemporary dance, circus, and urban dance. In 2018, Stéphanie created BIG BANG – an intensive training program in contemporary dance for which she works closely with the artists on a more individual basis and aims to strengthen their physical and expressive skills.
Both a performer and a designer, Tiffanie Boffa uses her resources to create sensorial-visual atmospheres. Beginning in dance, she performed for Kimberly de Jong, Benoît Lachambre, Laura Acosta, and Chloé Bourdages-Roy. After a few years, she graduated from a BFA in Design for the Theatre (Concordia University, 2019). Her lighting designs can be seen in both theatre and dance. She worked with directors like Jon Lachlan Stewart, Cathia Pagotto, Youtheatre, and choreographers like Erin Robinsong, Sybille Hanna Müller, Brice Noesser, and George Stamos. She has also collaborated with other lighting designers like Paul Chambers, Hugo Dalphond, and Cédric Delorme-Bouchard. 
Shortly after graduating from EDCM (2015), Camille Dubé-Bouchard flew to Paris and collaborated as a performer with the (LA)HORDE collective. She perfected her skills in jumpstyle and went on a European tour with the piece To Da Bone (2018). During this tour, Camille taught jumpstyle around the world. Passionate about the human body and physical training, she took part in the training of the troupe's dancers and artists from different disciplines. She has a degree in kinesiology (UdeM) and collaborates with several health professionals to find the best exercises and movements for their patients.
Technology gives us the illusion of freedom, but it controls everything. The dancer enters a sound installation and activates it with his voice. He plays with different cables and the space comes to life when he dances. The sound captured by the microphones is sent to a computer that manipulates and loops it until it becomes unrecognizable. The dancer may very well move the mics and speakers around in an attempt to break free from their grasp, it remains that it is this machine that animates him. This endless creative cycle is an exploration of what it means to be an artist in spite of yourself, a free spirit seeking to be its own master.
Live music
·
Visceral
·
Poetic
Choreographer and composer Alejandro Sajgalik
Performer Jack Dexter
Lighting designer Tamara Andrea Gonzalez-Mora
Materia Prima reflects upon the archetypal role of the artist. Submitted to fixed ideas and dominant morality, I defy the ascetic practices that govern his unconscious. Through repetition of the artistic gesture, his nervous system is hypnotised with fixed ideas, intensifying his desire for transcendental truth. I observe the active role music plays in this quest for the immaterial.
I take as raw material voices and samples, applying the alchemical modus operandi to manipulate the sonic spectrum: sound masses as coagulation, extraction via frequency selection, among others. These are tools of the alchemist, the guardian of human knowledge, the owner of the animal farm.
Submitted to this ancient violence of asceticism, the human being's sensorial memory is disciplined. This clean slate is ripe to fixed, and thus totalitarian, ideals. The piece explores the journey of artists and free spirits who yearn to become their own masters.
Alejandro Sajgalik is a choreographer, dance artist, composer, and producer. His practice explores the perpetual battle of worldviews, probing the forces that shape how humans ought to be. He uses voice and electroacoustic samples as raw material to compose and create spatialized sound performances. Playing with the bewitching power of technology, he observes how it transmutes the nervous system and thus shapes societal values. His last choreographic piece, Cantos para los insaciables, was a journey into the ascetic quest for transcendental truth, archetypically entrenched in violence towards the self. Presented in Montréal and in Europe, his work includes performances, music, videos, installations, and writing.
Jack Dexter is a performer who creates with dance and voice. Originally from Connecticut (USA), he trained in contemporary dance choreography at Concordia University, where he received a Bachelor of Arts in Sociology (2019). As a performer, he has worked with creators such as Nien Tzu Weng, Abe Simon Mijnheer, and Alejandro Šajgalík. His work approaches themes of mortality, self-destruction, and the attempt at answering larger than life existential questions that will surely crush him in the process. Built with candidness and unapologetic honesty, his improvised practices strive to instill a sense of camaraderie among all who participate.