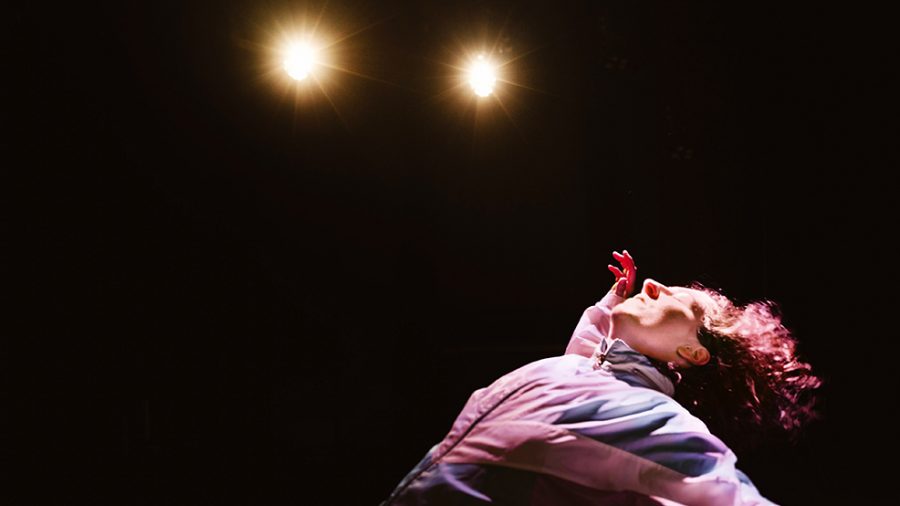 Espace Orange
FEBRUARY 10-12, 2022 - 7PM
FEBRUARY 13, 2022 - 4PM
-
Discussion with the artists after each performance
WARNING: This show contains stroboscopic effects.
Dominique Sophie's piece will unfortunately not be able to be presented. However, it is all the more important for us to share Hélène Remoué's piece with you. Therefore, the original double bill becomes a single bill exceptionally lasting 30 minutes, so we are reducing the ticket rate for this particular show to 15$.
To become it, you must first believe. This ironically titled solo is a modern odyssey drawing from the frenzied energy of rock concerts and the phantasmagorical depths of dreams. Wind, shadow and light draw the powerful and emphatic life-size journey of the dancer on stage. Making way for her inner idol, she is transformed before our eyes. With brute and magnetic force, her visceral, explosive and rousing movements reveal a self that is victorious, celebrated, and free. An invitation to discover oneself anew, rising to the colossal and grandiose heights of a Hercules or Jimi Hendrix.
Choreographer Hélène Remoué
Performer and creative collaborator Cara Roy
Composer Pierre-Luc Senécal
Scenographer and lighting designer Léo Gaudreault
Co-lighting designer and technical coordinator Flavie Lemée
Initially drawing from my desire to explore movement related to the musical style of "groove" in its rhythmic, binary and catchy quality, Sans Rien Forcer has evolved thanks to the imaginative universe that we have developed and refined over time with Cara Roy, co-creator and performer of the solo. Without losing the essence of an exhilarating and liberating gesture, my research is now focused on an ever more amplified and integral experience. By exploring our memories, desires and dreams and the act of looking for a thousand ways to revisit them, the piece allows me to merge the rational and the sensitive elements of the festive and offbeat world I envision. There are infinite ways to connect with one's creativity; mine lies in the idea that life is an experience and that there are many things that I would like to relive in the same or in a different way. I use this idea to generate different gestures to access my passion for the creation of the physical, danced movement.
Originally from France, Hélène Remoué is a performer, choreographer, and dance teacher based in Montréal/Tio'tia:ke. She started dancing at a very young age and has trained in many styles. She was admitted to the Conservatoire de Bordeaux, then the Conservatoire de Paris in 2009, where she specialized in contemporary dance. In 2011, she moved across the Atlantic to pursue her studies at École de danse contemporaine de Montréal (EDCM). After graduating in 2014, she went on to choreograph It Will Take Women (Sherbrooke, 2016); Collision (Fly 2017 creation lab, presented at the Vue sur la relève festival, 2018) and at the Centre National de la Danse/Camping à Pantin (France, 2018); Sans rien forcer (presented at ZH Festival, 2019, and awarded the title of coup de cœur); and Loch Ness (choreographed for Les danses à deux temps 2021 at l'EDCM). Hélène also teaches dance for all ages while pursuing a certification in dance education at EDCM.
Cara Roy is a professional Montréal-based dancer originally from New Brunswick. Since graduating from École de danse contemporaine de Montréal in 2016, Cara has worked with choreographers Sylvain Émard, Hélène Remoué, Sarah Dell'Ava, Ariane Boulet, and Martin Messier on a number of different works. Cara's study of Fighting Monkey with Alana Kraaijeveld and Authentic Movement with Sarah Dell'Ava have greatly influenced her personal practice. As a performer, Cara approaches the body with curiosity, playfulness, and rigor. She is passionate about investigating the sensitive, expressive, and empathetic capacity of the body. Wanting to feed her craving for growth and her desire to share, Cara engages with communities through teaching and cultural mediation. She has facilitated various mediation activities with organisations such as Festival Quartiers Danses, Berceurs du Temps, PPS Danse and Je suis Julio, and teaches movement workshops to participants of all ages both independently and through different teaching institutions.
Pierre-Luc Senécal is well-known for his curiosity and passion. He's the founder of Dremeka, a music production studio where he assumes the roles of composer, creative director, and lead audio artist. His compositions for concert, dance, and film bear his fondness for storytelling, drama, and poetry. He is a Music Composition masters degree graduate from Université de Montréal and University of Huddersfield (UK), and the author of a thesis on producing, mixing, and mastering electroacoustic music. He's the founder of the renowned Growlers Choir, the sole vocal ensemble formed exclusively of metal vocalists. His work has been presented in Canada, Germany, Italy, Monaco, Russia, Sweden, South Korea, and the United States.
Léo Gaudreault is an interdisciplinary artist whose practice is conceived as a hybrid between performance art, theatre, and scenography. After graduating in Architectural Technology (2013), he went on to study for a Bachelor's degree in Visual Arts at UQAM (2019). Since then, he has taken part in numerous workshops with performance artists such as Helge Meyer, Nicolas Cantin, and Alejandra Herrera Silva. He presented his solo performances at the performance art event LEGS 2018 (Le Lobe, Chicoutimi) as well as at RIPA (Rencontre interuniversitaire de performance actuelle) in 2019. In addition to his performance practice, since 2018, he has been a set designer as part of the collective Le théâtre indépendant, with whom he was involved in the creation of Quartett solo, an interdisciplinary show presented at Théâtre Prospero in Montréal in 2020.
With light as her most fluent form of expression, Flavie Lemée is interested in how light affects human perception and emotions. Through her love of collaboration with directors, choreographers and visual artists, among others, Flavie's goal is to develop a poetic cohesion in her work where light itself tells a story. The artist graduated from the National Theatre School of Canada in Creation and Production. In 2019 she co-founded the artistic duo Jardin Noir and in 2020 the multidisciplinary collective Divers Divers.
"Ici" is backstage. Just like when they perform in a number that clashes with their values, four house, waacking and popping dancers move offstage, shedding their alter egos to say what they really think. Legitimate demands keep piling up, but do we always have the strength to translate our artistic and political principles into action? With directing that keeps shifting between onstage and behind the scenes, the choreographer looks at the sensitive issue of power dynamics through a humorous lens.
Street dances
·
Theatre
·
Visceral
Choreographer and performer Dominique Sophie
Performers Erich "Preach" Etienne, Caroline "Lady C" Fraser, Abdel-Hanine "Abnormal" Madini
Musical supervisor Alexis "DJ Lexis" Charpentier
Outside eyes Etienne "ATN" Lou, Alexandra "Spicey" Landé
Lighting designer Guillaume Roberts-Cambron
I began the creation process with the use of dance as an emotional outlet that gradually manifested itself throughout my body. House dance is known for its flow (its jack) and its emphasis on footwork. My focus is more on a dance that engages the whole body. I apply this same approach to Waacking, which unlike House focuses on the arms and hands, and the dancer's performance. My inspiration for the dance vocabulary of the piece comes very much from the vibe of these dances and their music. Specifically, the personal nuances and accents that are manifested in each dancer. The theatrical tableaux of the piece, which are more linear and narrative, are juxtaposed with the dance tableaux that represent what one cannot put into words. Indeed, I like to communicate with the audience in the most effective way possible; the text allows me to get the audience to think about the subjects addressed and the dance communicates, as we know, a direct, contagious, and felt energy. My relationship with the audience and the dramaturgy, despite the fact that the piece is presented in a theatre, is one that is rooted in our habits as practiced in our street dance milieu.
Dominique Sophie is a dancer, choreographer, and teacher specializing in street dance. With an initial training in House dance in Montréal with Irvin "Dazl" St-Louis and Marvin Baptiste, in 2007, Dominique moved to New York to immerse herself entirely in this culture. In 2012, Dominique completed a Master's degree at NYU's Gallatin School in Dance Research, Creation, and Production. As a choreographer, Dominique has presented works at the On occupe le Bain Saint-Michel festival, as part of Tangente's Danses Buissionnières Class 2015, and at Festival 100Lux on two occasions. In 2014, Dominique was also a co-choreographer and performer for legendary Detroit producer Theo Parrish's European live band tour. It was also in 2014 that she began Waacking. Dominique has danced with companies and choreographers, as well as participated in battles in Berlin, Detroit, New York, Montréal, and Paris. Dominique teaches weekly House dance classes and also produces a series of events under the name Tap Water Jam.
A dancer and entertainer for over a decade, Erich «Preach» Etienne turned to comedy a few years ago. First pushed into the business by Mike Ward, who discovered him at Bordel Comédie Club where Erich was working as a doorman, Erich accumulated his stage experience by participating in numerous comedy nights and podcasts. To this day, he performs all over the place as a solo artist while continuing to work as a duo with the group Aba and Preach. Erich has developed his experience by doing his first Aba and Preach show at the Just For Laughs Festival in 2019, which was an instant success! Moreover, the Aba and Preach Youtube channel now has over one million subscribers. Hilarious and authentic, Erich knows how to make people see truth in a new light.
Known internationally as an "all styles" dancer, Caroline "Lady C" Fraser is recognized as one of the strongest women in street dance worldwide. Her experience reaches back over 25 years, including 15 years of training in popping, locking, house, and hip hop as well as a background in contemporary, jazz, tap, and ballet. Learning from some of the pioneers and masters of street dance, her unique style, musicality, and ability to seamlessly cross genres have earned her recognition in the competition circuit. Her captivating stage presence and choreographic experience make her a high-quality performer on camera and on stage. Caroline is also a recording artist on Catch The Ghost Records, CA.
Abdel-Hanine Madini – also known as Abnormal – was born in 1993 from Algerians parents. He has been dancing since childhood, but in 2010 he discovered the dance styles of Popping, Robot, and Animation. It was love at first sight. Since then, he has made a name for himself in the Montréal urban dance scene. He was the finalist in the popping category of the Bust A Move competition in 2014. He has won the "La Preuve" competition in Popping in 2014 and 2016. He has worked several times with Cirque du Soleil, including for Macy's Thanksgiving Parade and the Cirque's 30th Anniversary. For him, life is a process the aim of which is to seek and acquire knowledge in order to grow. Dance is his starting point.
Alexis "DJ Lexis" Charpentier is the founder of the Music Is My Sanctuary collective, a website dedicated to the discovery and sharing of music. For over 15 years, he has been a pillar of the Montréal music scene as a DJ and event organizer. He also works for companies as a music consultant. He recently gave a TED talk that has been viewed one million times and is available in 18 languages. Music Is My Sanctuary has also enabled other projects such as the 24 Hours of Vinyl event series, which has traveled to nine cities, regular events, and radio sessions with London's Worldwide FM and with the Phi Centre in Montréal.