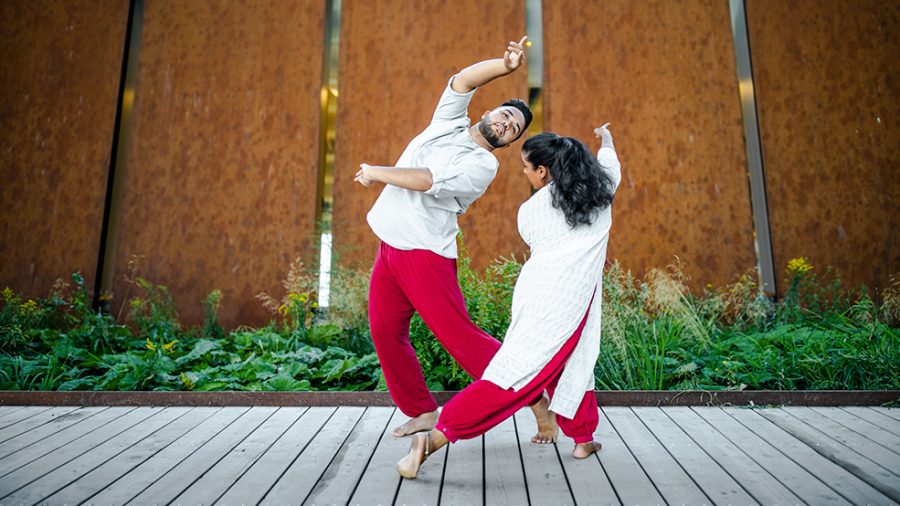 Cancelled - Espace Vert
JANUARY 15, 2022 - 7PM
JANUARY 16, 2022 - 4PM
JANUARY 17 & 18, 2022 - 7PM
Following the Gouvernement du Québec's announcements, this show is cancelled. The box office will get in touch with ticket holders beginning on January 5.
Two beings in a collapsed, dystopian environment challenge their bodies through raw, sensitive, and vibrant movements. Are they lost souls, survivors, machines, explorers? Bit by bit, they shed the layers of fabric that cover them up, leaving traces of the bond that unites them, the past that coursed through them, striving to leave a legacy to those who will follow in their footsteps. In this futuristic world with a pop aesthetic, the stage becomes a refuge where a fraternal bond is solidified, providing human warmth. This healing space gives room for self-transcendence, release, and the pursuit of freedom.
Physical
·
Performance art
·
Abstract
Two dancers settle into their memories and reminisce about a time and place far away. Finding an anchor in the music and poetry of Indian Nobel laureate Rabindranath Tagore, they dig into their personal histories and embark on a journey of togetherness. They bring their recollections into the present through their individual practices of Kathak and Bharatanatyam. As children too, they danced to the songs of Tagore. Seeped into nostalgia, they honour the Bengali culture that nurtured them, working through each world created with full enjoyment. They hope that this intimate celebration brings them closer to Tagore, to their language, families, and communities.
Choreographers and performers Tanveer Alam, Atri Nundy
Musical director Hasheel
Dramaturg Harikishan S. Nair
Lighting designer Samuel Boucher
The Tagore Project acknowledges the nostalgia that we both associate with Tagore's work and brings it into the present. The Rabindrasangeet (Tagore's poetry set to his own music) from which we are working holds distinctive narratives, histories, structures, and melodies. Our choreographic process has been to understand how they coexist and create a narrative as an ensemble — tracking our relationship to the poetry, the music, and each other. As the work is closely linked to music and poetry, we have been exploring how one informs the other, remaining rooted within the essence of each song and allowing ourselves the space to investigate the specificity and whimsy of the worlds that we have created through each Rabindrasangeet. We hope that the journey we are on through The Tagore Project brings us closer to KabiGuru, Bangla, our communities and our parents, and allows us to share how we celebrate our appreciation for Rabindranath Tagore.
Born and raised in Montréal, Tanveer Alam started his Kathak training with Sudeshna Maulik and continues to study with guru Sandhya Desai. He also trains in Taal Vidya, the knowledge of Hindustani classical music, with guru Pandit Divyang Vakil. He is a 2019 graduate of The School of Toronto Dance Theatre. He has performed in the works of Pandit Birju Maharaj, Janak Khendry, Rina Singha, Lata Pada, Brandy Leary, Noémie Lafrance, and Sanjukta Sinha. An emerging choreographer, he has been presented at Summerworks Festival, Battery Dance Festival +, MAI (Montréal, arts, interculturels), and Tangente, to name a few. He has been supported by the Canada Council for the Arts, the Toronto Arts Council, and the Ontario Arts Council. Across the 20/21 season, he is a curated artist of the Sadhana Project Residency by Anandam Dancetheatre and a commissioned artist for CanAsian Dance Festival's GRIT Short Dances Series. Currently, he is working with choreographer Padmini Chettur as part of her new work Chalking, commissioned by Anandam Dancetheatre.
Atri Nundy started learning Bharatanatyam at Sampradaya Dance Academy under Lata Pada. After completing her arangetram (graduation) in 2005, she continues to work as a teacher at Sampradaya Dance Academy and as a company dancer and choreographer for Sampradaya Dance Creations. She has toured extensively in India, Indonesia, and the UK. She has attended a variety of workshops, including ones conducted by highly acclaimed artists such as Harikrishna Kalyanasundaram, Priyadarshini Govind, Leela Samson, and Mavin Khoo. While training in Bharatanatyam, Atri was fortunate enough to be able to train in various dance forms during her childhood. Her training has given her the interest to explore beyond the traditional realms of Bharatanatyam. She is a frequent collaborator with NovaDance, Kashe Dance, and Anandam Dancetheatre. These opportunities have shaped the way Atri is now looking at dance, the way she is choreographing her own works and practicing repertoire.
Hasheel is a queer South Asian Hindustani classical musician. He is trained in vocals as well as in the Bansuri and is a student of Pandit Hariprasad Chaurasia. Hasheel pushes gender fashion norms and his music extends across many genres. He has performed with Kailash Kher, Hariharan, Karthik, Shafqat Amanat Ali Khan, and Karsh Kale. His most recent work, RaagRani, is a documentary-style music video celebrating the union of his cultural identities.
Harikishan S. Nair is an active dancer, choreographer, pedagogue, dramaturg, and rehearsal director. He is a passionate and critical advocate for equity within the dance sector for South Asian dance and a community leader in articulating issues of how these performance aesthetics interface with established institutions of dominant dance presentation/curation in Canada. Born and raised in Kerala (India), he has been dancing since the age of five and is fluently trained in Bharatanatyam, Mohiniyattam, and Kuchipudi. He tours new choreographic works and conducts teaching workshops and master classes across North America. He has gone on to collaborate, perform, and present his work at numerous dance festivals in India, the UK, Canada, and the USA. He is the artistic director of Regatta Kala Kendra.
Samuel Boucher is a lighting and video designer from Paris, established in Montréal. A 2019 NTS Production Design and Technical Arts graduate, Samuel explores the art of painting and sculpting the stage through time and space with pixels and light.