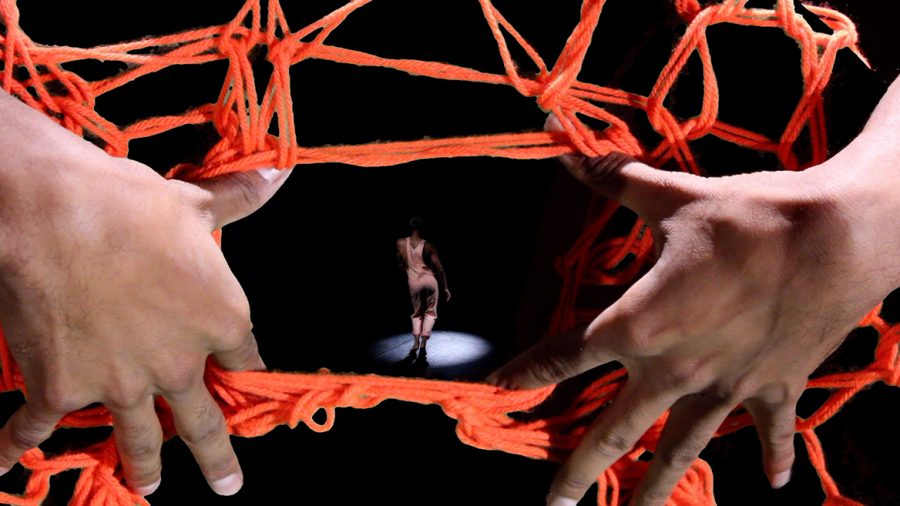 Double bill - Espace Vert
FEBRUARY 19, 2022 - 7PM
FEBRUARY 20, 2022 - 4PM
FEBRUARY 21 & 22, 2022 - 7PM
-
Discussion with the artists on February 21
The order of the pieces is subject to change.
"Grandmother, what a terrible big mouth you have!" A little girl, alone. A wolf that has seen better days. How do the tales and movies that defined our childhood still haunt us today? Using masks and puppets, Marie-Pascale paints a series of images that unfold in a surreal and dreamlike fashion. The performer and the objects dialogue through movement. The human disappears behind the characters and the choreography that animates them. Drawing on both contemporary and ancient folklore, this atmospheric and impressionistic performance is not without humour.
Performance Marie-Pascale Bélanger and Joanie Fortin
Music Rodrigo Rojas
Lights Julie Charrette
Outside eye Sophie Deslauriers and Iris Richer
Dramaturgical advice Joanie Fortin
Puppets and scenography Marie-Pascale Bélanger
Archetype, construction, deconstruction, symbolism, human-animal… What if, in the woods, the stories that rocked our childhood emerged, dragging behind them the fears buried in our psyche of the wolf, the forest, and the beasts that await us? With a touch of humour, in this omnipresence of images and objects that surround us, how can we tell the difference between a manipulated being and a manipulative being?
Les bois is inspired by the writings of myth specialist Joseph Campbell and his book The Hero With a Thousand Faces. For this story, I wanted to create a surreal universe in order to meet the mysterious characters that populate our unconscious. In this universal quest to meet oneself, objects on stage serve as tools to hide a reality that is sometimes difficult or shocking. With this piece, I wanted to create a playground where the codes in place are there to be deconstructed and rebuilt again.
A visual artist, choreographer and puppeteer, Marie-Pascale Bélanger has always been interested in artistic interdisciplinarity. After her studies in visual arts, she trained as a dance performer and obtained a diploma from École de danse contemporaine as well as a Master's degree from UQAM in dance. She creates short dance films and several choreographic shows that have been presented in various theatres in Canada and the United States. Interested by the art of puppetry, she did Clyde Henri's workshop "The Puppet in Stop Motion" in 2015. She was then seduced by the puppet's ability to combine movement with visual arts. Subsequently she followed several trainings with AQM, FIAMS and Castelier, and also obtained a higher education diploma (DESS) in contemporary puppet theatre at UQAM in 2019. That same year, she co-founded with three of her colleagues the collective of puppeteers Les tables tournantes. Fascinated by the relationship between human bodies and objects, she seeks to create images with evocative power. Manipulating objects and puppets is for her a dance in itself, a choreography of micro-movements reproducing the mobility of organic bodies. The use of objects on stage also serves as a poetic vehicle for her to project the bodies of performers into worlds as improbable as they are surreal.
Using the materiality of yarn as a connective tissue, Jordan weaves together fragments he collected – voice messages, movements, poems, images – into a video collage. A meditative and repetitive process, knitting generates an expansive structure through the accumulation of individual knots. It embeds a certain logic into the hands of the knitter. Could that same logic be used to process other materials, such as identity, relationships, or places? The assemblage of textures, the luminescence of the electric yarn sets up the dark background as a psychic space that reveals a queer Black interior.
I have been working on this piece for almost three years and it has taken many forms (and continues to evolve). I was interested in the knitting process as one that materializes a larger structure by way of individual knots. It is a meditative process that generates mass through repetition. I saw a link there to creative thinking, and I was interested in how to apply the logic of knitting to a more embodied process. In this project, I identified as a collector — gathering things, both material and immaterial, and then explored knitting them into a structure. My intention was to learn more about their relationships, their logic, and my own intuition.
Jordan Brown is an artist working with and through various materials. They think a lot about myth, DNA, dreams, disaster, desire, rhyme, and rhythm. They are currently completing their MFA at the School of the Art Institute of Chicago, studying sculpture.