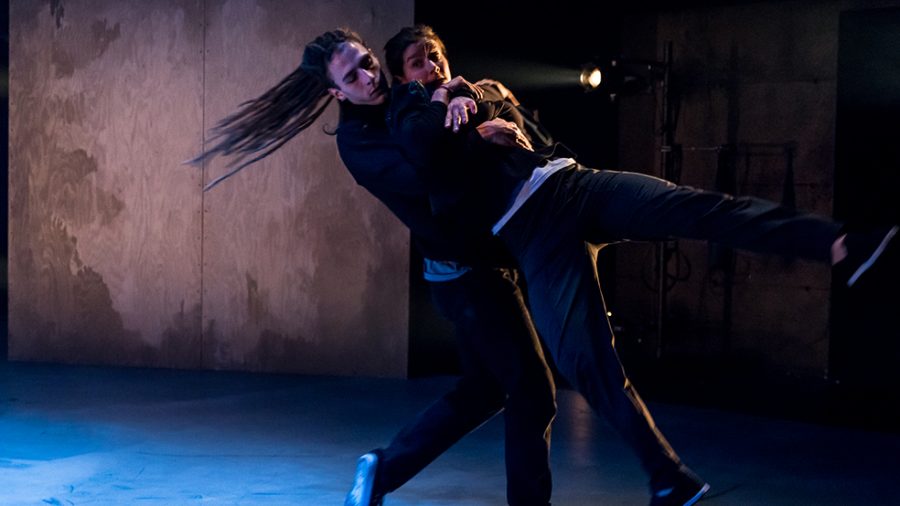 Cancelled - Espace Vert
JANUARY 29, 2022 - 7PM
JANUARY 30, 2022 - 4PM
JANUARY 31 & FEBRUARY 1, 2022 - 7PM
Following the Gouvernement du Québec's announcements, this show is cancelled. The box office will get in touch with ticket holders beginning on January 7.
A swarm of disparate entities converges. An unremitting present keeps fuelling the rebellion. Despite cycles of exaltation and exhaustion, genuine warmth grows between these five exposed beings. Rage, vulnerability, and solidarity take turns inhabiting the rioting bodies desperately holding on to one another. A storm reverberates through their flesh. The atmosphere becomes carnivalesque, the dancers' passions flare. NOUS SOMMES éternels turns politics into poetry, exposing the beauty of bonds born from revolt.
Theatre
·
Performance art
·
Live music
Choreographer Wina Forget
Performers Lauranne Faubert-Guay, Solo Fugère, Camille Lantagne, Rudi Loup, Maxime Stabili
Scenographer and costume designer Audrée Lewka
Lighting designer William Couture
Sound designer and musician Charlotte Sansfaçon
Artistic advisor Ariane Dessaulles
Movement advisor Matéo Chauchat
Through the creation of NOUS SOMMES éternels, I became interested in the unique energy of the rioting body. I approached it on stage as a performative, complex body, inhabited by a multitude of political and somatic issues. The work is proposed as an interdisciplinary investigation of these bodies, encamped between dance, theatre, and political science. On stage, the movement and interrelationships of the performers make it possible to question the political performativity of bodies in revolt.
"No one body establishes the space of appearance, but this action, this performative exercise happens only 'between' bodies, in a space that constitutes the gap between my own body and another's. In this way, my body does not act alone, when it acts politically." (Butler, 2016)
I explore this performativity through the experience of sharing common affects through states of vulnerability and power. The political riot interests me because it allows us to escape for a fleeting time from neoliberal individualization.
Solo Fugère completed a bachelor's degree in Philosophy and French Literature (UdeM, 2011) as well as a bachelor's degree in Dramatic Acting (UQAM 2015). He is currently pursuing a master's degree in Theatre at UQAM. He's been involved with the Hoodstock community organization since 2016. Solo loves hip hop and he can have 1312 issues, but that doesn't stop him from chilling. He is currently on tour with Théâtre Inc for Faire la Leçon as with La marche du crabe for the youth show Amarehlina.
Captivated by artistic expression in all its forms and nuances, Maxime Stabili, this time, elaborates his approach through raw and sensible physical work. As these words are being written, the sensation, the imagination, and the sharing must be the core ideas of every project he works on. Maxime focuses on accessible art with concrete and intimate contact with the audience.
Based in Tio'tia:ke (Montréal), composer and experimental violinist Charlotte Sansfaçon (they/them) focuses their approach on the sound processing of strings, oscillators, and field recordings while capturing sounds with the warmth of magnetic tapes. Their grainy textures and melancholic melodies cross paths with queerness, territories, spirituality, and political communities. They are a co-founder of the post-rock instrumental group Sauf les drones, for which they compose, perform, and produce albums, the most recent of which, Chercher le trouble, was released in May 2021.
Originally from France, Matéo Chauchat is a contemporary dance choreographer and performer established in Montréal since 2014. He graduated in 2017 from École de danse contemporaine de Montréal and has since worked as a performer for choreographers Sarah Dell'Ava, Sylvain Émard, Élian Mata, Andréa Peña, and Martin Messier. Listening and sensitivity form the basis of his work ethic, which he tries to transmit through the act of creation.
Karen is a 60-year-old Ashkenazi Canadian mother with a background in contact and improvisation who runs a dance company. Sebastián is a 37-year-old Chilean immigrant trained in ballet who is doing a PhD. The two are thrown into an unscripted duet with one guiding principle: coming together across their differences. This work gives us a voyeuristic glimpse into the physical but tender relationship that the performers form through imaginative play. It turns creepy, funny, intimate, horrifying, whimsical, and absurd. Their tackling of gender, the aging body, sex, and death is fuelled by compassion.
This live performance will be preceded by the documentary heart2heart:
heart2heart is a documentary archive of the creative process for the work that was interrupted by the global pandemic. heart2heart tells the intimate and true stories of eleven movement-based artists. Through five unscripted duets centred around conversations about the state of the world, heart2heart offers a compassionate dance theatre work turned film that questions how we seek to build relationships across difference, across sameness, and across generations. heart2heart features an ensemble of queer, POC, fat, multilingual, non-binary, differently abled, mothers, teachers, immigrants, all Torontonians.
Karen & Sebastián
Choreographer Aria Evans
Performers and creative collaborators Karen Kaeja, Sebastián Oreamuno
Dramaturge Ximena Huizi
Lighting designer Tiffanie Boffa
heart2heart
Director and choreographer Aria Evans
Performers and creative collaborators Tanveer Alam and Angela Sun, Corynne Bisson, Michael Caldwell and Liisa Smith, Olivia Croft and Irma Villafuerte, Shay Erlich and Kari Pederson, Karen Kaeja and Sebastián Oreamuno
Dramaturge Ximena Huizi
Aria Evans (they/she/he) is an award-winning, queer Toronto-based interdisciplinary artist working in dance theatre: creation, performance, and film. Aria is a certified Intimacy Coordinator and draws on their experiences of being multiracial (Afro-Indigenous, settler) to capture meaningful social and cultural themes through their interactive art. With a large-scale vision, collaboration is the departure point to their work created under their company POLITICAL MOVEMENT. Advocating for inclusion and the representation of diversity, Aria uses their artistic practice to question the ways we can coexist together.
Karen Kaeja is an award-winning performer, choreographer, project instigator, and mentor. "The mastermind behind Porch View Dances" (Torstar), she develops platforms for engaging relationships between dancers and everyday people. Co-Artistic Director of Kaeja d'Dance with Allen Kaeja, she is in The Canadian Who's Who and her awards include the Dance Ontario Lifetime Achievement, the CDA "I Love Dance" Community, and the Paul D. Fleck Fellowship. A finalist for the TAF Celebration of Cultural Life Award, the TAF Muriel Sherrin Award, NOW's Best Local Choreographer and NOW's Best Dance Company twice, Karen has 7 Dora Mavor Moore nominations. Commissioned and presented by performance series globally, Karen joyfully collaborates and dances with many of Canada's brilliant choreographers.
Born in Santiago, Chile, Sebastián Oreamuno is a queer Toronto-based artist, educator, and researcher. His passion for dance began at a young age in Chile, and was later reignited in Squamish, B.C. Currently, he is doing his PhD in Dance Studies at York University, exploring how dance participates in the conjuring of memories for Chilean migrants in Canada. Recently, he danced in Sashar Zarif's Re/turning, a dance film commissioned by the Aga Khan Museum; and in Fragmentos, a dance short co-created with filmmaker Juan Pablo Pinto, which was screened at the 2021 aluCine Latin Film + Media Arts Festival.
Ximena Huizi is a genderqueer, pansexual, bisexual, neurodiverse, Venezuelan immigrant to Canada. Their current creative practice is driven by an exploration of form with a focus on duration and perspective. How can we flex our own and our audience's attention muscles? Can we reconcile urgency with care? How can we create collectively, transculturally, transnationally, across the barriers that we face and the geopolitical circumstances that bind us? Ximena's work aims to invite the personal and the individual to emerge, to give it time and space so that it can expand and stretch and reach towards the communal/collective, and then to zoom in to the small intricate details of the collective to create focused images.