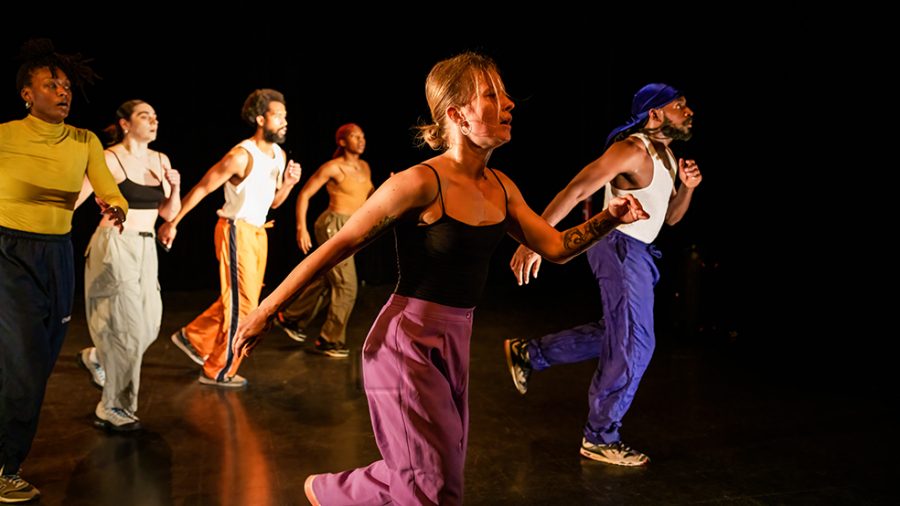 ÉDIFICE WILDER | ESPACE ORANGE
FEBRUARY 16-18, 2023 - 7PM
FEBRUARY 19, 2023 - 4PM
*
DOORS: 30 MINUTES BEFORE THE SHOW
*
BAR IN THE PERFORMANCE SPACE
*
Discussion with the artists on February 17
WARNING: This show contains stroboscopic effects.
Never Not Moving aka d**gs is a love letter to the club, one of the last refuges for the shapeshifting dancer and music lover. This abstract nightlife adventure is driven by a techno-leaning sonic force. Five people gather in an uninhibited space as a collective mission forms. The road to release is full of grit in this dark playground of raw desire and kinetic mathematics.
Performers and co-creators Delande Dorsaint, Anaïs Chloé Gilles, Kalliane Brémault, Jaleesa Coligny, Ernesto Quesada Perez
Artistic director Victoria Mackenzie
Composer Richard St-Aubin
Lighting designer Jon Cleveland
Dramaturge Nubian Néné
Rehearsal director Céline Richard-Robichon
Rehearsal assistant Eloïse Caza
Outside eye Alexandra Landé
Performers present during research Céline Richard-Robichon, Nubian Néné, Ja James Britton Johnson, Anthony Palomeque, Vincent Lachance, Gaelle Fabre, Mickeline Couturier, Angella Doré, Cristian Perez-Boudon, Pascal Jodoin
Partners/creation support Studio 303, CCOV, Circuit-Est centre chorégraphique, Centre d'art Diane-Dufresne, Diagramme/Studios solidaires, Art neuf, MAI (Montréal, arts interculturels), Place des Arts, Maison de la culture Mercier, Maison de la culture Notre-Dame-de-Grâce
The creation of this work was made possible thanks to the financial support of Conseil des arts de Montréal and the Canada Council for the Arts
FRGMNT is a Montréal-based collective of five members connected through the street/club dance community: Ja, VicVersa, Nubian Néné, Céline Richard-Robichon, and Shash'U. Together, they offer a combined expertise in live performance, dance, sound composition, beatmaking, visual art, film, photography, digital media, event curation, and production.
Victoria Mackenzie/VicVersa is a Montréal-based independent dance artist. Her main areas of focus are performance, pedagogy, facilitation, and event coordination. Vic has been dancing since early childhood and has since practised and performed various styles in various arenas. She is an amalgam of classical training, b-girl-ism, and nightclub free form. She has performed, taught, and battled locally and internationally. She is a member of FRGMNT, a recently-formed group of multidisciplinary artists based in Montréal. Her connections with the street dance and club scene are an essential part of her life. Her approach considers musical emphasis, expression of self, and catharsis above all else.
Afrofuturist B-Boy, remix alchemist, legit funk phenomenon… Montréal's Richard St-Aubin is truly one of a kind. The producer, composer, DJ is a pioneer in the beat scene and is well respected in street dance and beat communities around the world. His sound has been burning down stages from Boiler Room, Low-End Theory, Piknic Électronik and Igloofest to world street dance competitions like Summer Dance Forever and Juste Debout. His skills and vision have landed him projects with renowned companies, troupes and presenters like Danse Danse, Ebnflōh, Bboyizm, Production J, Red Bull, La Tresse, Tentacle Tribe, La Faim des Faibles, and Révolution. His mix of wild-style compositions and audacious originals sound at once alien and familiar as he turns the poppiest of radio hits into breakbeat battle weapons or one note into a soundscape exploration. Thanks to his association and collaboration with A-Trak's label Fool's Gold Records and numerous shows on tour, Shash'U is the artist with the most international reach on the label Joy Ride Records.
Anaïs Chloé Gilles is a multifaceted artist from the street dance community of Montréal rooted in hip hop, house, and ballroom cultures. She uses dance as a medium to connect to her roots and heritage. Throughout her path, she has centered her work around arts and community. Recently, she has developed projects such as Ballroom For Community: a QTBIPOC community outreach program. She is delving into performance, where she explores and expands the potential of her dance through creative processes. Her aim is to discover and honor the richness of Afro-descendant cultures while seeking self-discovery.
Born in Winnipeg, into a family of musicians, Kalliane Brémault is a dancer, workshop facilitator, movement director, choreographer, and event organizer. From age 5, she dove into hip hop music, learning breaking at age 7, then hip hop, popping, and house in her teenage years. In 2017, she moved to Toronto to pursue her career and is now based in Montréal. Kalliane has worked for notable street dance companies/choreographers (Tentacle Tribe, Lady C), co-choreographed with Rebels de la Soul for Breakin' Convention, acted and danced in Netflix, Disney, and Cirque Éloize productions. Kalliane continues to train, battle, and perform internationally.
Jaleesa Coligny has had rigorous training in street dance under the mentorship of several pioneers and community leaders from the Montréal area. She was profoundly inspired and immersed in hip hop culture from a very young age, and continuously shares that passion in both freestyle and dance theatre. In 2018, she joined Ebnflōh Dance Company led by choreographer Alexandra "Spicey" Landé.
Ernesto Quesada Perez is a Cuban, Montréal-based artist. He was first introduced to popular and traditional Cuban dance styles at the age of nine. Upon arriving in Canada, he joined Collège Montmorency's contemporary dance program. He then studied at École de danse contemporaine de Montréal (2018-2021), where he had the opportunity to collaborate with choreographers Charles Brecard, Andrea Peña, Darryl Tracy and Pierre Marc-Ouellette, among others. In 2017, his artistic curiosity led him to join the Program, an intensive training course integrating street dance into a professional context. Ernesto is interested in sharing with other performers and discovering various practices. Through an in-depth knowledge of his body, he seeks to merge street dance and contemporary dance with his Cuban heritage.
Jon Cleveland is a Montréal-based lighting designer/visual artist. Working in theatre and dance, he has worked with The Segal Centre for The Arts, The National Arts Centre, The Royal Manitoba Theatre Centre, Tangente, Cabal Theatre, Scapegoat Carnivale, Susanna Hood, Lucy M. May, Rabbit in the Hat, Malik Nashad Shapre, and Kim-Sanh Châu, among others. His design for Tragic Queens with Cabal Theatre was nominated for a 2017 META Outstanding Lighting Design Award. When not designing, he tours as TD and head of lighting with the Tashme Project and Lara Kramer around Canada, Europe, and the South Pacific.
Nubian Néné is a New York-based dancer/choreographer who finds inspiration in weaving street/club dances she's practiced for 20 years. Her resilience and hard work stem from her Haitian roots, enabling her to expand into a producer, a creative director, a curator, a visual artist and a teacher, making her an asset to any project, hence her involvement with FRGMNT. Her mentors are some of the pioneers of hip hop culture, encouraging her lifetime involvement with cultural awareness, community engagement, and event production. She's the creator of Waack Bazaar, The Essence Experience, and A Lady in The House Company.
Céline Richard-Robichon is a multidisciplinary artist who comes from an extensive background in dance. She currently dances for Tentacle Tribe and Ebnflōh, two Montréal-based street dance companies. Céline's self-directed work intertwines media, movement, and objects. She is currently creating with two artist collectives, one being an Ottawa-based group named Speakeasy, which she founded with Vanessa Lovell. She is also part of FRGMNT, a Montréal-based collective with artists Richard "Shash'U" St-Aubin, Victoria "VicVersa" Mackenzie, Nubian Néné, and Ja James Britton Johnson.