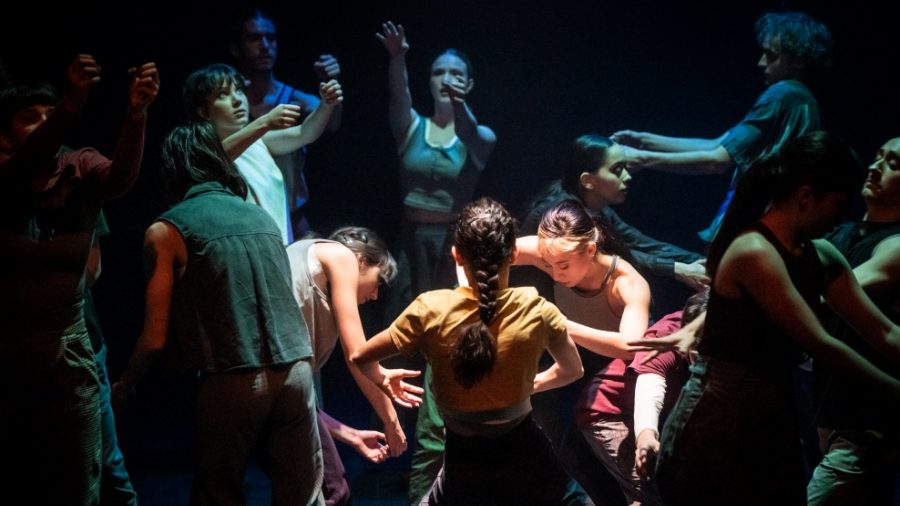 École de danse contemporaine de Montréal
ÉDIFICE WILDER | ESPACE ORANGE
LIVE SHOW
MAY 17-20, 2023 - 7PM
-
ONLINE SHOW
LIVESTREAM
MAY 20, 2023 - 7PM
PRERECORDED WEBCAST
MAY 22-28, 2023
-
Discussion with the artists on May 18
WARNING: This show contains stroboscopic effects.
École de danse contemporaine de Montréal presents the show entitled Les danses à deux temps, featuring its first- and second-year students. For the occasion, artistic and program director Lucie Boissinot has invited Charles Brecard and Manuel Roque to create pieces for large groups.
Artistic direction Lucie Boissinot
Original choreographies
Nous marcherons sur leurs têtes – Charles Brecard
Alonia – Manuel Roque
Production management Nicolas Labelle
Creation and performance advice Emmanuelle Bourassa-Beaudoin, Anne Le Beau
Lighting design Tim Rodrigues
Costume design Roxanne Bédard, Hannah Fisher
Music composition Pablo Geeraert
Second-year dancers Rosalie Boivin, Gabrielle Bouchard, Léa Boudreault, Julianna Bryson, Ambre Dupuis, Jean-François Gilède, Tom Godefroid, Clodie Lambert, Rosalie Lamoureux, Sarah Manipou, Charlotte Mégardon, Manon Scialfa, Jules Talavera, Alex Turcotte, Anna Vauquier
First-year dancers Clara Biernacki, Iban Bourgoin, Olivier Dion, Ludovic Germain-Thivierge, Ezra Guerrier, Clara Keefer, Alice Larrière, Michelle Lucero Moris, Kate Manns, Jane Millette, Olivier Péloquin, Apolline Saulnier, Hortense Sierka, Clara Truong
Born in Kanaky/New Caledonia, from the Vietnamese diaspora, Charles Brecard trained at the École de danse contemporaine de Montréal (EDCM) and now lives in Montréal (Tio'tia:ke/Moonyiang). He collaborates with several artists, such as AP&A, Lilith&Cie, Parts+Labour_Danse, Animals of Distinction, Grand Poney, Skeels Danse, Autels Particuliers, Bradyworks, and Nelson Henricks. His infinite curiosity led him to develop FLUIDIFY, a practice influenced by urban, traditional and contemporary dances, and also by his profession as a sports massage therapist. He shares his practice during festivals, in cultural mediation contexts, or through educational courses (Festival Quartiers Danses/Canada, Akropoditi/Greece, Sinedomo/Italy, RQD training classes, Concordia University, EDCM… His choreographies, imbued with great physicality, poetry and a touch of activism, brought him to local and international stages. His solo SOLILOQUY notably received the prize for Best Interpretation in 2021. He is co-initiator of the Bercail, a nomadic place of practice, sharing, and research. He recently obtained a residence at the Cité internationale des arts in Paris in order to deepen his process. An enthusiastic researcher, he aims to approach his practice in a systemic way, thus aspiring to a political, poetic and spiritual revolution of bodies and minds.
Trained in circus, theatre and music, Manuel Roque has been working in contemporary dance as a performer, choreographer and teacher since 2005. His interest in the body in movement is based on the notions of integrity, curiosity, attention, benevolence to others and to oneself, and generosity in physical engagement. His research reflects political and social concerns that are also poetic, formal, or sensory. His approach tends to prioritize process over performance, and places practice and exercise at the heart of the work.