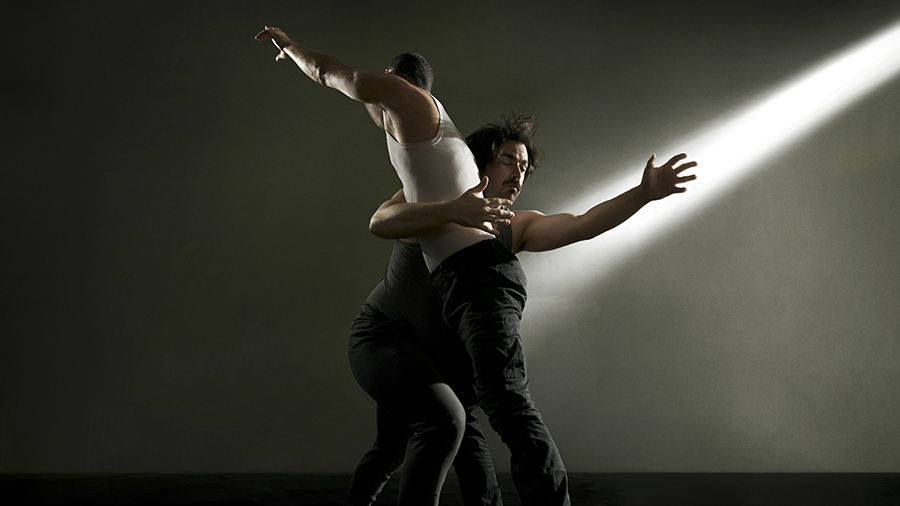 Originally, Accolades et quiproquos was meant to open the first edition of the Quadriennale de gigue contemporaine, which was set to take place from March 11th to May 22nd, 2021. Because of the pandemic, the Quadriennale has been postponed to 2025. However, it will be possible to watch a webcast of Accolades et quiproquos.
Accolades et quiproquos was selected as part of the call for projects for Soirée Carte Blanche that was put out for the Quadriennale. BIGICO's Soirée Carte Blanche comes from a desire to present long choreographic works alongside the short pieces of OFF BIGICO and the open-ended research of the Incubateur.
Jury for the Quadriennale's Carte Blanche
Ivanie Aubin-Malo
Choreographer and Tangente Curator
Lük Fleury
BIGICO Executive and Artistic Director
Katya Montaignac
Dramaturge
Marco Pronovost
Tangente Curator
Accolades et quiproquos is an invitation to dive into the choreographers' artistic process as they give the audience a behind-the-scenes look at their creation, from the dance studio to the stage. Inspired by reflections on belonging, ambivalence, and authenticity, this project is first and foremost about negotiation. Teetering between a dance show and a live documentary, this new work presents a deconstructed contemporary gigue and an alarmist folklore where the audience gets to travel back and forth between the studio and the stage.
Producer Les Archipels
Choreographers and performers Philippe Meunier and Ian Yaworski
Creation artists Jonathan C. Rousseau, Sébastien Chalumeau, Catherine Lafleur, Geneviève Lauzon, Philippe Meunier, Liane Thériault, Antoine Turmine, Ian Yaworski
Rehearsal director Jessica Serli
Dramaturge Benjamin Prescott La Rue
Composer Jérôme Minière
Costume designer Cloé Alain-­Gendreau
Lighting designer and technical director Karine Gauthier
Co-­presented by Tangente and BIGICO
Financial partners Canada Council for the Arts, Conseil des arts et des lettres du Québec, Conseil des arts de Montréal
Creation and production partners L'Estruch (Sabadell, Espagne), Carrefour culturel de Notre-­Dame-des-­Prairies, BIGICO, Maison de la culture Marie-­Uguay, Maison de la culture Notre-Dame-de-­Grâce
Having trained in folk dance ensembles and collaborated with numerous choreographers who blend contemporary dance with traditional arts, we have a keen interest in contemporizing Québec folk dance. For several years, we have been establishing a sound and movement vocabulary based on the reconstruction of traditional Québec gigue and have been focusing on the exploration of folk dance within a contemporary aesthetic. In a world where contemporary dance can have innumerable possibilities, we explore a gigue that is not only audible but also visible.
In constant evolution due the extraordinary times we are living through, we are grabbing the situation by the horns to humbly take hold of this epic duet originally created by and for eight dancers. No, it is not about COVID, or confinement, or solidarity. It is however about respect, care, friendship and love, humour, and resilience, of course. A touching duet that involves touching. The creative process of Accolades et quiproquos is full of dimes on which we are constantly turning, which has pushed us to reflect on our practice, our profession. No drama over the rainbow…
Originally trained in traditional Québec folk dance with the Mackinaw folk dance group in Drummondville, Ian Yaworski joined the Zogma dance company as a dancer in 2005 and eventually became resident choreographer.  He quickly became interested in the contemporization of Québec folk dance. His versatility and his experience have granted him the opportunity to collaborate with many different choreographers, including Margie Gillis, Benjamin Hatcher, Bourask dance company, and Lük Fleury. As a choreographer, he has worked on theatre productions La fête à Jean and Skin thight. His choreographic work has been presented at Tangente, among other places. He has worked with Philippe Meunier on numerous creations since 2016: Monte-Charles (2017), Frictions (2018), and Suspendu au sol (2020). In 2019, he founded a company with Philippe Meunier: Les Archipels. In addition to his career in dance, Ian is also lighting designer in dance and theatre. He is interested in shadows and the relationship between the body and the light.
Philippe Meunier has been exploring the world of dance and Québec gigue for over 20 years, collaborating as a performer with many choreographers and dance companies, including Benjamin Hatcher, Les Sortilèges, Zogma, and Bourask. As a choreographer, he has presented his vision of a contemporary Québec gigue at numerous events since 2007, notably at the Biennales de gigue contemporaine (BIGICO) and Tangente. Since 2016, he has collaborated with Ian Yaworski on different shows, including Monte-Charles (Tangente), Frictions (Jouer Dehors – La DSR, CAM en tournée), and Suspendu au sol (Tangente, BIGICO). In 2019, the two choreographers founded a company together: Les Archipels. In conjunction with his passion for dance, he works as a videographer, proposing a new and creative look on movement through his videos for different artists.
Liane Thériault is a dance performer, choreographer, rehearsal director, and video artist. As a performer, she has danced for Les Soeurs Schmutt, Anne-Flore de Rochambeau, Julie Lebel, Delphine Véronneau (Tuque et capuche [TeC]), Liliane Moussa, and Claudia Chan Tak, among others. Since 2015, her choreographic work has been presented in Montréal; first, the solo (Personne(une), Somebody), then the creative duet Mine de rien: un collectif. Since 2013, she is part of Dans son salon; first as a video artist and then as a rehearsal director. As a video artist, she has worked with La 2e porte à gauche, Helen Simard, and Karenne Gravel.
Catherine Lafleur is an independent performer and choreographer. She graduated from UQAM in 2005. Since 2009, she has presented her work at Studio 303, the MainLine Theatre, Usine C, as well as several indoor and outdoor venues as part of the Festival Quartiers Danses. Sponsored by Mandoline Hybride, her work was recently presented through the Accès Culture network. Recently, she performed for 14 lieux and started working for Les Archipels.
A graduate of the UQAM dance program, Geneviève Lauzon performs across Canada and internationally for young audiences with the company Sursaut since 2013. She also works on different projects with up-and-coming choreographers such as Joannie Douville, Ghislaine Doté, and Lynsey Billing. As a performer, Geneviève has collaborated with choreographer Philippe Dandonneau on projects presented at Vue sur la relève (Crématorium, 2013), Tangente (Bleach, Danses Buissonnières 2015), Quartiers Danses (Défonce la porte; elle reviendra dans ta face, 2015), and Phenomena (Killing me softly, 2017).
Graduate of LADMMI (2005), Jessica Serli works in the Montréal contemporary dance sector as a dancer, choreographer, and rehearsal director. She has participated in many choreographic projects by Estelle Clareton, Line Nault, Milan Gervais, Andrew Turner, Hélène Langevin, Audrey Bergeron, Amélie Rajotte, Normand Marcy, Jacques Poulin-Denis, and Emmanuel Jouthe. In addition to her career as a dancer, she has worked as a rehearsal director and artistic advisor with Annie Gagnon, Ian Yaworski & Philippe Meunier, Bourask, and Alan Lake Factori(e). As a choreographer, her works include -40 Degrés (2005), Entre Deux (2008), La Fièvre (2013), Petite Faille (2015), Faille: deux corps sur le comptoir (Tangente 2016, OFFTA 2017, Réseau Accès Culture 2018).
A multidisciplinary artist, Benjamin Prescott La Rue specializes as a jack-of-all-trades. From dramaturgical consultation in dance (Dans son salon) to writing for theatre (CEAD 2014 prize) or sound design for dance, theatre, and film, the young artist is always looking to expand his perspective of performance qualities. After completing a bachelor's degree in literature at Université de Montréal, he collaborated with many projects and creations as playwright. His passion for computer-assisted music-making brought him work as sound designer for stage and pictures after a workshop with Jean Gaudreau. In the past year, he has collaborated with Le Théâtre à l'eau froide, Les Soirées 100Lux, Philippe Meunier and Ian Yaworski, Léa Tremblay-Fong, Martine Castera, Emmalie Ruest, and Marie-Ève Groulx.
Jérome Minière is a singer and multidisciplinary artist from Orléans, France, who has lived in Montréal for 20 years. Since 1996, he has created a dozen singular electronic music albums, which have received numerous awards in Canada and Europe. He also works as composer, songwriter, record producer or remixer with different artists. His curiosity has pushed him to collaborate in the visual arts, film, dance, theatre, and performance. He has worked on numerous revivals with Denis Marleau and UBU compagnie de création. He is also the creator of Épicerie Musicale. He creates his music videos and hybrid projects with visual artist MP Normand. In 2014, he published his first novel L'enfance de l'art (Quai no5/XYZ). He accompanies his most recent albums Dans la forêt numérique (Autoprod/2018) and Une clairière (Objet Disque/2019) with a solo show titled DUPLICATAS, which combines performance, song, comedy, improvisation, poetry, the visual arts, and video.
Cloé Alain-Gendreau has been working in the performing arts since she graduated from the theatre school at Cégep de Saint-Hyacinthe in 2009. Her experience is considerable and diverse. Depending on the project, she has been a costume designer, stylist, scenographer, or props master. She is embedded in the fields of theatre, circus, and dance, and her passion is contemporary performance. We have seen her creations at La Chapelle with Clap Clap (2012), Moi et une Love Letter (2013), and Cube blanc (2013); at Espace Libre with Tranche-cul (2014) and La singularité est proche (2017); at the Tohu with Psy (2010), Me, myself and us (2013), Cuisine et confessions (2014), Triptyque (2015), and Reversible (2016); and in public spaces with Grand coup de mauvais coups (2011), Plyball (2016), and Frictions (2018). Cloé has a special interest for dance. For the past few years, she has been collaborating with RUBBERBANDance and choreographer Victor Quijada for Fils de ville (2017), Vraiment Doucement (2018), and TWIST (2019). In 2018, she threw herself into the world of contemporary gigue with Les manteaux su'l'lit pis les bottes dans le bain by La R'voyure (2018), Frictions (2018), Gigue in the Dark with BIGICO (2018), Sonore/Désaccord (2019) et Suspendu au sol (2020).
Introduced to performance and the visual arts at a very young age, Karine Gauthier developed her passion for light very quickly. She has collaborated on many projects, in cities of many different countries (Barcelona, Chicago, Helsinki, Mexico City, New York City, Oslo, Paris, San Francisco, Sao Paolo, Seoul, Stockholm, Tokyo, Vienna…). She has designed lighting for Dana Michel (Silver Lion, Biennale di Venezia 2017), Clara Furey, Nicolas Cantin, Daina Ashbee, Gérard Reyes, Marie B, Alan Lake Factories, Estelle Clareton (RIDEAU/PARCOURS DANSE Award 2019), Audrée Juteau, Andrew Turner, Andrew Tay, Sarah Elola, Maria Kefirova, Emmanuelle Calvé, Elsianne, Suzanne Miller & Allan Paivio, Blanca Arrieta, Fredéric Marier, George Stamos, Caroline Laurin-Beaucage, and Martin Messier. She has also worked with music and circus artists such as Marco Calliari, la NEF, Throw2Catch, and Krin Haglund. She also co-designed Émile Proulx-Cloutier and Florence K with Jean-Francois Couture. In addition, she has been technical director for numerous dance companies in Montréal. She has toured with Richard Séguin and Jorane. After 20 years, Karine Gauthier is still passionate about the light of her life.