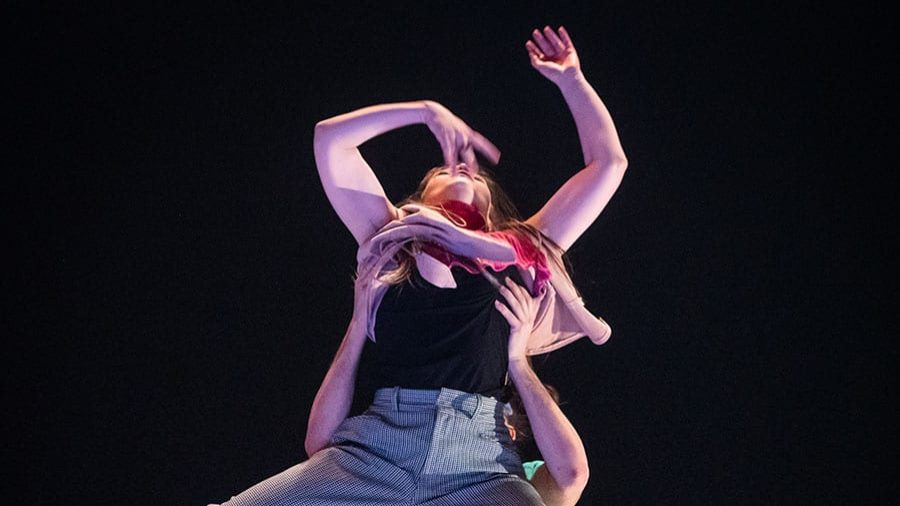 École de danse contemporaine de Montréal
ÉDIFICE WILDER|ESPACE ORANGE
LIVE SHOW
DECEMBER 13-16, 2023 - 7PM
-
ONLINE SHOW
LIVESTREAM
DECEMBER 16, 2023 - 7PM
PRERECORDED WEBCAST
DECEMBER 18-24, 2023
-
Discussion with the artists on December 14
L'École de danse contemporaine de Montréal presents the show entitled Cru d'automne, featuring its third-year students. For the occasion, choreographers Jean-Benoit Labrecque, Parts+Labour_Danse and Jessica Serli have been invited to present new pieces.
Artistic direction Lisa Davies
Choreography Jean-Benoit Labrecque, Parts+Labour_Danse, Jessica Serli
Production management Nicolas Labelle
Creation and performance advice Isabelle Poirier
Lighting design and management Stéphane Ménigot
Costume design Ève-Lyne Dallaire, Pénélope Dulude-de Broin, Jonathan Saucier
Dancers Rosalie Boivin, Gabrielle Bouchard, Léa Boudreault, Julianna Bryson, Ambre Dupuis, Jean-François Gilède, Tom Godefroid, Clodie Lambert, Rosalie Lamoureux, Charlotte Mégardon, Manon Scialfa, Jules Talavera, Alex Turcotte, Anna Vauquier
His initial passion for urban dance, combined with his training in contemporary dance, gives Jean-Benoit Labrecque a versatility of interpretation sought after by creators. Since graduating from École de danse contemporaine de Montréal in 2014, he has collaborated on the creation of works and short films with choreographers Danièle Desnoyers, Riley Sims, and Andrea Peña. Jean-Benoit has also had the privilege of performing the choreographic worlds of Catherine Gaudet, Daniel Léveillé, Frédérick Gravel, Justine A. Chambers, Alan Lake, Jacques Poulin-Denis, Sébastien Provencher, and George Stamos on international stages. At the same time, he is developing a solo project that is maturing in sedimentary layers, starting with the emblematic work Duos pour corps et instruments by Danièle Desnoyers. Starting in the of fall 2023, Jean-Benoit will be a lecturer in UQAM's dance department, as well as guest choreographer for students of École de danse contemporaine de Montréal. He will be featured in Andrea Peña's Replica, which will be presented in Montréal in 2025.
Parts+Labour_Danse consists of Emily Gualtieri and David Albert-Toth, two Montréal choreographers who have become increasingly prominent on the national stage. Pitting the concrete against fantasy, collaboration is the keyword in their creative universe. The methods they devise involve a call-and-response approach to collaboration that has given rise to the company's unique vocabulary, which pits the performer between script and spontaneity. The company's flagship works include In Mixed Company (2013, Prix Vue sur la relève 2015), La chute (2013, Audience Choice Award dance:made in canada 2015), La vie attend (2017, Dora Award nomination, Outstanding Ensemble), Efer (2021, Prix Rideau 2021), and À bout de bras (2021, Parcours Danse Official selection 2023). David and Emily regularly teach masterclasses and workshops, have been called upon for nearly a dozen commissioned works on a national level, and have recently begun more international activity. David and Emily are long-term artists in residence at Compagnie Flak and associate artists at Cas Public.
Jessica Serli graduated from École de danse contemporaine de Montréal in 2005 and is active in Montréal's contemporary dance scene as a dancer, choreographer, and rehearsal director. She has appeared in many choreographic projects led by Human Playground, Line Nault, Danse Carpe Diem, Amélie Rajotte, Bouge de là, Normand Marcy, Jacques Poulin-Denis, Andrew Turner, and Estelle Clareton. In addition to her performing career, she is interested in directing rehearsals and coaching choreography. Her collaborators include Alan Lake Factori(e), Annie Gagnon, Les Archipels (Ian Yaworski & Philippe Meunier), Bourask, Collectif Arielle & Sonia, Floor Ryder and Tonik, as well as Esther Rousseau-Morin and Sylvain Lafortune. As a choreographer, she created -40 Degrés (Tangente, 2005), Entre-Deux (Studio 303, 2008), La Fièvre (Piss in the Pool, 2013), Petite faille (La petite scène, Québec, 2015), Faille : deux corps sur le comptoir (Tangente 2016, OFFTA 2017, Accès culture 2018), and Cesca (Osez solo 2020/Danse K par K). Fascinated by that which is hidden and contained, through her research and creations, she endeavours to strip the body of its conditioning. She develops sensitive movement reflecting the unconscious mechanisms that characterize our interactions by exploring the affected body (charged, sensitive, weakened), the realm of sensations, emotions, and vital and visceral energies.