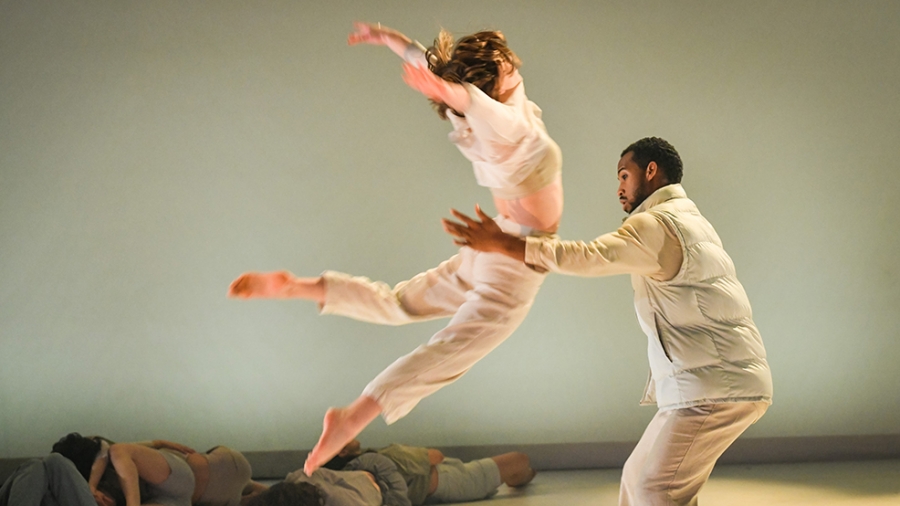 École de danse contemporaine de Montréal
LIVE WEBCAST
DECEMBER 17 & 18, 2020 - 7PM
PRERECORDED WEBCAST
DECEMBER 20 TO 22, 2020
L'École de danse contemporaine de Montréal presents the show entitled Cru d'automne, featuring its third-year students. For the occasion, artistic and program director Lucie Boissinot has invited choreographers Charles Brecard, Riley Sims, and James Viveiros to create pieces.
Choreographers Charles Brecard, Riley Sims, James Viveiros
Dancers
Lou Amsellem, Pauline Ansquer, Elisa Barrat, Justine Dagenais-de Montigny, Sabrina Dupuis, Sophie Fekete, Lauren Fisher, Rose Gagnol, Klaudy Gardner, Adèle Garnier de Boisgrollier, Anny Gauthier, Mathieu Hérard, Gabrielle Kachan, Aaricia Laperrière Roy, Alexandre LeBlanc, Nikita Peruzzini, Ernesto Quesada Perez, Evelynn Yan
Artistic director Lucie Boissinot
Rehearsal director Isabelle Poirier
Lighting designer Stéphane Ménigot
Costume designers Philippe Massé, Jonathan Saucier
Production manager Nicolas Labelle
Born in New-Caledonia, Charles Brecard graduates from l'École de danse contemporaine de Montréal in 2017. Since then, he has collaborated with several Montréal artists, such as Andrea Peña, Andrew Skeels, Parts+Labour_Danse, Destins Croisés, Martin Messier, and Helder Seabra. His endless curiosity makes him train regularly in Europe. Influenced by folkloric, urban, and contemporary dance, as well as by his career in massotherapy, he is developing his personal practice, which makes him occasionally teach and choreograph. He has had the opportunity to present his work in New Brunswick, Montréal, France, and Germany.
A graduate of The School of Toronto Dance Theatre's Contemporary Dance program and the Wexford School for the Arts Musical Theatre program, Riley Sims has worked with Tedd Robinson, Mélanie Demers, Frédérik Gravel, Ann Van den Broek (NL), Ann Liv Young (USA), Kettly Noël (Mali), Noam Gagnon, Michael Trent, and Allison Cummings. From 2012 to 2014, Sims spends three seasons as a company member of Ottawa Dance Directive with Artistic Director Yvonne Coutts. Sims is the Artistic Director of Social Growl Dance, established in 2012. The company has presented contemporary dance creations at festivals and venues including The Citadel: The Ross Centre for Dance, the Arts and Letters Club of Toronto, the SummerWorks Performance Festival, Dark Horse Dance Projects, The Alumnae Theatre, and Gallery 1313. Social Growl is currently working on Sims' newest creation, This Lament I'll Lip-sync Until I'm Born Again, set to premiere in September 2021.
James Viveiros is a contemporary dance artist whose performance career spans over 25 years, most notably with Montréal's Compagnie Marie Chouinard. Since graduating in both Musical Theatre and Dance Programs at Alberta's Grant MacEwan University in 1998, James has enjoyed performing his own and others choreographic works for international audiences at festivals and theatres all over the world. In 2009, he and his fellow dancers were awarded a Gemini Award for Best Performance from the Academy of Canadian Cinema & Television for the Chouinard company's film version of bODY_rEMIX/les_vARIATIONS_gOLDBErg. In 2016, he was awarded funding from the Conseil des arts et des lettres du Québec (CALQ) to become a certified Gaga teacher and to study with the Batsheva Dance Company under the direction of Ohad Naharin in Tel Aviv, Israel. In addition to choreographing, collaborating, performing, and rehearsal directing for other artists across Canada, James travels frequently to share his passion of movement to students of all levels as a guest teacher in various dance institutions, schools, movement facilities and universities.