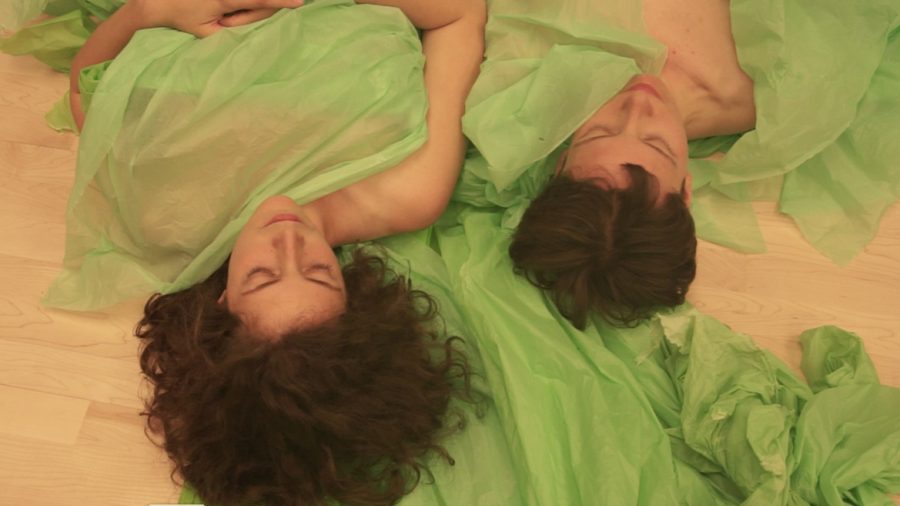 Espace Orange
SEPTEMBER 23-25, 2021 - 7PM
SEPTEMBER 26, 2021 - 4PM
-
Discussion with the artists on September 24
In this contemporary fable, four performers and a musician find themselves in the middle of a place that is both garden and garbage dump. Their naked bodies swiftly come together and pull apart in a world filled with hundreds of plastic tablecloths. The audience is invited to let the various shades of green and the affective tone of the enthralled, carefree, receptive performers flood their senses. The composition sways between written choreographic material and improvised sections carried by the sounds of the vibraphone. What is the value of vitality and celebration in an environment where climate change is approaching the point of no return?
Choreographer Camille Lacelle-Wilsey
Performers and creative collaborators Mona El Husseini, Gabriel Favreau, Rebecca Rehder, Nien Tzu Weng
Sound designer and live musician Eugénie Jobin
Outside eye Erin Hill
Rehearsal director Peter Jasko
Stage designer Maude Arès
Lighting designer Cédric Delorme
Artists and creative collaborators Emma Lee Kai Iversen, Manuel Shink, Eryn Tempest, Nien Tzu Weng
Nien Tzu Weng is a Taiwanese-Canadian interdisciplinary dance artist based in Montréal. In 2008, she immigrated to Canada to continue her artistic practice. She aims to build bridges between disciplines, pursuing an experimental approach to contemporary dance. Her projects have been shared at Node Digital Festival (Frankfurt, DE), Biennale Némo (Paris, FR), Ars Electronica (Linz, AUT), Les Percéides (Percé, QC), SummerWorks (Toronto, ON), 1-Act Festival (Vancouver, BC), as well as in Montréal at the OFFTA (Fonderie Darling), Elektra (SAT), Akousma (Usine C), Tangente, and Studio 303. Weng is one of the recipients of the James Saya Award, the Undergraduate Research Award, and The Contemporary Dance Prize at Concordia University. She is currently a member of LePARC (Milieux) and a resident artist at Topological Media Lab, where she develops her research on presence and interactivity.
Mona El-Husseini is an Egyptian-Canadian contemporary dance artist based in Montréal. She completed her professional dance education at the Cairo Contemporary Dance Center in Egypt and studied international business and contemporary dance at Concordia University. In the creative process, she goes beyond dance and follows the thread that connects the forms of art that she practices, including the martial arts, the visual arts, and writing. She is an active member of the Axis Syllabus International Research Network and continues to follow research-based practices that nurture questioning and experimenting.
Gabriel Favreau is an actor and multidisciplinary artist based in Montréal. Since graduating from the National Theatre School of Canada, he has collaborated on various projects in theatre, dance, the visual arts, and voice acting. In 2020, his project Music for Exorcism was presented in Baltimore at the Institute of Contemporary Arts and in Montréal at Galerie B-312. As a performer, he was featured in La promesse de l'aube (Espace GO, 2006), Bras de Fer (La Roulotte, 2017), Les hauts-parleurs (BLUFF, 2018), Tong: A Tip of the Tongue Opera (La Fille du Laitier, 2018-2020), Mamma Mia! (Just For Laughs, 2019), Corps Célestes (CTD'A, 2020), and soon will be in Faire crier les murs by Rebecca Deraspe (Le Clou, 2021).
Erin Hill is a choreographer, performer, collaborator, and writer. Through durational practices, she works with her body and life as a site of experimentation, noticing habits of perception and critically questioning from where these habits arise, as well as where they lead to. Erin dances in order to practice a transfeminist phenomenological approach to identity; one enfolded in fluid, horizontal, and somatic states. In 2018, she received a Masters from Das Theatre (formerly DasArts). Erin currently makes home as a settler in the traditional gathering place Tiohtiá:ke, the unceded Indigenous lands of the Kanien'kehá:ka Nation, also known as Montréal. Since 2016, Erin has lived and worked in Amsterdam, and continues to nurture her relations there, her part-time home.
In 2001, Peter Jasko graduated from the J.L. Bella Conservatory of dance in Slovakia. He continued his higher education at the University of Music and Dramatic Arts in Bratislava, SK, for a year before entering the international school of dance P.A.R.T.S. in Brussels, BE, (2002), under the artistic direction of Anna Teresa de Keersmaeker. He has been involved in the dance community in different parts of the world as a performer, choreographer, and teacher for over 17 years. His professional experience includes dancing with international artists and companies such as Roberto Olivan Performing Arts (Spain), Eastman/Sidi Larbi Cherkaoui (Belgium), Cirque Éloize, Bill Coleman, Petr Forman, Roberto Magro, and many more. Since 2001, he has also collaborated with David Zambrano as both a performer and as assistant in his classes and workshops. In 2006, Peter co-founded Les Slovaks Dance Collective and launched their first creation, Opening Night. This experience (a creative process that lasted one year) laid the cornerstone for a collective way of working and democratic decision-making. LS began to develop common skills: composing while performing, finding a gestural language, establishing the rules for relating to each other and to the public while performing, and using dance, music, and singing. Extensive touring ensued. In 2013, he began to collaborate and perform with Montréal dancer Clara Furey. Her approach fosters dialogue between the different kinds of mediums that make a living artwork, inviting them to interact in a horizontal hierarchy.