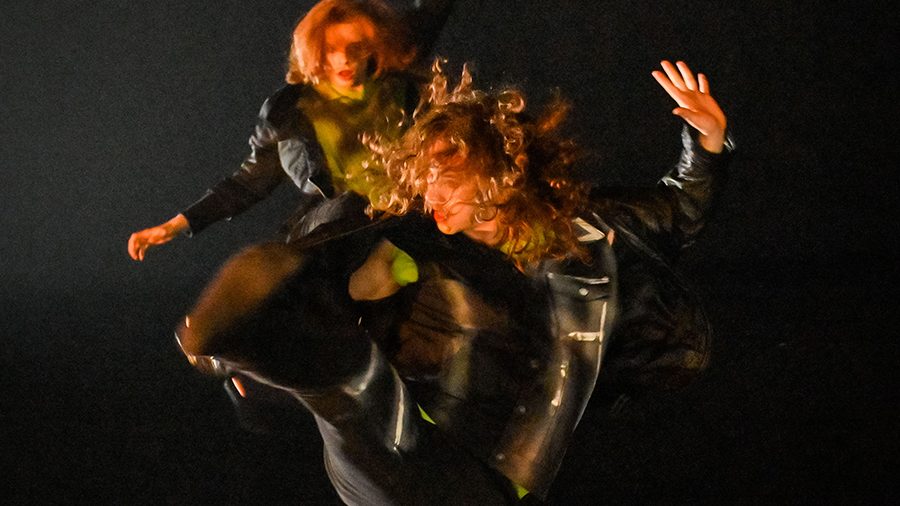 École de danse contemporaine de Montréal
ÉDIFICE WILDER | ESPACE ORANGE
LIVE SHOW
DECEMBER 14-17, 2022 - 7PM
-
ONLINE SHOW
LIVESTREAM
DECEMBER 17, 2022 - 7PM
PRERECORDED WEBCAST
DECEMBER 19-25, 2022
-
Discussion with the artists on December 15
École de danse contemporaine de Montréal presents the show entitled Cru d'automne, featuring its third-year students. For the occasion, artistic and program director Lucie Boissinot has invited choreographers Alanna Kraaijeveld, Sébastien Provencher and Helen Simard to present pieces.
Par nécessité by Helen Simard
Art Gallery by Alanna Kraaijeveld
Les larmes dans la pluie by Sébastien Provencher
Artistic direction Lucie Boissinot
Choreographies Alanna Kraaijeveld, Sébastien Provencher, Helen Simard
Creation and performance advice Isabelle Poirier
Performance Méanne Belisle, Gabrielle Boudreau, Laura Brisson, Alec Charbonneau, Sphynx Church, Meggie Cloutier-Hamel, Émile de Vasconcelos-Taillefer, Coralie Fortier, Camille Huang, Mya Métellus, Auvesa Raymond, Tommy Lee Salvas
Lighting design and management Stéphane Ménigot
Costume design Margot Lacoste, Jonathan Saucier
Alanna Kraaijeveld is a contemporary dance artist.  Her approach to movement practice and performance is centered on context driven, collaborative practices. Kraaijeveld has over 15 years of experience and continues to be a sought-after collaborator in the performing arts milieu. As a performer, teacher and creator, her collaborations are numerous: Company 605, École supérieure d'art dramatique (Paris), Justine Chambers, Yves Charuest, Modus Operandi, Marie Claire Forté, Studio 303, Vim Vigor, Sarah Chase, Stella Adler Studio of Acting (NYC), Opéra de Québec, William Parker, Susanna Hood, Louise Bédard, Frédérick Gravel, and Elizabeth Langley, among others. She toured internationally with Dave St-Pierre in productions Un peu de tendresse bordel de merde and Foudres.  From 2004 to 2008, she was a company dancer of Le Groupe Dance Lab under the artistic direction of Peter Boneham. Le Groupe Dance Lab was an international centre devoted to the research and development of contemporary dance.  Now ubiquitous in the contemporary arts milieu, the model of the Lab, established in 1988, was one of the first of its kind.  Since 2015, Alanna is a student of Linda Kapetanea and Jozef Frucek, developers of Fighting Monkey Practice. Alanna has a Master of Arts degree in Dance Pedagogy and has taught at institutions and organizations across Canada, Europe, and the United States. She represents Fighting Monkey as an *Inspire by FM instructor. She shares her knowledge of movement across various communities, including dance, theatre, sports, and at-risk youth.
A graduate from UQAM's Dance Department, Sébastien Provencher evolves in the contemporary dance field as a choreographer and a performer. He recently joined the company Lorganisme, a structure for independent choreographers. He is interested in interdisciplinary work where body and movement are at the heart of the artistic proposal. As of today, his work has been presented in Canada (Agora de la danse, Tangente, Dance Matters, Citadel + Compagnie), France (Auteurs de troubles), and Germany (Made in Potsdam). His last two works were presented at Tangente in 2021: Bones and Wires (co-created with Mathieu Leroux) and What Will Come (co-created with Julia B. Laperrière). He is also currently co-director of the festival FURIES in Marsoui, Gaspésie. As a performer, he has worked with choreographers from Montréal, Québec and Toronto, like Louise Bédard, Harold Rhéaume, George Stamos, Manon Oligny, Helen Simard, Emmanuel Jouthe, Sasha Kleinplatz, Martin Messier, Maïgwenn Desbois, DA Hoskins/Dietrich Group, Riley Sims/Social Growl Dance, and Marie Lambin.
Helen Simard is a choreographer, performer, and rehearsal director. After working with Solid State Breakdance for 12 years, an artist collective that combined street and contemporary dance, and participating in the creation of 9 shows, she switched gears in 2012 to lead her own artistic projects. As an independent choreographer, Helen collaborates with musicians and dancers to create raw, visceral interdisciplinary shows, including On the Subject of Compassion (2011), Can You Hear Me? (2017), and Dance Side of the Moon (2018). She uses the codes and aesthetics of rock music, creating lively, interactive performances that challenge the conventions of stage dance forms. For 6 years, her research was focused on the icon of American punk rock Iggy Pop. Inspired by the music, persona, and cathartic dances of this legendary performer, she created a cathartic and hallucinatory trilogy of interdisciplinary works ​​– NO FUN (2014), IDIOT (2017), and REQUIEM POP (2019) – which were presented by Tangente, La Chapelle, Agora de la Danse, Centaur Theatre, and OFFTA in Montréal, as well as SummerWorks (Toronto) and Dancing on the Edge (Vancouver). A graduate of the BFA in Contemporary Dance from Concordia University (2000), Helen also holds a MA in Dance from UQAM (2014).