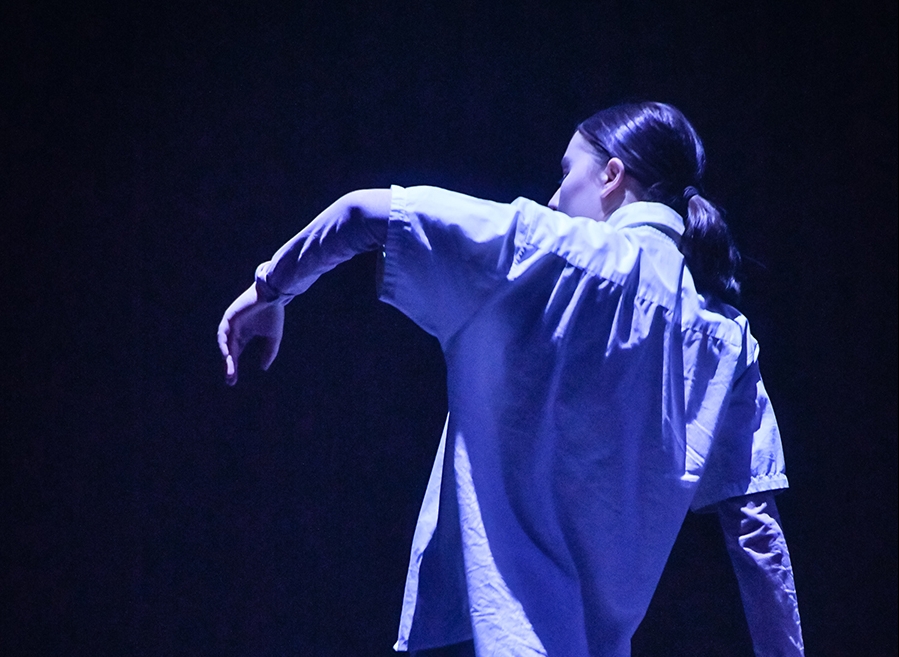 Following the Gouvernement du Québec's health emergency decree, this show is cancelled. For more information, click here
L'École de danse contemporaine de Montréal presents the show entitled Les danses à deux temps, featuring the students of first and second years. For this occasion, artistic and program director Lucie Boissinot has invited choreographers Virginie Brunelle for a remount of À la douleur que j'ai, Jessica Serli, and James Viveiros to create pieces for large groups.
Choreographers Virginie Brunelle, Jessica Serli, James Viveiros
Second-year dancers 
Lou Amsellem, Pauline Ansquer, Elisa Barrat, Justine Dagenais-de Montigny, Sabrina Dupuis, Sophie Fekete, Lauren Fisher, Rose Gagnol, Klaudy Gardner, Adèle Garnier de Boisgrollier, Anny Gauthier, Mathieu Hérard, Gabrielle Kachan, Alexandre LeBlanc, Mathéo LeBouc, Nikita Peruzzini, Ernesto Quesada Perez, Evelynn Yan
First-year dancers 
André Abat-Roy, Meihan Carrier-Brisson, Andrea Carrión-García, Aliénor Chamoux, Chanel Cheiban, Maéva Cochin, Isabel Cruz, Clémence Dinard, Nolwenn Duhaut, Mara Dupas, Anna Duverne, Aurélie Ann Figaro, Rony Joaquin Figueroa, Yoram Karoubi, Nûr Khatir, Marianne Lataillade, Sandrine Lavallée, Nils Levazeux, Carlos-Alexis Mendoza-Bustinza, Marianne Murphy, Isabelle Sue Pilette, Audric Raymond, Valentine Rousseau, Tommy-Lee Salvas, Jérôme Tremblay-Lanthier, Zoé Uliana, Jérôme Zerges
Artistic director Lucie Boissinot
Rehearsal directors Emmanuelle Bourassa-Beaudoin, Anne Le Beau
After obtaining her Bachelor's degree in Dance/Creation from UQAM, Virginie Brunelle is quickly perceived as one of the choreographers of the new generation to watch. In 2009, she founds her eponymous company and has since created six works: Les cuisses à l'écart du coeur (2009), Foutrement (2010), Complexe des genres (2011), PLOMB (2013/2017), To the pain that lingers (2016), and Beating (2018 – Gauthier Theaterhouse Dance Company Stuttgart). In just a few years, the company has received awards and honours, found co-producers, and presented its works in more than fifty theatres in a dozen cities in Canada, Europe, Mexico, and South Korea. Through dance, Virginie wants the audience to be touched and make connections with their own emotional experiences. She sees her works as a visual melody that, through poetic staging, brings together our common daily battles. The most important thing to her is, through images, to bring out humanity and truth.
Jessica Serli graduated from École de danse contemporaine de Montréal in 2005 and is active in Montréal's contemporary dance scene as a dancer, choreographer, and rehearsal director. She has appeared in many choreographic projects led by Milan Gervais/Human Playground, Line Nault, Danse Carpe Diem/ Emmanuel Jouthe, Audrey Bergeron, Amélie Rajotte, Bouge de là/ Hélène Langevin, Normand Marcy, Jacques Poulin-Denis/Grand Poney, Andrew Turner, Martin Messier, and Estelle Clareton. In addition to her performing career, she is interested in directing rehearsals and coaching choreography. Her collaborators include Alan Lake Factori(e), Annie Gagnon, Les Archipels (Ian Yaworski & Philippe Meunier), Bourask, Collectif Arielle & Sonia, Floor Ryder and Tonik, as well as Esther Rousseau-Morin and Sylvain Lafortune. As a choreographer, she created -40 Degrés (Tangente, 2005), Entre-Deux (Studio 303, 2008), La Fièvre (Piss in the Pool, 2013), Petite faille (La petite scène, Québec, 2015), Faille: deux corps sur le comptoir (Tangente 2016, OFFTA 2017, Accès Culture 2018), and Survie (Nice Try, 2019). Fascinated by that which is hidden and contained, through her research and creations, she endeavours to strip the body of its conditioning. She develops sensitive movement reflecting the unconscious mechanisms that characterize our interactions by exploring the affected body (charged, sensitive, weakened), the realm of sensations, emotions, and vital and visceral energies.
James Viveiros is a contemporary dance artist whose performance career spans over twenty years, most notably with Montréal's acclaimed Compagnie Marie Chouinard. Since graduating from Grant MacEwan University's Musical Theatre and Dance Programs in Alberta, Canada in 1998, James has enjoyed a rewarding career, performing for international audiences at renowned festivals and theatres all over the world. James has also danced for such Canadian choreographers and companies as Martha Carter/Marta Marta Productions, Suzanne Miller and Alvin Paivio Productions, Tania Alvarado, Tony Chong, Dominique Porte, Movement 7, Brian Webb, NDH Robin Poitras, Les 7 Doigts de la main, Lucie Grégoire Danse, Caroline Laurin-Beaucage, and Lune Rouge PY1 Project. In 2009, James is a recipient of a Gemini Film and Television Award for Marie Chouinard company's 'Best Performance' in the film version of bODY_rEMIX/ les_vARIATIONS_gOLDBErg. He was awarded funding from the Conseil des arts et des lettres du Québec to become a certified Gaga teacher and to study with Batsheva under the direction of Bosmat Nossan and Ohad Naharin in Tel Aviv, Israel. He completed his training in 2017 and travels regularly to Tel Aviv to study and update his certification. Currently, James is choreographing his own work. As well as performing, collaborating, and rehearsal directing for other artists across Canada, he travels frequently to share his passion of Gaga as a guest teacher at festivals, dance institutions, and universities, both nationally and internationally.