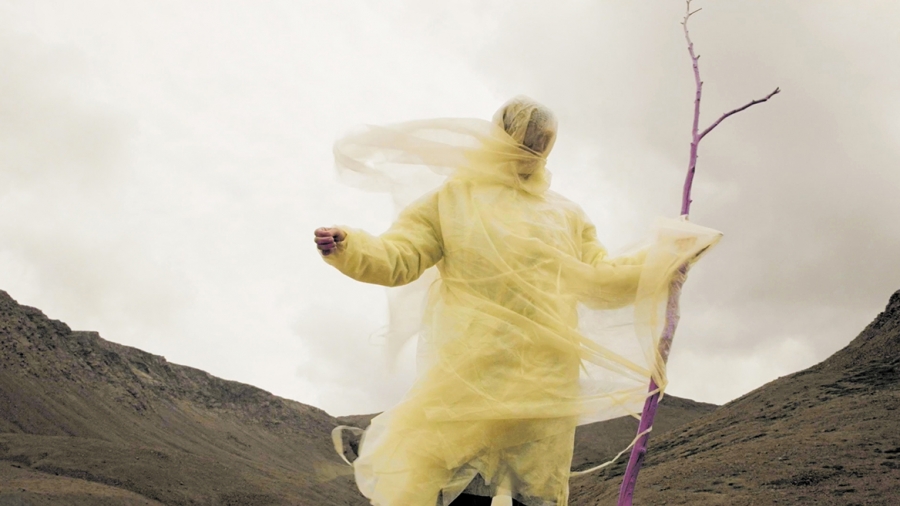 Hybrid project - The Wilder
APR. 2. 3, 2020 - BETWEEN 6PM AND 9PM
PERFORMANCES AT 7PM & 8:30PM
APR. 4. 5, 2020 - BETWEEN 1PM AND 5PM
PERFORMANCES AT 2PM & 4PM
-
SPECIAL 15$ RATE
DISCUSSION WITH THE ARTISTS ON APR. 3 AT 9PM
Following the Gouvernement du Québec's health emergency decree and request that theatres close their doors, this show is cancelled. For more information, click here
Hybrid projects are works based on research that melds various artistic practices and reshapes our relationship with time, space, and the performers. Some will move beyond the stage or spread out in time, some will be immersive and others will have irregular showing times. In every respect, the experience offered by artists working on such projects will be far beyond the ordinary.
Sarah and Pascal reject finality in this installation activated by performance. Inspired by their shared studio practice, they are like DJs mixing sculpture, dance, music, and media arts into a collection of immersive visual and sound experiences. In this laboratory dedicated to process, strange characters play invented instruments and manipulate various constructed protean objects in trance-like rituals, transposing the visitors in a "pop-apocalyptic universe," as Jean-Michel Quirion writes. Time becomes as tangible as honey dripping through an hourglass.
Co-creators Sarah Wendt, Pascal Dufaux
Quelque part dans l'inachevé is a title and also a running theme in our ongoing creative practice and methodology. Borrowed from a work by the poet Rainer Maria Rilke, it evokes for us the creative potential of an unfinished thing: a partial sentence, a half-finished drawing, a technical glitch, or a failed performance. 
Previously presented as an exhibition at Axenéo7 in Gatineau and at Maison des Artistes in Winnipeg, and as a performance at the Confederation Centre Art Gallery, PEI, this new iteration for Tangente is presented in its most ambitious form yet, as a film, immersive installation, and series of performances.
The anchor of the work is the film The Mountain moves while my fingernails grow, in which creature-characters perform dreamlike kinaesthetic rituals in landscapes of barren rocks and sky. The film was shot in the immense geological formations of the Tablelands in Gros Morne National Park, NL. The title references the speed at which tectonic plates move, which, in turn, alludes to tectonic plate theory, proven in the park in the 1960s due to the geological singularities of the area.
In this installation version created for the context of a hybrid project at Tangente, the somewhere (quelque part) is also a Some-time. Time is mixed up, long ago past, present, and speculative future. Loose assemblages of gestures, protean objects, and looping media suggest possible new language systems. We appear as technician-characters, performing the soundtrack, making adjustments, mixing images and sounds. A rock-creature evolves slowly throughout the space, hinting at the evolution (inachevé) from solid to gesture. A collection of honey hourglasses record the passage of time.
Sarah Wendt is a Montréal-based multidisciplinary artist originally from Prince Edward Island. She graduated from MainDance in Vancouver and studied music at the University of Victoria. She has collaborated on numerous projects with, among others, Chloë Lum & Yannick Desranleau, Stéphane Gilot, Sophie Castonguay, Julie Favreau, Coral Short, and Lin Snelling. Her performance work has been presented at Galerie de l'UQAM; Galerie Hugues Charbonneau; l'Œil de Poisson, Québec City; Art in the Open, Charlottetown; Encuentro Hemispheric Institute for Performance and Politics; Anode Festival, Melbourne; OK Quoi!? Contemporary Arts Festival, Sackville (NB); and OFFTA festival d'arts vivants.
Pascal Dufaux, born in Marseille, France, is a visual and media artist based in Montréal. He studied stage design and visual arts at Concordia University and has carried out residencies at the Christoph Merian Foundation in Switzerland and the Finnish Artists' Association. His work has been presented at venues across Canada, in Mexico and Europe, including exhibitions in Créteil, Maubeuge, Lille and Marseille, and festivals such as Mapping in Geneva, BIAN in Montréal, Lab30 in Augsburg, Germany, and Mois de la Photo in Montréal. Recently, his work has been shown at Carl Solway Gallery in Cincinnati, Galerie Bellemare et Lambert in Montréal, Confederation Centre Art Gallery in Charlottetown, Feature Art Fair in Toronto, Perimeter Institute for Theoretical Physics in Waterloo, ON, and Festival Images in Vevey, Switzerland.
Sarah and Pascal have been collaborating since 2015. Their projects include: Work of the dancer: a short term archival device, Flotilla-biennale of ARCA, Charlottetown; Mixing Ghosts, Symposium de Baie St. Paul, Kinetic Studio, Halifax, Verticale, Laval, QC; Strange moods and dissonant feelings, Mois Multi, Québec, Canadian Centre for Architecture, produced by Viva Art Action!, OFFTA festival d'arts vivants; and The mountains move while my fingernails grow at the Confederation Centre Art Gallery.