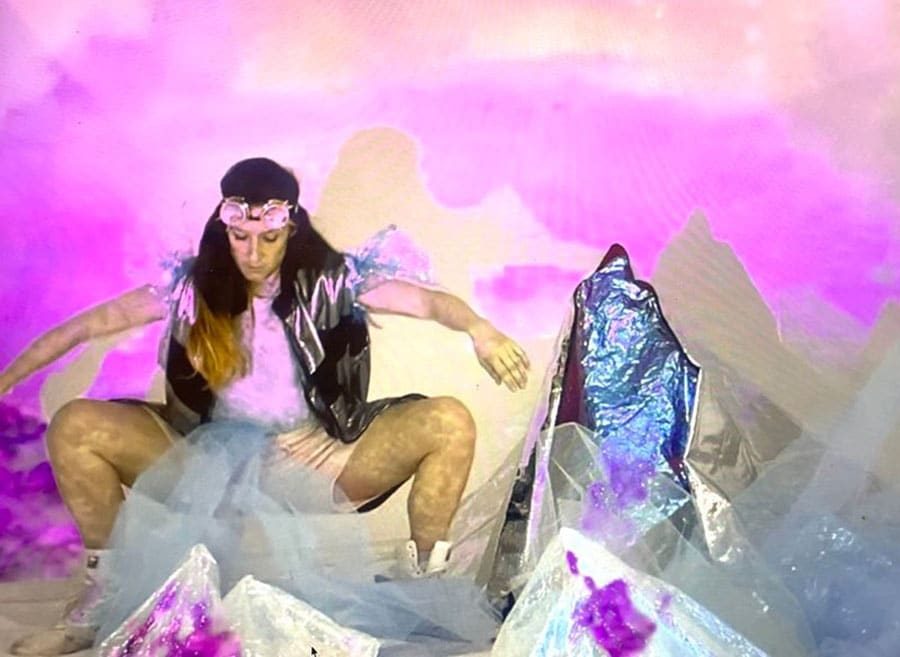 OFFTA
ÉDIFICE WILDER | ESPACE VERT
MAY 30 & 31, 2023 - 9PM
JUNE 1, 2023 - 4PM
WARNING: Possible strobe light effects.
Annual artistic event created on the edge of the Festival TransAmériques (FTA), OFFTA is a festival dedicated to emerging avant-garde creation in live arts. Since 2007, it scans the local artistic landscape in order to highlight creators whose projects trace new avenues in theatre, dance, and performance. The OFFTA grounds its identity on an artistic direction that favors solid and singular approaches, emerging practices, and experimentation.
In a low-fi performative universe of abyssal colors and iridescent surfaces, Bright Worms celebrates the necessity of luminous laughs and glows that can emerge from the depths. This multidisciplinary piece pays homage to bioluminescent creatures and explores the possibility of humans generating their own light. The result is an exploratory world of senses, somewhere between the underwater and intra-uterine worlds, where textures, materials, reflections and distortions create a welcoming microcosm. Through athletic prowess and somatic coral dancing, Bright Worms displays its complicity with the strange world of shipwrecks and the unknown.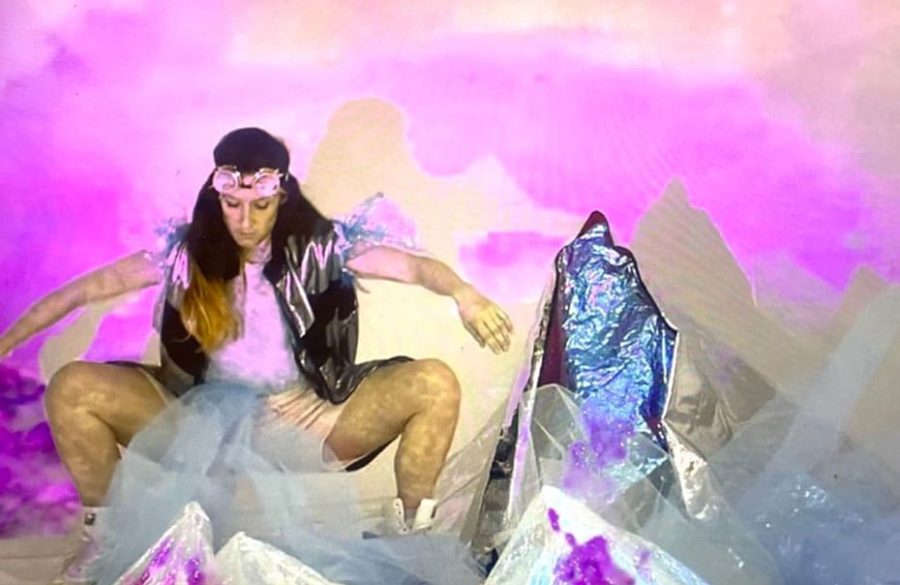 Choreography, video and performance Louise Michel Jackson with the collaboration of the whole team
Sound design and collaboration Magali Babin
Lights and technical direction Jon Cleveland
Coordination and consultation Kim-Sanh Châu, Lara Oundjian, Victor Dumont, Ellen Furey
Dramaturgy Ellen Furey
Movement advice Caroline Gravel
Movement catalysis Justin De Luna, Lara Oundjian, Silvia Sanchez, Elinor Fueter
Video consultation Kim-Sanh Châu
Sound mix Chittakone baccam / Hazy montagne mystique
Sound consultation Nancy Tobin
With support from Conseil des arts de Montréal, Canada Council for the Arts
Co-production Théâtre La Chapelle
Creative residencies Centre de création O Vertigo, La SERRE-arts vivants, Studio 303, PHI centre, Carrefour culturel de Notre-Dame des Prairies, Théâtre La Chapelle, Circuit-Est, Third Floor, Studio Stable – Animals of distinction, Centre d'art Diane Dufresne, corporation Hector-Charland, "Garage François"
Special thanks to
Magali Babin who accompanied me for a long time on this project and who strongly contributed to the development and identity of it.
To all the humans who have participated from afar or very closely in the emancipation of this work: Lara Oundjian, Kim-Sanh Châu, Jon Cleveland, Ellen Furey, Nancy Tobin, Caroline Gravel, Justin De Luna, Yves Sheriff,  Victor Dumont, Marie Poly,  Lila-Mae Guindon, Max Duquesne, Chittakone baccam / Hazy montagne mystique, Louise Mongeau, Annie-Claude Coutu-Geoffroy, Dana Gingras, Yannick Matthon, Les Ateliers Montréal Danse (Kathy Casey, Thea Patterson, Silvia Sanchez, Elinor Fueter), François Legris, La Chapelle.
To all the participants of the workshops I facilitated on bioluminescence, who nourished and contributed to the fermentation of ideas.
Louise Michel Jackson's approach focuses on a bodily experience that integrates interdisciplinary research (light devices, video projection, and small installations) as extensions of intimacy. Through the prism of bioluminescence, she constructs trajectories between athletic and micro-gestural vocabularies, thresholds of perception, and multi-layered landscapes that offer a dreamlike vision of the world.
Previous creation
Stroke (aka Shudder)

Co-production with Charleroi-Danses (Belgium)

In collaboration with Ben Fury, Rodolphe Coster
Presented at OFFTA (Montréal, 2015), Les Écuries de Charleroi-Danses (Charleroi, 2016), La raffinerie (Brussels, 2017), Tangente (Montréal, 2016), Palais de Tokyo (Paris, 2016), Festival de Lausanne 2017.