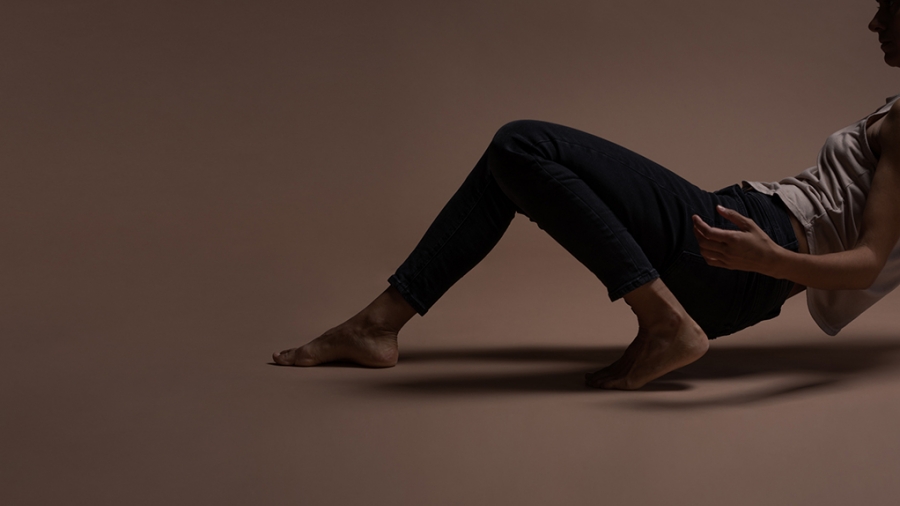 Webcast
NOVEMBER 28, 2020 - 7:30PM
NOVEMBER 30 TO DECEMBER 2, 2020
-
A discussion with Ingrid Vallus will take place on our Facebook page on Thursday, November 26, from 12:30pm to 1pm.
In this last part of a trilogy, Ingrid explores the in-between. She pays attention to the passing of time, to those instants when everything can change – from peace to war, from hate to love. Often imperceptible and insidious, these slow mutations can lead to the biggest reversals. Using breath as an anchor, how can one come by these small invisible moments when everything is possible? On a narrow stage that encourages organic movement, the artist invites spectators to follow her on a stripped-down and intimate journey.
Choreographer and performer Ingrid Vallus
Composer Kim Gaboury (aKido)
Lighting designer James Proudfoot
Artistic advisor Chi Long
Vocal coach Laur Faugère
Scenography advisor Andrew Forster
Le reste des vagues is the third part of a triptych that I initiated in 2014, when I started a personal research after having always collaborated with other artists. Research to try to find what we, human beings, hide inside of us, what we no longer see under the social varnish, which often remains invisible, indiscernible to our eyes, but which is a big part of what makes of us human beings, in all our complexity, our beauty, and our violence. Research dictated by the desire to work the form of the solo. To see what it is possible to transmit, to create with the presence of a single performer on stage: can a single body become multiple, evoke more than itself? Can it be enough for the viewer to perceive something that can make sense: images, emotions, content both reflective and intuitive? And is it possible to do so without accessories, objects, words; nothing other than a body, music, and light.
This project comes from a reflection on aging, from a desire to accept the passage of time, this invented structure that punctuates our lives. And to try to appreciate this process of transformation, these incessant changes that are the essence of this fixed-term experience that is life.
Ingrid Vallus obtains her Bachelor's degree in Dance (performance) at UQAM in 2001. Since then, she has worked regularly with Marysole Gagnière. Their collaborations took the form of in situ proposals presented at outdoor events: États d'urgence (2010 – ATSA); Festival des Arts de Valleyfield (2005, 2006, and 2007); Les Régates de Valleyfield (2007); Les Journées de la culture en Montérégie (2003, 2004, and 2005); and a duo, La traversée du Phénix (2012). Le reste des vagues follows the solo pieces Nos ombres, created in 2015, and Féral, which was presented at Tangente in 2017. Ingrid Vallus has been a cultural worker for fifteen years.
Kim Gaboury, a.k.a. aKido, is a composer creating music on the edges of rock, electronic, and electroacoustic genres. Parallel to his work as aKido, Kim is a Canadian Screen Award-nominated music composer for films and TV series such as Inside the Mind of Leonardo, Coteau Rouge (André Forcier), and Une Vie meilleure (Cédric Kahn). In 2004, he released his first solo record PLAYTIME, followed by four other albums. He also collaborates with composer Michel Cusson on projects such as Cavalia and Unité 9. He has worked with Ingrid Vallus for many years and created the music of the show Féral presented at Tangente in 2017.
James Proudfoot received his initial theatre training in Edinburgh, Scotland, where he grew up, and has been living in Vancouver since 1993. Self-taught in the realm of dance lighting, James has contributed lighting designs for dance works to many companies, including Lola Dance, 605 Collective, Co. Erasga, Wen Wei Dance, Joe Ink, EDAM, The Contingency Plan, battery opera, Kinesis Dance, Ballet BC, Restless Productions, Holy Body Tattoo, Dumb Instrument, MACHiNE NOiSY, Anatomica, Tara Cheyenne Performance, Les Productions Figlio, Karen Jamieson, Trial & Eros, Action at a Distance, Out Innerspace, BJM, the Plastic Orchid Factory, and Justine A Chambers.
Chi Long comes from far away. Her favourite dessert is pavlova, which was created for the famous Russian ballerina Anna Pavlova. When Chi was five years old, her dream was to dance before the Queen of England, just like Pavlova. Unlike Pavlova though, she has not yet had the chance to dance for the Queen, nor has she been immortalised as a dessert. In her 25 years of career, she has danced for many choreographers, but mostly for O Vertigo Danse and Compagnie Marie Chouinard. She now works freelance and has recently worked for Mélanie Demers, Virginie Brunelle, George Stamos, and Isabelle Van Grimde.
Andrew Forster is a Montréal visual artist whose work moves in two directions: interventions in public space + installation, video installation and performance in visual art and dance venues. His past work includes a touring production of Samuel Beckett's That Time; En Masse, a performance for 75 dancers (with choreographer Suzanne Miller); Cinéma, a multi-disciplinary performance in Place de la paix, Montréal; and Paraguayan Sea, a public text-in-architecture work (with poet Erín Moure). Recently he collaborated with Ingrid Vallus on Féral and Hanna Sybille Müller on Révolutions, two works presented at Tangente.