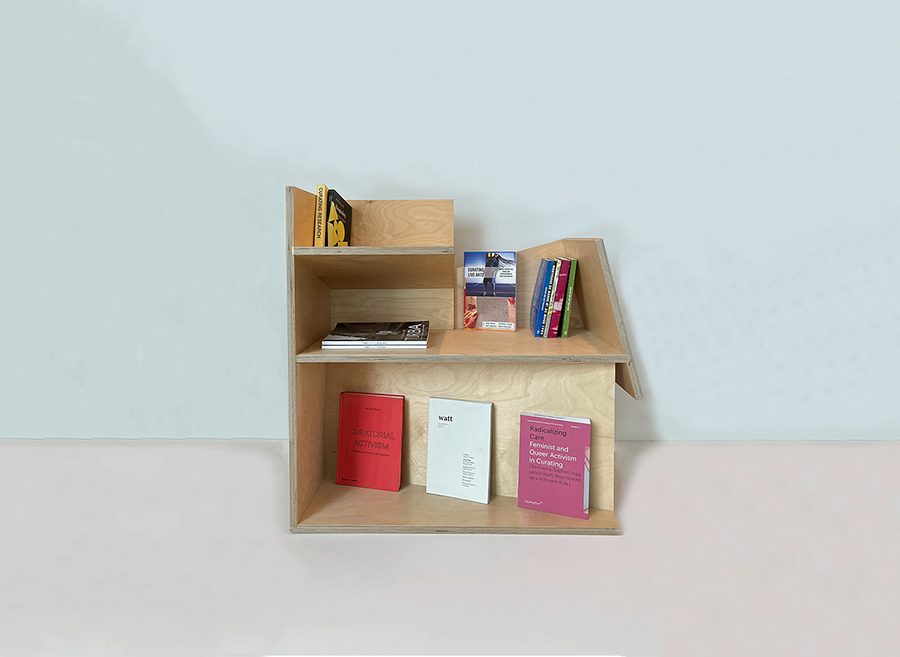 Symposium
ÉDIFICE WILDER | ESPACE VERT
MAY 17 & 18, 2023
SPECIAL RATE: 8$
-
Homemade snacks and coffee included
Let's discuss the issues that fuel our milieu, let's think with our community, let's take position and imagine the collective. Four key themes will animate the first two days of conversations, in the form of panels, workshops, and discussions. The curatorial team invites all those who wish to take some time to reflect and engage in this process.
Discussions will take place mostly in French, but we hope that the event will be organically bilingual and some presentations will be given in English.
I – Curating the Multidisciplinary
II – Community Education and Curating
III – Curating and Aesthetic Education
IV – Ethics and the Concept of Safe Space
Ideation and coordination Élisabeth-Anne Dorléans, Marco Pronovost and Laurane Van Branteghem
10am to 1pm – Opening Panel: Curating the Multidisciplinary
Camille Larivée (MAI)
Michèle Thériault (Galerie Leonard & Bina Ellen)
Anne-Marie St-Jean Aubre (Musée d'art de Joliette)
Jessie Mill (FTA)
Few spaces present only contemporary dance as part of their artistic programming. It can also be presented in gallery spaces. Many curators work with artists from different disciplines. Their expertise is multi-faceted and the issues vary. How do we juggle this complexity? What are the contexts that must be considered? How can we feed off decompartmentalization and reflections initiated through other mediums?
2pm to 5pm
Performance: Ralph Escamillan's CRASH (10 minutes)
CRASH is a solo work-in-progress created by the founder of VanVogueJam and FakeKnot, Ralph Escamillan (aka Posh Gvasalia Basquiat in the ballroom scene). This solo is performed with an isolation of the fourth beat found in the vogue beat, also known as the "crash", used to indicate when one does the iconic dip.
Discussion: Community Education and Curating
Ralph Escamillan (artist and founder of VanVogueJam)
Shérane Figaro (artist)
Rameez Karim (artist)
Christina Paquette (100Lux)
How do we strengthen communities? Curators who are rooted in their communities often act as unifying agents. What are their responsibilities? How to remain faithful to the creation of the form? How do we bring new practices to the forefront and into the professional scene?
Ralph Escamillan is a queer, Canadian-Filipinx performance artist, teacher and community leader based on the unceded territories of the xwməθkwəy̓əm, Skwxwú7mesh, Səl̓ílwətaʔ/Selilwitulh Nations – in so-called Vancouver, BC. With his company FakeKnot, he creates work that strives to understand the complexities of identity using sound, costume, technology, and the body. Recently, he premiered his newest work whip at the MAI (Montréal, 2021). He is currently creating a new work with the Philippine textile Piña set to premiere in May 2023. Ralph "Posh" Gvasalia Basquiat has been in the ballroom scene since 2014, opening his own Kiki House of Gvasalia, and joined the Mainstream House of Basquiat in 2021. The founder and Artistic/Executive Director of the non-profit organization VanVogueJam, Ralph shares his passion for ballroom culture at his weekly pay-what-you-can classes and balls, acting as a beacon for the queer dance form in Western Canada.
10am to 1pm
Panel: Curating and Aesthetic Education
Marika Crête-Reizes & Marco Pronovost
Some performing arts practices take time to conquer the general public. The general public is not always present at the first presentations of different artistic movements on professional stages. Whether we think of the first dance events inspired by Pow Wow, integrated dance, or contemporary gigue, how can we participate in the aesthetic education of the public and the teams of the various cultural organisations? How can we maintain openness and aesthetic curiosity among curators?
Performance: Charo Foo Tai Wei's Yearning (20 minutes)
As an Asian immigrant who has experienced sexism, racism and domestic violence, Charo Foo Tai Wei must constantly deal with societal challenges while having to pretend it's like water off a duck's back. Yearning is a contemporary dance solo that magnifies Foo's inner battles while she digs her way out toward the light. Yearning invites audience members to explore their own unknown hidden grief, which needs some form of release.
2pm to 5pm
Discussions: Ethics and the Concept of Safe Space
To end this second day, we propose a speed-dating style of table discussions around the themes of ethics and the concept of safe space. What are the ideological commitments of organisations (LGBTQ issues, environmentalism, antiracism, etc.)? What are the ethical issues that are important to you and how do you position yourself as a curator? Some artistic projects explore the notion of safe space. The institution of theatre is a physical, cultural, symbolic and public space that is historically and politically charged. As curators, how do we adapt our operating models to be responsive to the needs of artists and their emancipatory approaches?
FURIES (Gaspésie) curatorial team presentation
Yearning
Choreographer and performer Charo Foo Tai Wei
Dramaturg Dulcinée Langfelder
Sound designer David Blouin
Trained in Chinese classical dance, Charo Foo Tai Wei arrived in Québec City in 2005 where she studied contemporary dance at L'École de danse de Québec. From 2007 to 2013, she performed in Robert Lepage's production The Blue Dragon (Ex Machina) as an actress, dancer, and choreographer. In 2015, she discovered Butoh with Natsu Nakajima, Yukio Waguri, and Atsushi Takenouchi. She is fascinated by how the resonance of the nerve cells can trigger an organic movement that develops from the inner body. This discovery inspired her to research instinctive body initiation. Her first work, The Golden Stick Ritual, was selected by CanAsian Dance's KickStart program and was presented by Tangente (2021) in collaboration with Festival Accès Asie. Now, she intertwines Chinese classical dance and Butoh to develop her own choreographic language.