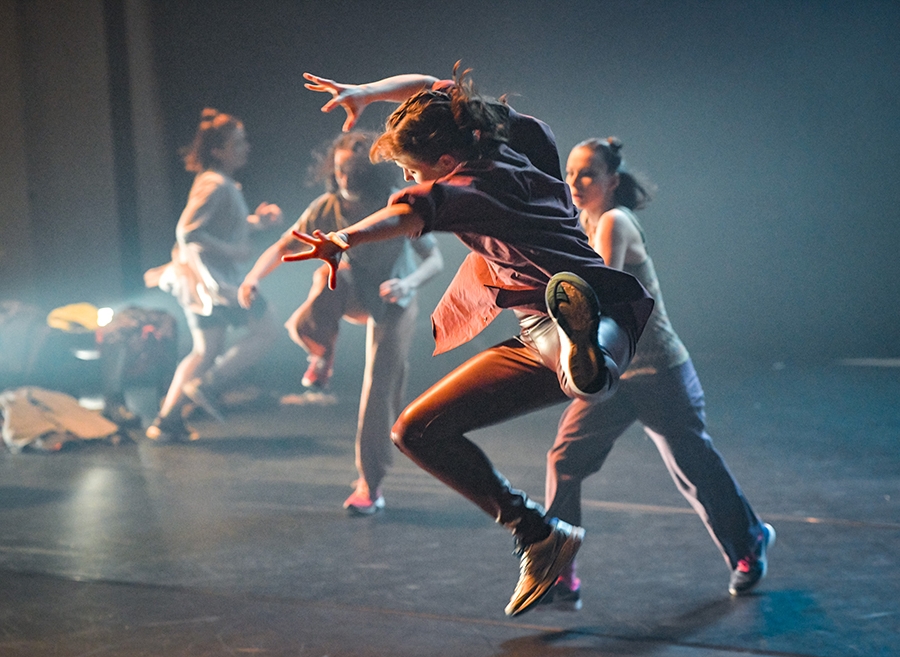 Following the Gouvernement du Québec's health emergency decree, this show is cancelled. For more information, click here
After three years of intensive training, the graduating students of L'École de danse contemporaine de Montréal will perform for the last time on the occasion of Les danses de mai, Opus 2020. Artistic and program director Lucie Boissinot has invited Clara Furey, Ti Nguyen, and Yotam Peled to create original pieces.
Choreographers Clara Furey, Ti Nguyen, Yotam Peled
Artistic director Lucie Boissinot
Rehearsal director Isabelle Poirier
Dancers
Madeleine Bellefeuille, Camil Bellefleur, Christophe Benoît-Piau, Sophie Carl, Julianne Decerf, Philippe Dépelteau, Louise Gamain, Lauranne Heulot, Luce Lainé, Maude Laurin-Beaulieu, Tiffany Leclair, Marie Lévêque, Amanda Petropoulos, Marie-Maxime Ross, Valentin Rosso, Molly Siboulet-Ryan, Alicia Toublanc
EDCM would like to thank the Conseil des arts et des lettres du Québec for the cooperation agreement with Pépinières européennes de création which made possible the artistic residency with Ti Nguyen and Yotam Peled.
Clara Furey began her artistic practice in singing and music composition before entering the world of dance, studying throughout her childhood at the Paris Conservatory and later at École de danse contemporaine de Montréal. Early in her dance career, Clara worked with a number of choreographers, including George Stamos, Damien Jalet, and Benoît Lachambre, who had a significant influence on her artistic vision. Since 2011, she turns towards choreography and develops work that is centred on a hyperawareness of sensory perception. She's interested in the physical and gestural search for an extreme precision in the micro-details that form one's individuality and in the macro that unites us all. She is interested in the constant transformation of energy and in leaving space for a communicative void and the creative mind of the spectators. She works on bringing choreographic performance to a proximity both sensitive and perceptible. Many different collaborations brought her to think of an approach that attempts to expand the boundaries of dance; using museum spaces and crossing the disciplines of visual and fine arts and choreography. Clara is interested in the dialogue between the different mediums that make a living artwork, inviting them to interact in a horizontal hierarchy. In 2017, Clara moves toward artistic direction and group choreography with Cosmic Love. In this piece, she works with her performers to create intuitive, poetic representations of physical phenomena against a stark stage where all forms of communication are made possible. The same year, she is also invited to create a cycle of 90 solo performances for the Musée d'art contemporain de Montréal entitled When Even The as part of the exhibit in homage to Leonard Cohen, A Crack in Everything. In this first solo work, Clara engages in an existential reflection on memory, the passage of time, and death—all major themes in Cohen's work. The European premiere took place at the MUMOK as part of the ImPulsTanz festival in Vienna. Her works toured in numerous festivals including the Biennale of Venise, Les Rencontres Chorégraphiques in Paris, Festival TransAmériques in Montréal, Performance Mix in New York, and in different countries such as Lithuania, Czech Republic, Slovakia, Spain, The Netherlands, and Belgium. In addition to choreographic and performance work, Clara shares her artistic processes through creative workshops and labs, inviting participants to come together and reflect on the mediums of choreographic and performance art. Her latest creation, Rather a Ditch, a solo performed by Céline Bonnier, made its worldwide premiere in 2019 at Festival TransAmériques. Clara Furey is an associate artist of Par B.L.eux.
Ti Nguyen is developing a work based on different processes of research, creation, and interpretation of choreographic matters, between dance and contemporary theatre, relying on captures of surrounding realities as well as working with the architecture of objects, materials, visual, and soundscapes. From 2011 to 2018, she collaborates as a researcher, creator, and performer with Farm in the Cave International Studio, a physical theatre company based in Prague. In 2016, she is nominated Dancer of the year by Opera Plus and Czech Dance Platform for her performance in Disconnected. She collaborates with physical theatre artists such as Laboratorio of Castaldo and Katharina Seyferth, and choreographers such as Pascal Delhay and La Ribot, and director Michel Mathieu. She attends intensive workshops given by Edivaldo Ernesto, Shanti Vera & Sendic Vazquez, Francisco Cordova Azuela, Diego Sanou, Los INnato, Hofesh Shechter, Peeping Tom, Batsheva, TJ Lowe, Daniel Abreu, Wendy Houston, Teatr Zar, and Atsushi Takenouchi. She also works as teacher and choreographer for contemporary theatre, dance, and circus projects in Europe.
Yotam Peled is a contemporary dancer, choreographer, acrobat, and teacher. He is born in a Kibbutz in the north of Israel in 1989. Since childhood, he has practiced the fine arts, athletics, and Capoeira. At the age of twenty-one, he begins dancing, and later pursues higher education in contemporary circus, theatre, and dance. In 2015, after working in several projects in Israel, he relocates to Berlin. On top of working as a freelance dancer for companies around Europe (Maura Morales, Yann Lheureux, Troels Primdahl, Jill Crovisier, Mitia Fedotenko), he has created his own works, which toured in festivals and venues in Israel, Germany, Poland, Italy, Spain, France, Japan, Thailand, and Vietnam. His solo performance Boys Don't Cry has received awards from the Awaji Circus Art festival, Wurzburg tanzSpeicher, the Masdanza festival, the Gdansk dance festival, and the Corpomobile festival Rome. His first ensemble work Entropia was created as part of the project Think Big in the Opera of Hannover. He was also selected for TalentLAB#19 in the Grand Theatre of Luxembourg, where his creative process was mentored by choreographer Hofesh Shechter. In 2019, he was also a resident choreographer at Skopje Dance Theater.