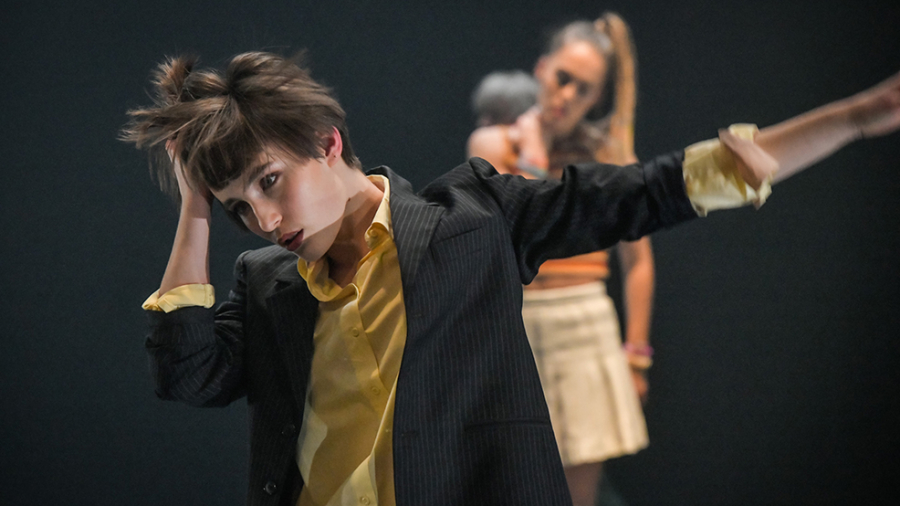 École de danse contemporaine de Montréal
LIVE WEBCAST
MAY 27 & 28, 2021 - 6PM
PRERECORDED WEBCAST
MAY 30 TO JUNE 6, 2021
140 minutes
Andrea Peña + Sébastien Provencher + Heidi Strauss + Andrew Turner
Les danses de mai, Opus 2021
After three years of intensive training, the graduating students of École de danse contemporaine de Montréal will perform for the last time on the occasion of Les danses de mai, Opus 2021. Artistic and program director Lucie Boissinot has invited Andrea Peña, Sébastien Provencher, Heidi Strauss, and Andrew Turner to create original pieces.
Artistic director Lucie Boissinot
Rehearsal director Isabelle Poirier
Lighting designer Thomas Godefroid
Costume designers Philippe Massé, Jonathan Saucier
Dancers Lou Amsellem, Pauline Ansquer, Elisa Barrat, Justine Dagenais-de Montigny, Adèle de Boisgrollier, Sabrina Dupuis, Sophie Fekete, Lauren Fisher, Rose Gagnol, Klaudy Gardner, Anny Gauthier, Mathieu Hérard, Gabrielle Kachan, Aaricia Laperrière Roy, Nikita Peruzzini, Ernesto Quesada Perez, Evelynn Yan
Originally from Bogota, Colombia, Andrea Peña is a multidisciplinary artist whose creative practice spans the fields of art installation, choreography, and design. Founded in 2014, the company Andréa Peña & Artists is recognized in Canada and internationally for its creations of critical, alternative, and spatial universes that break with our notions and conceptions of a sensitive humanity, and engage in rich encounters between conceptual research and a highly physical approach. Peña's complex, vulnerable and raw choreographies bring the company to national and international stages. They are presented by Usine C, Danse Danse, the Attakalari India Biennale, Musée d'art contemporain de Montréal, Arsenal art contemporain, Festival Quartiers Danses, the Montreal Museum of Fine Arts, the Canadian Centre for Architecture, the Hong Kong International Choreography Festival, Festival International de Dansa de la Ciudad de Mexico, AADK Spain, and IONION Arts Center Greece, among others. Andréa Peña is the recipient of numerous awards for her rigorous conceptual creations, most recently the 2018 Hong Kong International Choreography Award and the 2018-19 Clifford E. Lee Canadian Choreography Award from the Banff Centre Arts, given to an emerging Canadian artist in recognition for her conceptual and highly rigorous creations.
A graduate from UQAM's Dance Department, Sébastien Provencher evolves in the contemporary dance field as a choreographer and a performer. He recently joined the company Lorganisme, a structure for independent choreographers. He is interested in interdisciplinary work, where body and movement are at the heart of the artistic proposal. As of today, his work has been presented in Canada (Agora de la danse, Tangente, Dance Matters, Citadel + Compagnie), in France (Auteurs de troubles), and in Germany (Made in Potsdam). He is currently working on two new co-creations, Bones and Wires (co-created with Mathieu Leroux) and What Will come (co-created with Julia B. Laperrière), that will premiere in Montréal in 2021. As a performer, he has worked with choreographers from Montréal and Toronto such as Louise Bédard, George Stamos, Manon Oligny, Helen Simard, Emmanuel Jouthe, Sasha Kleinplatz, Martin Messier, Maïgwenn Desbois, DA Hoskins/Dietrich Group, Riley Sims/Social Growl Dance, and Marie Lambin.
Heidi Strauss makes work as a way to examine human behaviour from different perspectives. In her work, relationships form a basis to consider our current social and environmental moment. She is interested in the "realness" of where and who we are, here and now – how we are affected by the world around us. She often shifts the physical perspective of the audience, creating work for the theatre, outdoors, and site-specific settings, as well as for digital platforms. Heidi is the artistic director of Toronto-based adelheid, and a multi-Dora Award winning choreographer. She has been a resident artist at the Factory Theatre, The Theatre Centre, Harbourfront Centre, and currently at The Citadel. Her film collaborations have been screened at dança em foco (Rio de Janiero), nu2's IDN festival (Barcelona), and d:mic (Toronto). She has choreographed for/been commissioned by Toronto Dance Theatre, Mocean Dance, The Frankfurt Opera, The Canadian Opera Company, Volcano Theatre, and the Stratford Festival. She runs re:research, a non-product based creation intensive for emerging dance artists, and is a KM Hunter Award recipient.
Leaving studies in history and philosophy behind him, Andrew Turner was inexplicably accepted to Concordia University's Dance Program in 2001. He has since performed extensively, both in Montréal and abroad, with such companies as Par B.L.eux, O Vertigo, Human Playground, PPS Danse, Trial and Eros, Pigeons International, Maribé sors-de-ce-corps, Bouge de là, Cie La Tourmente, and others. As a choreographer, he has presented his works in three languages in Europe, Mexico, the United States, and over 20 Canadian cities. He has received several awards (including Prix OQAJ and Prix OQWBJ, among others), and has taken part in residencies in Sweden, Germany, Switzerland, and at the Banff Centre. In 2015, he was a danceWEB scholarship recipient at the ImPulStanz festival in Vienna. In 2020, he received a Master's Degree in Dance, with distinction, from Université du Québec à Montréal. His new solo work, entitled 18 P_R_A_C_T_I_C_E_S, in co-production with Danse-Cité and La Chapelle, premieres in April 2021.