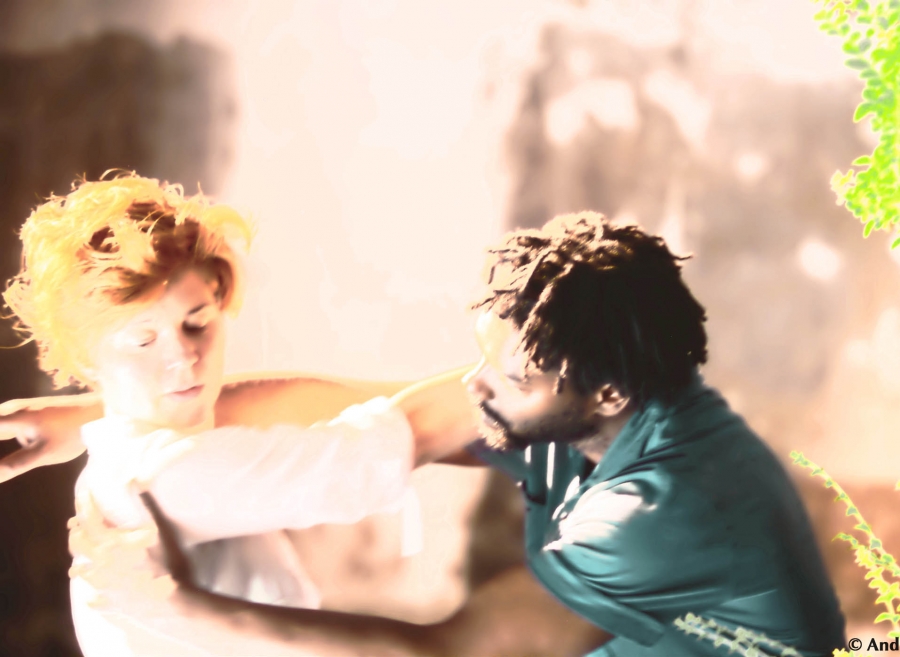 When we were old
When we were old
Emmanuel Jouthe & Chiara Frigo (Italy)
50 minutes
WHEN WE WERE OLD is first and foremost an exchange between the italian choreographer Chiara Frigo and the quebecer choreographer Emmanuel Jouthe. They met in 2010 as part of the Triptych project, a choreographic research project between Canada and Italy. And out that original meeting grew the desire to deepen their collaboration and learn from each other's differences. One's imaginary is apprehended by the other's recognition. Contrasts between their sensibilities – emotional or rational – and their physicalities – sharp or sensual – are undeniable. Paradoxically, they glide gently towards cross-contamination.
WHEN WE WERE OLD takes its original inspiration from a story discovered during a historical walk in Vancouver: how a forest turned into a city and how in its turn an abandoned gas station in that city was reconverted into a public park. This original story is translated into a thematic research on the dynamics of deconstruction and reconstruction, and how the primitive and organic dialogues with the urban. The new takes the place of the old, as a ritual in which we have to decay.
Show presented within the collaboration between Tangente and the DHC/ART art gallery. Offer made to students and community groups. For further information, click here.
Producer : Danse Carpe Diem-Emmanuel Jouthe
Choreographers and performers : Emmanuel Jouthe, Chiara Frigo
Rehearsal tutor : Christine Charles
Lighting design and technical director : Philippe Dupeyroux
Sound design : Laurent Maslé
Dramaturge : Guy Cools
Administration-production : Aude Watier
Communication : Laurence Fournier-Campeau
Touring and developement : Raphaëlle Perreault
Emmanuel Jouthe
Emmanuel Jouthe started his career as a dancer. He danced in renowned choreographer's pieces such as Paul-André Fortier, José Navas, Louise Bédard, Daniel Soulières, Pierre-Paul Savoie, Félix Ruckert and Julian Hamilton. He also collaborated with acting figures: Pascal Contamine, Robert Gravel, Jean-Pierre Ronfard and Paola de Vasconcellos.
He soon cofounded Carpe Diem Dance Company and is noticed as choreographer/dancer. After four years of artistic co direction with six other dancers and choreographers, Emmanuel Jouthe becomes, in 1999, the only artistic director of Carpe Diem Dance Company.
His unique movement signature involving brisk energy and dramatic intensity is quickly noticed by national and international producers, bringing him to multiple collaborations. In the past ten years, he added more than fifteen pieces to his repertoire.
Through his different creations, he questions temporality, intimacy and movement. His interests are mostly based on his perception of the dancing body, his feelings, the emotions related to these feelings, the human self. With these in perspective, he creates pieces combining captured moments of beauty, space, drama and time.
Always in a fever of new challenges, he collaborates with other artists and choreographers, as the ones of the collective La 2e porte à Gauche and Dance-Cité. These collaborations getting him to explore new stage territories (in situ) and new relations between the intimacy of the audience and the dance piece.
His desire to pass on and to work with younger dancers naturally brought him in creating new pieces for student dancers. In this path, he collaborated with renowned dance programs such as LADMMI, l'École de danse de Québec and The School of Dance (Ottawa). In addition, his repertoire was taught in Université du Québec à Montréal Dance program in 2000, 2005 and 2008.
Chiara Frigo
Choreographer and perfomer, she studied and worked in Italy and abroad. Graduate in molecular biology.
In 2006, she made her first creation Corpo in DoppiaElica, that won the third prize at 10° Festival Choreographers Miniatures of Belgrade. In 2008, with her "solo" Takeya she won the first prize at GD'A Veneto Anticorpi XL and was selected in Aerowaves 2009, an European network for emergent artist. In 2009, she has been invited in Choreoroam, a project of choregraphic residences developed by six European countries, supported by Operaestate Festival Veneto, The Place (UK), Dansateliers (NL), Dansescenen (DK), Paso a 2-Certamen Coreogràfico de Madrid (ES), Dance Week Festival (HR). In 2010 she is invited with Takeya at the Creative Forum, in Alexandria (Egypt).
Her creation Nonsostare, has been presented at Auditorium in Roma, as a finalist project in Premio Equilibrio, and it has been supported by Amat, by a residence at Teatro AnnibalCaro in Civitanove Marche.
Her most recent creation Suite-Hope has been selected as Resident project La Caldera 2011 – Barcelona, supported by CSC Centro per la Scena Contemporanea – Operaestate Festival (Bassano del Grappa), selected from the "REFORM/Dance Call for Applications 2011/2012" – Pim off (Milan).Suite-Hope has also been selected within Italian network Anticorpi XL (short version) and within the Priority List for European network Aerowaves 2012.