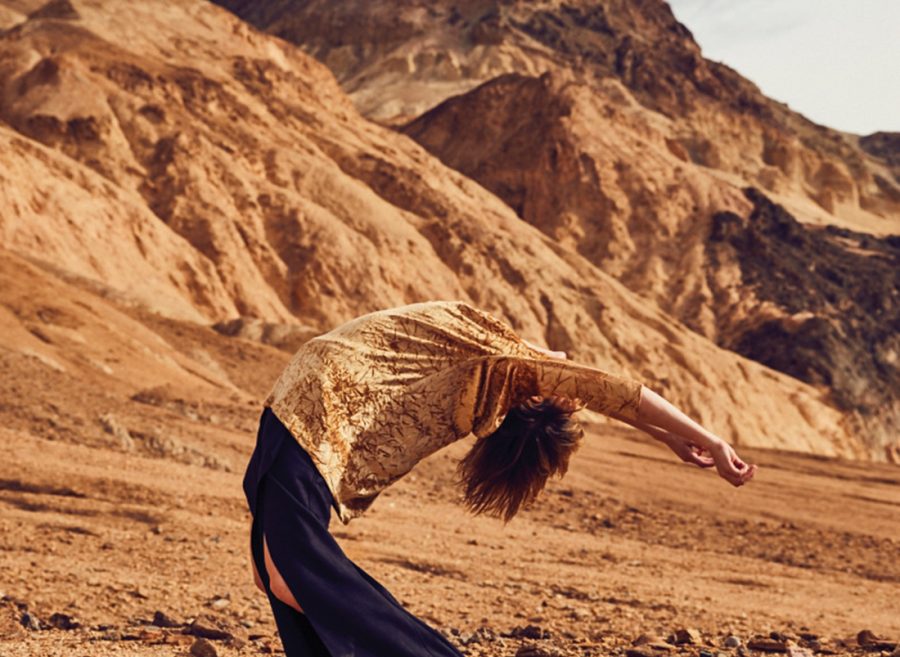 Uncommon spaces
An interplay of light and darkness that transforms ordinary figures and objects into poetic, perceptual experiences
APRIL 6. 7. 8 | 7:30 PM
APRIL 9 | 4 PM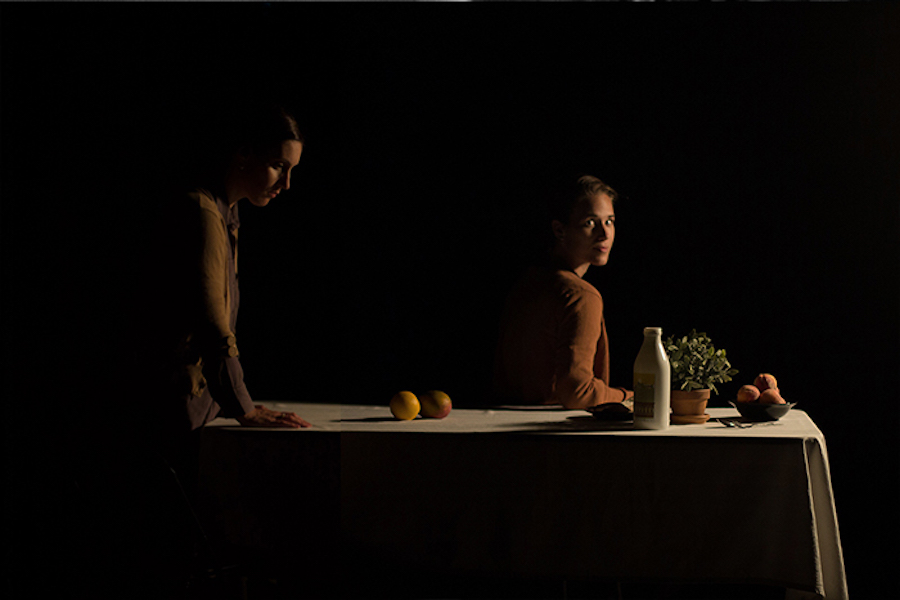 5 minutes pour que je te dise
Barbara Diabo
5 minutes
During the month of April, "Curtain warmers" by indigenous artists from all disciplines will be presented on multiple Montréal stages. Curated by Catherine Joncas, this series of short presentations calls for an opening and sharing in the spirit of Truth and Reconciliation after calls for actions released on the Indigenous residential school question, in a report published in December 2015. It aims to openness and sharing in a spirit of historical repair. Tangente is proud to be involved in this project and to present for a curtain warmer in the Uncommon spaces evening, the artist Barbara Diabo, native from the Mohawk community of Kahnawake.
5 MINUTES POUR QUE JE TE DISE  is the prelude of the main programming of for Printemps autochtone d'Art 3, presented by Ondinnok, in collaboration with the Montréal Accès-Culture network from April to June 2017.
More information : Legacy of Hope.

Tangente is proud to participate in this project by presenting one of these short presentations to open the Uncommon Spaces event, by the artist Barbara Diabo who is originally from the Mohawk community of Kanwake. A special thanks, niawen :kowa, to the choreographers of this programme, Katia-marie Germain, Karen Fennell and Nikki Forrest.
Barbara Kaneratonni Diabo originally comes from the Mohawk Nation of Kahnawake and is now living in Montreal. A professional dancer and choreographer in many styles for over 25 years, she presently specializes in both traditional and contemporary Aboriginal dance, especially in the hoop dance. She takes great pride in regularly sharing her culture and has performed across Canada and internationally. She has taught all ages, from babies to elders, through dance, music, storytelling, and interactive workshops. Her goal is to inspire others, encourage cultural pride, uplift the spirit, and increase education and communication.
Habiter
Katia-Marie Germain
35 minutes
In a breakfast table setting reminiscent of everyday reality, illuminated by a single light source, interdisciplinary artist Katia-Marie has imagined a visual choreography for two performers. This work explores the relationship between body and place, the resonance between bodies and objects. An aesthetic of chiaroscuro unveils a series of both strange and familiar actions that are punctuated by the intermittent movement of light, and which temporarily plunge the room into darkness. Playing with illusion and perception of time, the visible and invisible movements of the bodies quietly and subtly alter the visual space as if a painting is coming to life before our eyes. We are called on to pay close attention as the familiar becomes an increasingly strange fiction. As if a "poetic in-between," this performance juggles the codes of the visual arts and dance to renew our perception of theatrical space.
Choreography, set design and performance Katia-Marie Germain
Performer Marie-Gabrielle Ménard
Rehearsal director and artistic advisor Lucie Vigneault
Creation support This project has benefited from the exchange residency program between Circuit-Est centre chorégraphique and La Briqueterie, centre de développement chorégraphique du Val-de-Marne (France), as well as the creation residency program for emerging artists of the Conseil des arts de Montréal.
Inspired by the artwork La Ronde of the visual artist Bettina Hoffmann, Habiter has emerged from questioning the relationship to time and more particularly the use of immobility as a strategy of sense reversal. The piece has been erected by putting in resonance the body with objects and let arise a series of situations and gestures that fluctuate between the familiar and the strangeness, between the everyday reality and the fiction. By focusing on the precision, the physical work has been deepened about the qualities of presence and attention of the performers.
Choreographer and performer Katia-Marie Germain lives and works in Montreal. Her first creations were presented in 2010 at Montreal's Tangente and at the OFFTA, Art Souterrain, Fringe and Bouge d'ici festivals. Since the earliest days of her professional career, she has also contributed to various theatre, performance and visual arts projects. Her most recent creations Aube (2012) and F O L D S (2014), premiered at Tangente, were presented in various festivals and venues in Quebec and abroad and received artistic support from several artistic partners. Having earned a Bachelor's Degree in visual arts in 2007 and in contemporary dance in 2010, Katia-Marie is currently completing a Master's Degree in dance at the Université du Québec à Montréal (UQÀM).
A 2001 Collège Montmorency graduate and 2005 LADMMI graduate, Marie-Gabrielle Ménard undoubtedly has an eye for business and a passion for contemporary dance. In 2000, she purchased a contemporary dance school for children and adolescents, La Troupe d'État D'Anse, where she has since been transmitting to her students her love of movement. As a performer, her encounters with choreographers Ginette Prévost, Estelle Clareton, Margie Gillis, Hélène Blackburn and Peter James have decidedly marked her career. In 2006, she founded MANDALA SITÙ, where Marie-Pascale Bélanger (L'Oeil du Pigeon_2006), Dave St-Pierre (Warning_2008), Manon Oligny (Tartare_2011), Louis-Martin Charest, Brice Noeser, Pierre Lecours, Normand Marcy and David Rancourt (Bijoux_2012 and Quartex_2013) and Virginie Brunelle (Monsieur_2014) have been invited to bring their works into production. Since 2013, Marie-Gabrielle is collaborating with independent choreographer Katia-Marie Germain as a dancer, a rehearsal director and an artistic mentor.
For more than 10 years, Lucie Vigneault has worked on different artistic projects as performer, teacher, rehearsal director and choreographer. As a freelance contemporary dance artist, she performed both for creation compositions than for repertoire pieces of Montreal-based choreographers. Last year, her work has been awarded by the prestigious Prix interprète 2015 of the Prix de la danse of Montréal. As a choreographer, she has collaborated on several stage directions of Oriol Tomas at the Opera. In 2013, for the re-creation of La Damnation de Faust by Robert Lepage (ex Machina), she assumed the role of assistant choreographer. Then, she joined in 2014 the Festival Montréal Complètement Cirque where she assisted Anthony Venisse in the creation of major artistic and in situ events.
Closer
Karen Fennell & Nikki Forrest
35 minutes
Contemporary dance meets media art in this first-time collaboration between choreographer Karen Fennell and video / sound artist Nikki Forrest. CLOSER is a poetic investigation of states of presence and absence, the subjective nature of perception, and the notion of a fluid reality. Layering live and pre-recorded video and sound with live bodies moving on stage, connections emerge and images come into focus only to dissolve into abstraction once again.
Concept and creative direction Karen Fennell, Nikki Forrest
Choreography Karen Fennell
Video, sound design Nikki Forrest
Performance Karen Fennell, Nikki Forrest, Maxine Segalowitz
Outside eye Kelly Keenan
Contribution to the creation process Paige Culley, Kelly Keenan, Anouk Theriault
Lighting design Paul Chambers
This project has benefited from a research / creation residency at Studio 303
Dance artist Karen Fennell and visual artist Nikki Forrest have a shared interest in perception and phenomenology: How do we understand what we are seeing and hearing? How do we derive sense or meaning from the information we perceive? What is 'presence', and how can it be shared / felt by performers and audience alike? Colleagues in the Montreal arts community for several years, Fennell and Forrest only recently tuned into their potential for creative collaboration. Coming from vastly different artistic backgrounds, their worlds collided at a moment when Nikki was developing an interest in working with the body & live performance and Karen found herself gravitating towards working with materials. Their ideas took form initially through writings back and forth, and finally began to manifest in the studio in August 2016. Through the use of improvisational structures, they found a way to meld their respective mediums together to form their first co-authored multimedia performance work.
Karen Fennell is a contemporary dance artist originally from Newfoundland, and now based in Montreal. A graduate of the Concordia University Dance Program, she has worked as a dancer with choreographers Dana Gingras, Sasha Kleinplatz, Susanna Hood, Maria Kefirova, Erin Flynn, Eroca Nicols, and Peter Trosztmer, among others. She has also performed in the installation / performance / video work of visual artists Chloe Lum and Yannick Desranleau. As a choreographer, her current interest lies in cross-disciplinary collaboration. From 2013-2015 she worked regularly with musician Jackie Gallant, and their interdisciplinary co-creations were presented by the Phenomena Festival, Edgy Redux, The Rhubarb Festival, and Tangente. She has been collaborating with multimedia artist Nikki Forrest since 2016, receiving support for their research from Canada Council and Studio 303. In addition to her work as a choreographer and dancer, Karen produces and hosts the open performance night, 'So You Think That Was Dance?' and is a certified instructor of the GYROTONIC® and GYROKINESIS® Methods.
Nikki Forrest is a Montreal based artist whose practice includes video, sound, drawing and installation projects. Her short experimental videos have been shown at many festivals, galleries and screening spaces including: The Mix Festival (New York), The Glasgow Film and Video Workshop, Dundee Contemporary Arts, The Oberhausen Short film and Video Festival (Germany), Ausland (Berlin), Le Center d'Art Santa Monica (Barcelona), Signal and Noise (Vancouver) Mount Saint Vincents University Gallery (Halifax), The Images Festival, Toronto and the Festival Internationale du Films sur l'Art (Montreal). Nikki has also participated in several international artists residencies including: The Conseil des arts et des lettres du Québec studio exchange residency in Buenos Aires, The Canada Council studio at Cité Internationale des Arts in Paris, The Plug-In Summer Institute, Winnipeg, Canada, Villa Magdelana K in Hamburg and Paved Arts, Saskatoon. Her current work explores the improvisatory flow of ideas, materials and process emerging from an interdisciplinary studio practice, looking in particular at the intersections between perception, memory and technology. Nikki's work is included in the collections of The National Gallery of Canada, The Saskatchewan Arts Board and Concordia University.
Maxine Segalowitz is an emerging dance artist and silly person in Tio'tia:ke, more commonly known as Montréal.  Since arriving from Toronto, Ontario in 2009, she has completed her BFA in Contemporary Dance at Concordia University in 2014, and has performed and presented at venues Centre PHI, Tangente, Centaur Theatre, Musée d'Art Contemporain, Le Gesu, Studio 303, Théâtre L'Astral, The Wiggle Room, Théâtre MainLine, and Théâtre Saint-Catherine in Montréal through various multi-disciplinary festivals.  Internationally, she has interpreted for artist Ingrid Bachmann at KUNSTKRAFTWERK in Leipzig, Germany. She has also received a nomination for Most Outstanding Choreography Award (Bouge d'ici) at the Montreal FRINGE Festival 2016 for her solo-show SEXPECTATIONS.  As well as interpreting for Karen and Nikki, she co-facilitates a voice, movement and choreography workshop series with Phoebe Heintzman Hope entitled The Pleasure Model.
Paul Chambers is a Montréal based set & lighting designer. Collaborating on new dance works has always been a priority for him. Teaching workshops has also been an important part of his development as an artist and mentor. At Studio 303 he teaches a yearly lighting design workshop for artists, in addition to teaching aspects of production in dance at Concordia University. From 2008 until 2013 Paul is Technical Director at Tangente.  In 2013 along with fellow designer & educator David-Alexandre Chabot, they inaugurate CHA a design collective aimed at creating & sharing design based works with artists from different disciplines. Recent design credits include work with Public Recordings, 10 Gates Dancing, Audrey Bergeron, Dorian Nuskind-Oder,  Benjamin Kamino, Dany Desjardins, Katie Ward, Susanna Hood, Sasha Kleinplatz, Antonija Livingstone, Adam Kinner, Maria Kefirova & Hanako Hoshimi Caines, Thierry Huard, Parts & Labour Dance, Lara Kramer Dance, & Destins Croisés.