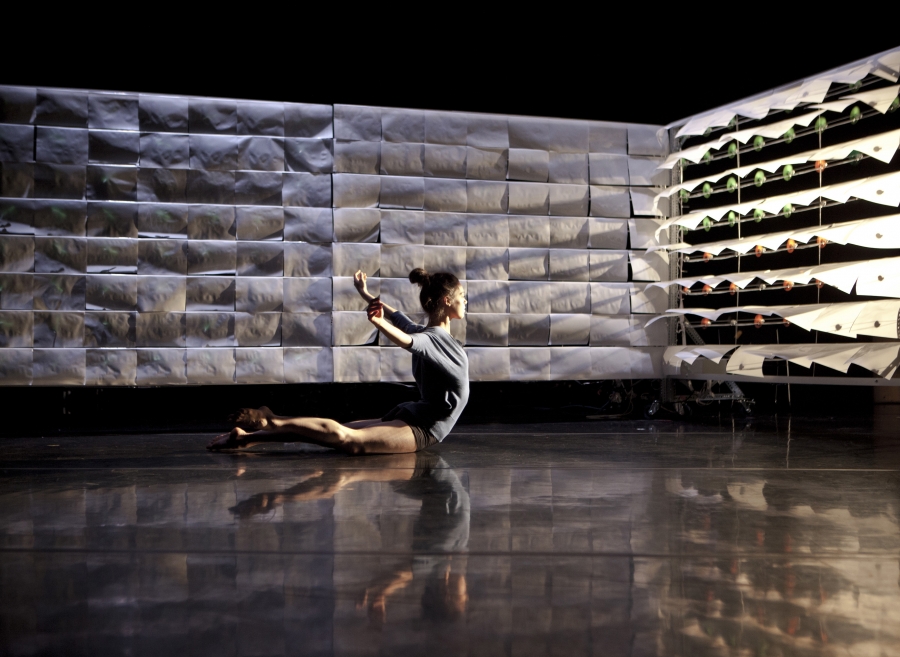 Trois paysages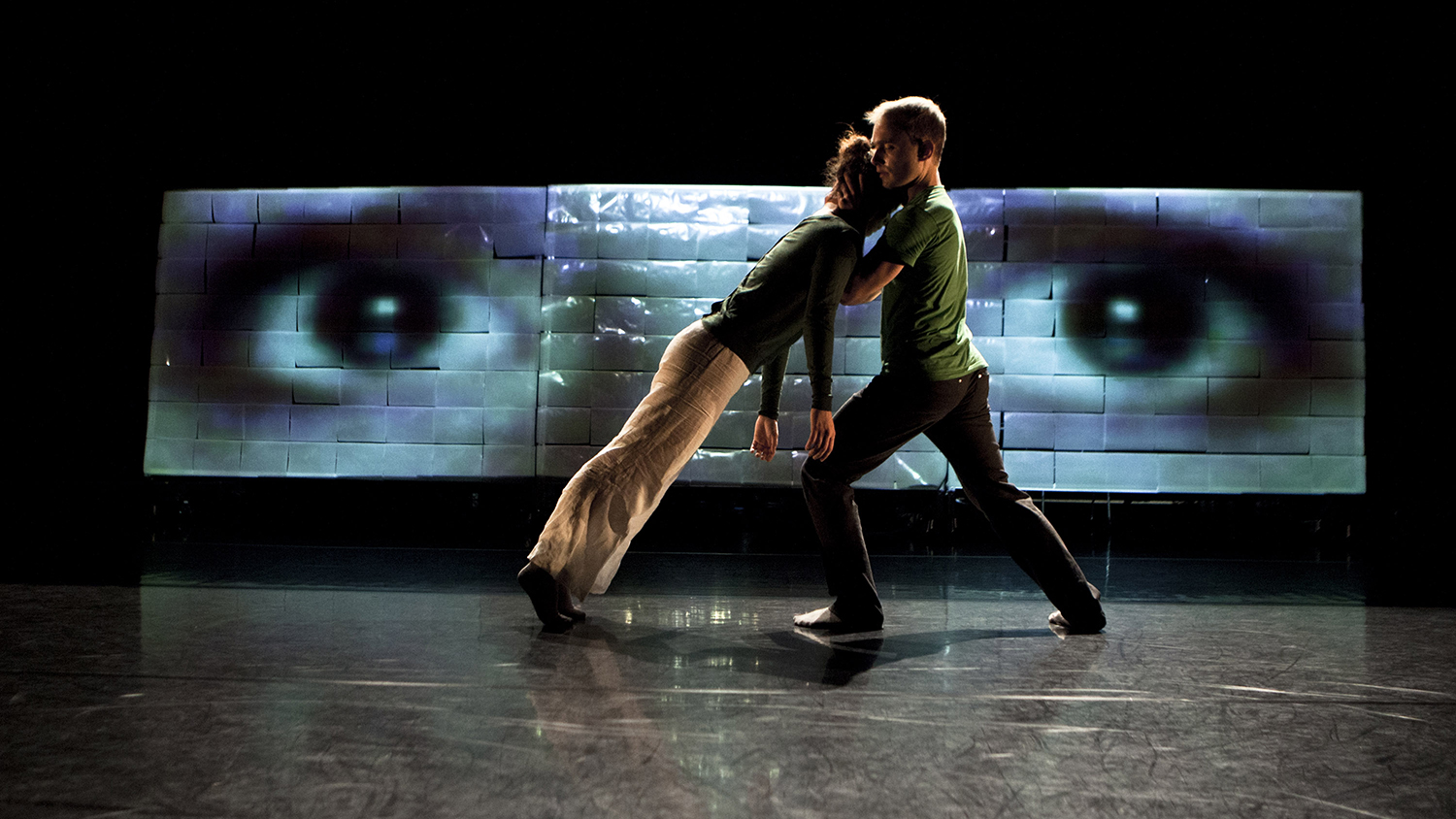 Trois paysages
Karine Ledoyen – Danse K par K (Québec)
75 minutes
Trois Paysages is a piece in three scenes for four dancers and one musician. Each scene unfolds around air-generated "effects." Each scene is an attempt at making the invisible visible; the air becomes raw material used to shape desires, give life, and make imagination tangible. Heaviness and lightness cohabit in surprising ways in the dancers' disarticulated bodies. Very poetic and playful strategies impose various challenges in terms of speed, attraction, and weightlessness. In contrast, resistance, statics and air pressure are brought in as metaphors of our world. To touch the air and fly ever higher: to reach the inaccessible, to push back one's own limits in order to keep one's head above water: to take flight, to shoot up like a rocket, and finally reach the stars and… breathe in beauty.
Show presented within the collaboration between Tangente and the DHC/ART art gallery. Offer made to students and community groups. For further information, click here.
Choreographer and facilitator : Karine Ledoyen
Performers : Sara Harton, Fabien Piché, Ève Rousseau-Cyr, Ariane Voiseau
Directors : Alexandre Fecteau, Karine Ledoyen
Assistants : Claude Breton, Jocelyn Paré
Rehearsal director : Ginelle Chagnon
Music : Patrick Saint-Denis
Light designer : Louis-Xavier Gagnon-Lebrun
Costumes : Virginie Leclerc
Set design : Patrick Saint-Denis (wall design), Karine Ledoyen
Technical director and stage manager : Olivier Duplessis
Sound technician : Jean-Michel Dumas
Coproduction : La Rotonde – Centre chorégraphique contemporain de Québec
Trois Paysages [Three Landscapes] is the fourth performance created by dance company Danse K par K under choreographer Karine Ledoyen's artistic leadership. Trois Paysages is part of a new creative cycle whose first installment was AIR, a performance premiered in January 2011. In it, Ledoyen pushes further her exploration of the air theme. She has once again surrounded herself with seasoned dancers with various backgrounds. And she has entrusted the sonic environment and music for this work to a new collaborator, composer Patrick Saint-Denis.
Karine Ledoyen
Choreographer Karine Ledoyen is the artistic director of the dance company Danse K par K. She created and performed a solo, Laque, in 2002 and choreographed Julio et Romette ou Hibiscus in 2005. That same year, she founded her own dance company, Danse K par K, to help develop her multiple projects. She presented her first performance with Danse K par K, Cibler, in 2008, and the show completed three tours in fifteen Quebec cities, plus a trip to the UK. Recently, Ledoyen has presented atypical projects like Pop Rock avec moi! (2008) and Gonfler l'histoire (2008). In 2008, she choreographed Tableau d'une exécution for Théâtre du Trident. Karine Ledoyen is well known for her spirit, energy, and love of dancing. Deeply committed, she takes part to structuring actions and passionate unconventional meetings for the dance community. She is the initiator of (and still organizes) the highly popular OSEZ! project, which will be celebrating its 10th anniversary in the summer of 2012. In the fall of 2006, she received the François Samson Cultural Development Award for the Quebec/Chaudière-Appalaches Region. In 2008 she was nominated for the International Influence Award of the city of Québec's culture council. Ledoyen is still seeking new artistic experiences: she recently partnered with choreographer Mélanie Demers and actor Lucien Ratio for the creation of La Nobody (2010), a dance/theatre/performance hybrid that was reprised at OFFTA 2011. Ledoyen's new creation Air received its world premiere at La Rotonde in January 2011.
Sarah Harton
Sara was born in the city of Québec and graduated from the École Supérieure de Ballet Contemporain. She made noticed appearances with the Jeune Ballet du Québec and received several awards of excellence, such as the Award of the Lieutenant Governor of Quebec. Upon graduating from the ESBCM in 2006, she joined BJM Dance as a dancer/performer. She left BJM in the summer of 2009 to join Ezdanza, a dance company directed by Edgar Zendejas. She is still with Ezdanza, but she has been collaborating with Danse K par K since the creation of Air in 2010.
Sonia Montminy
Sonia Montminy has worked with several choreographers (Lydia Wagerer, Harold Rhéaume, Mario Veillette, Benjamin Hatcher, Emmanuel Jouthe) since she graduated from the École de danse de Québec in 2001. She has also danced with Code Universel. Since July 2006, Sonia has performed in several Danse K par K projects. She also works with the Nuages en pantalon company as an actress/dancer. Sonia has performed in Cirque du Soleil's Le Royaume de Tôle, Les Chemins invisibles in the summer of 2011.
Fabien Piché
Fabien completed is studies in Contemporary Dance Performance with honours in June 2010 at the École de danse de Québec. Since then, he has worked for Harold Rhéaume, Maryse Damecour, Danse K par K, Brice Noeser, David Earle, Daniel Bélanger, and Darryl A. Hoskins. Last spring, Fabien received a grant from Première Ovation – Danse to further his training for three weeks in Guelph with David Earle. He is a member of the collective Les Cireurs de chaussures. He also regularly takes part to the projects of the dance company Code Universel.
Ariane Voineau
A French native, Ariane received her training at the Conservatoire National de Région de Nantes and Région d'Angers. She danced in the Ballet Junior de Genève from 2005 to 2008, an experience that allowed her to meet various European choreographers. In 2008 she relocated to Quebec, where she discovered the work of Karine Ledoyen, by way of New York (Jana Hicks). Since March 2009 she mostly dances for Danse K par K, but she also works with Harold Rhéaume (La Noce, Je me souviens 2011) and Daniel Bélanger (Ma sœur Alice, Alors, Dansez maintenant!, Les SMID). Ariane is a dynamic and lively dancer, and she volunteers in her new community, on the executive committee of Osez! 2010 and in the professional dancers' coop L'Artère.
Patrick Saint-Denis
Patrick Saint-Denis studied composition at the Music Conservatories of Québec, Montréal, and The Hague. His music has been programmed in festivals such as the Gaudeamus Foundation's International Music Week (The Netherlands, 2003, 2004), Montréal Nouvelles Musiques (Canada, 2005, 2009), ISCM World Music Days (Croatia, 2005), Mois Multi (Canada, 2008), and Festival Cervantino (Mexico, 2009). His works have received various distinctions, such as the 2004 Jules-Léger Award. Saint-Denis has received grants from the Canada Council for the Arts and the Conseil des arts et des lettres du Québec.
Louis-Xavier Gagnon-Lebrun
Louis-Xavier Gagnon-Lebrun is a lighting designer in the fields of performing arts and architecture. His fascination for light led him to enroll in a master's degree in Architectural Lighting Design at School of Architecture of the Royal Institute of Technology in Stockholm (Sweden). Gagnon-Lebrun is a PLDA (Professional Lighting Designer Association) fellow. He has taken part to major architectural lighting projects and has designed lighting for several exhibits, such as Le Potager des Visionnaires by artistic director Franco Dragone at the Musée de la civilisation de Québec and Our Lives at the Smithsonian Institution in Washington. In performing arts, Gagnon-Lebrun has designed lighting for three projects staged by Robert Lepage.