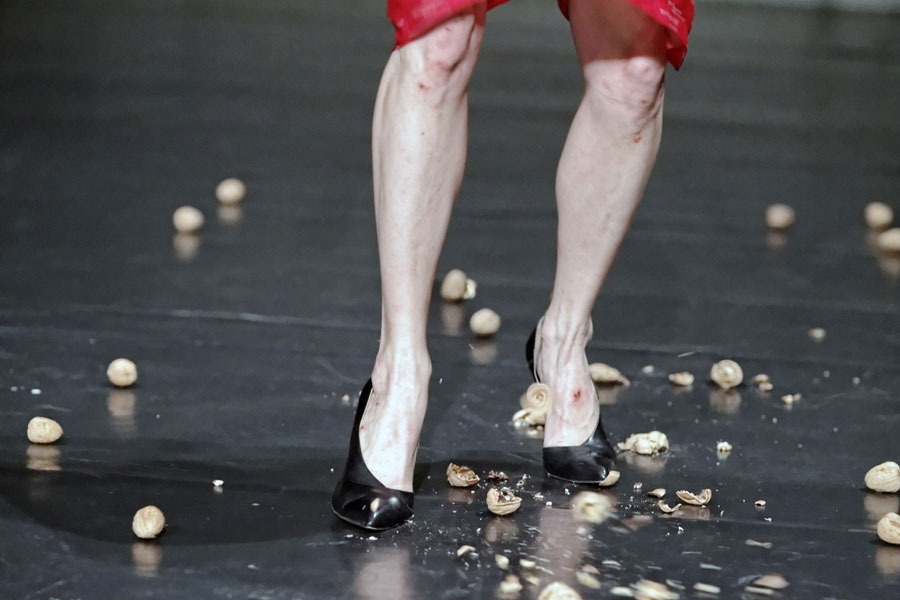 The nutcracker
The nutcracker
Maria Kefirova
60 minutes
For a very long time something has been knocking inside of me, knocking on my walls, pushing them from the inside. It is not a word, it is not a feeling, it is not a thought – it is Mike Tyson, or Grace Jones, or Mickey Rourke, or somebody else. Why?
The Nutcracker is an attempt for an answer. Sound , body and objects will perform a series of dislocations and relocations, folding into each other in a process where sound will be a body and a performer of its own. With this work I express my desire to share a certain shift of attention and to discover, with you, the presence of what seemed to be absent.
Concept, choreography, sound and performance : Maria Kefirova
Stage design and mentor : Miguel Melgares
Sound designer assistants : Guy Fortin, Chris Olsen, Csenge Kolozsvari
Technical director and lighting : Paul Chambers
External eye : kg Guttman
Artistic advisors and dress rehearsal directors : Florence Figols, Sarah Hanley
The knocking is constant from both sides and I am a closed door.
Who is knocking? I am knocking.
I am knocking on a closed door.
I am knocking on an open door.
Who is there? Nobody. Just me.
The Nutcracker is a response on "The Knocking" and a the result of the following 3 practices that I developed:
– living with the body as a container of multiple realities.
I devised a game that allows me to play with my perceptions, emotional states, memories, acts and thoughts in order to measure how much I'm conditioned by them, and to see what else can exist outside of what I know as me. It's like a Ping-Pong game with the self: sending it away, receiving it back. It's the feeling of liberation, the excitement of flying towards another body/mental state and the experience of alienation at loosing what's most natural and accessible. During this process of emptying myself from my own essence, a second question arose: how much from the outside I can let inside? In response, I developed a second practice:
– looking next to the point of my interest and observing what gets visible there. I was amazed by what I discovered: a place for the convergence of multiple physical realities, a place for new perceptions, sensations and ideas, a place for a dynamic dialogue between the reality that is in focus, and the one that is out of focus. For example: let's say I see a whale in the Atlantic Ocean. In order to be true to my practice, I move my gaze from the sensational spectacle of the whale to the surface of the water just next to it. I give this space my total attention for three minutes. In the beginning, it is difficult. I have to accept that I need to let go of something exceptional but then – total magic! New shades, sounds, accidental traces of water, movement, light, an itch on my left shoulder, the voice of a kid playing nearby, an insect crossing my field of vision, the heaviness of my right leg over the left, a sudden regret, an acceptance, and a curiosity about all those things which are all the time around us. During this shift of focus, the ambient sound became very present. I realized that, temporarily, the knocking had been transformed into ambient sound. This became the heart of a third practice:
– infiltrating objects with sounds that do not belong to them.
The result was similar to the Ping-Pong game described above. In the collision between the function ascribed to the given object and the new sound, there arises the possibility of becoming something else and, through it, the chance to redefine its own specificity. The work with sound helped me to extend my investigation beyond my own body.
My persistent obsession with the relationship between In and Out, and by the surface in-between, was transferred to another addiction: cracking walnuts. They became my physical environment that roots me in the act of touching the in and the out at the same time.
Maria Kefirova
Hailing from Bulgaria, Maria Kefirova settled in Montréal in 1992. While simultaneously working as a performer, she has developed her own distinct choreographic practice that merges dance, theatre, performance, and video. She is fascinated by with the correlation between internal and external realities, as well as the body's role as an interface between the two, which is at the heart of many of her works (The Nutcracker – 2013, Why are dogs successful on stage? – 2011, Corps. Relations – 2010, Gold Meat – 2010, Manufacturing Tears – 2009). From 2009 to 2012, Maria trained at DasArts, a residential laboratory for performing arts research and innovation located in Amsterdam. Recently she was invited as a visiting artist to the dance department at Concordia University. She has a particular passion for blind spots and Russian dolls.
Miguel Angel Melgares
His interdisciplinary work incorporates a broad range of media including performance, installation, films, photography and site-specific interventions. Melgares graduated from the sculpture department of the University of Granada, where also had developed a research project as a part of his doctoral studies: Languages and poetry in contemporary art. He has presented his works in numerous solo and group exhibitions nationally and internationally. Melgares projects have been awarded with prestigious grants, such as the Manuel Rivera Grant, AFK or Iniciarte. In Amsterdam, he has developed an intense activity, working as an art director, scenographer and light designer for several projects, amongst which, the remarkable Pleas(e)nter project, a collaboration work with Ash Bulayev, the scenographical and curating work on Gevoelige Oppervlakte and Foto Salon Baghdad, next to Latvian director Elina Cerpa,
Paul Chambers
Paul is a Montreal-based lighting designer and visual artist as well as Technical Director of Tangente, Laboratoire de Mouvements Contemporains, a pivotal organization in the contemporary dance community. Collaborating in new projects and developing his artistry is a priority for Paul. He has toured with various productions, facilitated diverse pedagogical workshops, and has found himself frequently in the role of mentor. Paul continues to collaborate in multiple projects including multidisciplinary art installations and performances with musicians, visual artists, actors and dancers.
Chris Olsen
Born in Montréal, Christian has been active as a drummer, composer and sound designer for the last eight years. After completing his studies in electroacoustic music and percussion, he toured extensively as a drummer throughout Europe & North America for three years. Since 2008, he has devoted his time to composition and sound design by working extensively with the Montreal creative design studio Departement, as well as working on films, dance pieces and installations.
Sara Hanley
Sara Hanley has been a fixture in Quebec's dance scene throughout the past decade, and then some. While working as a performer, she has expanded the scope of her interests to include dance and visual art education, explorations that have led her to focus on the dialogue between art and community. As a result, Sara has filled the role of cultural mediator in recent years for a plethora of projects and organizations. Likewise, she frequently works as a rehearsal director and outside eye for independent choreographers, undergraduate students, and, most recently, O Vertigo Danse.
Having trained as a dancer at the school of Le Groupe de la Place Royale and at the Ateliers de Danse Moderne de Montréal, Sara has developed a close partnership with choreographers Dominique Porte and Deborah Dunn. She also collaborates with the Fondation Jean-Pierre Perreault, Maria Kefirova, Kondition Pluriel, Florence Figols, and Marion Ballester. As of the 2013-2014 season, she will be participating in the creations of Sarah Build and Trial and Eros dance company.
Florence Figols
The recipient of numerous grants from the Conseil des arts de Montréal, Florence Figols has presented her work since 1987 in Montréal, Québec, Madrid, and New York, as well as Toronto, Guelph, and London, Ontario. In 2009 she completed a master's degree in dance (UQAM), wherein she explored sensoriality throughout the creative process. She has since continued to explore this "chemistry of the senses" through her recent choreographic works, including tel que / as is (2000), touch take 2 (2001), and the trio je t'aime, je te ne le dis pas (2004). Created at Tangente in March 2006, mute/sene veu/en silence was named Best Choreography that year by Hour's Best. In 2008 she presented the choreographic installation Transparent Shift #1. Florence works collaboratively in choreography, as well as the theatrical arts, and her Sens et présence workshops are offered via the Regroupement québécoise de la danse. In addition, she works as a guest lecturer at UQAM, and a course instructor in the dance department of Concordia University.