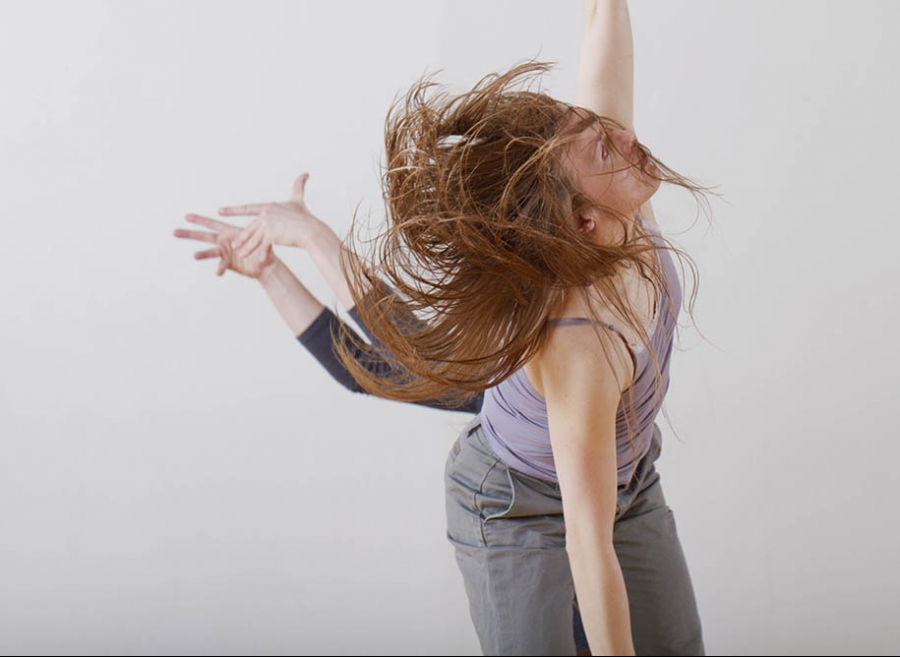 The muted note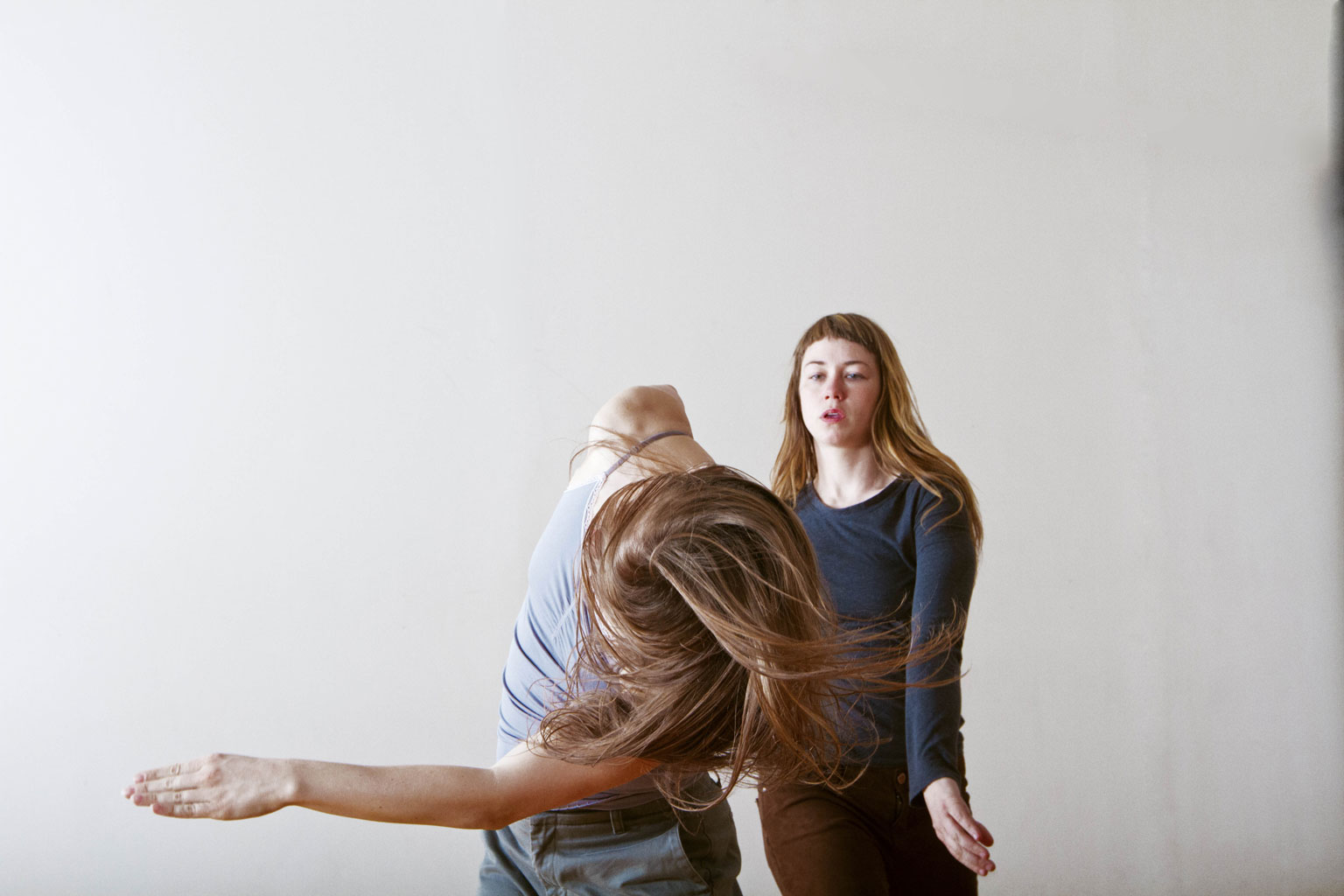 THE MUTED NOTE
Susanna Hood & Scott Thomson
65 minutes
The Muted Note is based on a suite of songs, a hybrid of jazz and European art song, by Scott Thomson that sets poems by P.K. Page, a celebrated figure in Canadian literature. Not only has Susanna Hood choreographed these songs on three other dancers, but she will also sing them live as the vocalist in Scott's quintet, The Disguises. The choreography, like the songs, will be animated through improvisation; the creative input of both the dancers and the musicians is at the core of this show.
Composer
Scott Thomson
Poet
P.K. Page
Performers/collaborators
Nicolas Caloia (double bass), Yves Charuest (saxophone alto), Ellen Furey (dance, voice), Susanna Hood (voice, dance), Alanna Kraaijeveld (dance), Bernard Martin (dance), Pierre Tanguay (drum), Scott Thomson (trombone)
Artistic advisor/rehearsal director
Kathy Casey
Lighting
Paul Chambers
Susanna Hood is equally a dance artist and a musician, and her choreographic career has reflected her interest in synthesizing these disciplines in various ways. When Scott Thomson composed a suite of songs based on P.K. Page poems for Susanna's singing voice, it was with conventional musical performance in mind. However, as Scott and Susanna started performing the songs, it became clear to Susanna that they would be a fruitful basis for her choreography; the music provided a wealth of rhythmic and structural material for dance, while Page's outstanding poems provided rich images and provocative themes that could inform the work. Beyond the set choreographic material, a vital part of the process has been the to develop a rapport among the dancers, between dancers and musicians, and between the ensemble and the material so that, both individually and collectively, the members can animate and elaborate on the material through improvisation.
Susanna Hood
Based in Montreal since 2010, Susanna Hood is a compelling and virtuosic performer in dance and music and was the artistic director of her interdisciplinary performance company hum dansoundart from 2000 till 2013. She began her career as a member of the Toronto Dance Theatre from 1991 through 1995. Independently, she has performed the works of various Canadian choreographers, composers, and filmmakers (including Tedd Robinson, John Oswald, Nilan Perera, and Phillip Barker) and has performed widely as an improviser both in dance and music. For over a decade, she has been synthesizing voice and movement into a dynamic practice through which she creates intimate, raw and sensual performance work. Her choreography, compositions, and interdisciplinary collaborations have been presented locally, nationally, and internationally on stage and film since 1991. Awards include the 1998 K.M. Hunter Emerging Artists Award in Dance and the 2006 Dora Mavor Moore Award for Outstanding Performance in Dance for She's gone away. In 2008 Susanna was the recipient of the Canada Council's Victor Martin Lynch-Staunton award for Outstanding Achievement in the Field of Dance.
Scott Thomson
Scott Thomson is a trombonist and composer who works in Montréal and Toronto. He plays in established groups in many styles, and prizes ad hoc improvising as a way to meet many creative people. He has studied with Roswell Rudd, Jean Derome, Eddie Prévost, and John Oswald. He works extensively with singer and dance artist, Susanna Hood, as a duo, with the Montréal quintet, The Disguises, and with the Toronto quintet, The Rent. Scott and Susanna released the duo recording, The Muted Note: Songs Based on Poems by P.K. Page, on &records in 2013. Scott helped to found the Association of Improvising Musicians Toronto (AIMToronto), where he served as a director until 2009, and co-directs the AIMToronto Orchestra, which was formed for a project with Anthony Braxton in September 2007. Until 2010, Scott was the artistic director of Somewhere There, a performance space for live creative music in Toronto's Parkdale neighbourhood that he founded in 2007. Scott has composed a series of site-specific works that he calls 'cartographic compositions' for mobile musicians and audiences in unconventional performance contexts for which he has had several notable commissions and residencies. Scott Thomson and Susanna Hood were Improvisers-in-Residence through the ICASP project in Guelph, Ontario, in 2012.
P.K. Page
Born in England and brought up on the Canadian prairies, P. K. Page (1916-2010) wrote some of the best poems published in Canada over the last six decades. She won the Governor General's Award for poetry in 1957, and was appointed a Companion of the Order of Canada in 1999. She wrote more than a dozen books, including ten volumes of poetry, a novel, several short stories, eight books for children, and two memoirs, entitled Brazilian Journal and Mexican Journal, based on her experiences in Brazil and Mexico as wife to Canadian Ambassador, Arthur Irwin. A two-volume edition of Page's collected poems, The Hidden Room, was published in 1997. In addition to writing, Page painted under the name P. K. Irwin, and mounted one-woman shows in Mexico and Canada. Her work is represented in the permanent collections of the National Gallery of Canada, the Art Gallery of Ontario, and the Victoria Art Gallery, among others.
Nicolas Caloia
Since 1990 Nicolas Caloia has worked at creating a contemporary music generated by using accurately composed textures to channel collective improvisation. The goal is a music that erases the lines between improvised and composed, pop and avant-garde, good and bad. He hopes this music will satisfy the body, the mind and, above all, the heart. He has worked as a performer, composer, and organizer in Montreal and has toured in North America, Europe, and Asia. He has performed and recorded in a vast array of contexts with the most important members of Montreal's creative music community as well as with internationally renowned musicians like the ICP orchestra, Marshall Allen, John Butcher, Joe McPhee, Steve Lacy, William Parker, Hassan Hakmoun, Tristan Honsinger and Pandit Hariprasad Chaurasia. His concerts and numerous recordings have been critically acclaimed both at home and abroad. Currently, the majority of his work as a composer and improviser finds a voice in: The Ratchet Orchestra — a 30 piece bigband; Tilting — the Nicolas Caloia Quartet, Ring — a sextet, Spell — a 10 piece marching band, Trephining — a quintet, Mercury — a duet Lori Freedman as well in solo performances.
Kathy Casey
Born in North Carolina, Kathy Casey began her dance career in 1979 with the Chicago Moving Company. Settled in New York in 1980, she danced for many choreographers before joining the Lar Lubovitch Dance Company in 1984. In 1989, she became a member of Susan Marshall & Company, with whom she had collaborated since 1981. From 1985-1989, she also assisted Mr. Lubovitch and Ms. Marshall in the creation and resetting of works on various international companies. Welcomed by Montréal Danse in 1991, she was appointed Artistic Director of the company in March 1996. A major portion of her work now is choosing choreographers with unique and captivating voices and then assisting them in the creation of the works they create on the company or during research projects. In addition to her work with Montreal Danse, she also works as an artistic counselor for several choreographers in Montreal and, more recently, Halifax.
Yves Charuest
Yves Charuest has played with many musicians since the early 1980s: Jean Beaudet, Nicolas Caloia, Jean Derome, Lisle Ellis, Lori Freedman, John Heward, Peter Kowald, Louis Moholo, William Parker, Michel Ratté, Sam Shalabi, Scott Thomson, Josh Zubot. He toured in Canada, USA and Europe with several groups: I Like Jazz, Évidence, Charuest/Ratté, Peter Kowald Trio, Trio Michel Ratté, Wreck's Progress, Charuest/Caloia, Murray Street Band, Ratchet Orchestra, The Disguises, Charuest/Shalabi/Caloia, and four-sided circle. He collaborated with canadian electroacoustic composers Jean-François Denis, Jef Chippewa, and Jean Piché, and with choreograph Susanna Hood in The Muted Note.
Ellen Furey
Ellen Furey is a multidisciplinary performer and creator working in both Toronto and Montreal. She dances for Dancemakers (Michael Trent) (Loveloss, HIFI – Rumschpringe, Around), Daniel Léveillé Danse (Amour, acide et noix, La pudeur des icebergs, new creation) along with choreographers Susanna Hood (The Muted Note) and Stéphane Gladyszewski (Chaleur humaine). Ellen was a part of Marten Spangberg's The Nature/Redux in Montreal, September 2013. Her own work has been presented in both Toronto and in Montreal in intimate venues and galleries.
Bernard Martin
Bernard Martin is a dancer who, since 1979, has mixed styles and genres, including jazz, classical, and contemporary dance. His professional career began in 1991 and, since then, he has worked with numerous exceptional companies: Les Grands Ballets Canadiens, Montréal-Danse, La Fondation Jean-Pierre Perreault, Système D/Dominique Porte, La La La Human Steps (Édouard Lock), Le Carré des Lombes (Danièle Desnoyers), and Louise Bédard Danse. He has recently started to collaborate with choreographer Susanna Hood as well. Since 2009, Bernard has taught ballet for contemporary dancers as well as interpretation as a faculty member at l'École de danse contemporaine de Montréal.
Alanna Kraaijeveld
Alanna Kraaijeveld is a Montreal-based dancer, teacher, and occasional choreographer. She is currently working with Susanna Hood, Dave St-Pierre, Michael Caldwell, and Louise Bédard Danse. She has previously collaborated with Sylvain Émard Danse, Mélanie Demers, Sarah Bild, Dancemakers, and was a company member of Le Groupe Dance Lab in Ottawa under the artistic direction of Peter Boneham. There she participated in the research and development of new dance works by national, international, seasoned and emerging artists. She is a graduate of the School of Toronto Dance Theatre's Professional Training Program.
Pierre Tanguay
A percussionist, composer and inveterate inventor, Pierre Tanguay's music shows the wide range of his experience in ancient and contemporary music, jazz, and music for dance, theatre and cinema. Born in Québec City in 1957, he has devoted himself to music full-time since 1978. He plays with some twenty established groups, such as Jean Derome et les Dangereux Zhoms, Évidence, Castor et compagnie and Karen Young, and is the founder of Strada, Midi tapant and Derome Tanguay Danse. He has produced five albums and collaborated closely on some fifty others, and has more than twenty compositions for dance (Lucie Grégoire, Andrew de Lotbinière Harwood, Irène Stamou and Francine Gagné) and a number for theatre and film (Allan Booth, Imago and Roberto Ariganello) to his credit. He regularly tours throughout Canada and Europe.
Paul Chambers
Paul Chambers is a Montreal-based lighting designer and visual artist as well as Technical Director of Tangente, Laboratoire de Mouvements Contemporains, a pivotal organization in the contemporary dance community. Collaborating in new projects and developing his artistry is a priority for Paul. He has toured with various productions, facilitated diverse pedagogical workshops, and has found himself frequently in the role of mentor. Paul continues to collaborate in multiple projects including multidisciplinary art installations and performances with musicians, visual artists, actors and dancers.