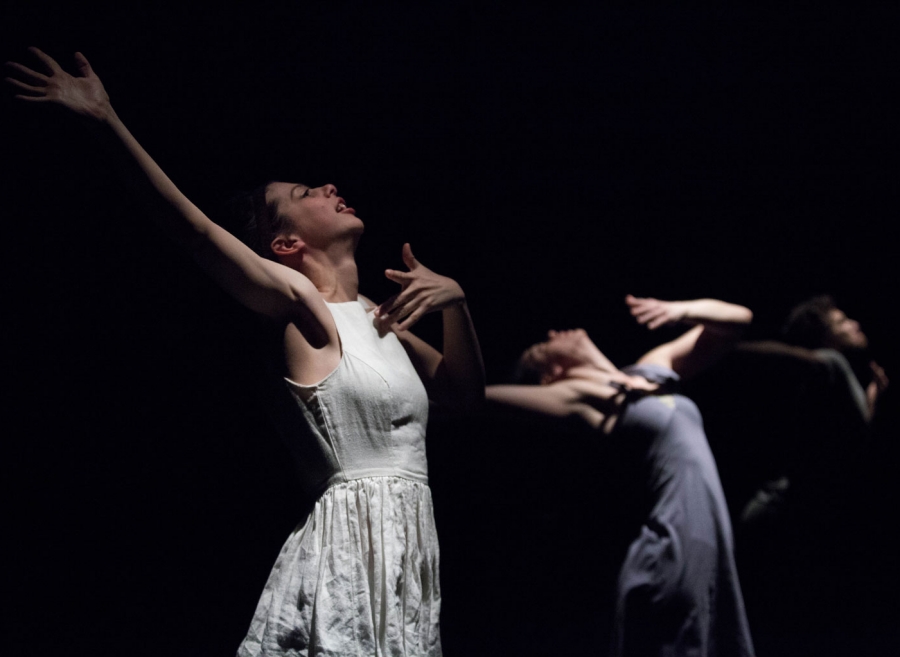 Dans ta tête (2011) + six pieds sur terre (2013)
Dans ta tête + Six pieds sur terre
Maïgwenn Desbois / Maï(g)wenn et les Orteils
60 minutes
Dans ta tête and Six pieds sur terre is a contemporary jig show for all kinds of audience, grouping the two most recent choreographies of the company, warmly welcomed by critics and audiences of many venues in the Great Montreal.
Dans ta tête
Gabrielle has Williams's syndrome. Anthony, Asperger. I am called neuro-typical (with no diagnosis). How do our fears manifeste? The monsters appear in the head and then run through the body all the way to our feet.
Six pieds sur terre
Gabrielle and Anthony narrate and gigue their stories of intimidation. Isolation, exclusion, the desire to be someone else. Fall into a devastating void. They drown and resurface. Listen to us.
Choreographer
Maïgwenn Desbois
Performers
Gabrielle Marion, Anthony Dolbec, Maïgwenn Desbois
Rehearsal directors
Nicolas Labelle, Maude Desbois, Maud Gendron Langevin
Music
Alexandre Desplats, Jonsi and Alex, Ludovico Eidauni, Patrick Watson, Stephan Moccio
Soundtrack mixing
Marc Maziade
Lighting design
Simon Deraspe
Maï(g)wenn et les Orteils is a young contemporary jig dance company working with professional artists that are different and marginalized (Williams syndrome, Asperger syndrome). Human being is the heart of each creation and the company wishes to build a link with the audience, offering sincere and touching work, always wanting to bring life and authenticity on stage.
Maïgwenn Desbois
After her training in Classical dance with Alexandre and Daniel Seillier, Maïgwenn Desbois jumps into the contemporary jig world with Marie-Soleil Pilette, dancing for her company during more than ten years. In 2009, Maïgwenn presents her first choreography, Quasispace, during the Biennale de de gigue contemporaine (BIGICO) at Tangente, choosing to work with different and marginalized professional artists (Williams syndrome, Asperger syndrome). In 2011 was the premiere of Dans ta tête, followed by Six pieds sur terre in 2013, both presented at Tangente's BIGICO. These two pieces were then in the 2012 and 2013 editions of Vue sur la relève festival, at the Espace culturel Georges-Émile-Lapalme at Place-des-Arts and at the Théâtre du grand Sault at Ville LaSalle. She founded her contemporary jig and dance company in 2012, Maï(g)wenn et les Orteils, gigueux atypiques et contemporains. Maïgwenn is also a dance teacher for kids, teenagers and adults having different learning troubles (autism, intellectual disability, Williams syndrome, Dawn syndrome, etc.), for leisure activities, but also for artists in professional training at Centre des arts de la scène Les Muses.
Anthony Dolbec
Anthony Dolbec is professionally trained at Centre des arts de la scène Les Muses since 2003, with a great talent and interest for singing. He regularly performs as a lead singer, interpreting amongst other artists, songs from Robert Charlebois, Niagara, Luc de la Rochelière and Les Coolocs. He could be seen and heard singing in the feature film Gabrielle by Louise Archambault (2013). Anthony performs for Maï(g)wenn et les Orteils since the very beginning of the company in 2009. That is when Quasispace was created, the first duo made for him and Maïgwenn. Since then, he has taken part in all the company's creations. Anthony is also performing as an actor with Joe Jack et John theatre company, in the play AVALe presented at the venue Écuries in march 2014.