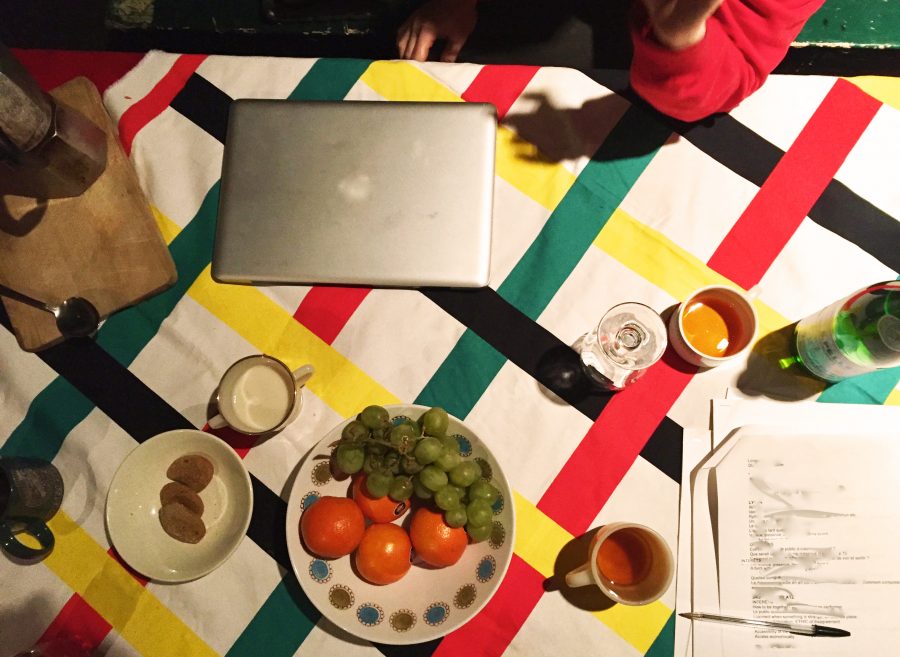 Studio Libre
2017 Edition
MAY 19 | 4 PM
MAY 20 | 3 PM
DIALOGUES
Lynda Gaudreau with Michel F Côté, Sasha Kleinplatz and Jenn Goodwin
Studio Libre is an exploratory project founded in 2013 by Lynda Gaudreau, choreographer, curator and researcher, as an extension of Clash and In Limbo, events primarily aimed at critical reflection on the creative process. Each year, several artists (choreographers or not) participate in this project with Lynda Gaudreau in a relational context of exchanges, artistic activities dedicated to nurture their individual research or a shared project. This exploratory work ends up with a public presentation in the form of an open house at the end of the season. It is a perfect occasion to gain more insights into live arts.
This year, the thematic direction of the 2016-2017 edition DIALOGUES is: Collaborate, curate, organize and create dance. DIALOGUES will problematize the practice of 4 creative dance artists who concomitantly occupy functions of collaborators and curators. Artists Michel F Côté, Jenn Goodwin, Sasha Kleinplatz and Lynda Gaudreau have developped throughout the year a reflection on contemporary creation stakes. For one week, they will meet in the Espace Dena Davida at the Édifice Wilder – Espace danse to let their multiple conversations take shape.
Choreographer, curator and researcher Lynda Gaudreau creates work environments open to collaboration with a variety artists and artistic practices. Her often minimalist work, developed through series, is essentially a play on quantities of time, space and movement. In parallel to her artistic work, Lynda Gaudreau is actively involved in the choreographic research field. She accompanied the work of more than 40 choreographers in the last few years, investing a role at the boundaries of mentorship, production support, artistic direction, dramaturgy and collaboration. For ten years now, she has worked in collaboration with Tangente.
Sasha Kleinplatz is a contemporary dance choreographer living and working in Montreal. Since graduating from Concordia University she has developed and choreographed a total of 15 works involving some 40 interpreters and other artistic collaborators. Her choreographies have also been shown at Performance Mix Festival in New York, Kinetic Studio in Halifax, Nova Scotia, The Guelph Contemporary Dance Festival, and at the Fredericton Playhouse in New Brunswick. Her most recent chorography Chorus II was performed at Cinquieme Salle (Place des Arts) in Montreal, and is has toured Quebec. Along with partner Andrew Tay, Sasha created Wants&Needs Danse, a company that seeks to bring contemporary dance to a greater variety of audiences, and to find innovative approaches and venues for presenting dance. Together they created the Piss in the Pool, Short&Sweet, and Total Space Party performance series. Sasha is currently pursuing a Master's in Interdisciplinary Art practice at Simon Fraser University.
A storyteller and sporadic musician, Michel F Côté was born in Montreal, the year the submarine USS Nautilus made history by travelling under the North Pole's ice cap. Since 1990, he has recorded and played with some of the most renowned musical creators in the world : Hilton Cravis III, Rev. Trevor Doldinger Jr, Béatrice "Bébé" Berlegot, and Solidman Baktouf, to name a few. His concerts and recordings have received praise locally and abroad. He is associated with the defunct collective Ambiances Magnétiques, on top of being the co-founder of the label &records. He has partnered up with Catherine Tardif as co-artistic directors for the dance company Et Marianne et Simon (6,3 évanouissements (2014), Salle de montre, bientôt, près de chez-vous). He is also dreaming up schemes with Catherine Lavoie-Marcus : together, they collaborate on the magazine esse. He keeps coming up with new tricks to trip up the bankers of this world.
Jenn Goodwin is a student in the Master of Visual Studies – Curatorial Studies program at the University of Toronto. She received a BFA from Concordia University in Contemporary Dance with a minor in Video. She is a curator, producer, dance artist and filmmaker.  Goodwin worked with Toronto's Nuit Blanche since it's inception in 2006 and has curated performance and exhibitions for Summerworks Festival (2016), The Drake Hotel, and Harbourfront Centre. Over the last 20 years her dance work and short films have been shown across Canada and internationally, from St. John's Newfoundland, The Canada Dance Festival in Ottawa, Tangente and Studio 303 in Montreal, The Next Wave in Melbourne, Australia, Brussels, Amsterdam, New York City, Vancouver and extensively in Toronto. Goodwin is one half of the art band MORTIFIED with Camilla Singh which is a band that uses drum kits, tap dancing, and cheerleading as its instruments. She has written for the Journal for Curatorial Studies and The Dance Current.