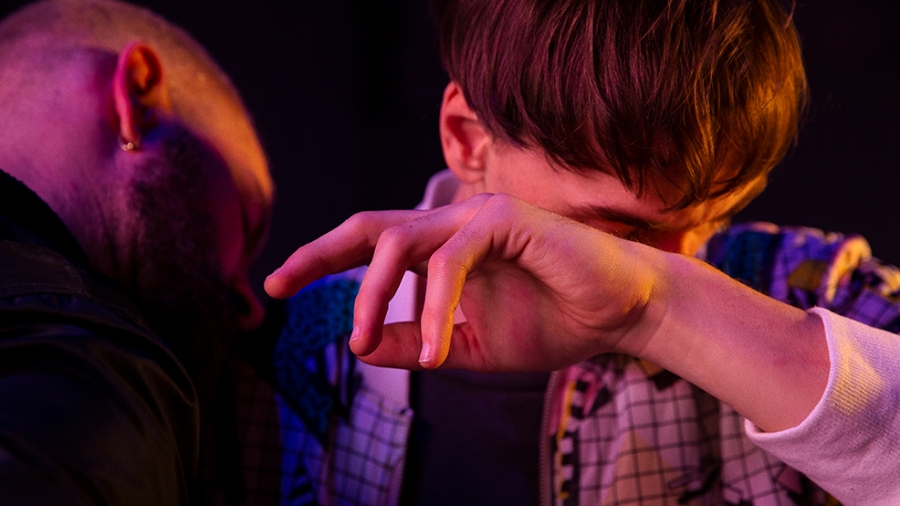 Following the Gouvernement du Québec's health emergency decree and request that theatres close their doors, this show is cancelled. For more information, click here
The meeting of two worlds, of two solos within a single spacetime. One focuses on memory and family, the other on overtechnologisation and the fixation on the future. A heap of wires splits the stage, where the performers meet, clash, steal from and copy one another. Words and images from other artists and thinkers infiltrate the process and evoke themes that emerge from cohabitation. With theory as a starting point, how does one come back to the intimate so as to ultimately deconstruct the self? This autobiographical investigation feeds on an obsession with energy.
Choreographers and performers Sébastien Provencher & Mathieu Leroux
Lighting designer Hugo Dalphond
Composer Steve Lalonde
Outside eye Morena Prats
Costume and accessory designer Angela Rassenti
Artistic advisor Angélique Willkie
Revolving around the confusion of recollecting memories over time, Provencher's performance reflects upon nature versus nurture and the power of genetics, while Leroux's questions the mental state that prevails when the line between mental alertness and psychological imbalance is blurred. United within the same artistic proposition, these two pieces co-exist in a theatrical space conceptualized by the same team of collaborators, offering an aesthetic experience where both subjects enter in dialogue. As they evolve alongside, correspondences appear, movements are plundered, interactions emerge, and several common themes are unearthed (emotional baggage, desensitization, unreason). Onstage, two complimentary choreographic discourses answer and contaminate one another, informed by family photos, drawings by the artist Violaine Leroy, and fragments of texts by sociologists Sherry Turkle and Adam Alter. Steve Lalonde completes the core of the creation by composing a vibrant score that blends technological and human qualities.
Sébastien Provencher is a graduate of Université du Québec à Montréal, where he received the William Douglas grant. His latest works have been presented at Agora de la danse (Deux Squelettes, 2019) and Tangente (Children of Chemistry, 2017). He is currently working on a new Canada-Germany coproduction (What Will Come, 2020) with Julia B. Laperrière. As a dancer, he dances in Montréal and Toronto for established and emerging choreographers such as Emmanuel Jouthe, Sasha Kleinplatz, Manon Oligny, Louise Bédard, George Stamos, DA Hoskins, Helen Simard, Philippe Dandonneau, and Claudia Chan Tak.
A writer, theatre director, actor, and dramaturge, Mathieu Leroux is a graduate of UQAM's École Supérieure de théâtre (performance profile). He co-founds Les Néos, writing and performing some 100 short plays in five years, while also being artistic director of the theatre collective. He creates the solo work La naissance de Superman in 2009. His play Scrap ended the 2012 season at Espace Libre. He recently was dramaturge on tanzmainz's Twist (Staatstheater, Mainz, Germany) and performed in Michelle Parent's Le sixième sens at Fred-Barry. As a dance dramaturge, he is also a regular collaborator of Victor Quijada, Helen Simard, and Alexandre Morin. Leroux earned his Master's degree in French Literature at Université de Montréal. His first novel, Dans la cage, was published by Héliotrope to rave reviews, and his plays and reflection on performing the self, Quelque chose en moi choisit le coup de poing, was published by La Mèche.
Steve Lalonde holds a DEC in Jazz-Pop from Cégep régional de Lanaudière à Joliette, a degree in Classical and Contemporary Composition, and a Master's in Musical Composition for Audiovisual Work (Université de Montréal). He collaborates on many theatrical works, including La naissance de Superman and Scrap, written and directed by Mathieu Leroux, James McLure's Lone Star/Private Wars directed by Sébastien Gauthier and Bernard Lavoie, and Elfriede Jelinek's Ombre Eurydice parle directed by Louis-Karl Tremblay. Lalonde also creates music for many short films and multimedia and television productions. He also works as a sound and video engineer for different companies and institutions, both in Montréal and on tour.
Hugo Dalphond questions synergy between body, space, and light by elaborating and building scenographic devices aimed at initiating meetings. It is principally by making viewers and performers coexist within a same space and by modulating their perception of that very space that he creates alternative sensorial experiences. This becomes a reason to engage in different co-presence qualities and thus to become aware of our interactions and relation with others. Since 2015, he tackles these questions in a PhD, which has for its subject light installation and the spatial opportunity it offers to rethink our collective states. He also collaborates on various theatre and dance projects as a lighting designer and a scenographer.
Angela Rassenti is a costume and props stage designer for dance, theatre, and circus. She is particularly drawn to interdisciplinary creation. Her enthusiasm for visual arts collaborations led her to a diploma in set and costume design at the National Theatre School of Canada, where she currently teaches prop design and fabrication. Since 2008, she has worked with many artists, choreographers, and directors, mainly in Montréal.
Trained as an actress at UQAM's École supérieure de théâtre, at the Conservatoire d'Avignon and at the Teatro in Belarus, Morena Prats has worked as a dramaturge for Bérengère Bodin, Jérémie Niel, and Nadia Schnock. On stage, she was part of works by Groupenfonction, Nature Theater of Oklahoma, Olivier Kemeid, and the Bas Nylon collective. In 2012, she started focusing her research on the theatrical frontiers of performance in the live arts, specifically with an obsession on reproducing images and photographs onstage. Going back and forth between movement and stillness, her practice questions what live tableaux can generate for dramaturgical purposes.
A dancer, singer, teacher, and dramaturge, Angélique Wilkie completed a Master's in Economy at McGill University before training as a performer at the School of Toronto Dance Theatre. Her career brought her to Europe for 25 years, where she worked as a dancer for the likes of Alain Platel, Sidi Larbi Cherkaoui, and Jan Lauwers / Needcompany, and as a singer for the internationally renowned group Zap Mama. A dramaturge in dance and circus, Wilkie is also a contemporary dance teacher at Concordia University and is completing a PhD in the study and practices of the arts at UQAM. Her research deepens her interest in the dramaturgy of the performative body.