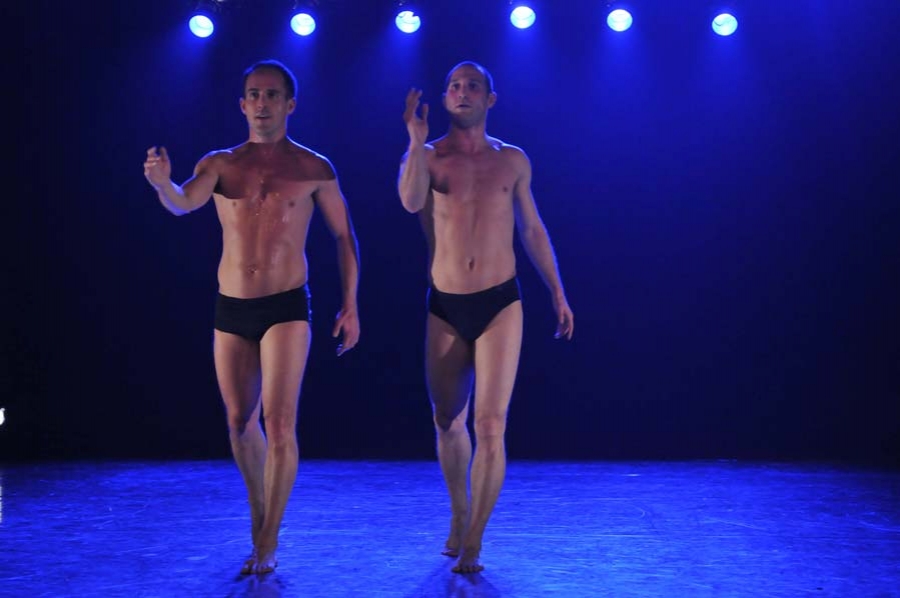 Rôleplay + Big city, motor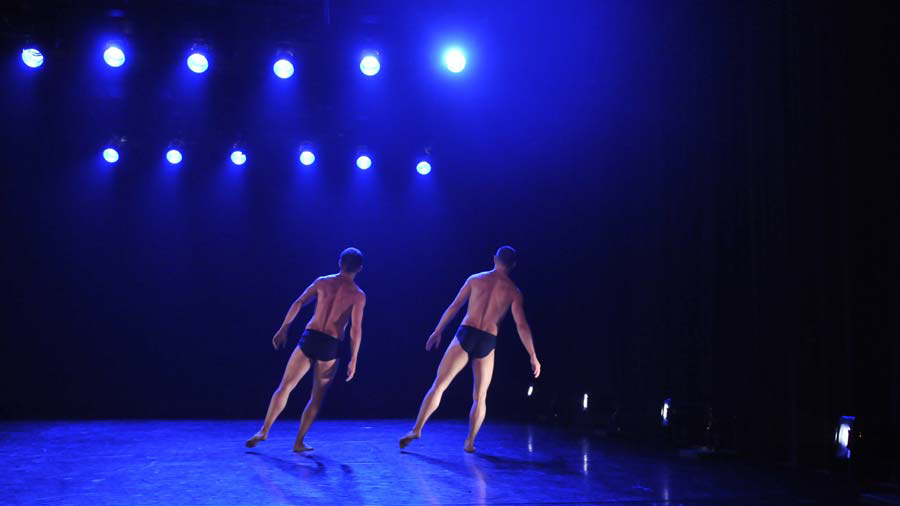 Rôleplay
Raphaëlle Perreault
30 minutes
An electro formalism, rendering audible that which is visible. A nonagonal (nine-sided) stage is defined by bright lighting. Pulsating music. A quartet of women resolutely repeat a movement phrase. Viewed from a fresh angle each time, one image is reminiscent of another. As the piece progresses, the body-as-material shifts towards that of a sentient body.
Choreographer : Raphaëlle Perreault
Performers : Sophie Breton, Miriah Brennan, Laurence Fournier Campeau, Corinne Crane-Desmarais
Sound designer /musician : Laurent Maslé
Rehearsal manager and artistic advisor : Myriam Tremblay
The creation of Rôleplay began in February 2011 with three performers – Laurence Fournier Campeau, Miriah Brennan and Sophie Breton – working on movement composition, beginning with the declension of a basic dance phrase that finally led to solos and duos. Last May, Corinne Crane-Desmarais joined the group in an effort to reinforce the idea of having the structure of the choreography spiral not only in space, but also onto itself, allowing a relay dynamic between the performers.
The range of variations
In the spring of 2011, I sought to define a quality of movement that is connected to the relationship between rhythm, weight and gravity. Since January 2012, I have been working on retrieving choreographic material in order to clarify the nuances of the movements that I wish to have evolve in a period of 30 minutes, with the guidance of Myriam Tremblay, Movement analyst (Laban/Bartenieff).
Image/Sound transposition
Starting this summer, I will begin sharing the creation process with Laurent Maslé, integrating the soundscape, creating image-sounds and an enveloping space-time continuum.
Rehearsal, rehearsal
By the month of August, I wish to be working and reworking the choreographic structure. To go from control to mastery of the piece, then from dominating it to transcending it.
Raphaëlle Perreault
A graduate of the UQAM dance department in 2010, Raphaëlle has since been working as a choreographer, performer and teacher. In the course of her studies, she has collaborated with Normand Marcy, Lynda Gaudreau and Emmanuel Jouthe. Being interested in the relationship between music and dance, she directed her artistic research toward the idea of allowing sound to become visible. After CHORUS and ATTRIBUTS, both created in 2010, she started work on her third creation. In 2011 and 2012, Raphaëlle has been continuing her explorations with the elite dance troupes of the Université de Montréal and Regina Assumpta (In Extenso). She will also be part of the next three major projects of choreographer Emmanuel Jouthe (Danser la musique aujourd'hui with the second year students of LADMMI, Lever de rideau, an outreach touring project organized by the Conseil des arts de Montréal in collaboration with the City of Montreal, and Libres comme l'art, which consists of sharing a creation process with high school students. Raphaëlle is currently training to become a touring agent for dance companies Danse Carpe Diem/Emmanuel Jouthe, Manon fait de la danse and maribé – sors de ce corps.
Big city, motor
Brian Brooks / Moving Company (New York)
This is Tangente's fourth invitation to choreographer Brooks, for his quirky "virtuosity with edge" (Eva Yaa Asantewaa). In these on-going explorations of the physics of bodies in perpetual motion, Brooks splices together disparate aspects of formalist postmodern dance, physical sports, parkour, and street dance. Literally breathtaking.
Choreographer : Brian Brooks
Performers : Brian Brooks and Bryan Strimpel
Brian Brooks
Brian Brooks, originally from Hingham, MA, moved to New York City in 1994. His dance group, the Brian Brooks Moving Company, has been presented since 2002 by venues throughout New York, the US, South Korea and Europe. The most recent of his many honors is an award from the National Dance Project supporting the development and performance tour of his next work, BIG CITY. Following its March 2012 DANCEworks residency and premiere at the Lobero Theater in Santa Barbara, CA, the piece will be presented at venues including New York's Joyce Theater, the American Dance Festival and Jacob's Pillow.
His company has enjoyed repeat engagements at Dance Theater Workshop (2004, 2006), Wesleyan University (2002, 2007, 2009, 2012), North Carolina State University (2009, 2011), SUMMERDANCE Santa Barbara (2004, 2005, 2006) and Alfred University (2004, 2005, 2008, 2010). Presented in New York City by organizations including Lincoln Center, Central Park Summerstage, Symphony Space and the 92nd Street Y Harkness Festival, the group's national tours have included presentations by Vanderbilt University, the Edison Theater, the Zoellner Arts Center, the Egg, the Mt. Tremper Arts Festival and the Clarice Smith Performing Arts Center at the University of Maryland.
Brooks has been on faculty of the Dance Departments of both Princeton University and Rutgers University – Mason Gross School of the Arts. He has also been an Adjunct Associate Professor of Dance at Barnard College of Columbia University and a Guest Artist at the University of Maryland, Illinois State University and Rutgers University, among others. A Teaching Artist of Dance at Lincoln Center Institute since 1999, he is currently the elected Chapter Leader of the TA Union represented by the United Federation of Teachers. As a dancer, he has performed internationally with choreographers including Eun-Me Ahn, Christopher Williams and for three years with Elizabeth Streb, for whom he has also worked as a rehearsal coach and technique instructor.
Moving Company
move ('muv) vb. moved; moving; 1: to go or cause to go from one point to another: ADVANCE 2: to change or cause to change position or posture: SHIFT 3: to show marked activity 4: to take or cause to take action: PROMPT 5: to stir the emotions The simple definition of the word "move" embodies the basic principles upon which the Brian Brooks Moving Company is based. Founded in New York City in 1996 by choreographer Brian Brooks, this modern dance group moves through various performance spaces, moves bodies physically through space, and moves thought forward . Performing at a variety of art venues as well as unconventional public spaces, the Brian Brooks Moving Company brings their surrounding environment into the work of art. Grounded in theme and variation, Brooks's dances often isolate one part of the body and a specific range of motion. Images unfold as patterns begin to rotate. Shapes are able to morph and space can warp. The composition remains compulsively mathematical while the physicality is driven by an extreme, sports-like energy.