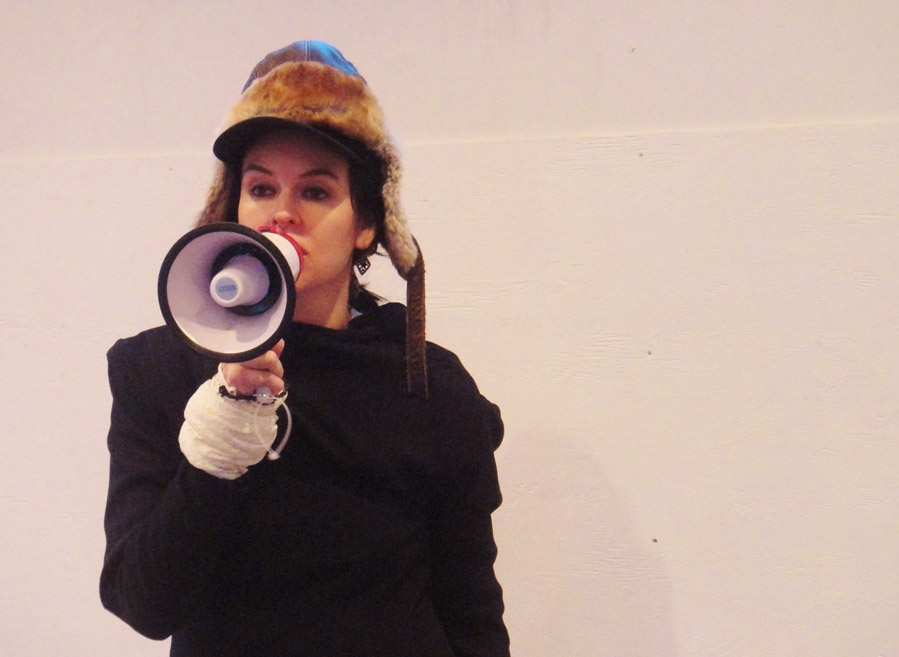 NGS ("Native girl syndrome")
NGS ("Native girl syndrome")
Lara Kramer / Lara Kramer Danse
60 minutes
Lara Kramer's new creation NGS ("Native Girl Syndrome") is inspired by her grandmother's experience of having migrated from a remote First Nations community into an urban mainstream culture as a young woman. The piece explores the effects of cultural disorientation, seeking to understand the self-destructive behaviour experienced by Kramer's grandmother. Dancers Angie Cheng and Karina Iraola embody distortion and addiction, abandonment and alienation, exploring these states within their movement.
NGS ("Native Girl Syndrome") is a means of further understanding the aftermath, the response and inter-generational effects of cultural assimilation. It creates a voice and awareness to larger issues surrounding the marginalization and victimization of Indigenous women.
Choreographer : Lara Kramer
Collaborators/performers : Karina Iraola & Angie Cheng
Creative process member : Patricia Iraola
Rehearsal Director : Maria Simone
Mentor : David Pressault
Music by : Link Wray, The Dirtbombs, Robert Gordon, The Guess Who
Musical arrangement by : Lara Kramer & Scott Russell
Lighting Designer : Paul Chambers
Costume & Set-Design : Lara Kramer
Supported by : Canada Council for the Arts, Conseil des arts et des lettres du Quebec, Espace Marie Chouinard and Canada Dance Festival.
NGS ("Native Girl Syndrome") was chosen for a creation residency project for emergent artist within the ORAM (Outiller la relève artistique montréalaise) in collaboration with Le Conseil des arts de Montréal (CAM), le Forum Jeunesse de l'Île de Montréal (FJÎM), la Conférence régionale des élus de Montréal (CRÉ), ainsi que le Cirque du Soleil.
For this creative process I wanted to research and create a songline of my Cree and Ojibwa grandmother and her struggle within mainstream culture. I began by sharing with the dancers intimate details of my grandmother's experience of migration and the effects it had on her cultural identity and physicality. Together we discussed her daily challenges and the pressures of poverty, prostitution, abuse, addiction, isolation and the loss of children to better understand her story and the relationship it has to the marginalization of First Nations women.
The text used in the creative process was an important element in shaping the narration of "Native Girl Syndrome". The text itself derives from an interview with a family member and my observations from meeting my grandmother as a child. Understanding the content of my grandmother's history is important in informing the physicality and theatricality of the work. This historic research process carves together the stories of a lost generation that are a part of my history and blood line.
Lara Kramer
Lara Kramer is the choreographer, artistic director and arts administrator Danse Lara Kramer, a company based in Montreal. Kramer received her BFA in Contemporary Dance at Concordia University, Montreal (2008). Kramer is a First Nation dancer and choreographer whose work is intimately linked to memory and her Aboriginal roots. Working with strong visuals and narrative, Kramer's work pushes the strength and fragility of the human spirit. Her work is political and potent, often examining political issues surrounding Canada and First Nations Peoples. Kramer has been recognized as a Human Rights Advocate through the Montreal Holocaust Memorial Centre. Her work has been presented at The First Peoples Festival, Montreal (2009), Festival Vue Sur la Reléve, Montreal (2010), The Talking Sticks Festival, Vancouver (2011 & 2013), Canada Dance Festival, Ottawa (2011), The Banff Centre, Banff (2011), M.A.I. (Montreal arts intercultural), Montreal (2011), Public Energy, Peterborough (2012) and Planet IndigenUS, Toronto (2011). Her acclaimed work Fragments (2009) inspired by her mother's stories of the Indian Residential Schools of Canada, has brought her recognition as one of Canada's bright new talents. Her new creation "Native Girl Syndrome" has received commission from The Canada Dance Festival, and a creation residency at Studio Marie Chouinard.