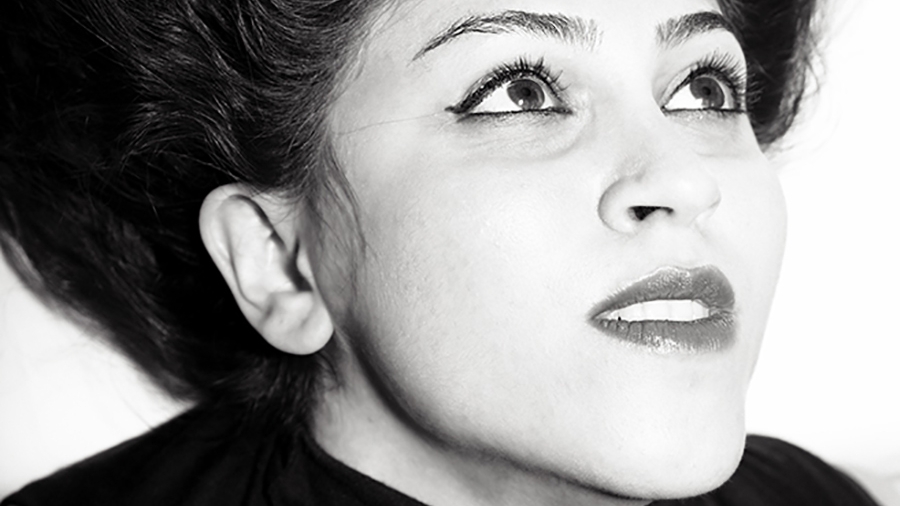 Following discussions within Tangente and with our partners, it became clear that the political context surrounding the double bill with Elad Schechter was overshadowing the aspects of the works that the artists wished to put forward. In an effort to avoid undermining the artists and their work, we have decided to change the presentation dates of Nasim Lootij & Kiasa Nazeran's piece. Tangente's role is to act as a facilitator and connector in order to initiate exchanges and conversations without ever instrumentalizing the artists or placing them in delicate or even dangerous situations.
Works of art were destroyed, music and women's singing forbidden, dancing banned. Nasim sheds light on the tragic story of the Iranian people, who were brutalized by violent events in recent history. She struggles to stand, resisting hostile forces. The lighting fragments her body into tree branches, a dramatic metaphor for the previous efforts of musicians suddenly unable to create a national music meant to unite the various ethnic groups. This neo-expressionist choreography gives voice to these artists and to the resilient men and women of Iran.
Production Vâtchik Danse
Choreographer, performer and sound designer Nasim Lootij
Dramaturge and sound designer Kiasa Nazeran
Lighting designer and technical director Benoit Larivière
Sound supervisor Alex Lachapelle Raymond
Artistic advisors Sophie Michaud, José Navas
Residencies Louise Bédard Danse, José Navas/Compagnie Flak
Video and documentation Fondation Jean-Pierre Perreault: Frédérique Rivest, Lise Gagnon
With the support of Conseil des arts de Montréal
This creation benefited from the Conseil des arts de Montréal's DémART–Mtl program in collaboration with Fondation Jean-Pierre Perreault, José Navas/Compagnie Flak, and Tangente.
After having reached its peak in the 1920s, German Expressionism fades away with the works of Pina Bausch. Since the beginning of the twenty-first century, this aesthetic has attracted a new generation of choreographers, mostly from troubled regions of the world. These artists found an opportunity to expose their sufferings through the aesthetics of German Expressionism. Being of Iranian origin, we've also drawn inspiration from this movement that played an important role in shaping modern art.
The dramaturgy of the solo La Chute (The Fall) draws inspiration from both the language of the body and the language of music. As we explored precise and contrasting qualities of the body, inspired by the movements of Iranian dances, we simultaneously created the soundtrack from pieces of the repertoire of Iranian music, some of them originally used for the composition of a national music, others from the folk culture of different regions within Iran. Another element present in this piece is light, an intense light that fragments the body, that reveals and exposes its weaknesses and strengths.
Choreographer, performer and teacher, Nasim Lootij began dancing in Iran, where this art was banned following the revolution of 1979. After practicing traditional Iranian dances in clandestine classes in Tehran, she settled in Paris in 2006. For eight years, she studied contemporary dance at Paris 8 University, RIDC, and the Jean Wiener Conservatory and specialized in Laban Notation at CNSMDP. She collaborated with Odile Duboc, Christine Gérard, Natalie Pernette, Dominique Dupuy and Nawel Oulad and created two pieces: Lalaï (2012) and Bouyé Jouyé Moulian (2015). In 2014, she moved to Montréal where she created the solo Moi-Me-Man (2017) in collaboration with Kiasa Nazeran, the dramaturge with whom she collaborated for 9 years and co-founded the collective Vâtchik Danse in 2019. Recently, Nasim received a bursary from the Montréal Arts Council's Dem-Art MTL program in collaboration with Fondation Jean-Pierre Perrault, Compagnie Flak, and Tangente to create La Chute.
Researcher, director, mime and dramaturge, Kiasa Nazeran began his career in Iran as a translator focusing on plays. After studying and working professionally as a director and actor in Iran, he moved to Paris in 2009 where he attended the Jacques Lecoq School and Académie Européenne du Théâtre Corporel. He then completed a master's degree in theatre studies at the Sorbonne Nouvelle University where he has been teaching mime since 2014. He is currently writing a doctoral thesis at the University of Franche-Comté on the history of organicity in the work of European actors from Stanislavski to Grotowski under the direction of Guy Freixe and in collaboration with Odin Théâtre (Eugénio Barba / Denmark) and Théâtre du Mouvement (Claire Heggen / Paris). For the past 9 years, he's been collaborating as a dramaturge with Nasim Lootij, with whom he co-founded the collective Vâtchik Danse in 2019.
Benoit Larivière has created lighting designs for many productions, working in theatre and music, but mostly specializes in dance. Some of his main achievements include multiple contracts signed with various dance companies such as Tentacle Tribe, 100 Lux, Helen Simard, and Ebnfloh, in addition to working with choreographers such as Ford, Monstapop, Claudia Chan Tak, and Nasim Lootij and theatre companies Multisens, Les Exclamateurs, and Les Écorchés vifs. He approaches lighting in a collaborative spirit with the choreographer/director, drawing his inspiration from their creative universe, always placing great importance on their creative vision. Darkness and absence of lights are major aspects of the way he works, always searching for ways to create images that are independent from the space, the venue in which the creation takes place, or modifying this space.
ISBC is a sound design and music composition collective led by Alex Lachapelle Raymond. They have created works for dance, theatre, cinema, interactive technology, and virtual reality.
Based in Montréal, Sophie Michaud specializes in the creative process coaching in contemporary dance. For almost thirty years, as a choreographer, rehearsal director and dramaturgy advisor, she has worked with emerging creators and established artists. As a researcher, she is interested in the phenomenon of watching perception and studio intervention strategies. Holder of an MA (1996), she also completed her postgraduate education in Arts Studies and Practices (UQAM, 2018). Leveraging her diverse experience of creation, along with her many artistic engagements, she acts as a consultant, trainer, and cultural mediator.
Founder and artistic director of Compagnie Flak, José Navas carries out his overall artistic approach in three distinct ways: he dances with intensity in solo shows charged with emotion; he constructs abstract and captivating group pieces; and he creates pieces of contemporary ballet with classicism and sensitivity. As guest choreographer for prestigious ballet companies, he created an iconoclastic version of Giselle (2013) for Ballet BC, Watershed (2013) for the National ballet of Canada, and Dénouement/Auflösung (2015) for the German company tanzmainz. He has performed his latest solo show, Rites, many times in Europe and Québec. An Associate Dance Artist of the National Arts Centre, José Navas has presented his work in 30 countries in the Americas, Europe, and Asia.