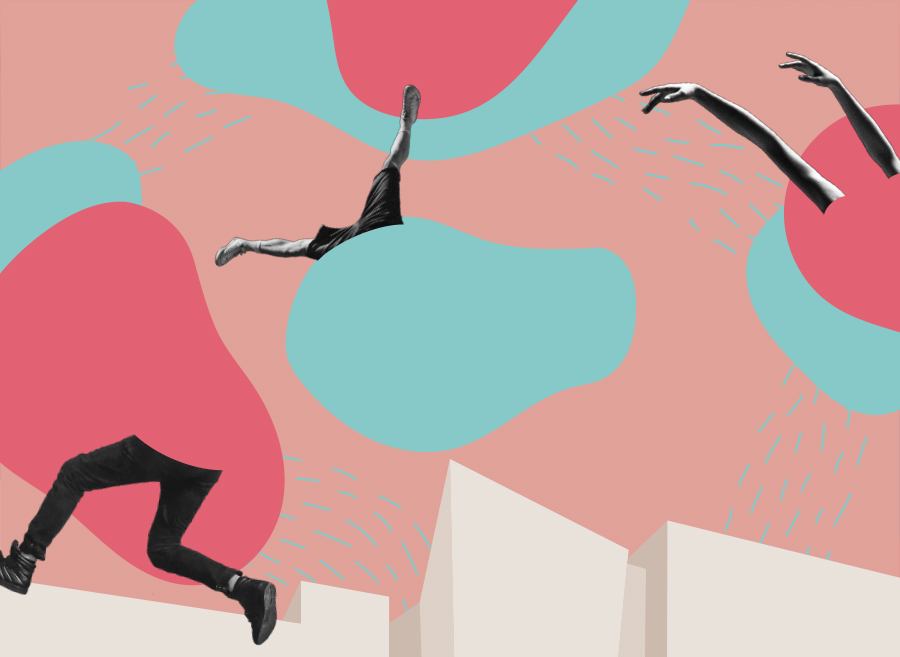 Journées de la culture
A journey into contemporary dance
SEPTEMBER 30 | 1:00 PM TO 4 PM
Discover a new space for creation, performances & artistic encounters
During all the afternoon, enjoy exciting dance performances, attend rehearsals and take part in discussions with the following artists:
Sylvie Cotton
Marie Claire Forté, Alanna Kraaijeveld, James Philips and Mairéad Filgate
Thea Patterson, Kathy Casey, Rachel Harris and Elinor Fueter
Quantum Collective 
La 2e Porte à Gauche
You will also be able to watch the classes and rehearsals of the École de danse contemporaine de Montréal's students.
Café-bar open from 1 to 4 p.m.
Sylvie Cotton pursues a keen interest in presence and its modes of apparition and incarnation. Her work focuses on the adventure of that presence to the self and to others, and also on material and immaterial phenomena, both subtle and manifest. Making art consists of bringing to light the shadings and colours of that encounter, exposing the rich potential of friction and reciprocal influences. The works find fulfillment in an aesthetic of cordiality, of mingling and fusion. Cotton has always worked in diverse media: performance art and art intervention, drawing, photography, installations and writing. She has presented her performance works and installations in Quebec, the United States, Finland, Europe and Japan.
Alongside and through her artistic practice, Marie Claire Forté translates, writes and teaches dance. Her plural path has been supported and inspired by people and institutions, namely Lynda Gaudreau, k.g. Guttman, Ame Henderson, Public Recordings, Toronto Dance Theatre, Martin Bélanger, la calq, Catherine Lalonde, Noémie Solomon, Jody Hegel, Adam Kinner, Tangente, Circuit-Est, Concordia University, Studio 303, Peter Trosztmer, le Centre d'arts actuels Skol, le Mois de la photo de Montréal, the Casino Luxembourg, Artexte, WP Zimmer (Antwerp), the Regroupement québécois de la danse, l'École de danse contemporaine de Montréal and Montréal Danse.
Thea Patterson is a Choreographer, Dramaturge and Performer who is interested in paradigms of collaboration, and expanded ideologies of dance and performance. She works on a many projects with likeminded colleagues including Katie Ward Sasha Kleinplatz, Isabel Mohn and most notably, her long time collaborator Peter Trosztmer, for whom she was dramaturge on five critically acclaimed solos. Her current work, "the dance that I cannot do" was presented at Movement Research/Judson Church in New York, The Third Floor Series and the F OFF(microfest). She was a two-time participant of the Montreal Danse Choreographic Seminar and in June 2016 will receive her Masters in Choreography from The DAS Graduate School of the Amsterdam Art Academy.
Born in North Carolina, Kathy Casey began her dance career in 1979 with the Chicago Moving Company. Settled in New York in 1980, she danced for many choreographers before joining the Lar Lubovitch Dance Company in 1984. In 1989, she became a member of Susan Marshall & Company, with whom she had collaborated since 1981. From 1985-1989, she also assisted Mr. Lubovitch and Ms. Marshall in the creation. Kathy Casey has danced in Europe, Asia and North America and continues to give numerous workshops across Canada and the United States. Welcomed by Montréal Danse in 1991, she was appointed Artistic Director of the company in March 1996. A major portion of her work now is choosing choreographers with unique and captivating voices and then assisting them in the creation of the works they create on the company. In addition to her work with Montreal Danse, she also works as an artistic counsellor for several independent choreographers in Montreal.
Originally from Vancouver, Rachel Harris moved to Montreal in 1990 to pursue her dance training at LADMMI. Following her training, she joined Danse Partout in Quebec City and co-founded Amorce Danse Théâtre. As a freelance dancer, Rachel has danced with Marie Béland, Sarah Bild, Estelle Clareton, Margie Gillis, Anne-Marie Giroux, Benjamin Hatcher, Jean-Sébastien Lourdais, Jean-Pierre Perreault, George Stamos. In 2002 and 2003 Rachel created The Coyote Project, a fulllength work for four dancers in close collaboration with the Nlaka'pamux tribe of British Columbia. Rachel joined Montréal Danse in 1998 and now does tour managing for the company as well as dancing. With Montréal Danse she has interpreted the works of Ae-Soon Ahn, Blanca Arrieta, Martin Bélanger, José Besprosvany, Sarah Chase, Estelle Clareton, Avi Kaiser, Jean-Pierre Mondor, José Navas and Paula de Vasconcelos.
Since arriving in Montreal in 1994, Elinor Fueter has followed an eclectic path. Graduated form LADMMI in 1998, she started working with various creators in dance but also in street performance and video. Along the way, Elinor has developed a special interest and inspiration for clownish characters. Among the works in which she has collaborated should be mentioned Coquille cherchant un oeil by Lina Cruz, Bêtes de Foire by Alain Francoeur, Some strange winters by Natalie Morin, several works by Mobile Home Cie, Catherine Lipscomb and her company Mange mes pieds Cie, Le psychotic happening by Peter James, the Celebrations projects of Danse- Cité, Joe by Jean-Pierre Perreault, choreographies by Marie Pascale Bélanger and finally We by Chanti Wadge. In 2010, Elinor joined the team of performers of Montréal Danse where she works with choreographers Estelle Clareton, George Stamos and Benoît Lachambre.
Quantum Collective was born out in 2014 of the encounter of artists from different countries and backgrounds. It was soon immersed into an experience where the individual's artistic signature was erased to benefit the collaborative creation. It has developed into an artistic laboratory where the space is shared freely allowing each individual to push their limits and open a discussion about a new way to perceive the act of choreographing. Each member contributes with their knowledge, movement and life experience to nourish the creative process where exchange is the key.