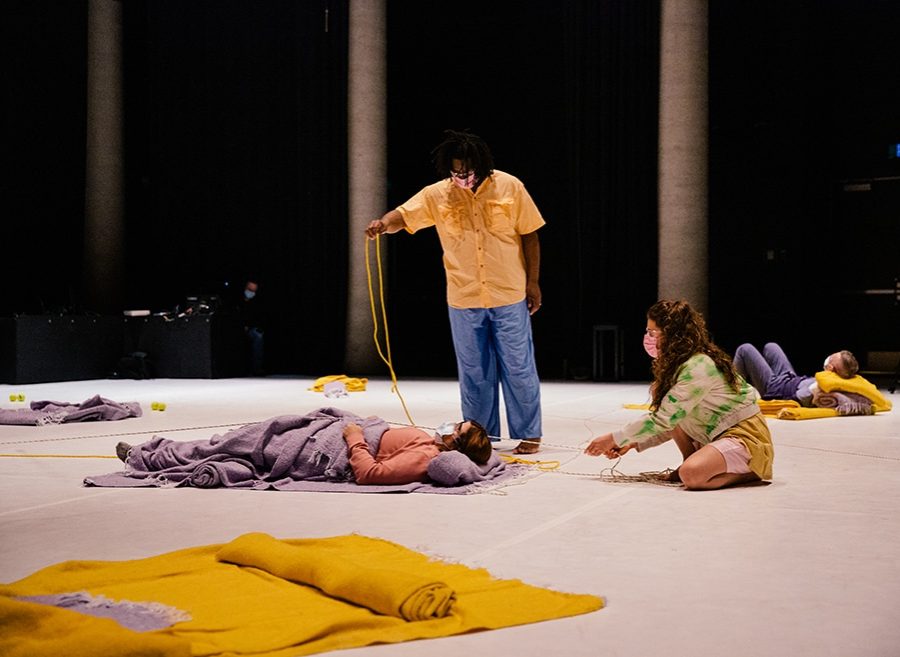 OFFTA
ÉDIFICE WILDER | ESPACE VERT
JUNE 3, 2023 - 4PM
JUNE 4, 2023 - 11AM + 4PM
WARNING: This performance includes touch.
Annual artistic event created on the edge of the Festival TransAmériques (FTA), OFFTA is a festival dedicated to emerging avant-garde creation in live arts. Since 2007, it scans the local artistic landscape in order to highlight creators whose projects trace new avenues in theatre, dance, and performance. The OFFTA grounds its identity on an artistic direction that favors solid and singular approaches, emerging practices, and experimentation.
Like planets, our bodies are composed of ecosystems, inhabitants and relationships. More than half the cells in our bodies are not human; bacteria, viruses, archaea, and fungi form "our" body together. What does it mean to be a multispecies community? How do we feel our multiplicity? This multisensory dance work invites audiences on a somatic journey into their own bodies. Guided by sound, smell, touch, language and taste, we travel the microbial worlds inside our mouths, guts, and imaginations.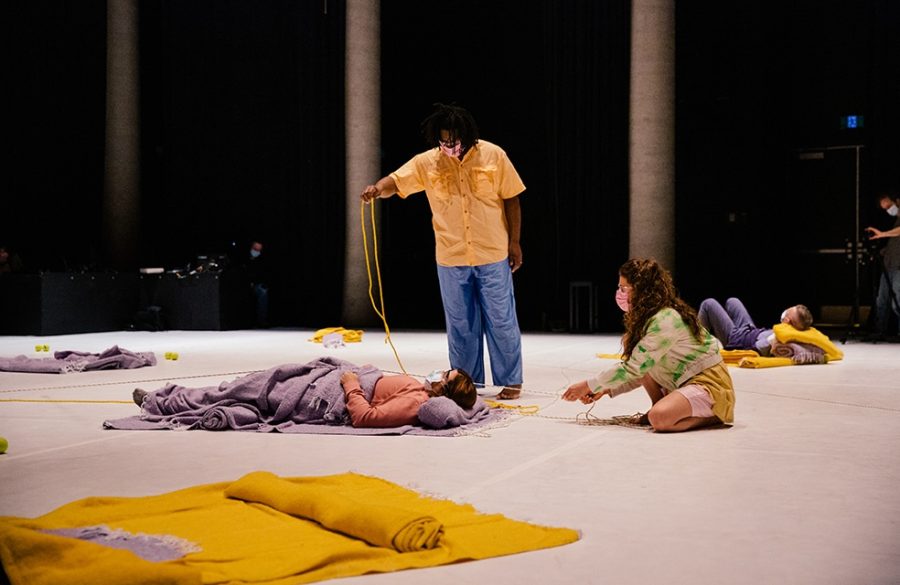 Choreography and performance Hanna Sybille Müller
Choreography, poetry and sound Erin Robinsong
Music and sound design Michel F. Côté
Performance and collaboration Lara Oundjian, Diego Gil, Emmanuel Jouthe, Rachel Harris
Dramaturgy Adam Kinner
Lighting design Tiffanie Boffa
Biology and scientific advice Merlin Sheldrake
Costume design Emily Watts-Luciani
Costume assistance Edwin Isford
Vocal coaching Damaris Baker
Compost chandelier Andrew Forster
With the support of Canada Council for the Arts, Conseil des arts et des lettres du Québec
In collaboration with Tangente, Musée d'art de Joliette, Théâtre Hector-Charland, Ville de Joliette
Creative residencies CCOV, Studio 303, Dana Gingras/The Stable
Special thanks to
Those who have made this project possible:
Diego Gil, Csenge Kolozsvári – Sense Lab; Dana Gingras – The Stable; Carol Newell; Miriam Ginestier, Dorian Nuskind-Oder, Kimura Byol – Studio 303; Charlotte Lalou Rousseau, Anne-Marie St-Jean Aubre, Annie-Claude Coutu Geoffroy – Musée d'art de Joliette et Théâtre Hector-Charland; Stéphane Labbé, Julie Deschênes, Marco Pronovost, Jérémy Busque, Sylvain Verstricht, Mathilde Girard, Catherine Ste-Marie – Tangente.
Those who have participated in this project:
Hanako Hoshimi-Caines, Nayla Naoufal, Jory Strachan, Kelly Keenan, Linda Rabin, Merlin Sheldrake, Alfons Robinsong, Lauren Semeschuk, Andréa de Keijzer, Udavi Cruz Márquez, Chloé Bourdages-Roy.
Those who helped make the trailer:
Brianna Buhr, Nadia Chaney, Megan Gnanasihamany, Adam Kinner, Jacob Wren, Emily Gan.
Those who contributed to  the project by offering themselves to our many tests:
Sandra Huber, Jacob Wren, Andrew Forster, Vida Simon, Jack Stanley, Megan Gnanasihamany.
Thank you for your presence and for sending multivitamin tablets across the ocean:
Iren Müller Licha, Emanuel Licha, Irmgard Schaller, Lutz Müller, Elvira Kipp.
Hanna Sybille Müller is a choreographer living in Tiohtiá:ke/Mooniyang/Montréal. Her main focus is language, movement and its interrelations – investigating the strange magic and ordinary potencies of language and the bodies. She has been questioning what it means to collaborate with humans and non-humans.
Erin Robinsong is a poet and interdisciplinary artist working with ecological imagination. Her debut collection of poetry, Rag Cosmology, won the A.M. Klein Prize for Poetry (2017). She is the author of Liquidity (House House Press, 2020), and Wet Dream (Brick Books, 2022). She has collaborated on many performance works with Andréa de Keijzer and Hanna Sybille Müller.