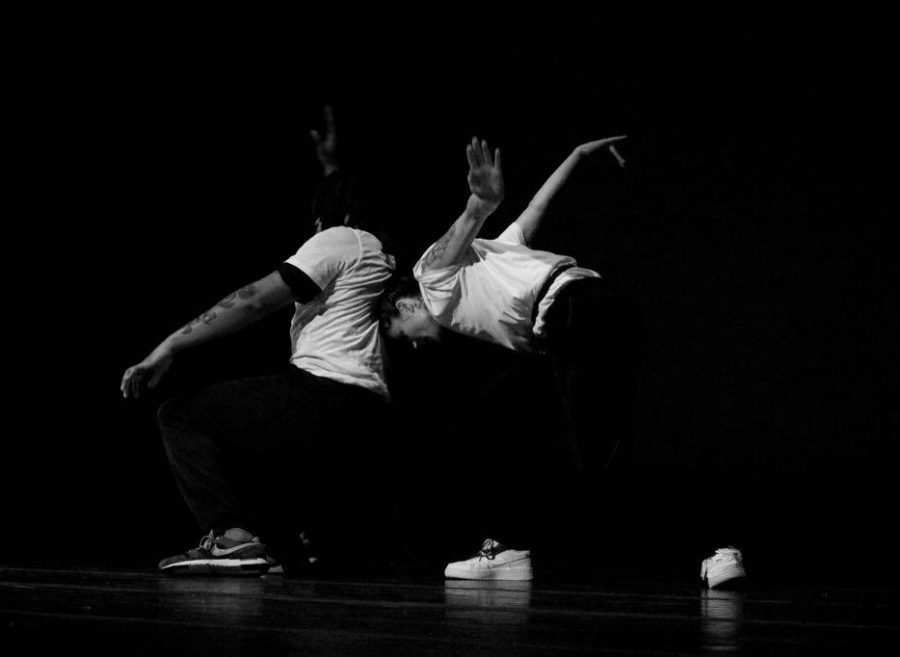 Habitation #1
Open door
IN RETROSPECT/FORWARD THINKING
From March 20 to 26, 5 artists presented at the urban dance Festival 100Lux 2017 will be invited by Tangente to participate to a week of residency the Wilder – Espace danse. They will benefit from 12 hours of choreographic mentoring in studio with Helen Simard, Ismaël Mouaraki and Alexandra 'Spicey' Landé. The mentors will help the artists to work on their creative project, and also offer their point of view and outside-eye view to help their work reach a better version. The doors of the studio will be open to the public on Sunday, March 26 2017: the artists will present the result of this work and will discuss their experience and learnings from the residency.
Involved artists and their pieces:
MONTRÉALITÉ
Choreographers / performers: Hugo Ménard, Alexandre Wilhelm (Hyougz & Taz)
BARDO
Choreographers / performers: Frederique « Pax » Dumas, Jean-Édouard « Sangwn » Pierre-Toussain
LUST & FOUND
Choreographers / performers: Lakesshia Pierre-Colon
Ismaël Mouaraki: mentor French-Moroccan-Canadian choreographer and self-taught dancer Ismaël Mouaraki discovered urban dances at the age of 12. He was introduced to contemporary dance with the choreographer Xavier Lot during his residence at the Centre culturel André Malraux. It is the beginning of a three-year collaboration, and the start of a career for Ismaël. Curious and determined, he then worked with different choreographers and companies in France and Canada, including Compagnie Accrorap, Philippe Découflé or Hélène Blackburn, allowing him to share his talent and his artistic expertise with a varied audience. In 2003, Ismaël founds Destins Croisés – crossed fates in French – of which he is the artistic director and choreographer. Ismaël seeks innovation and singularity in his work. His choreographic corpus brings together contemporary and urban dances, and a wide variety of practices ranging from circus to freestyle. In his 2003 creation, Near Future, he worked with a clown. The piece won the year's Best Creation Award from the Office Franco-Québécois pour la jeunesse. In Loops (2008), Ismaël and his dancers worked and created in situ in the Montreal metro. In Slam en/Corps (2009), Ismaël created a dialogue between movement and words. In his solo piece, RefleXction (2010), he integrated his own body within a larger visual project. In his latest creation, Link(s), he explores and engages with the notions of identity and alterity to question the role of the individual within the group. In addition to his work within Destins Croisés, he collaborates as choreographer or instructor in various projects in Canada and abroad, such as the in-situ performances of the Regroupement Québécois de la Danse's 5th edition of Pas de danse, pas de vie!, or with the Cirque Éloize in the show ID. He also signed the choreographies of the Pink Carnival parade in honor of Jean Paul Gauthier, presented by the Festival Just for Laughs, and cosigned the piece Ayong with choreographer Herwann Asseh from the Compagnie Moral Soul that was presented at the Quartz in Brest, France. Inspired by Michelangelo's gigantic fresco of the Final Judgement, Ayong brings together circus, dance, and visual arts. More recently, Ismaël Mouaraki created the piece D-Complex in collaboration with the Centre culturel de Namur in Belgium, that was presented in November 2016 at the Abattoirs de Bomel.
Helen Simard: mentor Born in Kingston, Ontario, and having grown up across northern Ontario and Quebec, Helen Simard moved to Montreal in 1996, where she simultaneously discovered her passion for contemporary and street dance. In 2000, she completed a BFA in contemporary dance at Concordia University; the same year, she founded DysFunkShn Crew, an all b-girl crew with whom she participated in a number of breaking battles, including the Pro-ams in Miami, the Rocksteady Anniversary in New York City, and B-boy Summit in Los Angeles. In 2000, she also co-founded Solid State, a b-girl collective that created choreographic works that combined contemporary and street dance aesthetics. From 2000 until 2012, she was co-artistic director, choreographer, and performer with the collective, and participated in the creation of nine shows that were presented across Quebec and Canada, as well as in Europe. Although today her choreographic work is more contemporary in nature, Helen still breaks, and works as a rehearsal director with a number of street dance influenced choreographers, such as Emmanuelle LePhan and Elon Hoglund (Tentacle Tribe), Greg "Krypto" Selinger, and Victoria Mackenzie. In 2014, Helen completed her Masters degree in dance at UQAM. In addition to her MA thesis, "Breaking down the differences between breakdancing and b-boying: a grounded theory approach", she has also published a number of articles and book chapters on breaking and street dance. She is currently pursuing her research on b-girls through the PhD in the Study and Practice of Art at UQAM.
Alexandra 'Spicey' Landé: mentor Vibrating to the sounds of Hip Hop, Alexandra 'Spicey' Landé's love for street dance began at a very young age.  For the past ten years, Hip Hop culture has been at the forefront of her work.  Her first piece Retrospek, co-produced by the M.A.I. (Montréal, arts interculturels), was well received by the public and her peers.  In 2008 she participated in Vue sur la Relève and was the recipient of Les Entrées en scène Lotto Québecfrom Bourse Rideau allowing her to go on a tour across Montreal and Ottawa.  In 2009, she created Renézance for Tangente, her second full-length piece presented a few times in Montreal.  Spicey also worked on the Michael Jackson Immortal tour of Cirque du Soleil in 2011 as a street dance instructor and consultant.  That same year she took part of Nico Archambault's Ils Dansent on Radio Canada as a teacher and choreographer.  2015 marks her return to the small screen as a judge for Eurovision Young Dancer in Czech Republic on Czech TV.  With her new creation Complexe R, she explores human obsession with physical appearance, social status and identity.  The show premiered at the MAI in Montreal in November 2015. Spicey has long been concerned with creating a platform for Montreal street dancers to showcase their talent to the greater international dance community.  To help with her mission she founded Bust A Move, the biggest street dance competition in Canada, which was presented at la Tohu every year in Montreal. Bust A Move Festival had become a leader in its genre in Canada and 2015 marks it's 10th anniversary.  She has been teaching Hip Hop dance for almost 20 years and is one of the most respected street dance choreographers in Canada.  With Ebnflōh Dance Company, Spicey has built a language that reflects her vision of dance and she surrounds herself with peers who inspire her.
Victoria « Vic Versa » Mackenzie: organizer of the project Victoria began dancing as a child and studied many styles (tap, jazz, ballet, gymnastics) until finding herself situated between the contemporary dance and breaking scenes. A natural mover and music lover, she has danced most of her life. She received her formation in dance from Ecole de Danse Contemporaine de Montreal in 2013 and has been breaking since 2008. She has performed in contemporary dance/hip hop/commercial shows and festivals throughout Canada, performing for companies/artists such as Cirque du Soleil, the Body Slam Collective, Helen Simard, Alias Dance Project; and events such as Breakin' Convention's Open Art Surgery,  Panamania for PamAm Games, Street vs. Stage (Summerworks), Festival 100Lux, and Festival Quartiers Danses. Since 2014 she has been in periodic creation of her first solo, TheStoryProject, which she has performed at Festival 100Lux, TUDS, and Festival Quartiers Danses. Her upcoming solo show, Identity Binding, will be performed as part of Tangente's 2016/17 season. Her most recent creation, Hexad Myriad, was the result of a collaboration with Ecole de Danse Contemporaine de Montreal. She was invited as the choreographer for Projet Fly, and worked with 6 graduates from EDCMTL during the summer of 2016. A sometimes teacher, Victoria gives episodic workshops in Toronto and Montreal and continues to build her series called Get Low (a dynamic floorwork class for dancers). She continues to break and compete in battles, recently winning the Concrete Kingz battle at Under Pressure in the Top Rock category. Through her work with KeepRockinYou, she has facilitated breaking workshops, organized community events and battles, and spent time investing in elevating the b-girl scene in Toronto and Montreal. In 2016 she joined the Canadian company Tentacle Tribe.