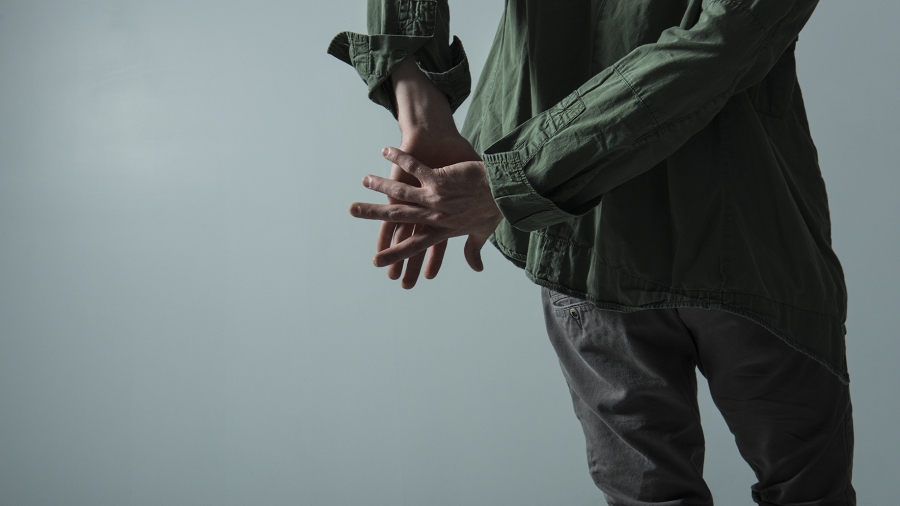 Double bill - The Wilder
MARCH 28. 29. 30, 2019 - 7:30PM
MARCH 31, 2019 - 4PM
-
PART OF OUR DISCOVERY PACKAGE
DISCUSSION WITH THE ARTISTS AND BOOK TABLE ON MAR. 29
(Re)questioning the codes of gigue, Antoine treats the stage like a workshop in this informal work interspersed with moments of magic. In this percussive performance about traces, he finds his groove in the cohabitation of weight and gesture. We travel through three imaginary spaces demarcated by a small plank, an office desk, and an expansive black and white dance floor. Through rhythm and sound, the dancer manages to disappear into his music. It's what he loves about this dance form.
Choreographer and performer Antoine Turmine
Sound designer François Millette
Lighting designer Ian Yaworski
My creative process develops from a study of gesture. Meaning emerges through questions or issues that punctuate the process outside the studio. This step is followed by a work of relation and composition.
As part of this study, I explore work already begun with (re)tracer: the friction of the dancing steps as the initiator of a "new" dynamic and expressive dance; a work on the trace rather than its impact, promoting a game of rich and nuanced dynamic phrasing. In this rhythmic game, the body becomes weightless and rises without losing its relation to time. This particular aesthetic interests me as an artist and brought about two themes: tracing and forgetting.
Coming from Québec traditional step dancing, Antoine Turmine also has, since 2014, a bachelor's degree in dance from UQAM. He is pursuing a master's degree to understand and (re)question his own lecture of sound and body. Invested in groove's reflection and in relational and significant dynamic's gesture, Antoine participates in BIGICO's activities as performer and choreographer. He is also involved in the work of the Zogma company, Quantum Collective, and other independent contemporary dance choreographers.
A theatre director takes a choreographic turn. Composing movement as if it were a literary work in which each phrase leads to the next, but without the logic of narrative, he shapes a diffuse environment predominated by control and surveillance. Inside this intimate enclosure, it is difficult to move freely, to respond, even to exist. Four women remain united in this world where spontaneity is impeded. They must rely on one another if they are to hope, to survive and to dance.
Choreographer François Marquis
Performers Audrey Bergeron, Élise Bergeron, Annik Hamel, Kim Henry
Composer Éric Forget
Lighting designer Mathieu Marcil
Immediately after his university training as an actor, François Marquis danced for choreographer Manon Oligny during the 90's. An artistic journey then started in the course of which he worked as an actor, author and director within various creation companies: Productions Recto-Verso, Nouveau théâtre expérimental, Le pont-bridge, Le grand théâtre émotif du Québec, Les productions à suivre, etc. As well as working as a solo artist and presenting his art through totally independent processes, he obtained his master's degree in writing and directing at Université du Québec à Montréal. For the past five years, he has been involved in experimental work as a choreographer, at first with his artistic partner Audrey Bergeron, then by himself. François Marquis is a member of the Centre des auteurs dramatiques. Sans faire de bruit is his first important choreographic work.
After close to a decade of being a youth gymnastics medalist in Québec, Kim Henry soon discovers and falls in love with contemporary dance. Since graduating from l'École de danse contemporaine de Montréal in 2011, she has performed in more than 50 dance and physical theatre projects as a freelance artist. She has danced for Lucie Grégoire, Montréal Danse (George Stamos, Benoît Lachambre), Mélanie Demers, Jacques Poulin-Denis, Isabelle Boulanger and Audrey Bergeron, among others. In addition to her journey as a live performer, her collaboration with visual artist Eric Paré brought her to travel to more than a dozen countries, creating unique poetic photography in some of the most magnificent landscapes on earth. Versatile and curious, she seeks collaborations that allow her to push her limits with rigour and playfulness. Sans faire de bruit marks her third collaboration with François Marquis.
First and foremost, Éric Forget is an actor who has also developed affinities with the dance, circus and multimedia communities. He is primarily involved in the performing arts. After a few years studying modern dance, he trained as an actor, but for now his artistic work is mostly oriented towards sound design and composition. Over the last thirty years, he has participated in more than a hundred shows as an actor, dancer, sound designer or composer.
Since 1991, Mathieu Marcil has designed lighting for numerous theatre companies, including Carbone 14, Omnibus, and Le groupe de La Veillée. The work of these companies speaks of Mathieu Marcil's fondness for physical theatre. Also, his interest for youth theatre draws him to work regularly with Théâtre Bouches Décousues and Le Clou. Always looking for new photosensitive experiences, he collaborates with different communities, such as that of the circus with Les gens d'R (Échos,presented at the 2000 Venice Biennale). The word often used to describe his lighting designs: sensitivity.