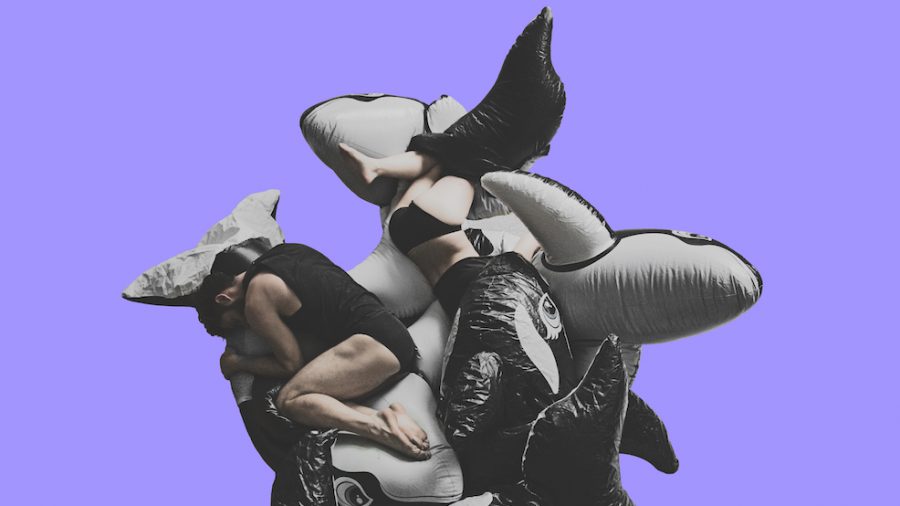 Double bill - The Wilder
MARCH 7. 8. 9, 2019 - 7:30PM
MARS 10, 2019 - 4PM
-
DISCUSSION WITH THE ARTISTS AND BOOK TABLE ON MAR. 8
The order of the pieces is subject to change.
Through the metaphor of discovering an unfamiliar creature named Look, this study investigates human experience and the idea of inhabiting a natural environment. Is humanity moving towards a robotic future, away from an animal past? In questioning what is recognizable as human in animals, or animal in humans, Look draws attention to our existence in its physical, biological, and empathetic rhythms. Engaging in a demanding physicality, organic and reactive, Bailey explores the creature's anatomy and how it interacts with different environments – traveling, breathing, waiting, looking. She wishes to create a meditative experience that enhances observation, both external and internal.
Choreographer and performer Bailey Eng
Composer Eric Séguin
Lighting designer Hugo Dalphond
Costume designer and scenographer Li Ming Parisé
Outside eye Marie-Ève Dion
I strive to create and perform movement that breathes sensitivity rather than the spectacular. I am curious about an organisation of the body that is absurd yet natural, stretching perceptions of dis/comfort and casualness. I value cleverness, virtuosity in disguise, and live problem solving. As I develop movement, the result is often absurd and disorienting – qualities I welcome and encourage in an effort to redefine what is organic, human, and comfortable. This piece challenges the information we are given and have access to, what we observe, and how we draw conclusions. In collaboration with photographer and dancer Marie-Ève Dion, photos were taken during movement improvisation. Then we selected which images belong to the creature we wanted to forge and therefore what movements belong to those images. Through this process, I allow the creature of my physicality to emerge. This creature, Look, is on display. Letting go of the confines I usually work within, I allow myself to be vulnerable: a display of Being; an expression of Being.
Bailey Eng's current movement practices stem from contemporary dance, breaking, parkour, contortion, and Chinese pole. She graduated from Concordia University with a BFA in Contemporary Dance after having studied at École Nationale de Cirque and York University. She has done several performances that have allowed her to incorporate dance, circus, and parkour, including work with Destins Croisés, Andréane Leclerc, Jeff Hall, Compagnie WXWS, La Marche du Crabe, and Les Minutes Complètement Cirque. In addition to being a performer, she is also an emerging choreographer, and a coach of acrobatics and dance.
Marie-Ève Dion actively contributes to the Montréal art scene and is a graduate from the UQAM Contemporary Dance Performance program. She dances primarily for GEANBINDLEY Art and BLACK HOLE – choreographic arts in collaboration with several emerging artists. She also works with choreographers such as Chloé Bourdages-Roy and Claudia Chan Tak, in addition to the collective she belongs to, S'Enfarger, with Myriam Foisy, Anne Cormerais, and Jean-Benoit Labrecque. Marie-Ève is also passionate about the visual arts, most especially photography. Her artistic approach focuses on the dancing body and is inspired by the urban architectural environment. Among others, she collaborates with performer Baily Eng as photographer and outside eye.
Eric Séguin is a sound artist based in Montréal. His work has been featured in installations and live events in Montréal and elsewhere since 2013. Eric's formal education in Philosophy and Electroacoustic Composition has provided him the tools for creating multi-channel compositions that explore questions in genre identity and group characterization of sound as it exists in space. His work is characterized by a large dynamic range, an exploration of the limits of the human ear, and an interest in the use of lo-fidelity and hi-fidelity treatments of a single source as a means of shaping expectations and doubts about the meaning of contemporary pieces.
Hugo Dalphond questions the synergy between body, space and light by elaborating and building scenographic devices made to initiate meetings. It is principally by making spectators and performers coexist within the same space and by modulating their perception of that very space that he creates alternative sensorial experiences. This becomes a reason to engage in different qualities of co-presence, and thus to be made conscious of our interactions and our rapport with others. Since 2015, he tackles these questions in a PhD that takes light installation and the spatial opportunity it offers to rethink our collective states as its subjects. He also collaborates as a lighting designer and a director of scenography on various projects in theatre and dance (Projet Hybris, Daina Ashbee, Collectif La tresse, Andre Pena, Anne-Flore de Rochambeau, Claudia Chan Tak).
Li Ming Parisé grew up in Montréal, and earned a BFA in Contemporary Dance from Concordia University in 2016. She currently works as a costume designer with LATMontreal.Dance – a studio she both grew up dancing in and sewing for. Knitting, sewing and dancing have always been a part of her life. After graduating from Concordia, she realized that dance could influence how she saw fabric. Her interests lie in recycled material, traditional forms of textiles, and dance. She has always perceived movement in material, which is why she is drawn to it.
Breach is an invitation to an immersive Marineland in the theatre, a deep dive into the body through breath, dissolving borders between humans and animals while awakening the spectator's kinesthetic empathy. Onstage, the fluidity of the performers is juxtaposed with the stillness of plastic orcas. This performance draws us into a space in which dancers, spectators, and creatures coexist, connected through the air we breathe. Submerged in a sound bath, we are engulfed in an abounding ecosystem.
Choreographer and performer Alexandre Morin
Sound collaborator and composer Jonathan Goulet
Performers and collaborators to the choreography Ivanie Aubin-Malo, Noémie Dufour-Campeau, Chloé Ouellet-Payeur, Simon Renaud
Lighting design Hugo Dalphond
Dramaturgs Mathieu Leroux, Sophie Michaud
Outside eye Angie Cheng
Born in the Laurentians, Québec, Alexandre Morin, graduates from École de danse contemporaine de Montréal in 2013, where he is awarded a grant from the Hnatyshyn Fondation for Promising Canadian Artist in Contemporary Dance during his studies. He has danced for Marie Chouinard, Sylvain Émard, Dominique Porte, Marie Béland, Sébastien Provencher, Claudia Chan Tak, and Fleuve-Espace Danse, to name a few. In 2016, a grant from the Canada Council for the Arts allows him to participate in the ImPulsTanz: Vienna International Dance Festival via the ATLAS, Mapping Future Talents program. His interest in visual arts brings him to perform in Jimmy Robert's installation Metallica at the Art Gallery of Ontario in Toronto in 2016. Alexandre has presented works at the OFFTA, ZH Festival and at Short&Sweet in Montréal, and is building a long-term collaboration and shared practice with the composer Jonathan Goulet.
Noémie Dufour-Campeau completed her professional training at École de danse contemporaine de Montréal. Upon graduation, she was recruited to dance in the music video "Sprawl II" for Canadian band Arcade Fire, choreographed by Dana Gingras. She also took part in the second edition of Fly choreographic project with Toronto-based choreographer Sasha Ivanochko. Noémie has participated in the creation processes for La Grande Fente, Lea Tremblay Fong, and Audrey Rochette. In 2017, she participates as an apprentice in a creative process with Frédérick Gravel/GravelArtGroup.
Simon Renaud is a Montréal-based artist. He studied at The School of Dance in Ottawa. He worked for many companies and choreographers such as TDT, Dancemakers, Ottawa Dance Directive, and Daniel Léveillé Danse. Also a creator, Simon presented his work in Toronto (Dancematters, p.s. we're all here, Summerworks, Artspin, Lo-Fi Dancemakers and She Was), Montréal (Vue sur la relève, OFFTA), and Ottawa (Série Danse 10, Roughcut, ODD is OFF, Hype Frénésie Nuit Blanche, and Les vitrines de l'avant-première). Recently, Andrew Hartley got nominated for a Dora Mavor Moore Award for his performance in Simon's latest work, l'inanité des bibelots or love would only slow me down.
Upon graduating from École de danse contemporaine de Montréal in 2014, Ivanie Aubin-Malo met her mentor Curtis Joe Miller who transmitted the Fancy Shawl Dance to her. Honoring her Québec and Maliseet roots, Ivanie dances and approaches subjects in relation with her indigenous identity. She collaborates with multiple talented artists such as Marie Belzil from Moment Factory, Tanya Lukin Linklater, DJ KXO, Buffalo Hat Singers, Moe Clark, Barbara Diabo, Alex-Ann Boucher, and Soleil Launière. Since 2016, she has choreographed and performed in two shows: Ktahkomiq by Ondinnok and Mito-Jogos de recusa by Marcos Nery presented at the SESC festival in Brazil. Ivanie transmits her passion to young people by teaching dance while educating them about Indigenous culture.
Originally from Ottawa, Angie Cheng studied dance at Canturbury Arts High School and graduated from the Dance Department at Concordia University. She has been an active member of the Montréal dance community for the past twelve years. She has collaborated and worked with David Pressault Danse, MAYDAY/Mélanie Demers, Wants&Needs Danse/Sasha Kleinplatz, Lara Kramer Danse, Thierry Huard, Tedd Robinson, and Nathan Yaffe. Aside from dance, she has also worked in theatre with Hanna Abdel Nour from Québec City. She is always looking for new challenges in dance and performance, always willing to venture into new territories. She has upcoming co-choreographic adventures with Ame Henderson and Thierry Huard. She is currently in the research stage for her own choreographic work.
Hugo Dalphond is a lighting and stage designer whose work is focused on projects in theatre and dance. He has been hired to work at numerous festivals, both in dance and street theatre, which have taken place in cities such as Montréal, Toronto, New York City, and Lyon. In Montréal, he primarily works on multidisciplinary projects presented in "avant-garde" theatres, including Usine C, Théâtre La Chapelle, and Tangente. As a former member of Hexagram (university research centre for art and technology), Dalphond specializes in the application of moving and digital light. Alongside his collaborative projects, he focuses his own artistic research on delineating the synergy of bodies, space, and light within immersive scenographic spaces. Some of his works within this context include: T'aurais pas dû… (2013), On ne peut fixer ni le soleil ni la mort (2013), Dispositif scénographique (2014), Refuge et idoles (2015), Dispositif immersif de fumée (2015). It is principally in reconditioning the modes of the spectator's perception that Hugo establishes spaces aimed at offering an alternative sensorial experience. In doing so, the immersive scenographic space becomes a vehicle through which the spectators and performers converge upon themes of proximity, intuition and affectivity.