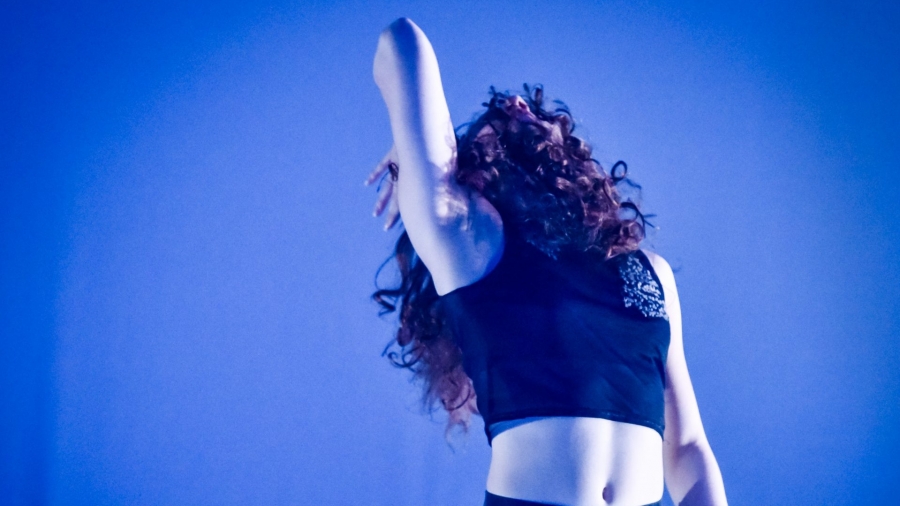 École de danse contemporaine de Montréal - The Wilder
MAY 22. 23. 24. 25, 2019 - 7PM
-
WARNING: the second part of the show includes stroboscopic effects.
After three years of intensive training, the graduating students of L'École de danse contemporaine de Montréal will perform for the last time on the occasion of Les danses de mai, Opus 2019. Artistic and program director Lucie Boissinot has invited: Isabelle Poirier to remount Marie Chouinard's Le Cri du monde; Marie Béland for Vie et mort de l'élégance; and Alan Lake to create an original piece.
Artistic director Lucie Boissinot
Choreographers Marie Béland, Marie Chouinard, Alan Lake
Rehearsal director Hélène Leclair
Performers Chanelle Allaire, Catherine Ally, Rodrigo Alvarenga-Bonilla, Éloïse Bastien, Madeleine Bellefeuille, Solene Bernier, Angélique Delorme, Jade Dussault-Lapointe, Constance Gadan, Simone Gauthier, Rafaelle Kennibol Cox, Cheline Lacroix, Lucie Lesclauze, Brian Mendez, Mathilde Mercier-Beloin, Abe Mijnheer, Lorena Salinas, Audrey Thériault, Leah Tremblay
For 15 years, Marie Béland has choreographed pieces where the body exceeds dance: the dancing body but also the real body, the day-to-day body, the ordinary body are all at the centre of a fine and complex choreographic organization. Béland invites the audience to think about live performance as a social and aesthetic phenomenon, and discover how our bodies transform themselves in contact with the stage. Each of her works is an attempt to reconcile body and mind, and unravel the discourses and counter-discourses that are tied to movement. In 2005, she founded her own company, maribé – sors de ce corps, with which she produced a series of singular pieces where indiscipline reigns with precision and cleverness, such as: Dieu ne t'a pas créé juste pour danser (2008), which received the ARRIMAGES prize during its tour of the Maisons de la culture in Montreal, and was completely revamped in 2018 to be toured again; RAYON X: a true decoy story (2010), co-presented by Tangente and the Festival Les Coups de Théâtre, which has been seen on nearly 25 occasions in Quebec; BEHIND: une danse dont vous êtes le héros (2010), which was performed in Tangente, at the FTA, the ArtDanThé Festival in Vanves (FR) and the Agora de la danse; Révélations (2014), first presented at the GREC Festival (ES) and in its final version at Tangente; or BETWEEN (2015), presented at the ArtDanThé Festival, then at Théâtre 140 (BEL), the Agora de la danse and the Zagreb Sounded Bodies Festival (CRO). Béland is currently working on the creation of BESIDE, which closes the B + B + B trilogy, in partnership with Montréal Danse. Since her beginnings, she has done several residencies in Québec and abroad (TanzWerkstatt Berlin, La Caldera Barcelona, Dance 4 Center for Choreography Nottingham, Cardiff Dance Festival, Opera Festival Bassano del Grappa). In 2018, she submitted her master's thesis entitled Cartographie de la scène: les forces en jeu dans le spectacle vivant, which aims to define what is a show, and tries to understand its mechanisms.
A dancer and choreographer who uses a primitive yet highly refined glossary, and considers dance a sacred art to practice with absolute rigour, Marie Chouinard (Québec City – Canada, 1955) pursued a complex avant-garde solo career for over a decade before founding her own group, the Compagnie Marie Chouinard, in 1990. Her debut work, Cristallisation (1978) instantly captured public attention for the originality of her expressive experimentation. Her later creations (such as the masterpiece S.T.A.B. in 1986, in which she danced the transformation into a woman of a creature shocked by an instinctive movement, or the provocative all-female Après-midi d'un Faune in 1987) confirm her inclination to explore new paths in choreography, artistic performance and conceptual creation. Over the course of her own career, Marie Chouinard has produced more than 40 choreographies, for individual or group performances, often contributing to the ideation of the musical score, the costumes and the lighting for her own productions. Many of her works are included in the repertoire of important companies: Les 24 Préludes de Chopin at the National Ballet of Canada, Après-midi d'un Faune at the São Paulo Companhia de Dança, bODY_rEMIX / les_vARIATIONS_gOLDBERG, Act 1 at the Ballets de Monte-Carlo and the Göteborgs Operan in Sweden. She has won many awards including the Prix Jacqueline-Lemieux (1986), the Bessie Award in New York for the entire corpus of her choreographic works (2000), the prize for choreography from the Société des auteurs et compositeurs dramatiques (SACD) in Paris, the Order of Canada (2007), the Ordre des Arts et des Lettres (France, 2009), and the Performing Arts Award for Lifetime Artistic Achievment of the General Governor (Canada, 2016). In 2011 Marie Chouinard created Le Prix de la danse de Montréal to pay tribute to the best works in the field of dance.
Dancer, choreographer, director and visual artist, Alan Lake first studied visual arts for five years and received a DEC and a BA in Visual Arts. His favorite mediums are then sculpture, painting, installation and video. His research aimed at making the object and the picture flexible, organic and "dancing" which naturally led to contemporary dance. He received a technical diploma in Dance and Interpretation in 2007 from l'École de danse de Québec. Therefore, he dedicated himself to dance, putting his experience and multidisciplinary practice towards the movement. His work as a choreographer is presented in Québec, Montréal as well as elsewhere in Canada and Europe.