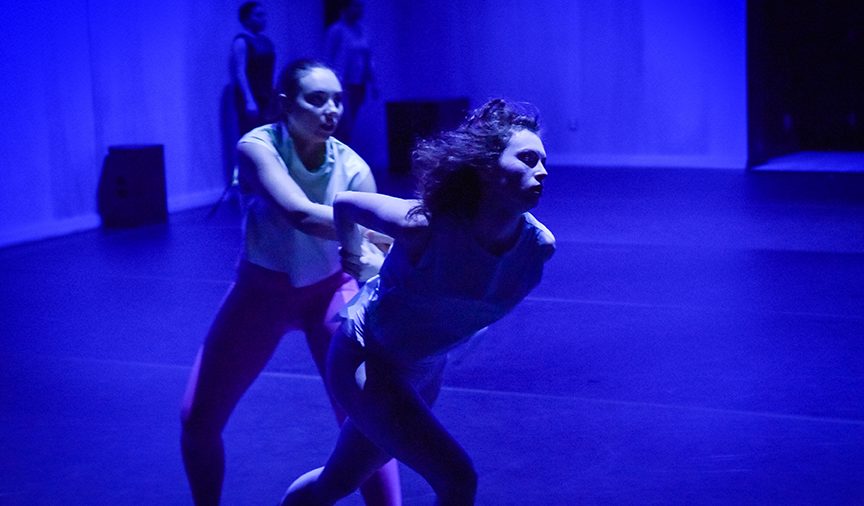 L'École de danse contemporaine de Montréal presents the show entitled Les danses à deux temps, featuring the students of first and second years. For this occasion, artistic and program director Lucie Boissinot has invited choreographers Sophie Corriveau to remount Pas de bras, pas de chocolat, and Pierre-Marc Ouellette and La Tresse Collective to create pieces for large groups.
Artistic director Lucie Boissinot
Choreographers Sophie Corriveau, Collectif La Tresse, Pierre-Marc Ouellette
Dancers
First year Camil Bellefleur, Christophe Benoit-Piau, Sophie Carl, Julianne Decerf, Philippe Dépelteau, Louise Gamain, Lauranne Heulot, Luce Lainé, Aaricia Laperrière-Roy, Maude Laurin-Beaulieu, Alexandre Leblanc, Tiffany Leclair, Marie Levêque, Joanie Michaud, Amanda Petropoulos, Marie-Maxime Ross, Valentin Rosso, Molly Siboulet-Ryan, Alicia Toublanc
Second year Lou Amsellem, Pauline Ansquer, Elisa Barrat, Énola Bédard, Justine Dagenais de Montigny, Adèle de Boisgrollier, Sabrina Dupuis, Lauren Fisher, Alice Foriel-Destezet, Rose Gagnol, Klaudy Gardner, Anny Gauthier, Thiéry Hénault, Mathieu Hérard, Débora Huynh, Gabrielle Kachan, Mathéo LeBouc, Nikita Peruzzini, Ernesto Quesada Perez, Eva Salmon, Jean-Yannick Tangara, Evelynn Yan
Sophie Corriveau has been a dancer, choreographer, teacher, performance artist, rehearsal director and artistic advisor in contemporary dance since the 1980s. She began her career at Theatre Ballet of Canada (later Ottawa Ballet), then joined Montréal-Danse from 1989 to 1993, and has since worked as a freelance dancer for many choreographers including Louise Bédard, Danièle Desnoyers, Sylvain Émard, Alain Francoeur, Benoît Lachambre, Jean-Sébastien Lourdais, Jean-Pierre Perreault, Manuel Roque and Catherine Tardif. In 2011, she and her brother, visual artist Thomas Corriveau, jointly created the solo Jusqu'au silence. In 2014, she co-created 6'3 évanouissements, a work produced by the Et Marianne et Simon dance company. In 2015, she designed and co-created with Katya Montaignac Nous ne sommes pas tous des danseurs, an atypical project consisting of a series of "danced roundtables." In 2016, she created Pas de bras, pas de chocolat for the students of the École de danse contemporaine de Montréal (EDCM). Sophie Corriveau is currently a rehearsal director for companies such as Daniel Léveillé Danse, Manuel Roque and Le Carré des Lombes, and teaches at the EDCM. From 2014 to 2016, she was dancer-in-residence at the Agora de la danse in Montréal and received the 2017 Prix de la danse de Montréal in the dancer category.
Pierre-Marc Ouellette completed his training at l'École de danse contemporaine de Montréal (EDCM) in 2005. From 2007 to 2017, he worked as a performer for the company Carré des Lombes by choreographer Danièle Desnoyers. In this company, he danced in Play It again! and collaborated in the creation of Là où je vis, Hozhro, Dévorer le ciel, Sous la peau, la nuit, Paradoxe Mélodie and Anatomie d'un souffle. In addition to taking part in several international tours, Pierre-Marc has also participated in various projects initiated by various choreographers, including Paul-André Fortier, Harold Rhéaume, Erin Flynn and Deborah Dunn. Recipient of a Canada Council scholarship in 2009 and 2013, he has perfected in Vienna and New York. As a choreographer, he created Le show off, presented in 2010 in Tangente, then Les Angèles (collective creation) at the La Chapelle theater in 2012 and Cocons somatiques, with visual artist Manon De Pauw in 2017 at the Agora de la danse. At the same time, Pierre-Marc taught Danièle Desnoyers's repertoire at UQAM, EDCM and in various professional dancer workshops (Springboard, Circuit-Est). In 2018, he completed a Bachelor's degree in Art History at UQAM and is enrolled in the Individualized Masters of Concordia University. His approach and his choreographic signature are inspired by his many collaborations and a precise articulation of gesture and dance expression.
LA TRESSE Collective is a trio of choreographers composed of Geneviève Boulet, Erin O'Loughlin and Laura Toma, trained in contemporary dance and the Gaga movement language created by choreographer Ohad Naharin. They believe in a collective spirit where all elements of the creative process are a shared endeavour. Driven by their fantasies and inspired by pop culture, they create worlds of contrast where the audience is transported to places both familiar and unknown. They are intuitive, lighthearted, and devoted to the pursuit of pleasure. Their creations: Beauté Brute (2015), Volume II (2016), A Walkabout (2017), L'Encre Noire (to come).
Geneviève Boulet received her training from l'École de danse contemporaine de Montréal. She has danced for Roger Sinha, Lina Cruz, O Vertigo, Annie Gagnon, Dany Desjardins, and Fleuve Espace Danse. She has been with the company Destins Croisés since 2009, performing more than 300 shows across Canada, the United States, and Europe. Boulet has participated in a number of workshops including P.A.R.T.S., Compagnie Marie Chouinard, and the Batsheva Dance Company for which she received support from the CALQ. In 2014, she was selected to be part of the creation Dance Grammar by Israeli choreographer Roy Assaf at the Dance Biennale in Venice, Italy. Since then, her professional relationship with Assaf progressed into the creation of the solo A Girl, which was presented in Montréal. She recently joined the Legacy Project under the direction of Margie Gillis and continues her collaboration with Dynamo Theatre in the piece Devant moi le ciel.
Erin O'Loughlin's professional training includes the Alvin Ailey School in New York City and the San Francisco Conservatory of Dance. In 2010 she graduated with a BA in Dance and International Relations from the University of Calgary. In Alberta, she has danced for Davida Monk, Maya Lewandowsky, and Helen Husak and been supported by the Alberta Foundation for the Arts to attend several workshops abroad including ImPulsTanz (AT), the Gaga Intensive with the Batsheva Company (IL, USA) and Transformation Danse (CAN). In 2016, she spent several months in Mumbai, India working for Bollywood choreographer Shiamak Davar. Based in Montréal, O'Loughlin works with Sinha Danse, Andrea Peña & Artists, and Kaitlyn Ramsden. In 2018, she was selected to participate in The Creative Gesture dance residency at the Banff Centre for Arts and Creativity, collaborating and performing in a new work by Alan Lucien Øyen entitled The Hamlet Complex.
Born in Romania and raised in Canada, Laura Toma is a graduate of the Laban Center in London, UK and The School of Dance in Ottawa. She has professional training in theatre as well as in latin and ballroom dance. Her professional development has included training at P.A.R.T.S. in Belgium and with the company Ate9 in Los Angeles. In August of 2012, Laura graduated from the first official Gaga Teacher Training Program in Tel Aviv, Israel under the mentorship of Ohad Naharin and is the first certified Gaga teacher in Canada. She has taught for Compagnie Marie Chouinard, the Regroupement Québécois de la Danse, the École de danse contemporaine de Montréal and the École supérieure de ballet du Québec, among others. Laura has been a part of Andrea Peña and Artists since 2014. In June of 2016 she performed at the Venice Biennale of Dance for Israeli/French choreographer Emanuel Gat.