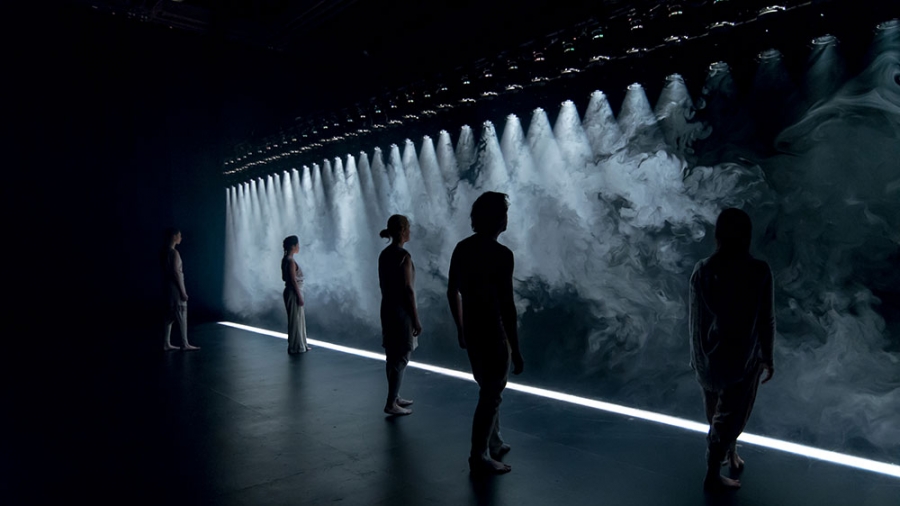 Triple bill - The Wilder
FEBRUARY 21. 22. 23, 2019 - 7:30PM
FEBRUARY 24, 2019 - 4PM
-
ROUND-TABLE TALK AND BOOK TABLE ON FEB. 22
The order of the pieces is subject to change.
60 minutes
Cédric Delorme-Bouchard / Castel Blast + Annie Gagnon + Camille Lacelle-Wilsey
Dispositif
A wall of white light only nine inches deep is the core concept of this curatorial proposal to two choreographers and one interdisciplinary performance collective: Annie Gagnon, Camille Lacelle-Wilsey, and Castel Blast. This is the second, more movement-oriented iteration of an investigation into immaterial architecture, in the aftermath of Lamelles, presented at Usine C last season with seven performers. In this version, the scenographer-curator slips into the skin of a dramaturge in support of the creators. A brilliant encounter between bodies and light.
Curator, lighting designer and scenographer Cédric Delorme-Bouchard
Sound designer Simon Gauthier
–
Choreographers and designers Castel Blast (Léo Loisel, Olivia Sofia, Guillaume Rémus)
Performer Katia Lévesque
Technician and stagehand Rowan Mercille
–
Choreographer and performer Annie Gagnon
Music Antoine Berthiaume (taken from the piece Rituel géométrique)
–
Choreographer Camille Lacelle-Wilsey
Performers Alanna Kraaijeveld, Nien Tzu Weng, Charles Brecard, Maude Arès
Bassist Ian Davies
Drummer Laura Heather Jeffery
Guitarist Kaity Zozula
Lighting designer, scenographer and director, Cédric Delorme-Bouchard has signed the light and scenography for a hundred creations in theatre, dance and opera, both on the Montréal scene and abroad (South America, Europe, and Asia). Parallel to his design practice, he coached at the National Theatre School of Canada and at the Cégep Brébeuf in the Arts et Lettres program. He has also been a training supervisor at École des arts visuels et médiatiques de l'UQAM, at École supérieure de théâtre de l'UQAM and at École du Show Business. Since 2017, he has developed an interest in directing and choreographing. His first production as such was Lamelles at Usine C.
Castel Blast, a collective formed by Olivia Sofia, Léo Loisel and Guillaume Rémus, was born out of the need to approach creation through meetings and exchanges. The collective is stimulated by the diversity of backgrounds and the experience of each member. It brings together the designers and performers in a common and versatile reflection. The collective thus makes the creation tools available to everyone, regardless of their field of origin. Their conceptions take their source in a creative impulse that they apply to a sensible, common and open process. They presented Carcasse (Tangente, 2017), Ma(g)ma (Espace libre, 2016), Decalogue 10 (OFFTA, 2016), and will soon present Nos corps at the Théâtre Aux Écuries.
Annie Gagnon first studied visual arts and then turned to contemporary dance. She graduated from the Montréal School of Contemporary Dance in 2002. A performer and choreographer, she has presented her works throughout Québec: Si j'étais une de ces femmes, Tout à trac, Lotus, La Marche invisible, Étude sur le cœur, Les femmes de la lune rouge, Reviens vers moi le ventre en premier et Rituel géométrique, to mention a few. Annie is a rehearsal director and an artistic advisor for several choreographers and dance companies: O Vertigo, Estelle Clareton, Alan Lake, Emmanuelle Calvé, Jessica Serli, Cross Dances, and PPS Danse. She joined the Marie Chouinard Company in 2018.
Camille Lacelle-Wilsey develops a choreographic practice where the tableau vivant is loaded with movements. The monochrome aesthetic engulfs dancers as they act as multi-faceted modes of expression. She is interested in space, surprise, and the intensity of human states. Part of her work questions the influence of matter on sensation. She signed the choreography for D'Amour ils se gaveront, de haine ils déborderont (Danses Buissonnières), Ghost Box (Tangente), and I Need Someone to Love Me the Whole Day Through from Neil Young (OFFTA).