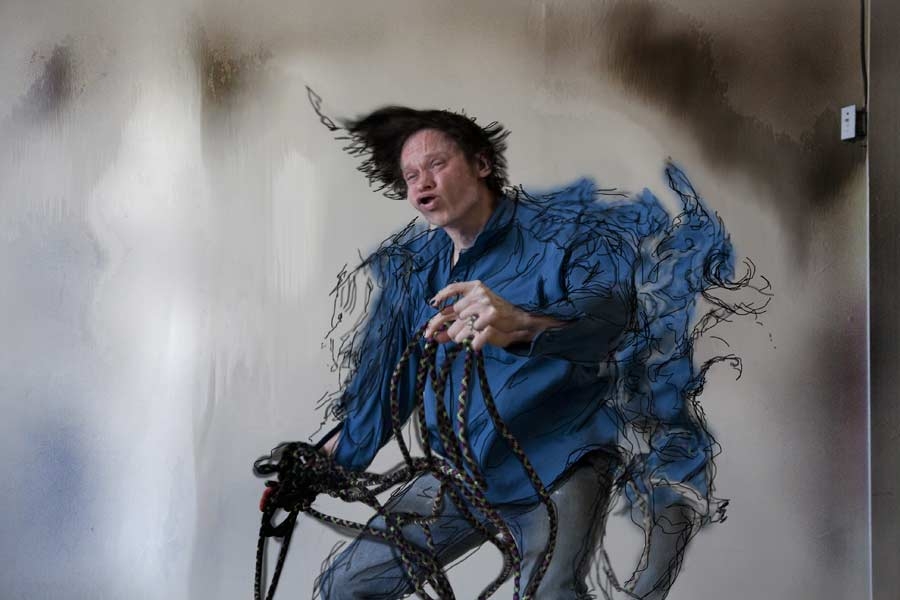 Eesti : myths and machines
Eesti : myths and machines
Peter Trosztmer / "The Choreographers"
60 minutes
"This is the story of how my family came to Canada … This is absolutely nothing like how my family came to Canada". The past presented in memories is not a clear and one-layered picture of the real events, but a multi-faceted composition, comprising different potentials for interpretation. Can we ever really know the truth? Inspired by the "mythical" stories of my Grandfather's escape from Estonia, as he faced, with unyielding singularity of vision, the impossible quest before him, "Myths and Machines" will probe the nature of being a man in a world that is never as finite as we were told it would be… The man… the hero, immersed in a world of his own telling, attempts to understand the human condition through the past that defines him. Will he be driven to madness at the repercussions of his journey, or will he find redemption?
Created and performed by : Peter Trosztmer Assistant to the creation : Thea Patterson Sound design : Jean-Sébastian Durocher Visual artist and sculptor : Jeremy GordaneerDramaturgical assistance : Lois Brown Lighting and technical direction : Rasmus Sylvest Compositional music research : Eric Craven
Peter Trosztmer
After receiving his B.A. in Classics, Peter studied at the Concordia University Department of Contemporary Dance before moving to Toronto to complete the School of the Toronto Dance Theatre training program. Since then, he has distinguished himself as in interpreter of the highest caliber and has worked and continues to collaborate with many national and international choreographers. As a choreographer Peter has created four critically acclaimed solo works. His choreography was selected as a top 5 show of the year (La Presse 2006 and Voir 2012). As well he was recognized for the best performance – (The Hour 2006). His work on the multi media work Norman also received many accolades including an Angel Award at the Brighton Festival UK (2009). Peter is co-artistic director, along with Thea Patterson, Katie Ward and Audrée Juteau, of the artist group 'The Choreographers' who together, and individually, create innovative fresh work using collaborative paradigms. Peter continues to define his place as a creator who is invested in work that is sensitive, deeply researched and physically realized. Recently he was selected as one of three choreographers to participate in Triptych, a research event in partnership between Circuit-Est in Montreal, The Opera Estate in Bassano Italy, and The Dance Centre in Vancouver. His co-authored article "Collaboration as Practice The Winding Road" was presented at the Canadian Society for Dance Scholars Conference 2012. Presently Peter is working on a screenplay with Lois Brown with the support of Playwrights Workshop Montreal, a full installation/sculpture performance in partnership with Studio 303 and Public Energy in Peterborough. As well he is currently doing research with Zack Settle, into interactive movement tracking with sound and video at La Sociéte de les arts technologiques in Montreal.
Thea Patterson
Thea Patterson – Originally from British Columbia, but now based in Montreal, choreographer and Concordia alumni, Thea Patterson, works on a variety of projects as a choreographer, performer, director, and collaborator with a group of peers that include: David Pressault, Katie Ward, Peter Trosztmer, Audree Juteau, Bill Coleman, Erin Flynn, Isobel Mohn, Dean Makarenko, Milan Gervais and Marie Beland. She is a member of the artist group "The Choreographers" whose first work 'Man and Mouse' was presented in St John's, Halifax, the Joyce Soho in New York, in Lennoxville, and at selected Maison de la Culture in Montreal. "The Choreographers" also recently premiered their latest work 'OH! Canada' at the Festival Escales Improbables in Montreal. Her piece, 'A Soft Place to Fall' was made into a BravoFACT film directed by Philip Szporer and Marlene Millar, which continues to screen at international film festivals. She was co-choreographer and playwright for the multi-media performance 'Norman' produced by Lemieux.Pilon.4Dart, which premiered at the National Arts Centre in Ottawa and has since toured to Mexico, Columbia, Asia, Europe and the USA. Her work, 'Rhyming Couplets' premiered at Tangente and then at the Guelph Contemporary Dance Festival. 'Myths and Machines' is her third collaboration with Peter Trosztmer.
Jeremy Gordaneer
Jeremy Gordaneer trained in Victoria, BC, attending Camosun College's visual art program (1992), as well as obtaining a BFA from Uvic in scenic design for theatre (1999). He is now based in Montreal where he finds continual inspiration in the rich urban environment and cultural life. Gordaneer divides his time between painting-sculpting and theatre where he has worked as a scenic painter, set designer and properties builder since 1999.